At a meeting of the National Steering Committee for Covid-19 Prevention and Control on March 5 morning. Photo: Zing News.
At the meeting on March 5 morning, the National Steering Committee for Covid-19 Prevention and Control heard reports on domestic disease situation, testing capacity review, and issues related to Covid-19 inoculation, according to Zing News.
Assoc.Prof.Dr. Tran Dac Phu said that the data in the world indicated that the Covid-19 situation has been relieved in four factors including the coronavirus infection cycle, countries' response, herd immunity, and vaccination.
He also forecasted that the epidemic situation would only subside in the next 1-1.5 years.
Accelerating domestic vaccine research
Starting March 8, the first doses of vaccine would be given to 18 health facilities treating Covid-19 patients, pandemic-hit localities, and people prioritized under Government Resolution No. 21, Health Minister Nguyen Thanh Long said.
The National Steering Committee required the urgent Covid-19 vaccination but it must ensure safety and especially has a thorough preparation to handle arising problems and incidents.
Deputy Prime Minister Vu Duc Dam praised the efforts of the Ministry of Health in getting access to foreign vaccines from very early as well as speeding up research and production of vaccines domestically.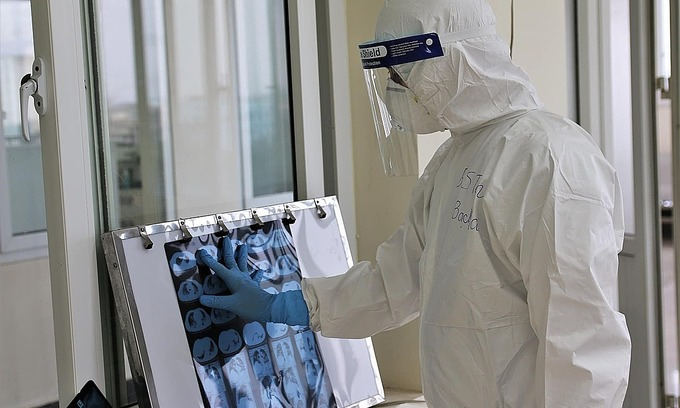 A doctor at a hospital treating Covid-19 patients in Hai Duong Province, February 2021. Photo courtesy of the Ministry of Health.
Deputy Prime Minister ordered the Health Ministry to carefully evaluate the safety and effectiveness of locally-produced Covid-19 vaccines before inoculation.
There are currently three vaccine candidates being developed in Vietnam, one of which completed the first phase of the human trials and has entered the second phase. The remaining two vaccines would soon be tested on humans.
If the vaccine is successfully manufactured, Vietnam can proactively cover vaccination for 100 million people, Dam added.
He also regarded this as an opportunity for Vietnam's vaccine research capacity lifted to a new level and the country can respond to diseases that may occur in the future.
"Vaccine is a fundamental and long-term solution to control disease on a global scale; but, in a short time (6 months to 1 year), the vaccine is not all. We still need to implement epidemic preventive measures as we did", Dam emphasized.
Vietnam fights the epidemic by its own tactics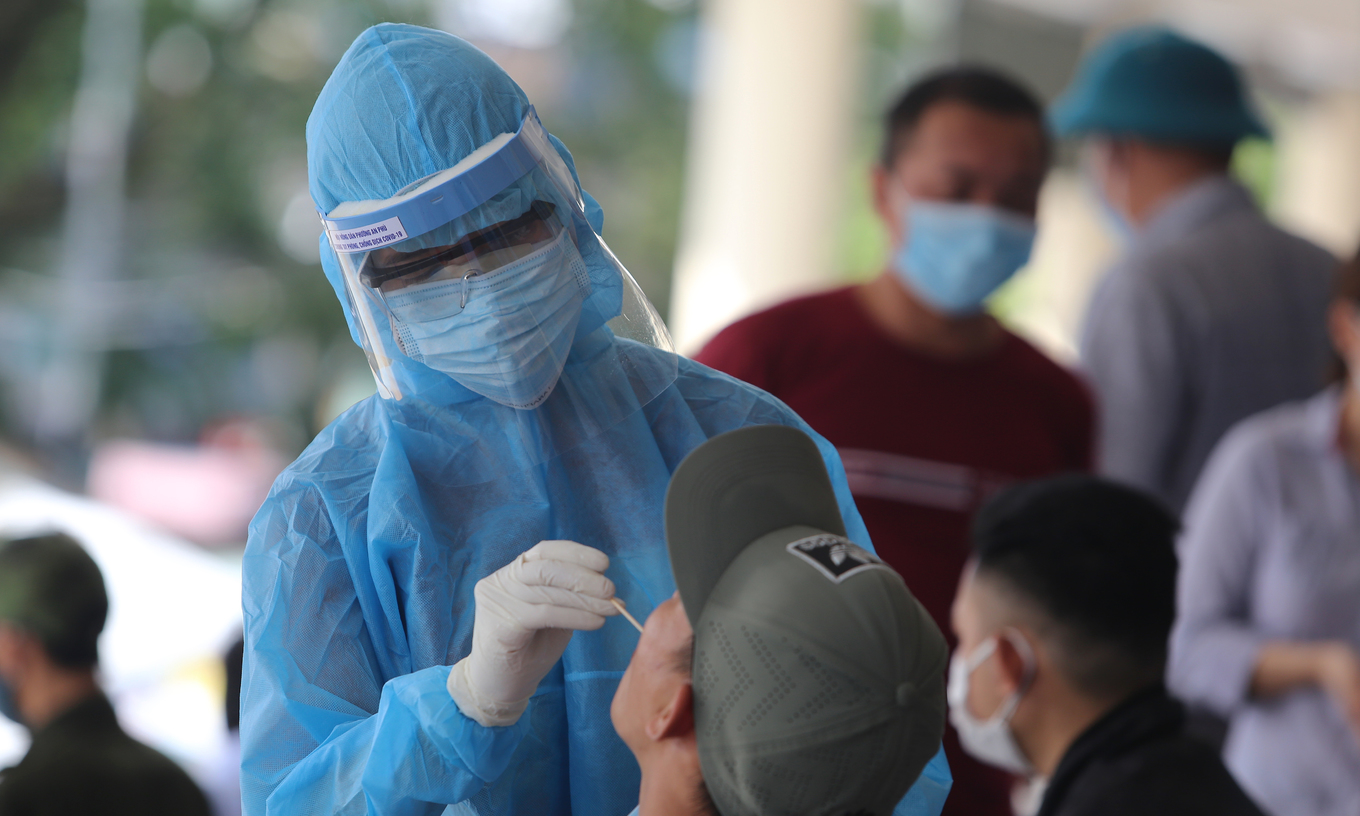 A medical worker takes Covid-19 test samples from a man in Quang Nam Province, August 11, 2020. Photo: VnExpress.
Concluding the meeting, Deputy Prime Minister said that the domestic Covid-19 situation has been basically put under control, however, the localities still need to stay vigilant.
Vietnam will continue carrying out anti-pandemic measures at the highest alert level.
"Vietnam is a poor country, so, we need to battle the epidemic by our own tactics which are at the cheapest cost and less affect citizens' life. In fact, since the Covid-19 pandemic broke out, our country has done well", Dam stressed.
He underscored the need to continue complying with the 5K message including Khau trang (facemask)- (Khu khuan) disinfection- (Khoang cach) distance- (Khong tu tap) no gathering – (Khai bao y te) health declaration. Medical establishments, schools, accommodation establishments, factories, markets, supermarkets, bus stations, etc must strictly implement anti-Covid-19 measures, periodically self-assess and update information on anti-epidemic maps (Antoancovid.vn).
Vietnam reported six new COVID-19 cases, all imported, in the past 12 hours to 6:00 pm on March 5, raising the national tally to 2,494 with 1,572 domestically-transmitted cases, according to the National Steering Committee for COVID-19 Prevention and Control.
The new infections include five Vietnamese nationals and one Chinese expert.
Now there are 49,565 people who came in close contact with COVID-19 patients or arrived from pandemic-hit regions under quarantine nationwide, including 1,290 in hospitals, 14,199 in other quarantine sites, and 34,076 at home.
Among the patients undergoing treatment, 65 have tested negative for the coronavirus SARS-CoV-2 once, 57 twice, and 137 thrice.
The Treatment Sub-committee said that 1,920 patients have been declared to be clear of the coronavirus so far.
Malie Nguyen