Vietnam COVID-19 Updates (March 6): 13 new cases to report in the last 24 hours
Vietnam reported six new COVID-19 cases, all imported, in the past 12 hours to 6:00 pm on March 5, and 7 new cases, 6 of which were domestic transmission on the morning of March 6, according to the National Steering Committee for COVID-19 Prevention and Control.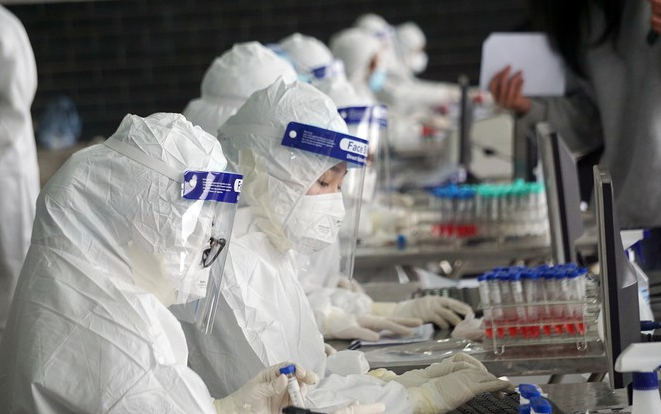 Photo: Tien Phong
13 new cases to report in the last 24 hours
Vietnam reported six new COVID-19 cases, all imported, in the past 12 hours to 6:00 pm on March 5. The new infections include five Vietnamese nationals and one Chinese expert. On the morning of March 6, Hai Duong Province reported six new Covid-19 cases. Also on Saturday morning, the Ministry of Health confirmed a new imported case. He is a South Korean expert, 42, who entered Vietnam on Feb. 19 and was quarantined immediately upon arrival.
Hai Duong is where one of the first two cases of Vietnam's ongoing outbreak was detected on Jan. 28. The other case was found in its neighbor Quang Ninh Province. Since then, infections have spread to 13 cities and provinces, rising to 885 by Saturday morning, with Hai Duong accounting for 701 and Quang Ninh 61. Ten cities and provinces have gone 21 days without recording any new cases, including Hanoi and Ho Chi Minh City.
In a bid to live safely with the pandemic, people should strictly follow the Ministry of Health's 5K message: khau trang (facemask), khu khuan (disinfection), khoang cach (distance), khong tu tap (no gathering) and khai bao y te (health declaration).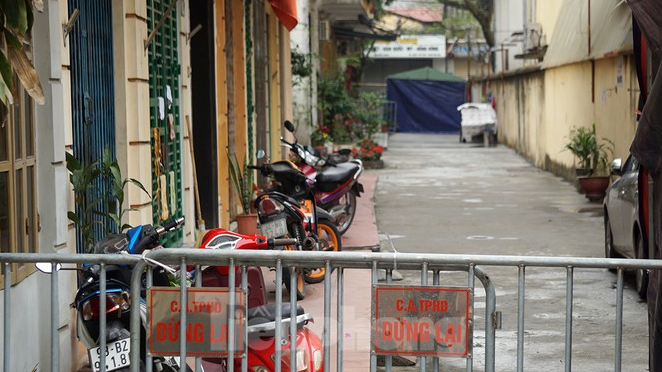 Photo: Tien Phong
Hai Duong set up an emergency team to handle pandemic in Kinh Mon tow
On the evening of March 5, Mr. Luu Van Ban- Vice Chairman of Hai Duong People's Committee asked to immediately set up an "emergency team" led by the Chairman of Kinh Mon People's Committee, urgently implementing pandemic prevention in the area.
Ban asked Kinh Mon town to review and assess the risk of the pandemic risk, propose drastic solutions, especially note that in communes and wards that have a high number of infection cases, it is required to continue to remain isolated. Kinh Mon town needs to immediately promulgate a regulation on pandemic prevention measures for each specific area or location, carry out necessary upgrades on isolation sites' facilities to ensure effective prevention.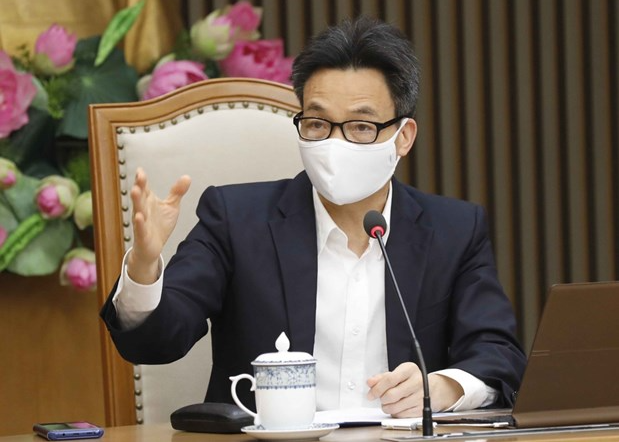 Photo: Vietnam Plus
Vietnam striving to be self-sufficient in COVID-19 vaccines
Minister of Health Nguyen Thanh Long has said that Vietnam will focus on the research and production of homegrown COVID-19 vaccines alongside imports, viewing this as a long-term strategy. He made the remarks during a meeting of the National Steering Committee for COVID-19 Prevention and Control in Hanoi on March 5, chaired by Deputy Prime Minister Vu Duc Dam.
While Pfizer's vaccine is more than 90 percent effective and the two jabs of the AstraZeneca vaccine are 76 percent and 81 percent effective, this also shows that people can still catch the virus after being vaccinated, hence the need to continue following the 5K message, Long explained. Vietnam is among 92 countries to receive vaccines through the COVAX Facility in the first phase. COVAX mainly uses the AstraZeneca vaccine, providing 5 million doses to the country this year and with 25 million sets to arrive in 2022.
The Ministry of Health must ensure the safety and efficiency of Vietnam's COVID-19 vaccination program, under the instructions of the Politburo and the Government, Deputy Prime Minister Vu Duc Dam said The Deputy PM, who is also head of the Steering Committee, stressed that safety must be as high as possible and that if something goes wrong it must be handled calmly. Though COVID-19 has been largely brought under control in Vietnam, relevant agencies must continue to maintain readiness and vigilance, he said.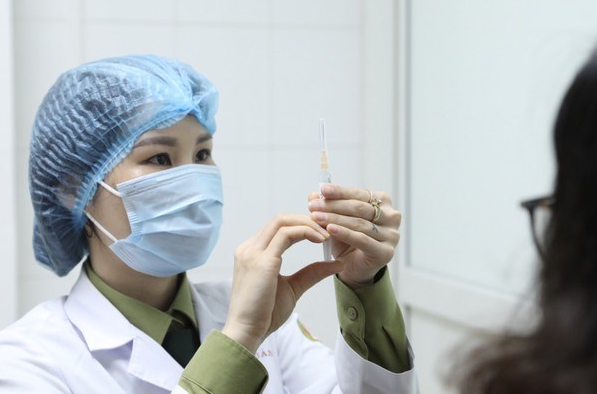 Photo: Vietnam Plus
Volunteers sought for second homegrown COVID-19 vaccine trials
People, aged from 18-59 and residing in Hanoi, can register for human trials of Vietnam's second COVID-19 vaccine candidate COVIVAC from March 5 morning. In the first phase of the trials, 150 healthy volunteers will be injected with two doses of 0.5ml with an interval of 28 days.
They will be divided into five groups, including one group provided with placebo shots, and their health will be closely monitored within 24 hours after injections. Each volunteer will have their health checked-up eight times in 12 months. After 43 days since the first phase starts and shows good results, the second phase will be carried out at the medical center of Thai Binh province's Vu Thu district, with 300 volunteers.
The homegrown vaccine has been developed by the Nha Trang-based Institute of Vaccines and Medical Biologicals (IVAC) and the Hanoi Medical University since last May, using primary chicken embryo cell culture, a technique the institute used previously to successfully produce seasonal flu vaccines. The vaccine candidate demonstrated high immunogenicity during pre-clinical trials. It was created based on studies of new SARS-CoV-2 strains. This vaccine is expected to have a price of around 60,000 VND (2.59 USD) per dose.
The new patients brought the total number of infections in Vietnam to 2,501, including 1,578 domestically-transmitted cases, according to the National Steering Committee for COVID-19 Prevention and Control.
The Treatment Subcommittee reported that a total of 1,920 patients had been given the all-clear from the coronavirus SARS-CoV-2 so far. Among the active patients undergoing treatment, 65 tested negative to the virus once, 57 twice, and 137 thrice.
As many as 49,565 people who had close contact with confirmed COVID-19 patients or entered Vietnam from pandemic-hit regions are being quarantined across the country, including 1,290 in hospitals, 14,199 in other establishments, and 34,076 at home.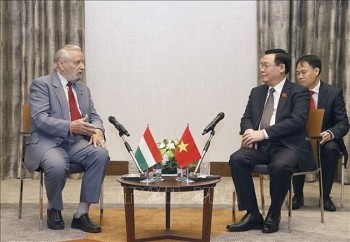 Overseas Vietnamese
National Assembly (NA) Chairman Vuong Dinh Hue received a delegation of the Hungary-Vietnam Friendship Association led by its President Botz László in Budapest on June 27.