Hanoi eyes COVID-19 vaccination for both residents and non-residents
Hanoi expects to cover COVID-19 vaccination to all residents over 18 years old and non-residents living in the city, Deputy director of Hanoi Center for Disease Control announced.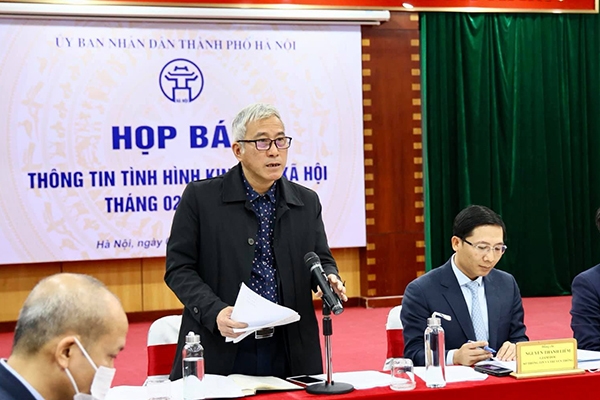 Deputy director of Hanoi Center for Disease Control Nguyen Khong Minh (Photo: Vietnamnet)
"Hanoi is very proactive in terms of COVID-19 vaccine sources. The city has earlier on February 19 asked the Ministry of Health to facilitate vaccine access to city dwellers", Deputy director Khong Minh Tuan was quoted by Vietnamnet as saying March 4 afternoon.
Early access to COVID-19 vaccine would ensure adequate inoculation for all residents over 18 years of age. Besides, Tuan stressed that non-residents in Hanoi would also be eligible for the jabs once vaccines were available.
As far as expenses is concerned, the Government's resolution stipulates that it could come from three sources: state budget, funding from individuals and enterprises, vaccine users.
The first batch of over 117,000 doses of AstraZeneca vaccines had arrived in Vietnam on February 24. The Ministry of Health is scheduling to administer the first jabs of the batch starting March 8. Medical staff in 63 provinces and cities will be given vaccination training two days prior to inoculation to ensure safe and effective.
"The Health Ministry will prioritize 13 localities struck by the pandemic, including Hanoi. However, Hai Duong - the biggest epicenter will be the first priority. Therefore, Hanoi's allocation might be meager", Tuan said.
The Deputy director added that Hanoi's vaccination date will depend on the allocation of the Health Ministry.
"We have compiled a specific list of those prioritized for early injections, including front-line workers. The number of doses distributed will decide how many people get early vaccination", he stated.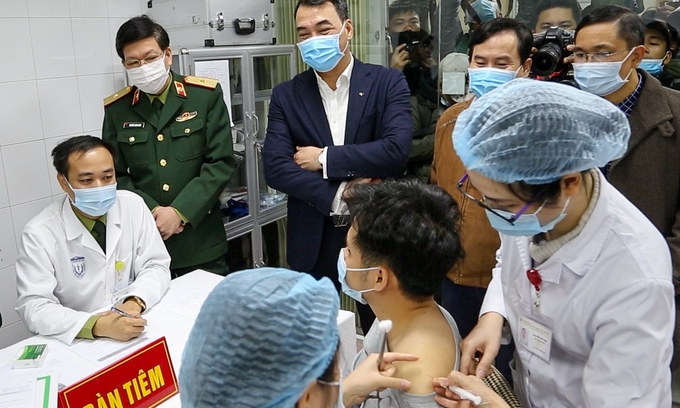 A man is injected with Covid-19 vaccine Nanocovax in Hanoi as part of human trials on December 17, 2020. (Photo: VNE)
At the standing meeting of the National Steering Committee for COVID-19 prevention on Friday morning, Health Minister Nguyen Thanh Long emphasized that vaccination did not generate 100 percent protection, therefore, everyone must stay vigilant and keep abiding with preventive measures.
The Minister was quoted by VNE as saying that ensuring enough COVID-19 vaccines in store was a difficult task. The Health Ministry, therefore, must focus on researching, producing local vaccines while purchasing from foreign manufacturers.
Hanoi, home to more than eight million people, has recorded 35 which emerged in northern Vietnam in late January and has spread to 13 provinces and cities with 879 confirmed cases.
Meanwhile, Vietnam is having four homegrown COVID-19 vaccine candidates produced by the Institute of Vaccines and Medical Biologicals (IVAC), Nanogen Biopharmetical company, Vabiotech and Polyvac.
Nanogen's Nanocovax has just entered the second phase of the human trial while IVAC's COVIVAC is set to enter the first phase in mid-March. Vabiotech is preparing to file its clinical trial authorization.
Vabiotech, another Vietnamese vaccine manufacturer, is also preparing to submit its clinical trial application.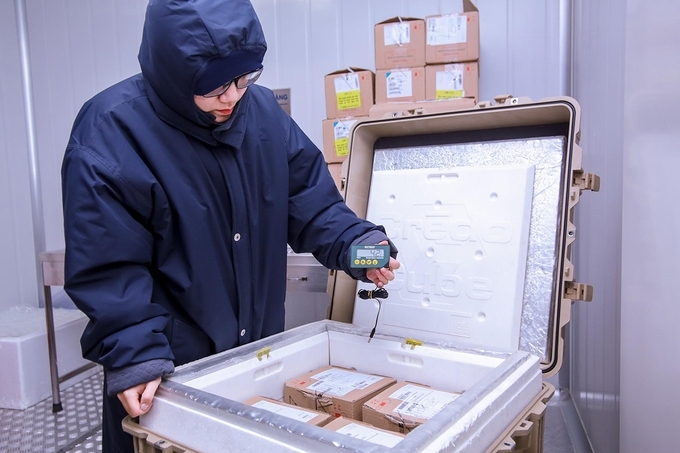 Vu Thu Ha, System Supply Manager of VNVC said AstraZeneca and VNVC checking the data of the batch during the production and transportation process (Photo: VNE)
Vietnam has recorded 2,488 Covid-19 cases so far. The total number of recoveries to 1,920, while the death toll remains at 35.
Among patients still under treatment, 65 have tested negative for SARS-CoV-2 once, 57 twice and 137 thrice. More than 51,570 people who had close contact with COVID-19 patients or arrived from pandemic-affected areas are being quarantined across the country.
Earlier on February 26, the Ministry of Health issues Decision No. 1210/QD-BYT, approving the Plan to receive, preserve, allocate and use COVID-19 vaccines secured through the COVAX Facility for the 2021-2022 period, as reported by Thu Vien Phap Luat.
This Decision details the 11 groups of people prioritized to receive Covid-19 vaccine shots secured through the COVAX Facility, including:
This Decision details the 11 groups of people prioritized to receive Covid-19 vaccine shots secured through the COVAX Facility, including:

- Medical staff.

- Disease prevention and control staff (e.g. steering committees at all levels, staff working at quarantine zones, reporters, etc.).

- Diplomatic, customs staff and immigration officers.

- Military forces.

- Police.

- Teachers.

- People aged more than 65 years.

- Group of staff providing essential services, such as aviation, transport, tourism; electricity and water supply, etc.

- People with chronic conditions.

- People wishing to take business trips, study or work abroad.

- People living in epidemic hit areas that are identified based on epidemiologic studies.

The Decision No. 1210/QD-TTg is entering into force as of the signature date.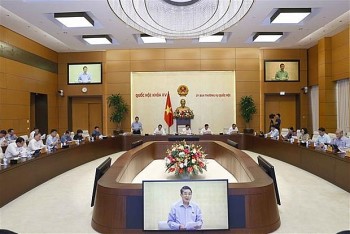 National
The National Assembly (NA) Standing Committee examined the draft revised Law on Protection of Consumer Rights on August 15 as part of its monthly session.