Digital Travels: Vietnamese Tour Guide Opens Virtual Tours For International Tourists
Le Hoang has done many virtual tours to promote the beautiful images and destinations of both Hanoi and Vietnam to international tourists during the Covid-19 pandemic.
Covid-19 pandemic has affected a lot of people's lives and business, especially the tourism industry. Business such as homestay service, restaurants, hotels, etc are in difficulty trying to maintain job for their employees.
A large number of people working in tourism fields are now unemployed because of the pandemic, temporarily "freezing" their income and hope for everything to become stable again.
A young tour guide has done many virtual tours to promote the beautiful images and destinations of both Hanoi and Vietnam to international tourists in the midst of the Covid-19 pandemic. Travelling tour around Hanoi's Old Quarters, discovering Hanoi street food and cuisine etc have received thousands of follows from tourists from all over the world for more than 1 year.
With a smartphone and portable handle, 27-year-old Le Hoang done virtual tour guiding for many tourists through screens, wandering around Hanoi and experiencing the variety of sounds that come from crowded streets, visiting famous spots and enjoying a hot cup of coffee in a Hanoian's traditional way.
Apart from showing lively images of the daily life in Hanoi, Hoang also tells historical stories of each places, recreating the most heroic and proud moments of the thousand-year-old Capital through words.
In March 2020, Hoang was unemployed because of the Covid-19 pandemic like other people working in tourism business. He mostly did guide tour for international tourists, and his income was cut short in the midst of the pandemic.
After researching information online, Hoang came across a new online experiential platform that allows people to sell or participate in virtual tours. After that, he came up with the idea of doing online tour that are totally free and easy to access on social media and networks.
"In April 2020, a friend of mine has introduced me to an online travel platform, from which I started working as an online tour guide. My first virtual tours were mostly about interesting places, culture and history of Hanoi.
Online tour is also very much different from ordinary one, is that people can follow the tour guide through the computer screen and still brings the same quality. I often read and learn about the places that I am taking them a few days before the next trip. I usually do 2 online tours in one day," Hoang said.
According to Hoang, virtual tour into narrow alleys in Hanoi attracts a lot of attention from international tourists. "The fact that there are people who live in narrow and deep alleys of Hanoi with tangled electricity wires above their head amaze many tourists, as they have never seen it in any other places," Hoang said.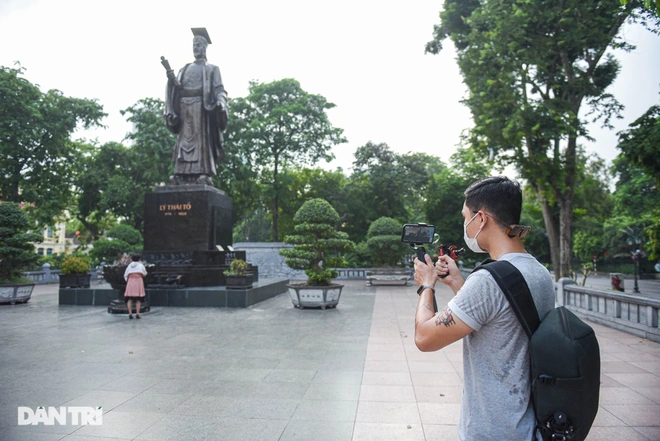 Hoang often takes tourists to the most historical places and tells them the stories of each place. Photo; Dantri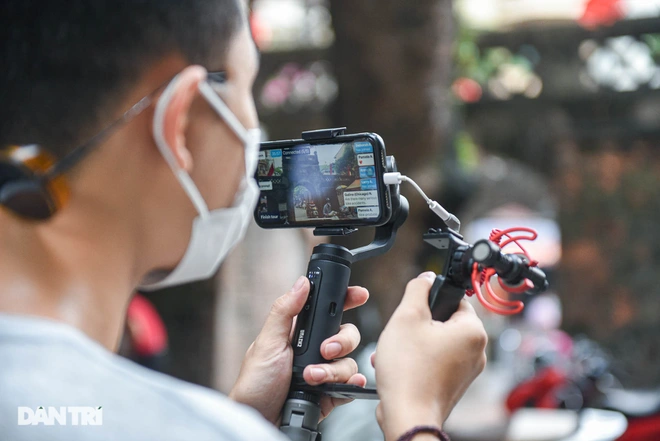 To bring to the tourists the best experience, Hoang carefully chose and prepared his equipments, such as camera, micro, smartphone etc. Photo: Dantri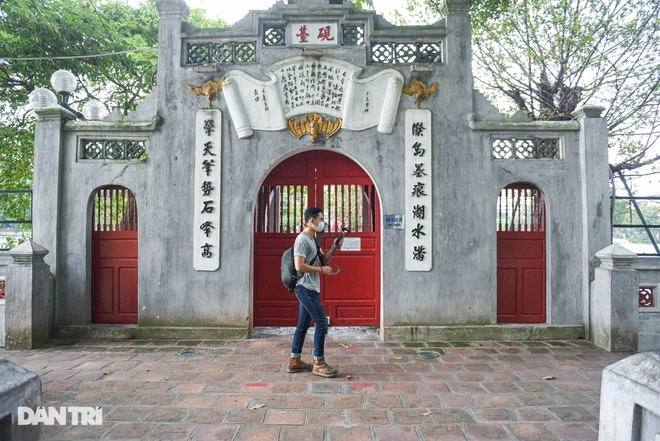 Each virtual trip will last about 40 - 60 minutes. Photo: Dantri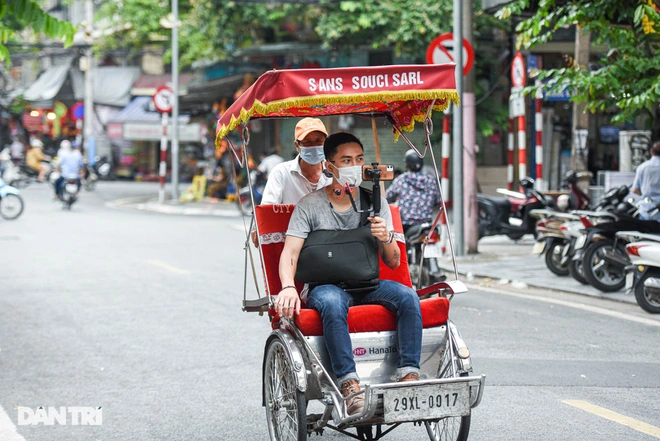 Hoang guides tourists through Hanoi's Old Quarters. Photo: Dantri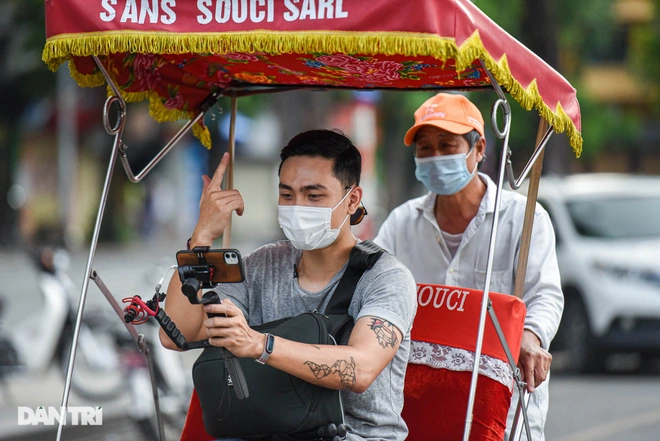 "Tourists are excited to see me sitting on a cyclo. They have never seen something like this before," Hoang said. Photo: Dantri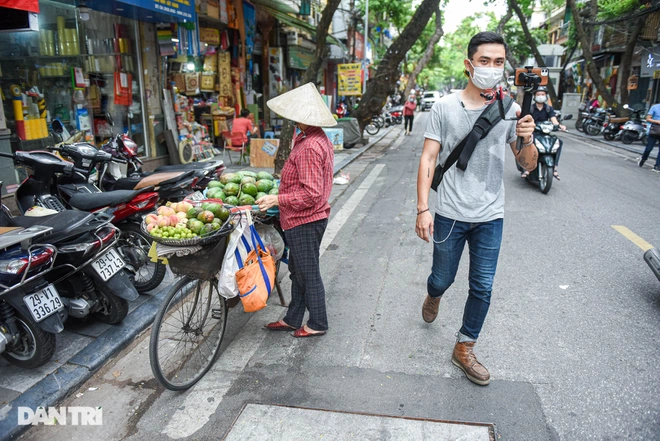 Hoang also introduces tourists to the daily life of people in Hanoi. Photo: Dantri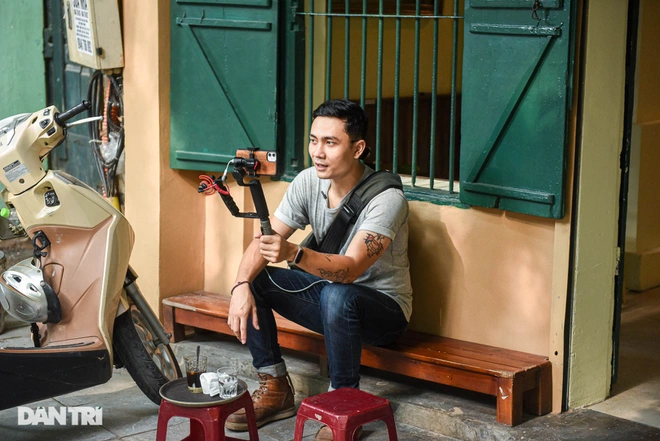 Every weekend, Hoang shows tourists how Hanoians make and drink coffee. Photo: Dantri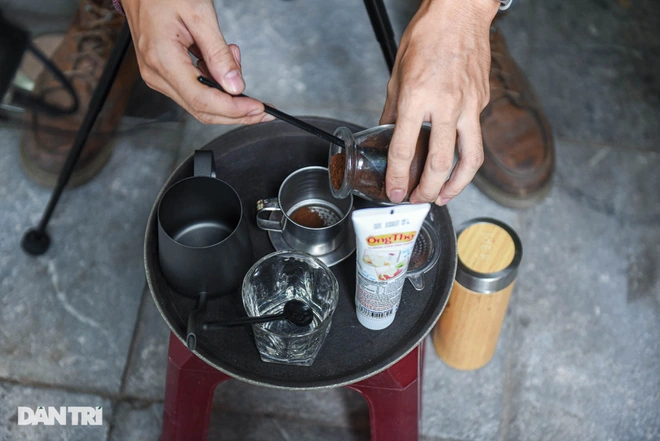 Photo: Dantri