Discover the Alluring Beauty of Sapa's Ripening Rice Season
When mentioning Sapa, people often think of the misty mountain town and the beautiful view. This place is also famous for its extraordinary golden rice season, which will bring the best traveling experience for tourists coming here.
Sapa is an ideal highlands escape from the bustling city with breathtaking views of terraced rice fields, forests, and hidden wonders of nature that any adventurous travelers should never miss when coming to Vietnam. Immersing in a dynamic cultural exchange with ethnic minorities, you can also gain valuable exposure to the rich culture and traditions.
Sapa is the place to visit if you prefer the chilly weather over the tropical climate. Sapa has a cool temperature all year round, about 15 degree Celsius (59 degrees Fahrenheit), but you can still expect a lot of rain during the summer from May to August. Within one day in Sapa, you can experience different weather from all four seasons: a cool spring morning, a summer afternoon with a little sunlight, a cloudy and foggy autumn evening with a cool breeze, and finally, a cold winter night.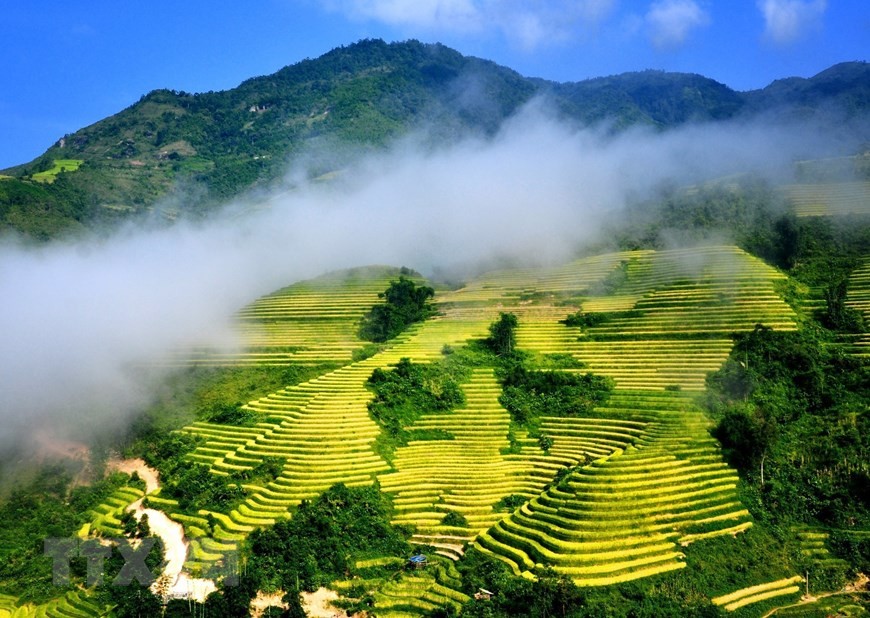 Photo: Quoc Khanh/TTXVN
In Sapa, there is only one summer-autumn rice crop in September. According to the local people living here, each year the ripe rice will be different by about 10 days. Therefore, the most ideal time to visit Sapa is from August to September. You will be able to have a wonderful and brilliant view of golden ripe rice fields along the way.
The rice season in Sapa only lasts 2 weeks. Tourists are advised to go early so that they can witness the alluring beauty of the sceneries in this place, and take the most beautiful Instagram check-in pictures with their families or friends.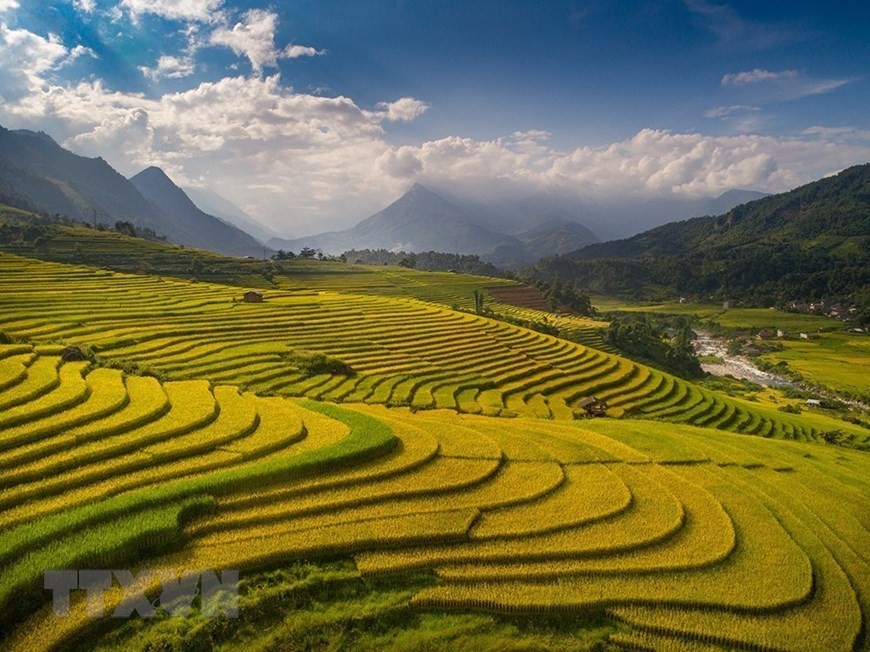 Photo: Quoc Khanh/TTXVN
In 2009, the terraced fields in Sapa were voted to be the most magnificent in Asia and in the world. It can be said that Sapa is in the most wonderful moments during autumn when the fields start to bloom like a sky ladder in the villages and attract aspiring photographers coming to this place.
Tourists can also learn how hardworking and creative the farmers are that they have kept these terraced fields for thousands of years. There are large fields of hundreds of hectares that look like giant paintings with winding lines made by the "artists" hands of the farmers. O Quy Ho Pass is one of the four great peaks of the Northwest, but only about 12km from Sapa.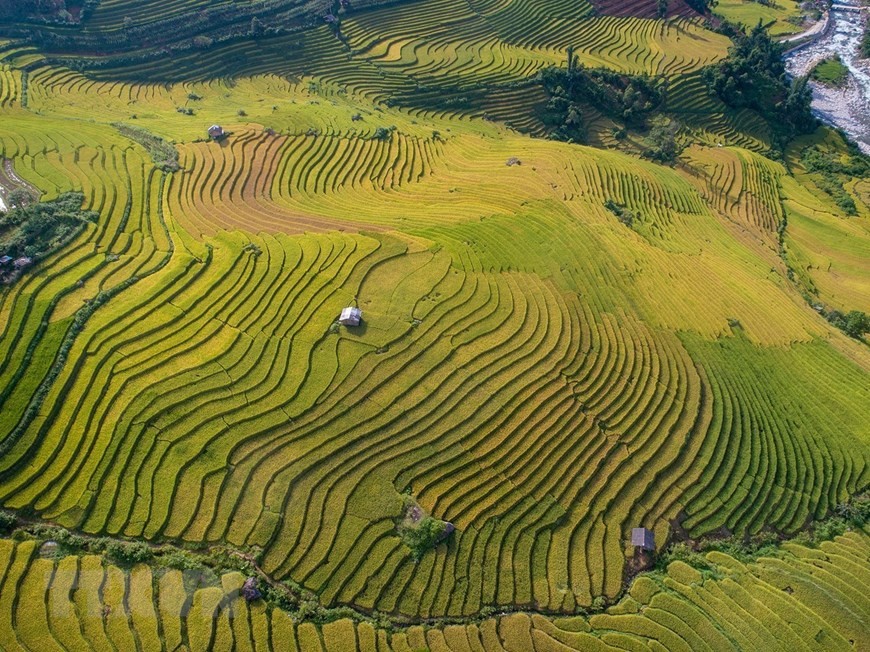 Photo: Quoc Khanh/TTXVN
Walking on the vast ripe rice fields, you will smell the sweet aroma of the ripe rice blending in the wind, creating a relaxing and comfortable feeling. You also have a chance to experience the life of the local people, which is full of laughter and joy. The golden and green colors of the rice fields create a gorgeous carpet as if it was bestowed by heaven and earth.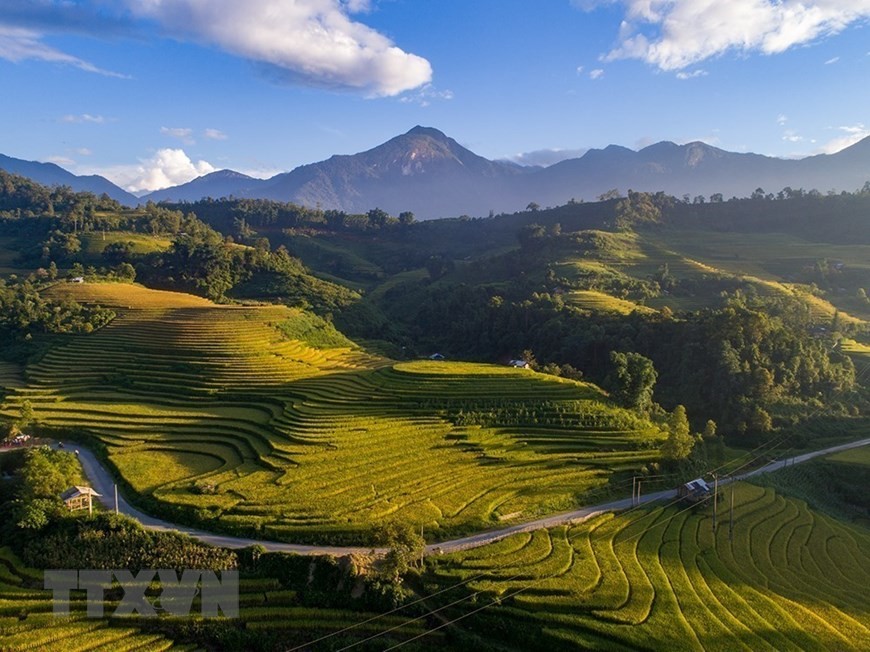 Photo: Quoc Khanh/TTXVN
Where to see the best golden rice fields in Sapa?
Ta Phin Village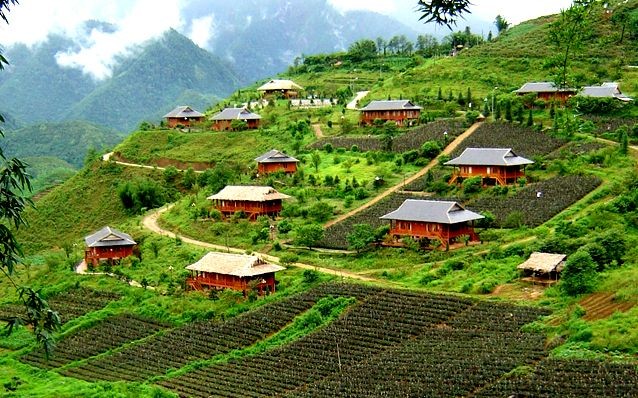 Photo: Du lich Sapa
At Ta Phin, you can still see the customs of Dao Do (Red Dao) ethnicity like the craft of the brocade and rice terraces. Inside the cave near Ta Phin, the water erosion has formed and changed the rocks into many shapes like a fairy or animals, and the sparkling forest is created by emerald green crystalized dripstone.
Location: 10 kilometers from Sapa
Muong Hoa Valley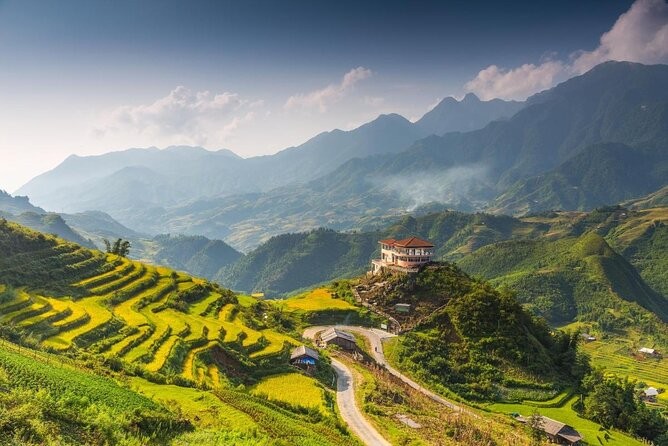 Photo: Viator
Located about 10km southeast of Sapa town, Muong Hoa valley in Hau Thao commune is famous for its green rice terraces or golden rice paddies, along with majestic mountains and forests. In the middle of the valley is a stream with a romantic name- "Flower stream". The 15 km long stream flows peacefully through the valley, meandering along the mountain foot, nourishing the earth and the people. As the rice ripens, the terraced fields serve up different shades of green and yellow. Patches of color side by side create amazing sensual patterns and a sublime and majestic landscape.
Y Linh Ho Village
Y Linh Ho village is about 3km from the town center. Although not as famous as Lao Chai and Ta Van villages, Y Linh Ho attracts tourists with its wild beauty.
Getting around Sapa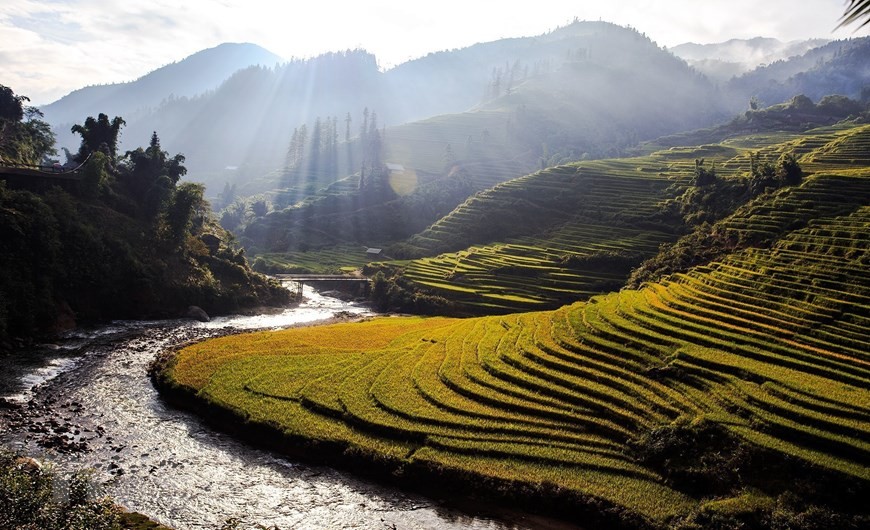 Photo: Quoc Khanh/ TTXVN
Once you are in Sapa, you can hire a motorbike or book a tour with a travel agency to explore around.
Motorbike: You can hire a motorbike at local hotels, bike rental shops with signs displayed outside, or at the Lao Cai Tourism Information Center. You will need to leave your passport as collateral. The fee may be different depending on whether you can ride it out of town and when you can return it. You will also need to pay for any other extra expenses like gasoline, but it should come with 2 helmets.
Private transfer: varies depending on the destination and vehicle's size. For more information and booking details, you can check out these services: GreenLion Bus, Topas Mountain Express, Victoria Sapa Coach, and Sapa Express.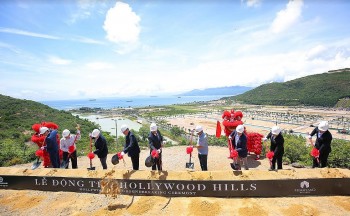 Economy
On October 2, at Hai Giang peninsula (Quy Nhon city, Binh Dinh), Hung Thinh Corporation held the groundbreaking ceremony of Hollywood Hills by YOO Inspired by Starck – a subdivision at MerryLand Quy Nhon. The event marks the first time that the world's No.1 ranked design and branded residence company YOO Inspired by Starck is officially present in Vietnam, with a collection of villas designed by creative director, Philippe Starck.