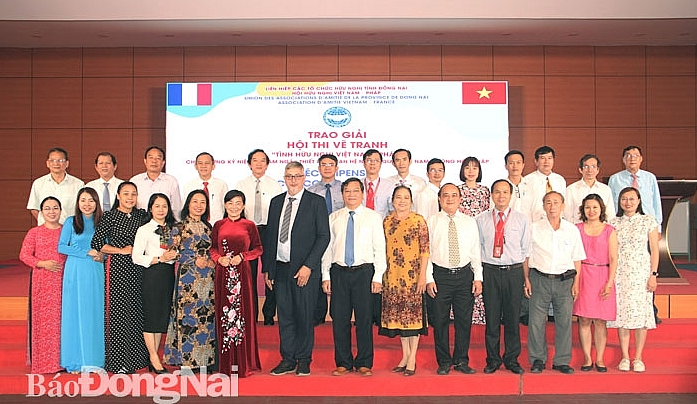 Dong Nai Union of Friendship Organizations, Vietnam-France Friendship Association in Dong Nai, Dong Nai University of Technology, and schools teaching French in Bien Hoa together celebrated the 48th anniversary of diplomatic relations establishment between Vietnam and France on April 12. (Photo: Dong Nai News)
Vietnam and France officially established their diplomatic relations on April 12, 1973. In the bilateral relationship between Vietnam and France, economic cooperation has achieved numerous marks. As of March 2021, France ranked 16th among 139 countries and territories investing in Vietnam.
Two-way trade turnover between Vietnam and France has more than tripled, from about USD 1.6 billion in 2009 to USD 5.3 billion in 2019. France, therefore, ranked third in Europe after Germany and the Netherlands in terms of two-way trade turnover with Vietnam. Regarding direct investment, to the end of May 2020, France has 588 investment projects in Vietnam with a total capital of USD 3.56 billion, ranking second among European investors in Vietnam (following the Netherlands).
In addition, France is also cooperating and implementing many projects in the fields of environment, urban planning, vocational training, tourism, culture, humanitarian aid ... in Vietnam.
In people-to-people diplomatic relations, recently, many agencies, organizations, and individuals in Vietnam have provided medical supplies (masks, medical protective equipment...) to the French people to support the fight against COVID-19. French Consul General in Ho Chi Minh City, Mr. Vincent Floreani highly appreciated the noble gesture of the Vietnamese people and affirmed that he would further promote French-Vietnamese cooperation.
A student joins the "France-Vietnam Friendship" painting contest. (Photo: Dong Nai News)
According to Mr. Tran Minh Hung, Dong Nai University Principal, Vietnam - France Friendship Association in Dong Nai President, France currently investing in 22 projects in Dong Nai with a total registered capital of over USD 227 million. Over the past years, Dong Nai has established cooperation relations with two French localities, which are Rhône-Alpes and Bretagne. From the 2002-2003 school year, the province introduced the French language program to 3 schools, including Nguyen Du Primary School, Thong Nhat Secondary School, and Tran Bien High School. After 19 years of implementation, the teaching and learning of French have always been maintained, developed, and achieved certain results.
In 2018, Dong Nai People's Committee decided to establish the Vietnam-France Friendship Association in Dong Nai. After more than three years in operation, the Association soon stabilized its organization, coordinated with related units to carry out events of practical significance.
Speaking at the ceremony, Mr. Christophe Legris, French Cooperative Attaché from the French Embassy located at the French Consulate General in Ho Chi Minh City, sent his sincere thanks to the Party Committee, authorities, and people of the province for building people-to-people relations, including a series of activities celebrating the 48th anniversary of the establishment of diplomatic relations between the two countries.
On this occasion, the Vietnam-France Friendship Association in Dong Nai organized a painting contest with the theme "France-Vietnam Friendship". The contest attracted nearly 200 students to participate, 45 of whom were awarded, including 3 first prizes, 5-second prizes, 12 third prizes, and 25 consolation prizes.
Valerie Mai