Dr. Thanh Herbal Tea, the drink of banquets and gatherings
With the ability to rebalance and detoxify the body after excessive eating, Dr. Thanh Herbal Tea was, in the first place, launched in the run-up to Lunar New Year. Since then, the tea has been seen at family banquets, and very common to see bottles of it at weddings and other big social gatherings as well.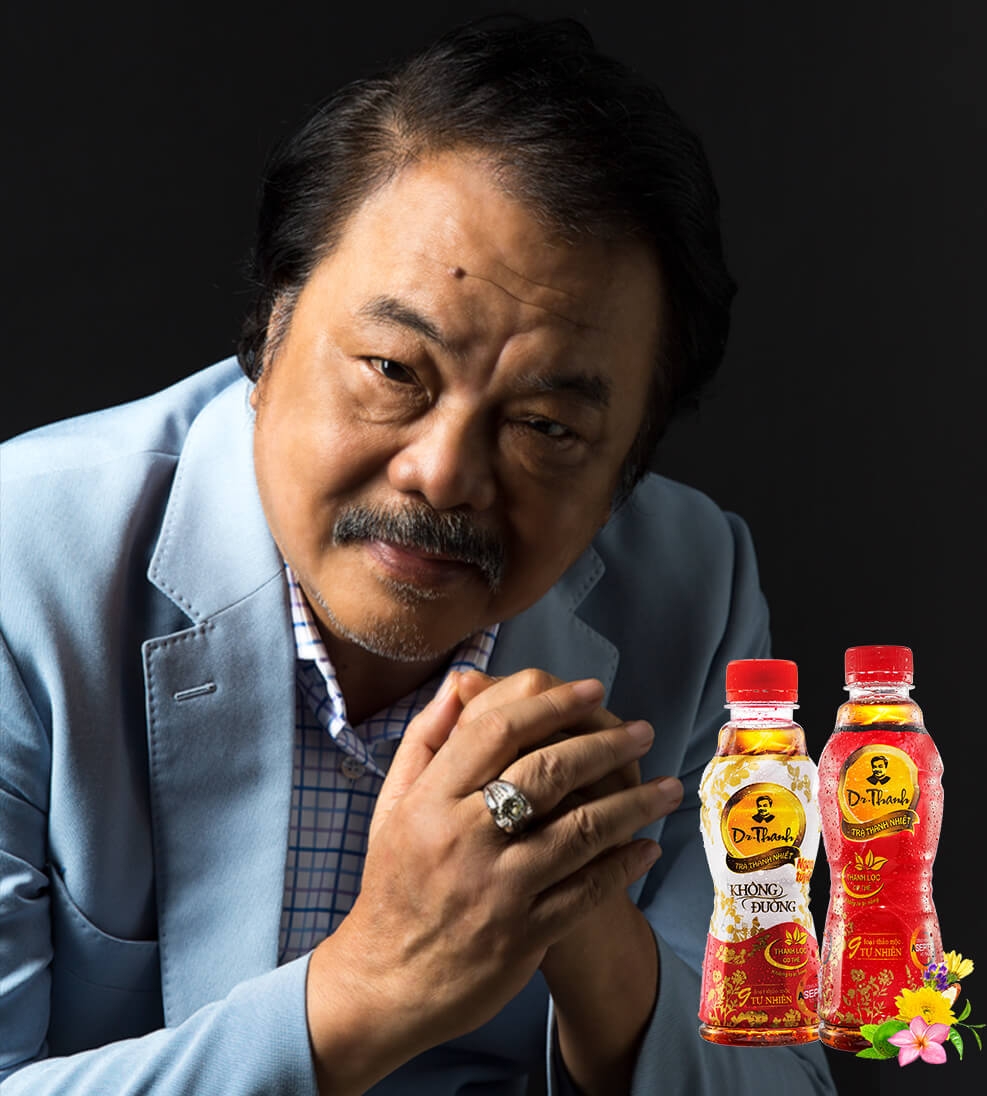 Mr. Thanh Quy Tran
My father (Mr. Thanh Quy Tran) led the project himself, against the advice of some of his marketers who did not believe in the project. How wrong they were.
He chose to launch the drink in the run-up to Tết, the most important event of the year in the Vietnamese calendar. One of the drink's key attributes is its ability to rebalance and detoxify the body after excessive eating - one of the main activities during Tet. It has a cooling effect (yin) to combat excess heat (yang) and dampness in the body, caused by too much oily and fatty food.
The Vietnamese people are well versed in Eastern medicine, and there is a very popular type of tea called Tra Atiso, or artichoke tea, which is renowned for its liver-cleansing properties. It is very common to buy bags of herbs from the TCM store, take them home, and boil them in water.
He decided to develop a drink, which retained all the attributes and goodness of TCM but was much more convenient—a very similar strategy to Zero Degree Green Tea. At the time the R&D team had 180 products under development, but my father instantly saw the benefits of developing one that helped to release inner heat. Spotting trends has always been his genius.
The drink he came up with uses nine traditional herbs that all have a cooling effect on the body. They include honeysuckle, good for chest infections; spruce, also good for the chest and throat; which helps to reduce inflammation; chrysanthemum, which has a soothing and cooling effect; monk fruit (a small melon), which is particular!), licorice, which reduces liver fire; rosemary, which promotes wound healing and has anti-bacterial properties; and cucumber, which is also cooling.
A lot of people drink Dr. Thanh Herbal Tea after their family banquets, and it is very common to see bottles of it at weddings and other big social gatherings as well.
The advertising is unashamedly populist and plays on the theme of family and community. For example, one recent advertisement had a young man threaten to tear up his marriage certificate because his wife was lazy and spent her entire time playing video games rather than helping his mother with the cooking and cleaning. It played into a stereotype about southern women.
Northern women are viewed as strong and capable. The north is prone to natural disasters such as typhoons and flooding, which never affect the south.
As a result, northern women are commonly viewed as being far more organized. But after the wife in the advert drinks Dr. Thanh Herbal Tea, she is revitalized and full of energy. The marriage is saved, the mother-in-law is happy.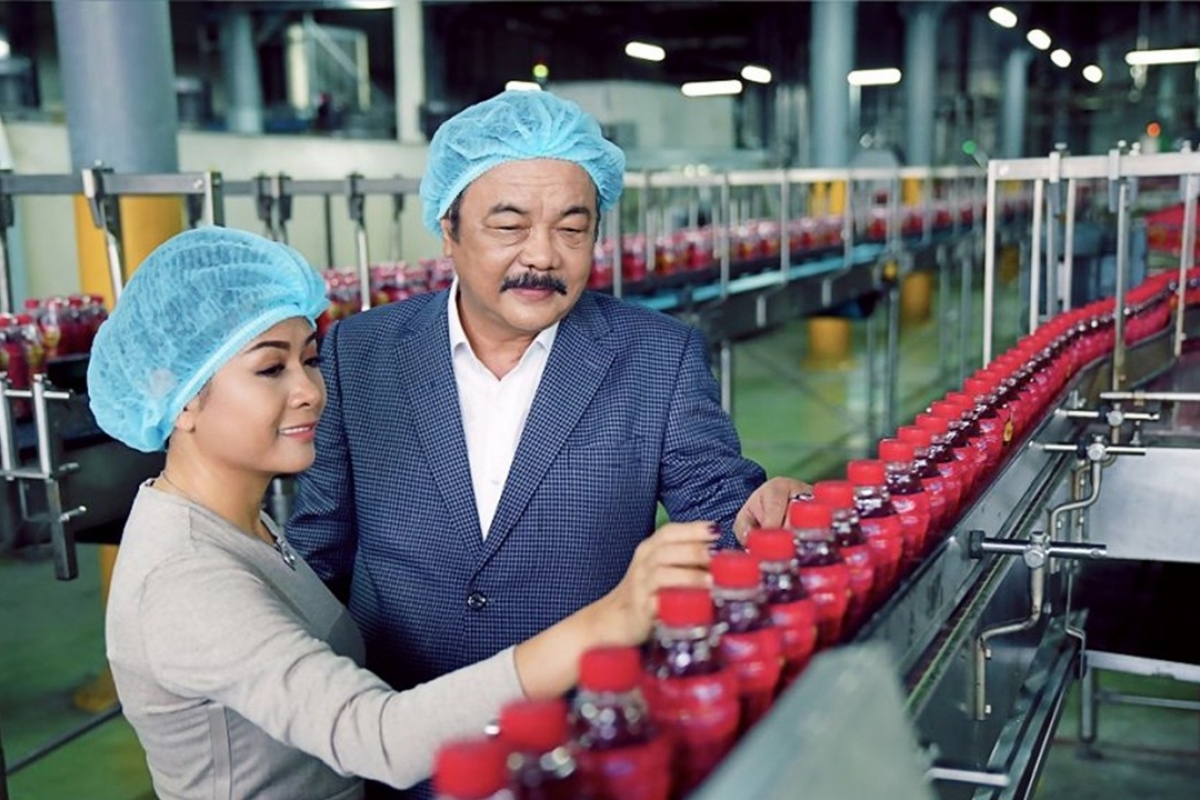 Phuong Uyen Tran and Mr. Thanh Quy Tran
A second recent piece featured two rival bicycle drink vendors who suffer a crash after racing each other down the street. Both are seriously hurt, but after drinking a bottle of Dr. Thanh Herbal Tea that has fallen on the road, they are not only able to dust themselves off but also decide to work together. They create a far more successful business than either of them had when they acted alone. The message is twofold. Dr. Thanh Herbal Tea not only physically cools the body but also takes the heat out of angry situations.
On a more general level, it makes Vietnamese consumers feel good because one of our national characteristics is that we like to think ves as helpful people.
In the past few years, especially in 2018, Tan Hiep Phat and Tran Uyen Phuong are among Vietnamese names in the field of business that appear the most on international media because of their stories inspiring co-startups as well as millions of consumers around the world.
That Forbes first published the book "Competing with Giants" by a Vietnamese businesswoman has help promote the name of "rich man" Tan Hiep Phat.
Afterward, in the minds of many consumers, each water bottle is not only a drink but a crystallization of the desire to overcome difficulties and the spirit of entrepreneurship, an organic trend and Vietnam of miraculous stories.
And also from this book uncovered the aspirations of Tan Hiep Phat, as Mr. Hiroshi Otsuka, President and CEO of Musashi Seimitsu said: "An unmissable insight into how and why Vietnamese businesses are quietly growing into global players."
About author Phuong Uyen Tran
Working as a powerful businesswoman, Forbes published author, Phuong Uyen Tran is a model of success in Vietnam. Phuong Uyen Tran is also a special contributor for Vietnam Times. Her writing, including "Competing with Giants" book, and her latest articles are to advise and inspire young people to start-up, overcome challenges and reach out to the world. It is the story of a little girl taking the great responsibilities for a corporation and devoting herself to society.