2008 - the booming year of Tan Hiep Phat
Back in 2008 THP was the biggest advertiser in Vietnam. Tan Hiep Phat was everywhere: on billboards, on TV, in magazines, and all over social media. The new jingle was so popular that children were soon singing it in the playground.
Mr. Thanh Quy Tran and Mrs. Nu Thi Pham
After a few years in the sugar business, they moved into alcohol distilling and then into beer. By now it was 1994, and winds of reform were sweeping through Vietnam, legitimizing private businesses and creating multiple opportunities. They also made sure they paid upfront, so the company knew they would not just run away with the stock. In turn, my parents have always said that they were fortunate work in both the communist and capitalist systems because they have learned from both.
My parents' timing was perfect. Fast forward three years and THP had grown into a fast-growing business manufacturing beer.
It was a win-win situation all round. Everyone at THP felt a huge sense of pride at being a market pioneer. And customers benefited because here was a new product that offered health benefits, was manufactured to the highest international standards, and yet reasonably priced.
When it came to the third "P," promotion, my father invested heavily. In fact, in 2008 THP was the biggest advertiser in Vietnam, outranking Unilever for the first time. One thing about my father is that he always thinks big. He broke many rules when he launched Dr. Thanh Herbal Tea, but he succeeded. He spots trends early, can make quick decisions, and then just goes for it, very confidently.
He has been known to finish meetings by shouting out "Attack!" Everyone else in the meeting is then expected to follow suit. "Attack, Attack, Attack!"
So THP was everywhere: on billboards, on TV, in magazines, and all over social media. The new jingle was so popular that children were soon singing it in the playground. "Thanh lọc Cơ thể, không lo bị nóng" or "When you feel inner heat, drink Dr. Thanh Tea." It is one of Vietnam's best-known jingles.
The target market was broader than either Number 1 Energy Drink or Zero Degree Green Tea had been. Initially, there was a slight tilt toward the older generation, who are more likely to suffer from indigestion and are more health-conscious.
But the drink also appealed to stressed-out office workers relying on fast food because they have less time to cook. This gained further traction with younger people when they discovered that it mixes well with alcoholic drinks since its herbs help to detoxify the liver and reduce the side effects of alcohol.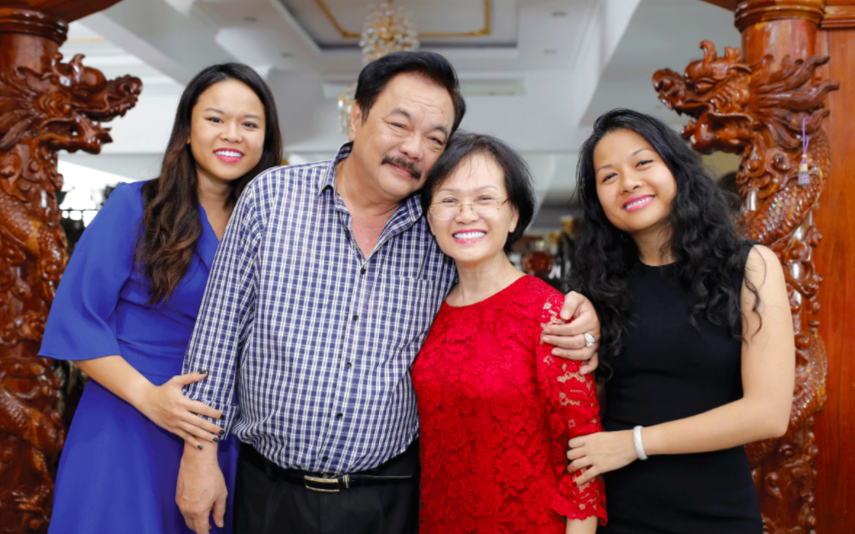 Phuong Uyen Tran's family
Tan Hiep Phat's viewpoint about Promotion
"As a product is being readied for launch, the third "P"—promotion—kicks in. It is no good having a great product if nobody knows about it", Phuong shares her business perspective in her post.
Promotion embraces all methods of persuasion, which a marketer uses to motivate customers to buy the product. It comprises elements such as advertising, public relations, and sales promotion.
These days, social media represents a growing share of any company's promotion budget, particularly when it comes to targeting Millennials (born after 1980) and Generation Z (born after 1995). However, Vietnam is a fairly traditional market, although this is changing fast. TV is still the lead medium.
As a result, THP still spends about 60 to 70 percent of its advertising budget on TV. In developed countries like the US, companies typically spend about 40 percent or less, because the market has become so fragmented. Western consumers have multiple TV channels to choose from, and many have switched to streaming services like Netflix where there are very few adverts.
About author Phuong Uyen Tran
Working as a powerful business woman, Forbes published author, Phuong Uyen Tran is a model of success in Vietnam. Phuong Uyen Tran is also a special contributor for Vietnam Times. Her writing, including "Competing with Giants" book, and her latest articles are to advise and inspire young people to start-up, overcome challenges and reach out to the world. It is the story of a little girl taking the great responsibilities for a corporation and devoting herself to society.
Read More: a prominent female millionaire and an emotional author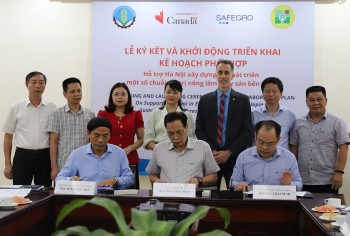 Make in Vietnam
As Vietnam furthers its international intergration, building agro-forestry-fishery high value chains is crucial for the sustainable development of the agriculture sector.