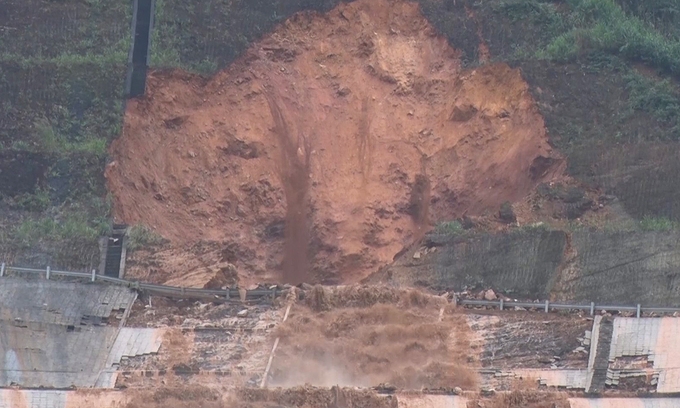 A talus above the A Luoi hydropower plant collapsed due to a broken water pipe in Thua Thien-Hue Province, January 1, 2020 (Photo: VNE)
The A Luoi hydropower plant in the province's A Luoi District was operating at around 8:40 a.m. on Jan. 1 when a broken water pipe, running 11 kilometers from a reservoir, sent mud and rocks from a talus down onto the plant, flooding it and forcing it to cease operations. There were no human casualties.
The Central Hydropower Joint Stock Company has closed the gates for receiving water from the reservoir. It has said that water flow from the reservoir to downstream areas towards Laos's Se Kong Province will be regulated at 50-100 cubic meters per second.
Authorities have warned people to stay away from the area.
In a report sent to Thua Thien-Hue People's Committee on Wednesday, the Central Hydropower JSC, the plant's investor, stated a check under a steel-plated tunnel running below the plant revealed cracks in the pipe. The locations where the cracks were observed were all situated within a layer of shale.
Since the plant commenced operations in 2012, around 60 earthquakes and seismic events were observed in the area, with the biggest at 4.7 on the Richter scale occurring on May 15, 2014 with its epicenter located around 4.9 kilometers to the north-northeast of the plant. The most recent seismic event nearby took place on Dec. 25, 2020.
Earthquakes and seismic events might have shifted the many layers of rocks in the area, affecting the stability and welding joints of the water pipe, which may have caused the leakage, it was further suggested.
The 170 MW hydropower plant is still not producing electricity as of Wednesday. It is expected to resume operations next month.
Earlier in mid-October, 30 people missing in connection with the landslides at Rao Trang 3 hydropower plant in the central province of Thua Thien-Hue due to serious landslide, the rescue work is underway with maximum efforts of finding and rescuing.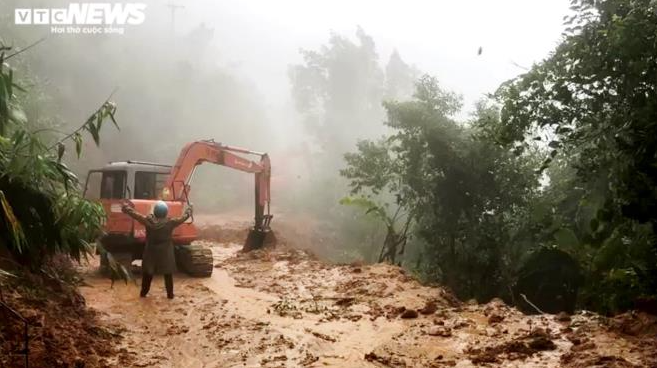 Functional forces clear the road to access the scene of accident. (Photo: VTC)
On the evening of October 13, at the Steering Committee of the Front-line Command Department located at the headquarters of the People's Committee of Phong Xuan commune, Phong Dien district (Thua Thien-Hue), Minister of Agriculture and Rural Development Nguyen Xuan Cuong, and Lt. Gen. Nguyen Tan Cuong - Deputy Minister of Defense met with leaders of Thua Thien-Hue province, the Military Region 4 to implement the next plans to soon approach the scene of the landslide that previously caused the missing of 13 officers and soldiers.
It is known that on the 2,5-kilometer road from the communication site to the ranger of sub-area 67 - where the accident happened exist 3 serious landslides.
Jasmine Le