The Ultimate Guide to Thrifting in Vietnam
These secondhand stores from all over Vietnam offer great deals and the potential for amazing, unexpected discoveries.
Vintage is now vogue, according to some of the most popular fashion celebs. From supermodel Bella Hadid to trendy YouTubers like Ashley of the channel Bestdressed or TikTokers like Gabi Jones who challenged herself to only wear vintage clothes from head to toe for 365 days of 2022, more and more people have embrace the art of thrifting. By shopping at a thrift store, flea market, garage sale, or a shop of a charitable organization, fashionistas can find some interesting clothes to diversify their wardrobe.

In Vietnam, a nation with a rich traditions and several, strong ties throughout the interntional community, thrifting offers the chance to own some beautiful pieces from Vietnam's colorlful past or new accessories from around the world.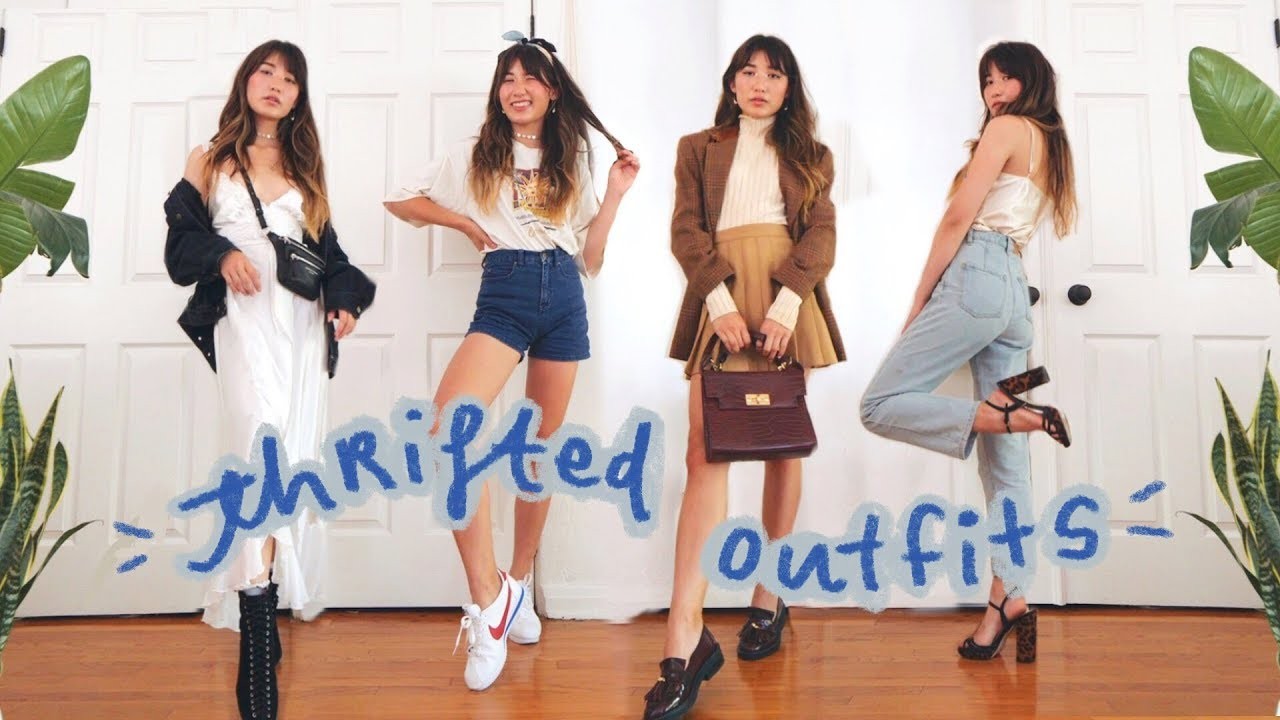 Screenshot from the Youtube channel Bestdressed.
Thrifitng, among other ways to purchase clothes, has changed the way people shop. The global secondhand apparel market is projected to grow by 127% by 2026, three times faster than the global apparel market overall, according to the tenth annual 'Resale Report' from online resale store ThredUp Inc.
Purchasing used clothing or rental clothing has risen beyond a trend to become a lifestyle for many people, according to Dr. Sheng Lu - Associate professor of fashion and apparel studies at the University of Delaware.
Hanoi
In Hanoi, it is not difficult to find store for used clothes. Eventhough thrifting in Hanoi is relatively affordable, your choices are narrowed depending on your style.
1. Marché Vintage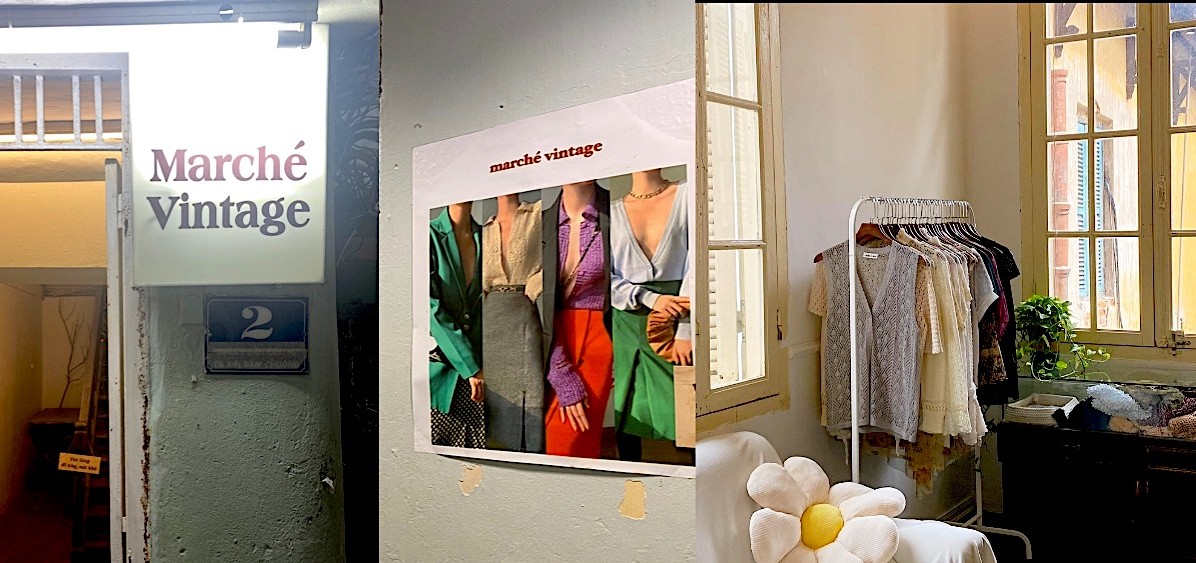 The shop is located on the third floor of an old French-styled tenement. Photo: Zoey Nguyen, Marché Vintage.
Located in an old French-styled tenement in the heart of Hoan Kiem district, this stylish building is home to even more stylish outfits. Climb up the stairscase to find one of the best preserved vintage stores.
Upon first impression, it can be mistaken for a photography studio. It is best that you come within the day, so you can do the fitting in natural lighting. The jazz music at the shop will block out the hustle and bustle of Hanoivintage, so you can focus on finding your favorite vintage piece.
The store offers hand-picked vintage clothings, from blazers to jeans. It does not carry a lot of one-piece dresses but there are plenty of skirts and clothing sets. The style that Marché vintage carries are from the late 60s to the 2000s, but the condition are decent and like-new.
A common concern of many thrifters is the sizing. You might find a beautiful peice but have to put it back because it is not your size. If you are willing to wait for about 3-5 business days, the staff at Marché is happy to alter the clothes to your measurement.
Locaton: 24D Tran Hung Dao, Hoan Kiem, Hanoi
Opening hour: Everyday, 10AM – 9PM
Price range: from VND 100,000 (US $4.2)
2. Urban Circular Space (UCS)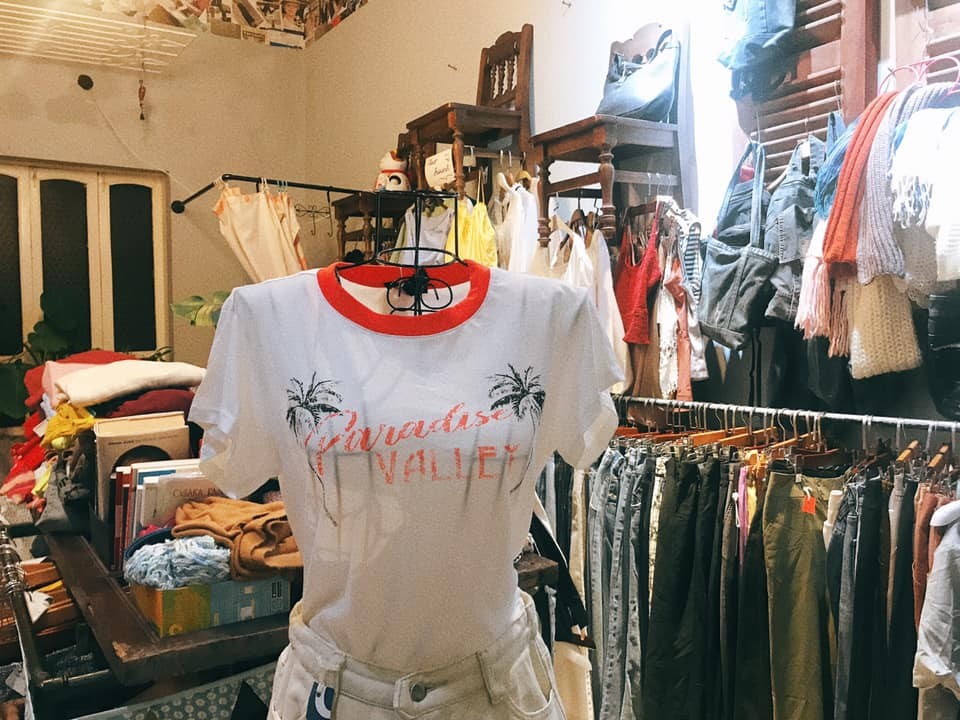 Photo: UCS
In a world of fast fashion, Urban Circular Spaces (UCS) stands out as a ethical source of shopping.
The UCS accepts donation of clothes then freecycle/upcycle them so the next owner can enjoy them just as much as the first one. From clothes to shoes, bags, and books, there are many gems to discover at UCS. Also remember to ride on a bicycle to the store and you will get a 20% discount.
The store has hold many events for clothes swapping where people are invited to bring their own clothes and swapped them with the items at the stores. UCS will enjoy a 40% value of the swapped items, and you can refressh your closet without spending a fortune. It is a win-win!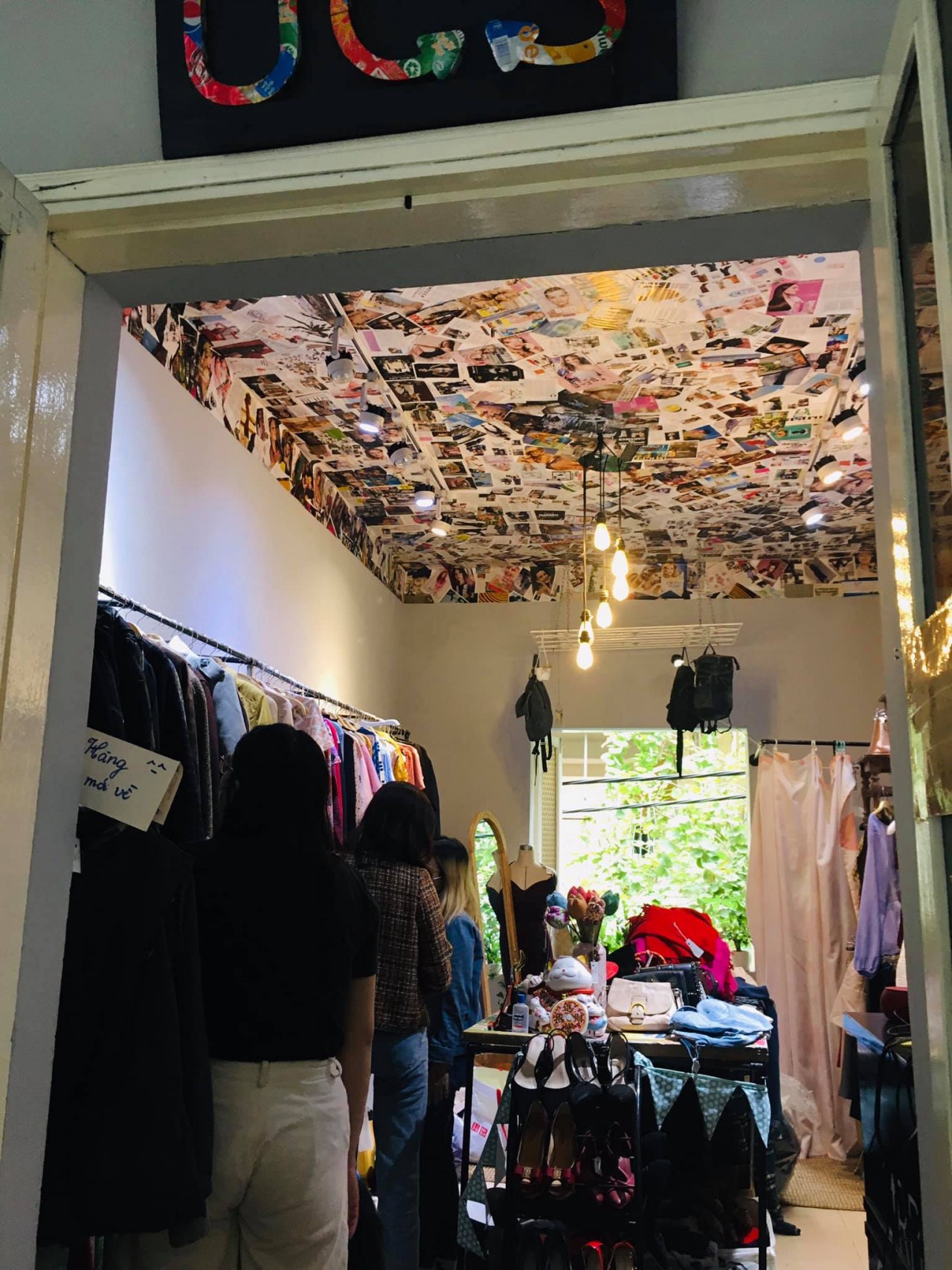 Photo: UCS
Although the shop is not as spacious as the first one, and when it is sales season, you will have to do some "digging" in a pile of clothes, it is a trusty destination to shop more sustainably.
Location: 2X, 6 Ton That Tung, Dong Da, Hanoi
Opening hour: Wednesday to Sunday 10AM – 8PM
Price range: from VND 50,000 (US $2.15)
Ho Chi Minh CIty
Fashion lovers in Saigon are on the look out for the best, most stylish secondhand stores.
3. Mix & Match
Unlike UCS, Mix & Match in HCMC does not accept donation, instead it offers a system of consigning and earns commission from the items that sells. For ones that cannot sell after 1 or 2 months, they will be donated for a good cause. This system is one of a kind in Vietnam.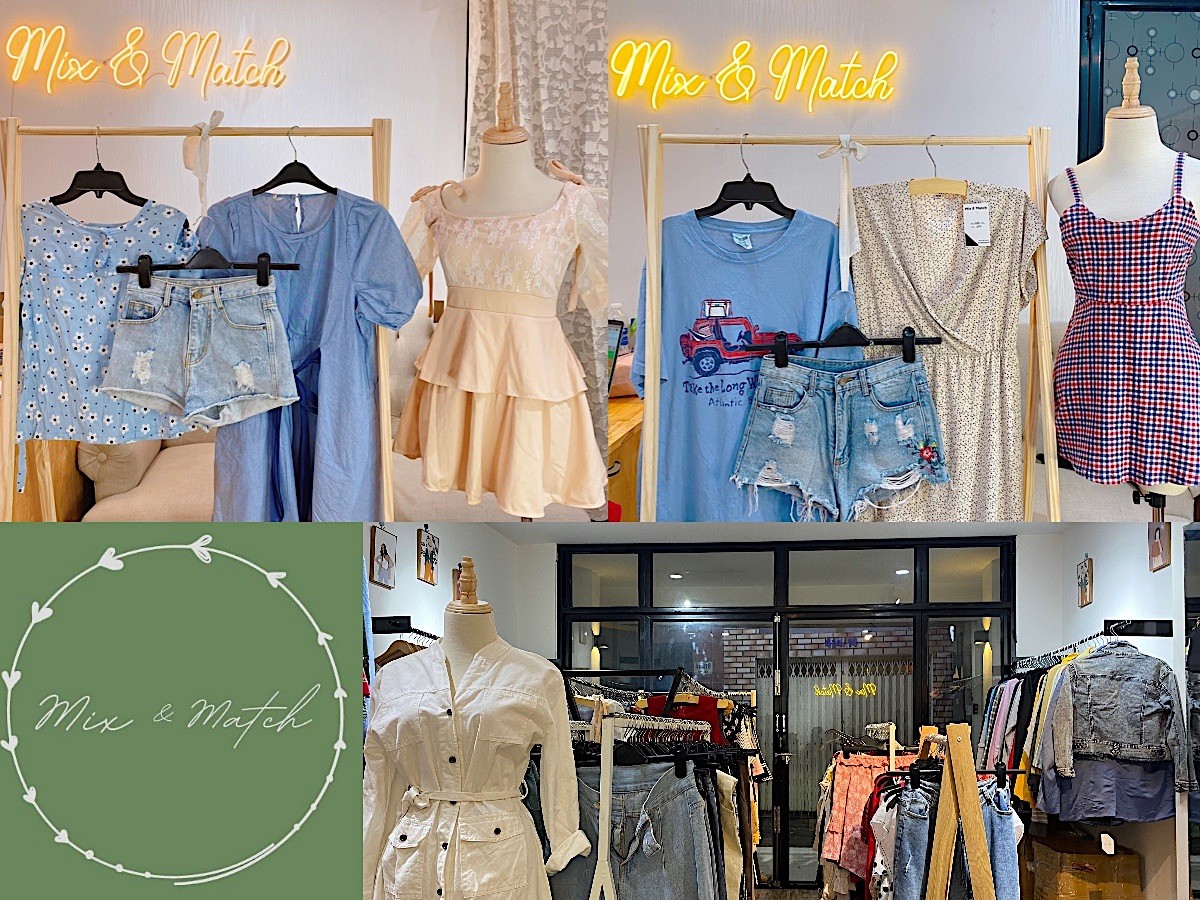 Photo: Zoey Nguyen and Mix & Mtch tphcm Facebook
The staff will check the conditions of the clothes carefully, and will not accept ones that are too old or damaged. Not only customers do not have to worry about the quality, they can spend close to nothing since it is so cheap! The thrill of saving money adds to experience.
Even though it is in a small alley, Mix and Match is popular among students thanks to being close to many high schools and universities in District 3 and being active online.
Location: 414/17 Cach Mang Thang 8, Ward 11, District 3, HCMC
Opening hour: Everyday 9AM - 9PM
Price range: from VND 30,000 (US $1.29)
Da Nang city
The list would be incomplete without a trendy yet classic vintage store in Da Nang called TARA Choice.
4. TARA Choice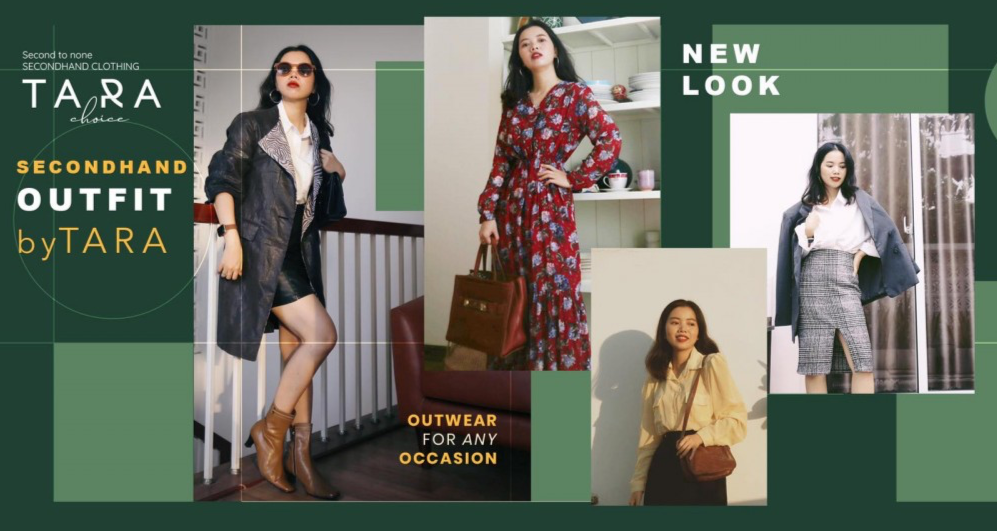 Photo: TARA Choice
Inspired by the effortlessly romantic way that Parisians dress, TARA Choice offers occasion-wear, from clothes to footwears, designer handbags to accessories.
The TARA Choice Facebook page engages with customers daily with fashion tips like how to make an outfit for certain occasions because it wants to give "big sister's advices" based on the study of trends & shopping know-hows.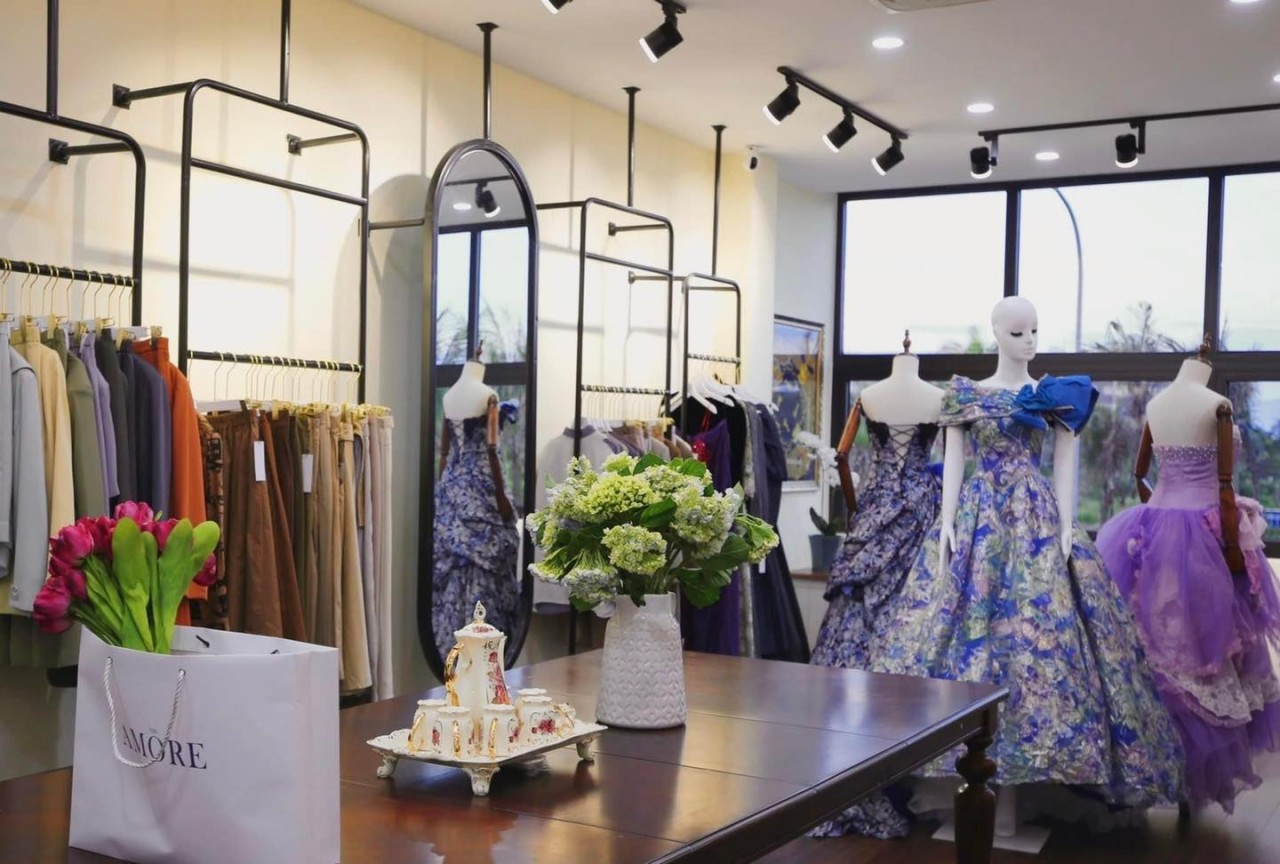 It is still very hit-or-miss with online shopping so Tara owner is now opening its physical store called The Amore. Photo: The Amore
The gems that I found while thrifting here gave me a fashion collection that showed my personaility without going broke. TARA Choice also welcome customers to be friends in cloth-swapping forum to help build a bigger community of vintage clothing lovers.
Location: FPT City Complex, Hoa Hai, Ngu Hanh Son, Da Nang City
Opening hour: Everyday 8AM - 5:30PM
Price range: from VND 100,000 (US $4.2)
Bonus: Honorable mentions
Thrifting is now so much easier thanks to the internet. Not only does thrifting online keep you from making rush purchase decision, it also more convenient than making trips to the stores.
5. Take it - Buon Ma Thuot (@takeit_vintage): Instagram and Facebook secondhand clothing for women.
6. Respect Online Shop - Kien Giang: (@_respect.vn): Instagram vintage, designer clothing and accessories for men.
7. Summer Palace - Hanoi (@summerpalace.hn): Instagram and Facebook unisex vintage clothing and accessories.