Eight Delicacies of Ha Giang
When it comes to Ha Giang, people often think of a tourist area in the northern mountainous region of the country. In addition to the impressive scenery of the rocky plateau and terraced fields, there are also many delicious culinary specialties.
Thang Co
One of the most prominent dishes in Ha Giang is Thang Co (meat soup). This is a traditional dish of the Mong people in the highland districts of Ha Giang and many other mountainous regions of the North.
Thang co in the local language means meat soup made from raw materials. This dish is made from the whole head, legs, organs, and meat of various animals. It has the aroma of cardamom, doi seeds, and lemongrass, mixed with the fatty taste of meat. Hmong men who go to Dong Van market often eat a bowl of thang co and drink a few bowls of wine with their friends. Thang Co is a very typical cultural symbol of the Mong ethnic group.
The pot of Thang Co is rich, and it is cooked with many different spices. Photo: Vietnamtimes
Corn brew
Ha Giang corn brew is made up of delicious corn, clean water, and especially a yeast called "hong mi". Hong mi is the name of a plant with seeds similar to buckwheat or millet. After harvesting, the seeds are crushed, then kneaded with water, and molded into cakes. The most special thing is that this yeast can not be found anywhere else.
This brew is handcrafted. After the corn has been harvested, people will choose the cobs with the largest and finest corn kernels. Then, they let them dry to easily separate the corn kernels.
Corn kernels are boiled in a large saucepan. During the boiling process, the corn will be stirred constantly to ensure it is cooked evenly.
After the corn is ripe, it will be poured into moist but clean soil and pounded with yeast, then incubated for about 10 days. A batch of Ha Giang corn brew is cooked for about 6-8 hours. In the first 4 hours, the wine came out extremely strong. After 2 hours, the extracted wine will be lighter. Finally, it is buried for at least 6 months before it can be used. The longer the brew is buried, the more delicious and valuable it becomes.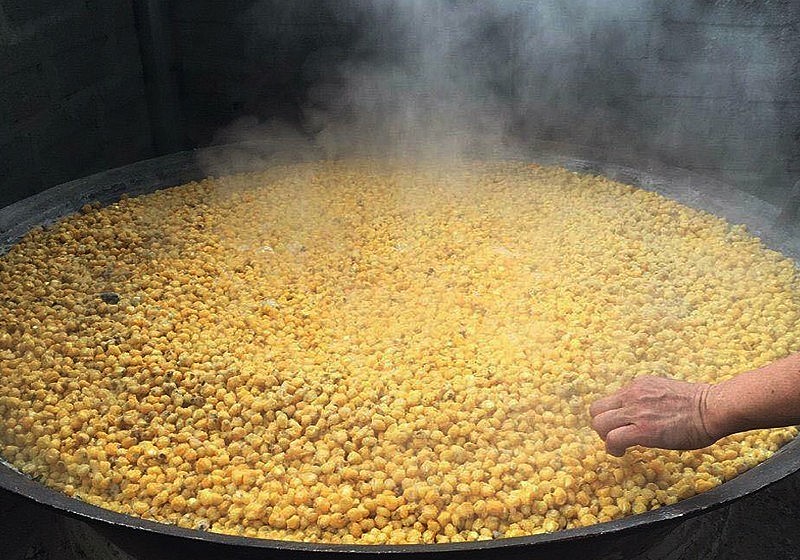 Ha Giang corn brew. Photo: Vietnamtimes
Corn rice
This is a popular dish made from corn associated with the life of indigenous people. The rocky plateau of Ha Giang cannot cultivate rice, so corn rice (or men men) is the main food of the H'Mong here. The ingredients are very simple, but when it is processed by the hands of ethnic minorities, it becomes an extremely unique and delicious dish, greasy, and very delicious. Men men have the aroma of corn, eaters can add broth if desired. The dish is simple and sophisticated at the same time.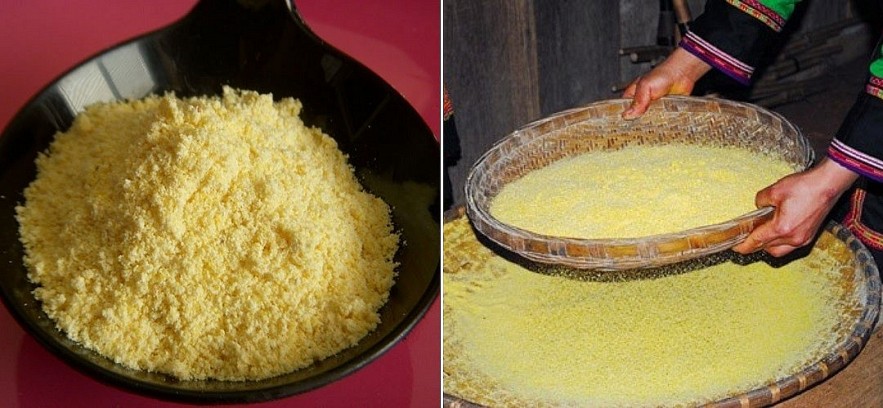 Photo: Vietnamtimes
Grilled buffalo meat
Grilled buffalo meat is a specialty dish often seen in the meals of the Black Thai people. However, over the years it has become popular and loved by many tourists. This dish must be made from the highest quality meat of free-range buffaloes. Each fiber of meat, after being divided and marinated with spices still retains the sweet and slightly astringent flavor. Grilled buffalo meat has a spicy taste from spices and a faint and gentle smoky smell.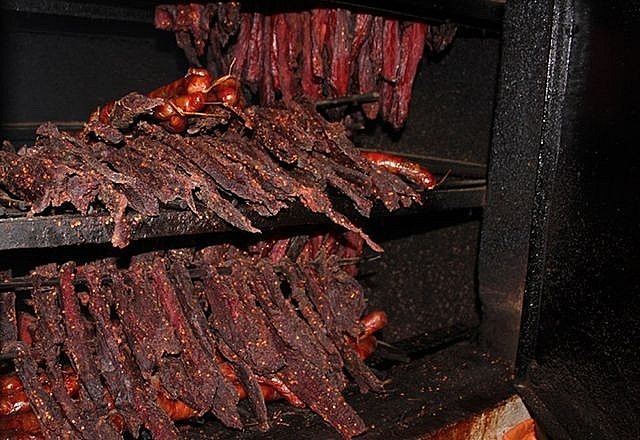 Photo: Vietnamtimes
Au Tau Porridge
This porridge contains all kinds of flavors in the fragrant aroma of sticky rice with yellow flowers mixed with finely cooked plain rice. It has the fleshy taste of well-boiled tubers and greasy pork leg broth. People often add fragrant leaves, minced meat, and eggs to create a very unique and attractive appeal to this dish.
Au Tau porridge has a slightly bitter taste. It is not only a simple dish but also acts as a valuable medicine to stretch tendons, and relieve muscle and bone pain. It also helps dispel fatigue as well.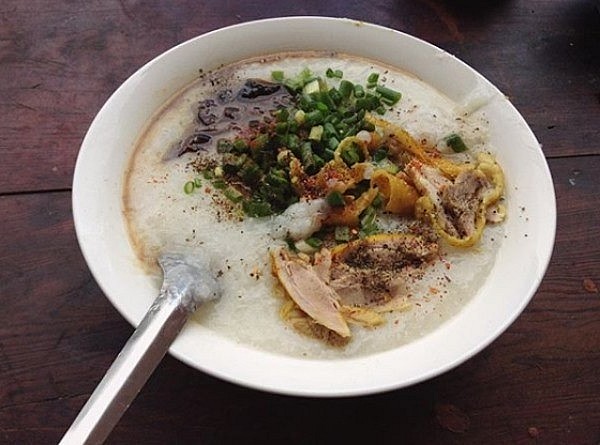 Photo: Vietnamtimes
Buckwheat cake
The buckwheat is one of the symbolic flowers of the Northeast region of Ha Giang. The cake made from this fauna has become a specialty of the region. The cake is made from buckwheat flower seeds and has high nutritional value. Buckwheat seeds are pureed, then kneaded, and molded into flat cakes. Its diameter is larger than a hand span. The dough is steamed and baked on a charcoal stove. Visitors will easily find these cakes at the market.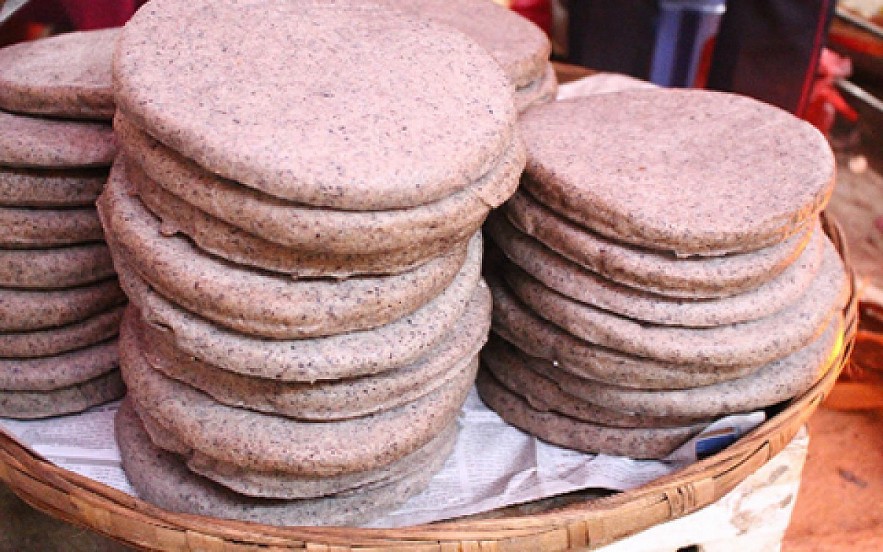 Photo: Vietnamtimes
Five-colored sticky rice
This dish is called five-color sticky rice because it is made up of 5 types of sticky rice with five different colors. It is red, yellow, blue, purple and white. In addition to their eye-catching beauty, these 5 colors also have a very special meaning. They represent the five elements of heaven and earth: metal, wood, water, fire, and earth. That shows the desire for lasting harmony between people and nature here.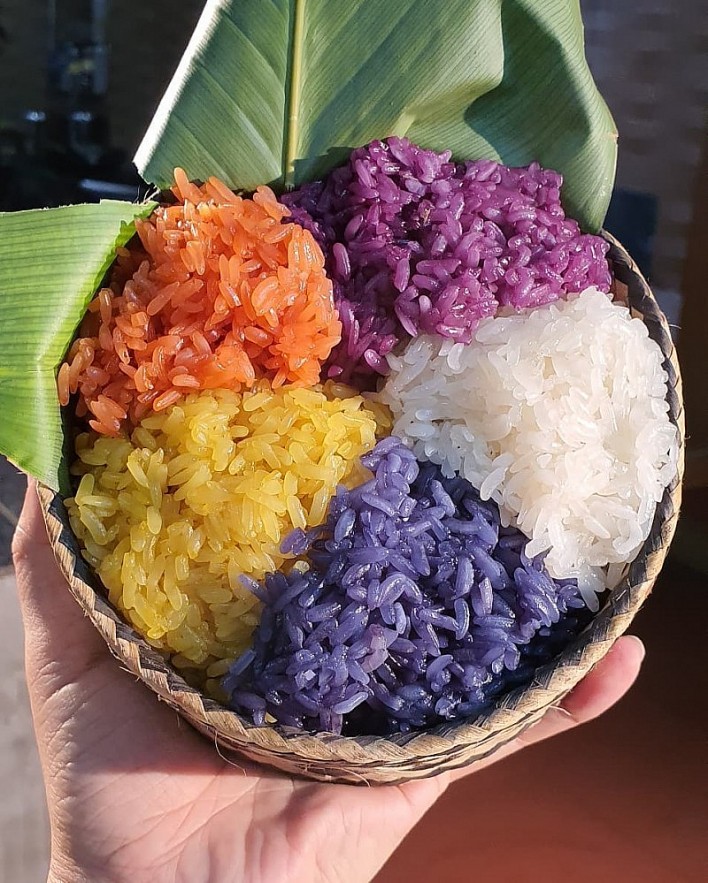 Photo: Vietnamtimes
Grilled moss
Stone moss is only considered a type of aquatic life that does not have much effect. But for the Tay people in Xuan Giang commune, Ha Giang province, this type of moss is considered a special cuisine. Dishes made from it are known as cinnamon sticks. This is a dish that is delicious, nutritious and has a very unique flavor.
This type of moss can be processed into many dishes such as fried moss and dried moss, but the most unique dish is still mixed with spices and then grilled. Moreover, grilled moss has the ability to cure many diseases, detoxify, stabilize blood pressure and enhance resistance.
Photo: Vietnamtimes
Amazing Cultural Sites across Vietnam

In the eye of foreign tourists, Vietnam appears colorful, from the magnificent landscape to the diverse culture and rich cuisine in these destinations.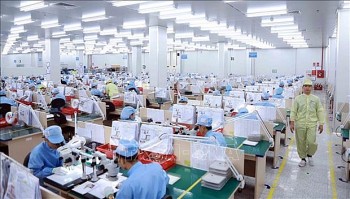 National
Vietnam News Today (Jan. 26): Vietnam - important partner of RoK; HCM City maintains growth momentum, reaps successes in 2022; Vietnam's tourism forecast to strongly rebound in five years; Many localities attract a large number of visitors during Tet.