Embassy Promotes Vietnamese Culture, Food in Israel
In the context of Vietnam and Israel preparing to celebrate the 30th anniversary of the establishment of diplomatic relations, the two sides have many activities to promote bilateral cooperation, including delegation exchanges and online meetings.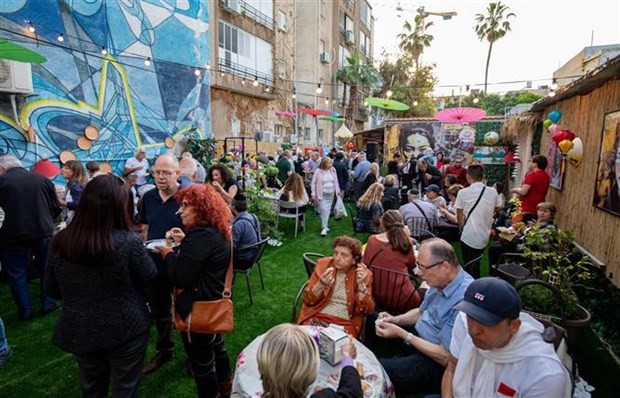 A Vietnamese cultural, culinary space is opened in Israel's Netanya city on April 16. Photo: VNA
A Vietnamese cultural, culinary space was organised by the Vietnamese Embassy, in Israel's Netanya city on April 16, VNA reported.
The space is expected to popularise the beauty of the Southeast Asian country's cuisine, culture and tourism while bolstering business cooperation and people-to-people exchanges of the two countries.
According to the Vietnam News Agency correspondent in Tel Aviv, attending the event's opening ceremony were Vietnamese Ambassador to Israel Ly Duc Trung and Netanya city Mayor Miriam Feirberg-Ikar.
There are also representatives of the City Council, the City Hotel-Tourism Association; along with hundreds of guests from the diplomatic community, the business community, the Vietnamese community in Israel, international friends who love Vietnamese cuisine.
Ambassador Ly Duc Trung said the space will hold several activities monthly, including seminars, business meetings, art performances, and fashion shows.
Mayor Miriam Feirberg-Ikar emphasised that as a tourism city, the locality welcomes visitors from all over the world and many people are amazed with Vietnamese food and culture.
On the occasion, the embassy introduced a "tripartite" model event among Vietnam – Israel and another country such as Italy, Switzerland, Canada, Colombia, and Dominican Republic.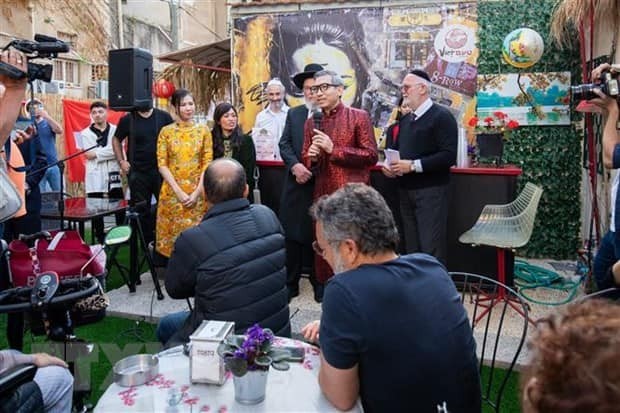 A Vietnamese cultural, culinary space is opened in Israel's Netanya city on April 16. Photo: VNA
The Vietnamese-Israeli cultural space was chosen to be located in Netanya, because this city is known as the miniature southern French coast in Israel - Cote d'Azur and French Riviera in Israel.
Mayor Miriam Feirberg-Ikar emphasised that Netanya is a tourist city. They welcome visitors from all over the world. Particularly today, he's pleased to be able to participate in the opening at this event, to witness many people coming here to enjoy Vietnamese food and culture.
Asher Fettmann, owner of Viet-Taam restaurant, said that he married a Vietnamese woman, so he is very interested in the idea of ​​creating a place imbued with Vietnamese culture for tourists and diners around the world, want to learn about the culture and cuisine of Asia in general and Vietnam in particular.
"The people of Netanya city love Vietnamese food very much. They come here often. We also have diners from other cities in the North and Central Israel, because Vietnamese food is very famous," he added.
Earlier this month, a "Night of Pho" event was held in Or Yehuda city introducing one of Vietnam's most popular noodle soups to locals, as part of a series of activities of the Food Lovers' Association of the Ambassadors' Club of Israel, on the occasion of the 75th Independence Day of Israel, and towards the 30th anniversary of the diplomatic relations between Vietnam and Israel.
To organise the event, he said the Vietnamese Embassy had invited chefs of Sofitel Metropole hotel in Hanoi to give instructions to chefs of Attilio cooking school via videoconferencing. All the ingredients had been prepared by the Vietnamese embassy's staff.
The Vietnamese diplomat expressed his hope that the event would give participants a greater understanding of Pho, to help bring the traditional Vietnamese dish closer to international friends and local people.
The introduction of Vietnamese Pho is part of activities in celebration of Israel's Independence Day (April 26), and 30 years of diplomatic ties between Vietnam and Israel this year.
For his part, Chico Karolizky, director of Attilio cooking school, shared that he's very proud to organize the 'Night Pho' event and hear about traditional Vietnamese dishes. "This is my first time enjoying Pho, very delicious. It's great that we can learn more traditional dishes of different countries."
Vietnam and Israel officially established diplomatic relations in 1993. Israel opened an embassy in Hanoi the same year, and Vietnam established an embassy in Tel Aviv in 2009.