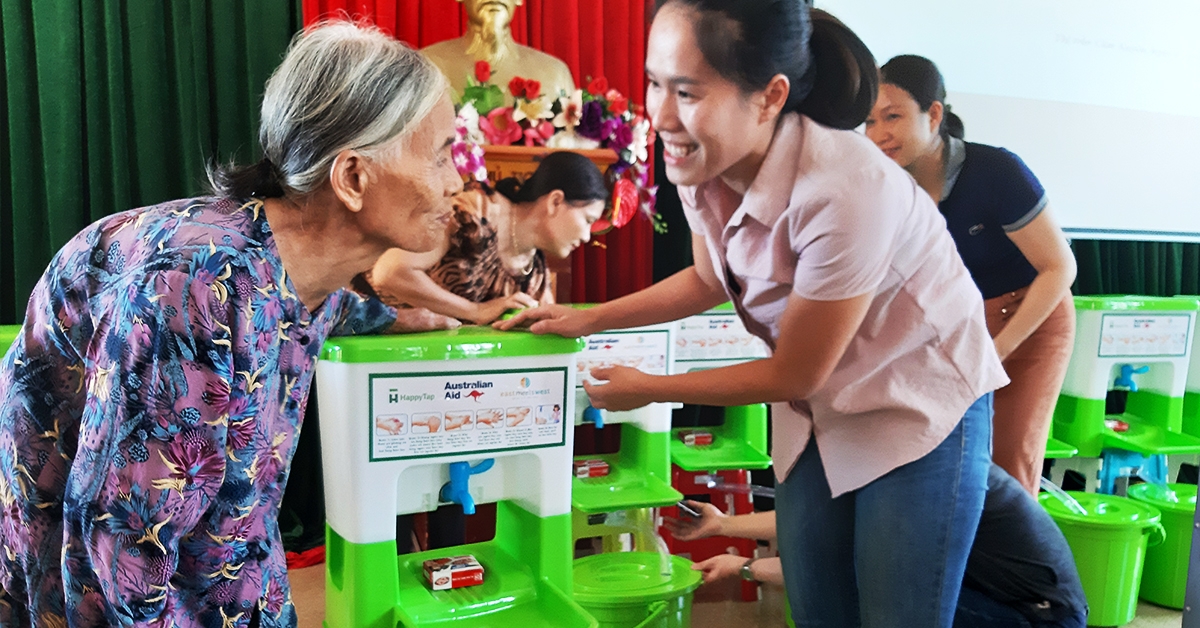 Women's Union officers handing over Labobo Handwashing device to local households in Ha Tinh. Source: Women-Led Output Based Aid (WOBA) Vietnam/Water for Women
With her physical limitations and little income, Bui Thi Dien from Hoa Binh province, could neither afford to wash her hands with soap nor consider it important. Under East Meets West's COVID-19 response plan, Dien was chosen to receive hygiene training, soap and a new Happy Tap hand washing device. While she is enjoying what can be said one of the most basic practices for most people, this could also help her to protect herself and stop the spread of the virus in the community.
Dien was only one of 980 underprivileged households benefiting from the first phase of East Meets West's COVID-19 response initiatives.
Not only is Vietnam battling COVID-19, the country is also experiencing severe drought and saltwater intrusion in the Mekong Delta.
It has been reported that the Mekong Delta experienced record saline intrusion in the 2015-2016 and 2019-2020 dry seasons, seriously affecting local production and daily life.
The region is forecast to see a high level of drought and saltwater intrusion in the upcoming 2020-2021 dry season, with about 5.3-6.1 percent of its total rice area and 14-23 percent of its fruit-growing area affected. Some 70,600 local households will also face water shortages.
Local residents in the province's coastal areas have to store fresh water in ponds and containers for household use and agricultural production.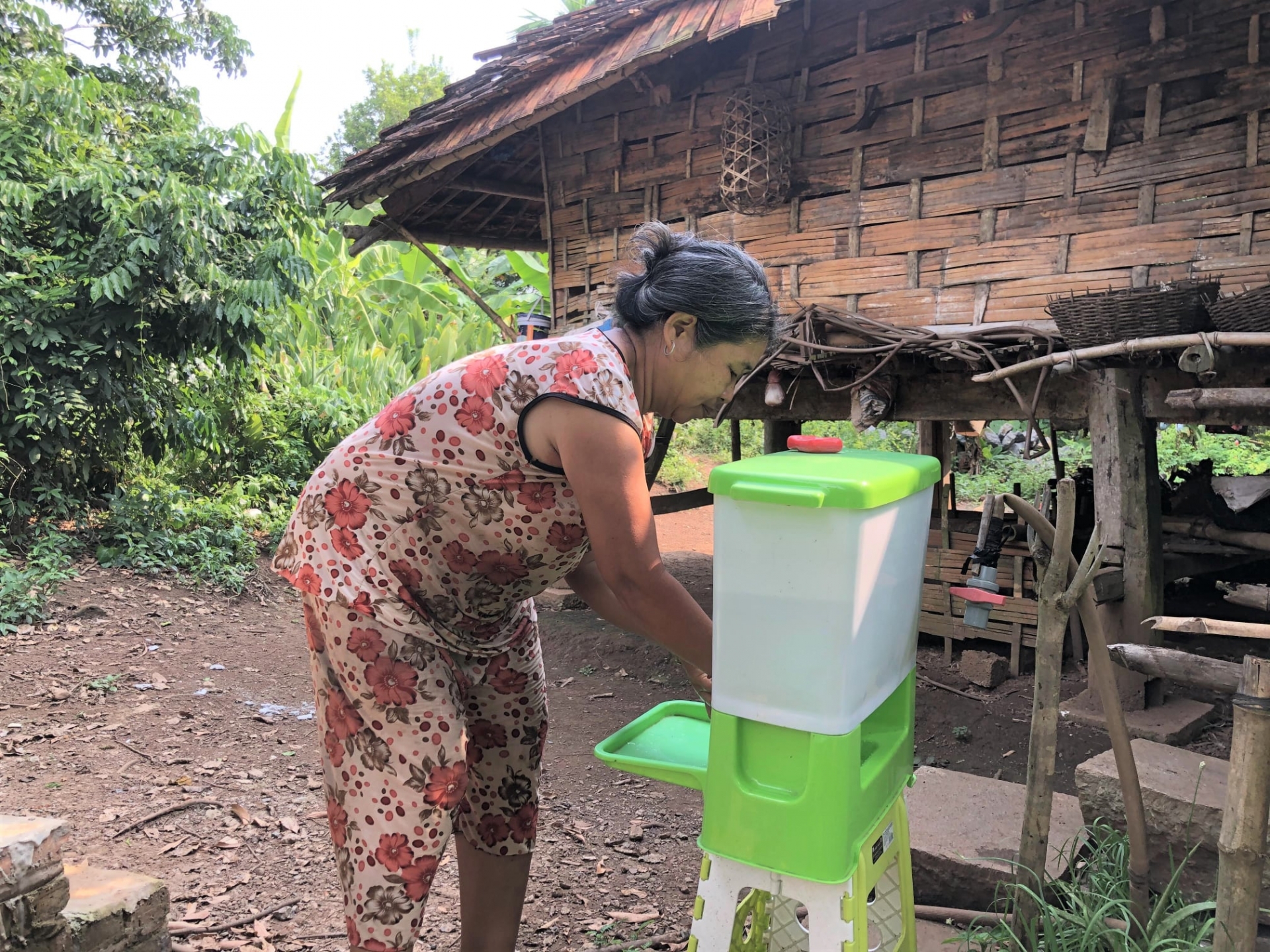 Bui Thi Dien from Hoa Binh province and her new Happy Tap hand washing device. Credit: East Meets West
This context has profound impacts on the vulnerable populations, including poor women, children and other disadvantaged groups such as elderly and people with disabilities.
The need for basic social services like clean water and sanitation among these groups has become even more pressing in the context of numerous difficulties resulting from the pandemic and the drought. A water, sanitation and hygiene (WASH) response is critical to both.
In an effort to alleviate the combined impacts of the pandemic and the drought, Thrive Networks - East Meets West (EMW) in collaboration with the Vietnam Women's Union has instigated a VND 2.4 billion (USD 102.000) program called "Women's initiatives in ensuring no one is left behind in the fight against COVID-19."
In any crisis, it is the most vulnerable - women, children and people with disabilities - who are among those worst affected. With support from Australia, through their established Water for Women project, Women-led Output Based Aid (WOBA) project, the program targets the most vulnerable communities in five provinces, including Hoa Binh, Thanh Hoa, Nghe An, Ha Tinh and Ben Tre.
As part of the nationwide response initiated by the Vietnamese government, "Joining hands in the fight against COVID-19 towards the goal of leaving no one behind", the program has conducted multiple activities across 173 communes in the project provinces.
So far, the program has done incredible work in the fight against the epidemic, 2,018 Labobo/Happy Tap handwashing facilities and soaps have been provided to all commune health stations, 173 kindergartens and 980 vulnerable households. About 200 poor and vulnerable households have been equipped with water storage containers for rainwater harvesting.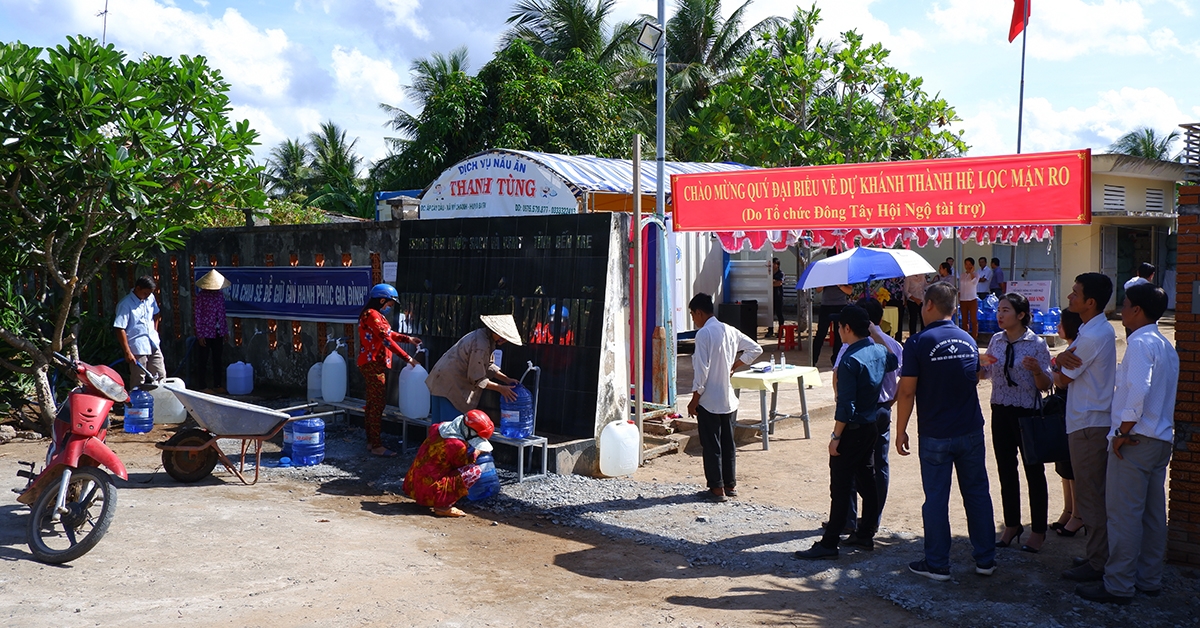 Locals getting fresh water from water filtration kiosk in Tan My commune of Ben Tre province.
Besides in-kind support, the program has also conducted a WASH needs assessment in 173 commune health stations and extended technical assistance to Women's Union and the health sector in the five provinces by developing and disseminating COVID-19 communication materials and hygiene practices messaging to households and disadvantaged communities.
The program is also looking at non-conventional messaging and training methods such as digital training and gender and social inclusion training videos to broaden stakeholders' capacity development coverage whilst ensuring they remain COVID-19 safe.
According to Water for Women, while this program was initially designed to provide immediate response measures to counter COVID-19 and drought impacts, it also leveraged women's initiatives and promoted partnerships in order to strengthen the most vulnerable populations' resilience and preparedness now and for future shocks./.
Hannah Nguyen