Researchers: Covid-19 can remains infectious on banknotes, mobile screen for 28 days
SARS-CoV-2, the virus that causes Covid-19 can survive on some surfaces such as banknotes, phone screens, and stainless steel for nearly one month, according to a new study from Australian scientists.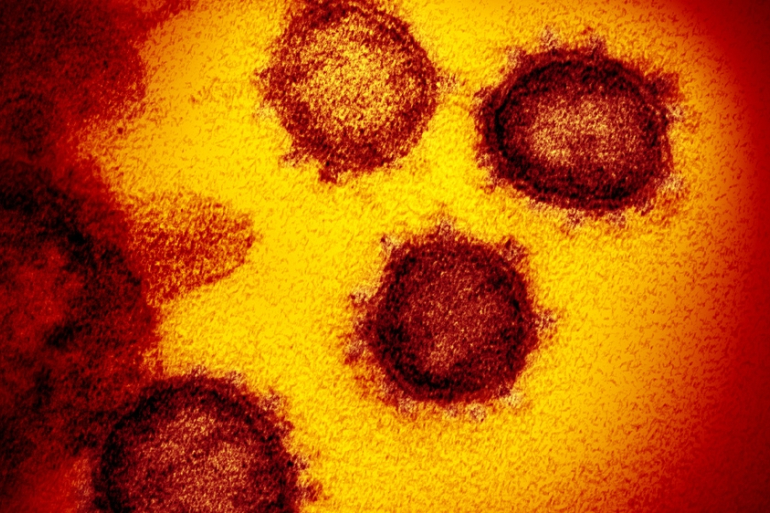 The SARS-CoV-2 virus that causes COVID-19 can survive as long as 28 days on some surfaces, a study in Australia has found [NIAID- RML/National Institutes of Health Handout via EPA]
The national science agency, the CSIRO, said the research was undertaken at the Australian Centre for Disease Preparedness (ACDP) in Geelong also found that Sars-CoV-2 survived longer at lower temperatures, The Guardian reported.
It said in a statement the virus survived longer on paper banknotes than on plastic banknotes and lasted longer on smooth surfaces rather than porous surfaces such as cotton.
The research, published in the Virology Journal, also found the virus lasted 10 days longer than influenza on some surfaces.
Dr Larry Marshall, the chief executive of the CSIRO, said establishing how long the virus survived on surfaces enabled scientists to more accurately predict and prevent its spread, and so protect the community from infection.
Temperature
According to Reuters, the researchers said that on cloth at 20 degrees they were unable to detect any viable virusbeyond 14 days. At 30 degrees, the virus' viability fell to just three days on cotton, compared with seven days for steel and smoother surfaces. Viability dropped further at 40 degrees Celsius.
All the experiments were done in the dark to remove the impact of ultraviolet light, as research has shown direct sunlight can kill the virus.
"So in the real world results would likely be shorter than what we were able to show," Riddell told Reuters news agency.
Julie Leask, a professor in the Susan Wakil School of Nursing and Midwifery at the Faculty of Medicine and Health, University of Sydney said the findings were useful but needed to be put in perspective.
"The study usefully confirms that surfaces may be a way to pass on coronavirus, but we should look to the epidemiology for how it actually moves between people in everyday life," Leask wrote on Twitter. "That data shows it's still close contact with an infected person that is risky and not from touching their mobile phone 5 days later."
The infectious dose of SARS-CoV-2 is not yet known, but based on related viruses is thought to be about 300 particles. Researchers said if the virus was placed on smooth surfaces at the standard mucus concentration of an infected person "enough virus would easily survive for two weeks to be able to infect another person."
CSIRO noted that infection would depend on a number of factors including the makeup of the virus itself, the type of surface, and whether the virus is liquid or dried.
The study might also help explain the apparent persistence and spread of the virus in cool environments like meat-packing facilities, it said.
Study highlights needs to clean hands and touchscreens
Covid-19 spreads primarily through the air. Studies have shown that the virus can remain infectious in airborne particles for more than three hours. What's less certain is the degree to which it can spread via surfaces such as banknotesand touchscreens, BBC reported.
Previous studies have assessed its survivability on stainless steel and their results have varied wildly, ranging from between three and 14 days at room temperature. The new study looked at how long the virus could survive on glass, paper and plastic notes as well as steel. They found that they could detect it after 28 days on all these surfaces at 20C - significantly longer than the earlier studies had indicated.
The experiments were, however, carried out in virus friendly conditions - in a dark room with stable temperatures and humidity - so the virus may well not do so well in the real world.
Even so, these results highlight the need to wash hands as well as touchscreens regularly and to avoid touching one's face in order to minimize the risk of infection.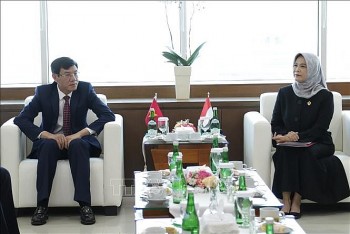 Friendship
At a recent working session with the Audit Board of the Republic of Indonesia (BPK), Deputy Auditor General of the State Audit Office of Vietnam (SAV) Doan Anh Tho suggested cooperation between the two institutions through the exchange of ideas and experiences in anti-corruption.