India funds seven water management projects in four Vietnam's Mekong Delta provinces
Seven memoranda of understanding (MoUs) were signed between Government of India and four southern Provinces of Vietnam — Ben Tre, Hau Giang, Kien Giang and Tien Giang — at a ceremony held on September 23 in Can Tho city to implement India's development assistance for water resource management projects in Vietnam's Mekong Delta Region.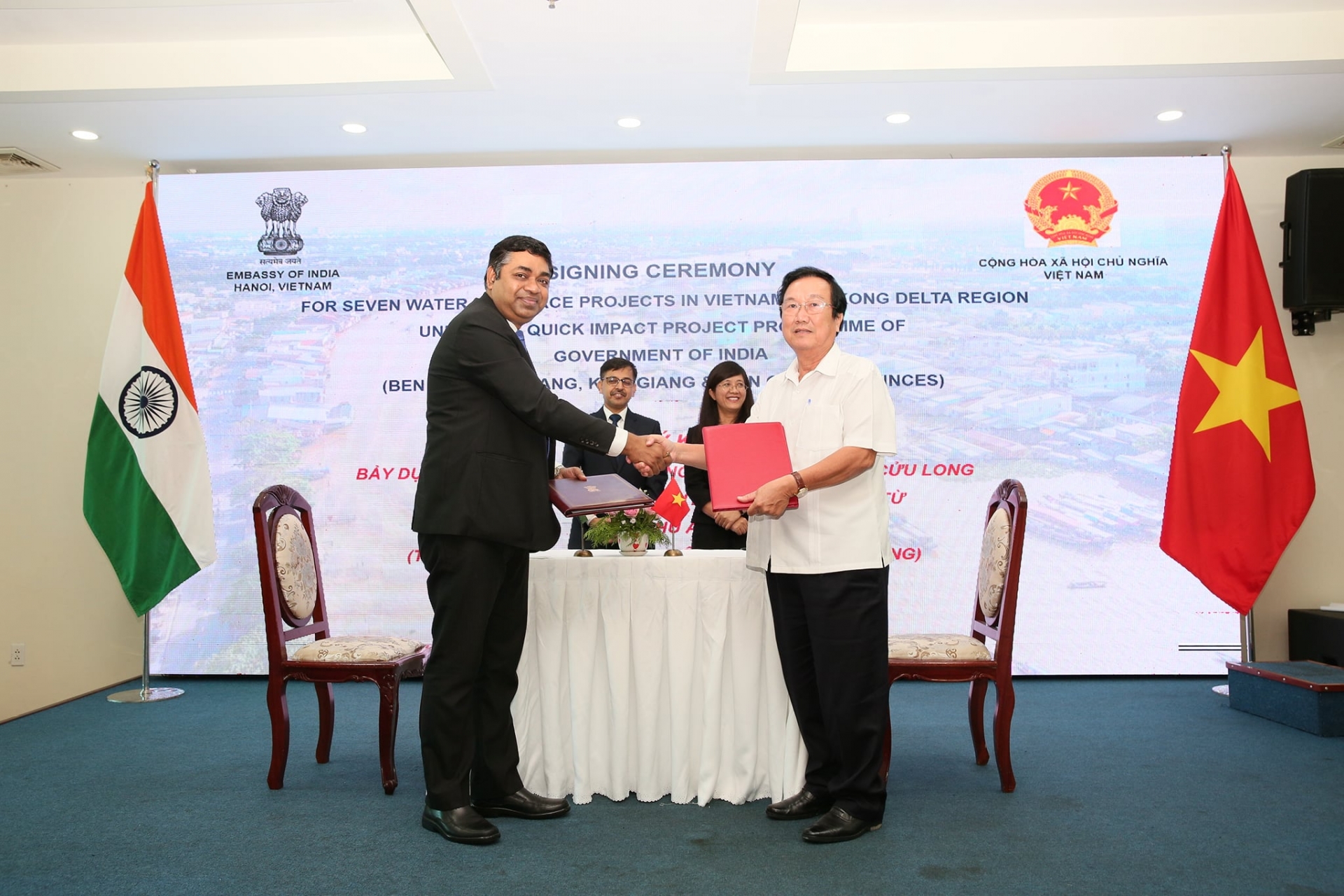 At the signing ceremony. Photo: Indian embassy
The Indian Government will support seven water management projects in the Mekong Delta provinces of Ben Tre, Hau Giang, Kien Giang, and Tien Giang with non-refundable aid of USD 350,000.
The MOUs, each worth USD 50,000, were signed by the Consul General of India at Ho Chi Minh City, Dr. Madan Mohan Sethi and officials of the four beneficiary provinces, in the presence of Ambassador of India to Vietnam Pranay Verma and Deputy head of the Foreign Ministry's General Economic Department Pham Thi Anh.
They are part of 26 quick-impact projects funded by India in 22 Vietnamese cities and provinces, 13 of which have been completed while 12 others will be launched during the 2020-2021 fiscal year.
Speaking at the event, Indian Ambassador Pranay Verma said the traditional relationship between the two nations is a successful model in terms of institutional support and capacity improvement in various fields over the past years.
Deputy head of the Foreign Ministry's General Economic Department Pham Thi Anh said the activity is a symbol of the enduring friendship among member states of the Mekong - Ganga Cooperation (MGC) as well as between Vietnam and India.
The MGC is an initiative by six countries: India and the five ASEAN countries of Cambodia, Laos, Myanmar, Thailand, and Vietnam. Launched in 2000, it is one of the longest-standing sub-regional cooperation mechanisms in the Mekong Delta, with the goal of enhancing solidarity and friendship among nations and promoting trade and economic development to contribute to improving people's lives in the Mekong and Ganga River basins
The Mekong Delta has been facing drought and saltwater intrusion at record levels. Photo: VNA
It has been reported that the Mekong Delta experienced record saline intrusion in the 2015-2016 and 2019-2020 dry seasons, seriously affecting local production and daily life.
The region is forecast to see a high level of drought and saltwater intrusion in the upcoming 2020-2021 dry season, with about 5.3-6.1 percent of its total rice area and 14-23 percent of its fruit-growing area affected. Some 70,600 local households will also face water shortages.
On the same day, at a meeting with representatives of Mekong Delta localities in My Tho city of Tien Giang province, which sought ways to respond to risks from drought and saltwater intrusion during the 2020-2021 dry season, Prime Minister Nguyen Xuan Phuc stressed, "No households should be left without water and water storage measures are very much in need."
The PM assigned the Ministry of Agriculture and Rural Development to speed up the implementation of major irrigation and water supply projects and the Ministry of Health to guide the localities in monitoring water quality.
Apart from drought and saltwater intrusion, attention should also be paid to flood prevention, he said, stressing that it is necessary to protect human life and property during flooding./.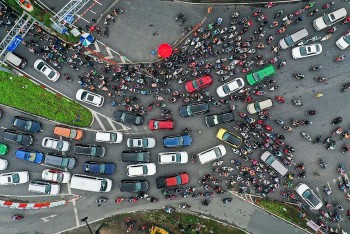 Economy
Vietnam Business & Weather Briefing (Oct 5):