Hai Duong field hospital's Covid-19 testing capacity quadrupled
With the support of Hanoi-based Bach Mai Hospital, the Covid-19 testing capacity of the field hospital No.2 in the Hai Duong Medical Technical University increases by four times.
As reported by Zing News, the previous hospital's testing capacity was only 250 samples per day; now, it raises to 1000 samples.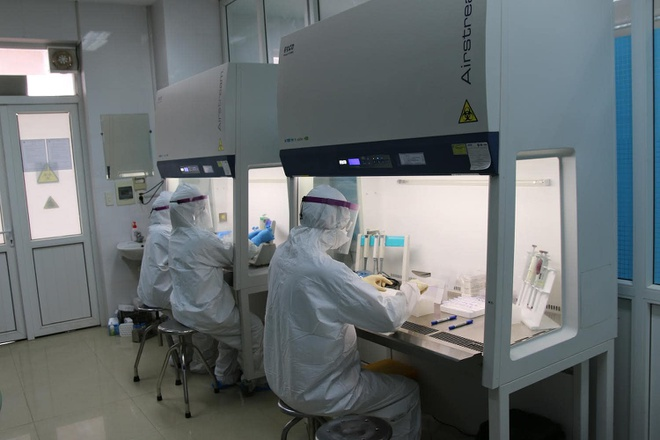 5 experts from Bach Mai hospital's Microbiology Department were sent to support Hai Duong Field Hospital No. 2. Photo: Zing News.
Bach Mai Hospital provided the Hai Duong field hospital No.2 with testing machines and equipment. In addition, five experts from the Microbiology Department of Bach Mai Hospital were also dispatched to the field hospital to directly train and transfer technology to the medical workers here.
The upgraded testing rooms help to facilitate the process, ensure biosafety and bring accurate and effective results.
Master, Doctor Truong Thai Phuong, Head of Department of Microbiology - Bach Mai Hospital, was sent to field hospital No.2 to monitor as well as direct the installation of the testing equipment.
"Upgrading testing rooms was completed within one day as all equipment was transferred from Bach Mai Hospital. Technology transfer was also fast since experts have many years of experience and the field hospital's medical staff quickly adapted to the work", said Dr. Truong Thai Phuong.
Earlier, Hai Duong also doubled the capacity of its second field hospital to 600 sick-beds.
On February 15, Bach Mai Hospital sent nearly 100 staff to support the hospital expansion. The work was also jointly helped by the Hai Duong military forces and staff from Hai Duong Medical Technical University where the hospital is located.
Twenty-four medical students who were provided with sterilization skills were also sent to the hospital.
Professor Nguyen Quang Tuan, director of Bach Mai Hospital, called for speeding up work at the hospital.
Party Secretary of Hai Duong Pham Xuan Thang requested localities to tighten control over quarantine sites to avoid cross Covid-19 infections. He also asked the Ministry of Defense to arrange quarantine areas for the province.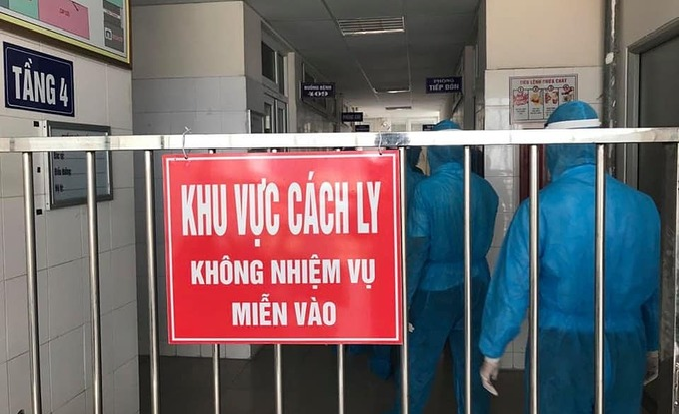 Medical workers visit a quarantine area for treating Covid-19 patients at Hai Duong Hospital for Tropical Diseases. Photo: VnExpress.
To date, Hai Duong has established three field hospitals for Covid-19 treatment.
Starting February 16, all of Hai Duong undergoes social distancing, around half a month since a new wave of Covid-19 outbreaks swept through the province.
The social distancing directive, the same applied nationwide in April last year to stem the spread of Covid-19, calls for people not to go outside except for getting food, medicine, or other emergencies; requires a minimum social distance of two meters and bans gatherings of more than two outside of hospitals, offices, schools, and public spaces.
Hai Duong so far has reported 539 Covid-19 community transmission cases.
The national Covid-19 total stands at 2,329, with 1580 recoveries and 35 deaths.
Among the active patients, 104 have tested negative at least once for the novel coronavirus.
Over 145,000 people are in quarantine, 15,000 in centralized quarantine facilities, over 500 in hospitals, and the rest at home or other designated accommodations.