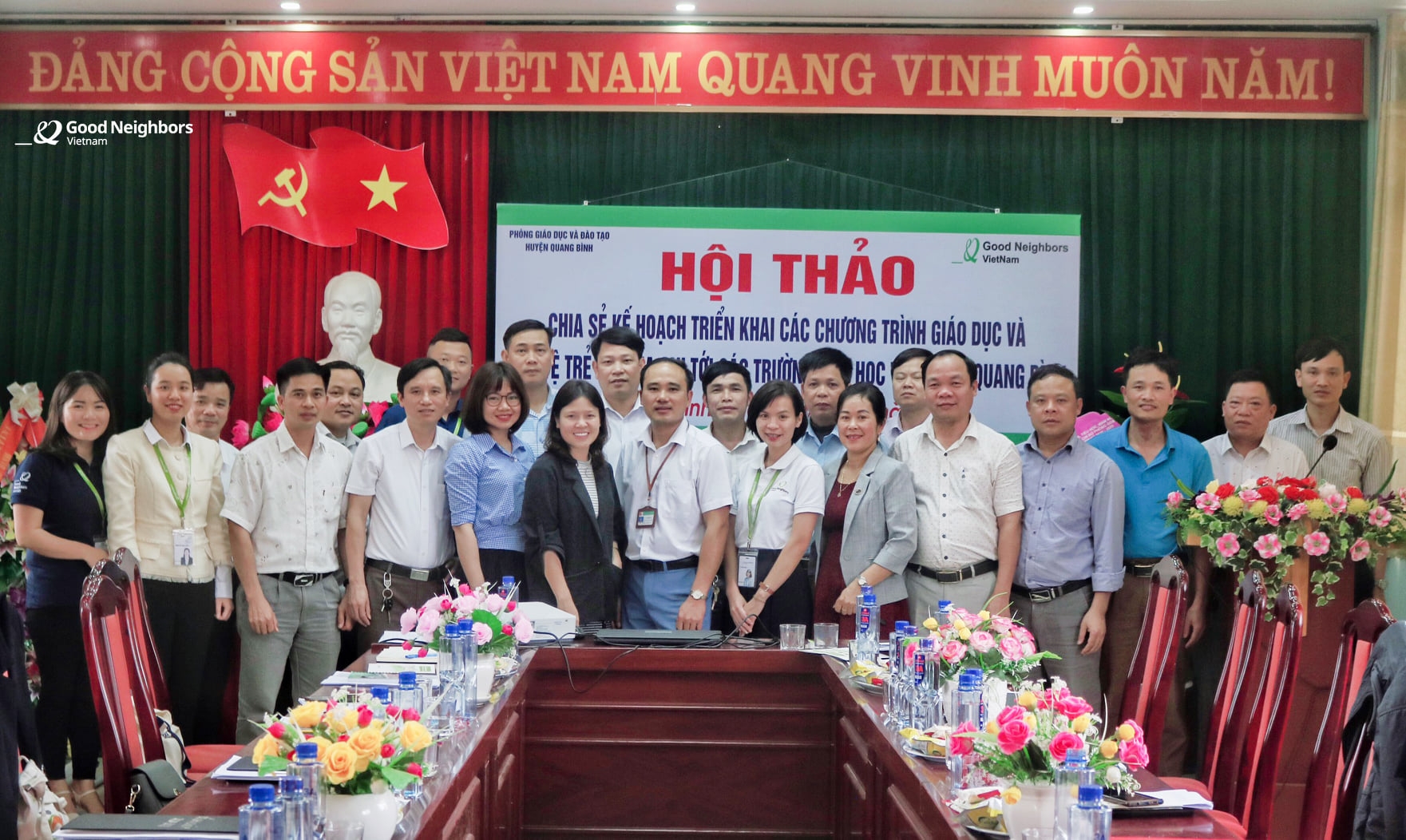 At the event. Photo: Good Neighbors Vietnam
GNI recently worked with representatives from the Department of Education and Training of Quang Binh district and 14 primary schools in a workshop to implement child education and protection program of GNI at primary schools outside the project area". The workshop is one of activities in project Hope Letter 2021 of GNI.
In the workshop, GNI shared and introduced its programs Child Empowerment Service (CES) and Good Puppet Show (GPS) to participants. These are two copyright programs of GNI implemented every year at project schools. Realizing the effectiveness of those programs, in 2021, GNI plans to introduce them at schools outside the project area.
By this expansion, GNI hopes there will be more children accessing those helpful programs, thus improving their knowledge and awareness on protecting themselves from abuse risks. The two programs are also supported by Quang Binh Department of Education and Training and will be launched at 14 primary schools in the district.
Good Neighbors is an international humanitarian development NGO founded in Korea in 1991. Good Neighbors Vietnam officially registered as non-government organization to People's Aid Coordinating Committee (PACCOM) on June 1, 2005.
Last year, GNI Vietnam is celebrating its 15th anniversary celebration. For 15 years, to improve the living quality of people, especially children as key focus, GNI has implemented six Community Development Projects (CDP) at four provinces of Hoa BInh, Tuyen Quang, Thanh Hoa and Ha Giang, supporting more than 10,000 sponsored children and 200,000 local people who are project beneficiaries./.
Hannah Nguyen