Ethnic Minority Children at Risk of Drowning
Every summer, drownings continuously occurs in the Central Highlands provinces. The tragic deaths of children, despite being warned in advance, still inevitably cause haunting and tormenting pain.
Over the past few years, the drowning of children leaves pain and obsession not only for the parents but also for the community. Despite continuous warnings from the authorities, schools, society, media, accidents still happen. For example, in the Central Highlands provinces, in recent years, there have been consecutive drowning accidents, causing dozens of children's deaths. Most of these accidents happen in remote and mountainous areas. The victims are mostly of ethnic minorities. The situation proves that the communication and solutions to prevent drowning in children are not yet effective, leaving drowning still a tricky problem.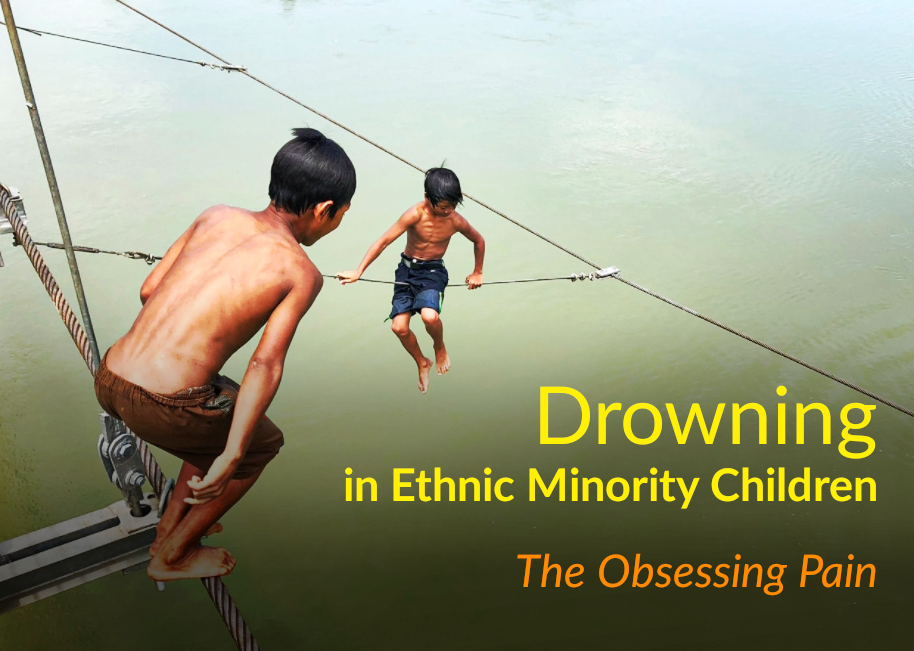 Photo: Bao Dan Toc
The enduring pain
The remote village of Cu Pui, Krong Bong district, Dak Lak province regularly witnesses accidents and injuries in children, mostly because of drowning. Four drownings have been recorded in the village since the beginning of 2021, causing five people, all of whom are children of ethnic minorities, to die.
The couple of Thao Van Lin and Lu Thi Xuyen, H'mong people in Ea Bar village, Cu Pui commune, cannot get rid of the pain of losing both their children at the same time, even though nearly a month has passed since the accident.
It was in the afternoon of May 24 when the drowning took place. The couple went to work on the paddy field. Because they could not ask anyone to take care of the children while they left to work, the couple took their children, Thao Minh H. (five years old) and Thao Minh D (four years old) to a cabin on the field. Busy with work, the couple did not pay attention to the children. They returned to the cabin in the afternoon and could not find their children. Rushing out to look for them, Lin and Xuyen saw their dead bodies on a nearby ditch.
Sung Minh Son, chief of Ea Bar village, said that Lin and Xuyen's family was classified as a poor household. They were both 25 years old and had two children. The accident left them in great grief and haunted the people of Ea Bar.
A similar accident happened more than a month ago in Ia Sao village, Grai district, Gia lai province. Two drownings took away two children. One of them was a 17-month-old Gia Rai boy, named Myun, who died in his own house's aquarium, leaving his family deep regret and pain. It was in the middle of June, Myun's father got sick and was hospitalized. Myun's mother sent him to his grandparents and came to the hospital to take care of his father. Lack of close attention from his grandparents, the boy fell into the aquarium in the yard. He was dead when his grandmother found out.
Prior to that, at noon one day in early May, a group of 3 students went to play in the field. Unfortunately, L.X.L., who lives in Tan Lap village, slipped and fell into a pond. Not knowing how to swim, L. drowned. It is known that L.'s family is in a difficult situation, his parents worked far away from home, he stayed with his grandmother. The heartbreaking incident happened due to the lack of supervision.
Nguyen Tien Dung, Chairman of Ia Sao People's Committee said that drowning accidents that occurred in the area in the past time were mostly because of families' subjectivity. Most children are active, so if adults do not closely supervise them, tragic accidents are easy to happen.
To help people raise awareness, local authorities instruct people to closely supervise children when playing in dangerous places. The propagate is integrated into villages and communes' monthly meetings, especially during the summer and rainy seasons. The commune has also put up signs to notify the people to closely watch and remind their children. However, unfortunate accidents cannot be avoided.
Thao Van Lin and Lu Thi Xuyen lost both of their children for drowning. (Photo: Bao Dan Toc)
Neglecting adults put children at risk
According to Dak Lak's Department of Labor, War Invalids, and Social Affairs, in recent years, drowning in the province has continuously increased. In 2019, the province recorded 58 children died from drowning, by 2020 the figure increased to 73. Since the beginning of 2021, there have been 31 drowning cases, killing 41 children, which increased by 21 when compared to the first 6 months of last year.
In fact, Departments of Labor, War Invalids, and Social Affairs of Central Highlands provinces have implemented many measures to prevent drowning and injury accidents in children. However, in order to minimize drowning accidents, the parents need to be extremely vigilant and closely watch their children, especially in the summer.
According to Nguyen Van Tam, Secretary of the Party Committee of Cu Pui commune, Krong Bong district, Dak Lak province, most of the drownings in the area happened to ethnic minority areas. The commune recorded children dying from drowning almost every year, so the commune authority and schools have paid great attention to communication to warn parents about this fact.
The commune Party Committee has also coordinated with the Department of Education and Training, and the Youth Union in Krong Bong district to open free swimming classes, and injury prevention courses for students in the area to limit the number of painful incidents.
Nguyen Duy Tuyet, Head of Social Protection Department, Dak Lak's Department of Labour, Invalids and Social Affairs, said that the number of children drowning had increased in the past two years, partly due to the influence of the pandemic. During social distancing, students took a long break from school, so they went to play outside. Lack of adults' supervision led to drowning.
Children in remote, isolated, and ethnic minority areas do not have access to swimming and safety skills lessons to prevent drowning, so when accidents occur, they cannot save themselves.
Keeping children water-safe this summer

According to statistics, over 2,000 children lose their lives in drowning accidents every year in Vietnam, making drowning the country's leading cause of death among ...