Euro 2020: List of stadium, venues, host cities; How to watch and livestream
The Euros 2020 will be hosted across 11 cities and continent and matches will be played in nations such as Germany, England and Netherlands. Here is the list of host cities and stadiums, and how to watch the games around the world.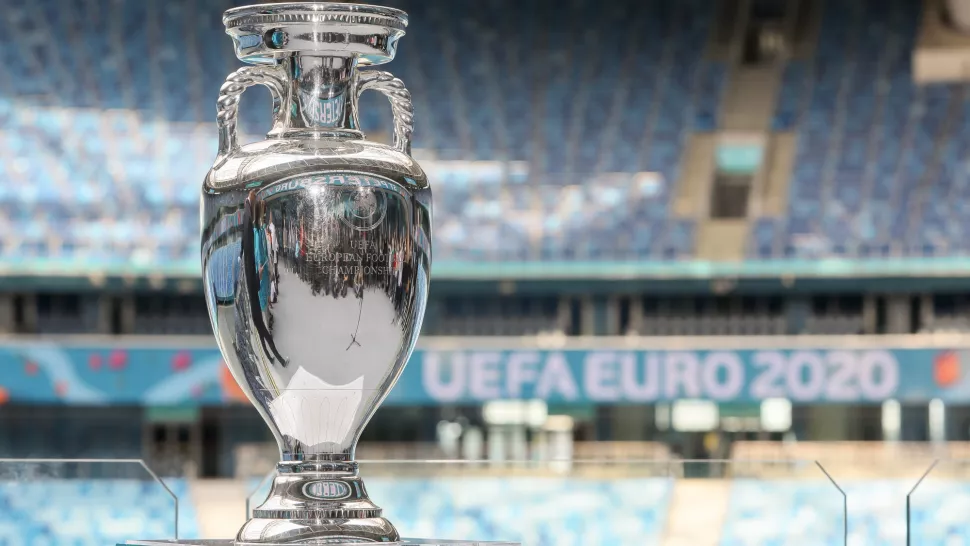 Image credit: Mike Kireev/NurPhoto via Getty Images
Euro 2020 will be spread across Europe as UEFA celebrates the 60th anniversary of their prestigious international tournament.
Unlike previous editions where one, maybe two, countries shouldered the burden, a total of 11 cities in countries all across the continent will share the hosting duties.
It is an unprecedented move, intended as a one-off, and usual service will resume in 2024 with Germany serving as the sole host nation.
A number of major changes had to be made in the lead up to the tournament in 2021 arising out of Covid-19 restrictions, with Seville replacing Bilbao as a host city and Dublin's games split between Saint-Petersburg and London.
UEFA president Aleksander Ceferin said: "We have been working diligently with the host associations and local authorities to ensure a safe and festive environment at the games and I am really pleased that we are able to welcome spectators at all matches for a celebration of national team football across the continent."
List of Euro 2020 stadiums and host cities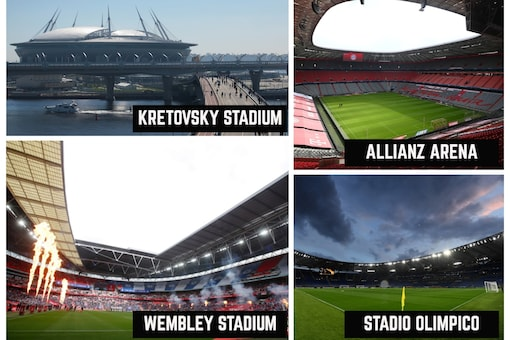 Photo: Reuters
1. Johan Cruyff Arena, Amsterdam, Netherlands
The Johan Cruyff Arena will play host to three matches in Group C as well as one of the tournament's last 16 games.
Located in the Dutch capital Amsterdam, it is the home stadium of Eredivisie side Ajax and the Netherlands national team, who have been playing games at the venue since it opened in 1996.
The stadium is equipped with a retractable roof and previously hosted five matches at Euro 2000, as well as being the stage for the 1998 Champions League final.
2. Olympic Stadium, Baku, Azerbaijan
Baku's Olympic Stadium will be one of the venues for games in Group A as well as one quarter-final showdown.
Built for the 2015 European Games, the Olympic Stadium will hold fond memories for Chelsea supporters as the scene of their 2019 Europa League final triumph over Arsenal.
The 68,700-seater stadium is situated near Lake Boyukshor, which is the second largest lake in Azerbaijan.
3. Arena Nationala, Bucharest, Romania
Romania's Arena Nationala will share hosting duties in Group C with the Johan Cruyff Arena as well as being the venue for one last 16 game at Euro 2020.
The stadium is located in the Romanian capital Bucharest and is home to Steaua Bucuresti as well as the Romania national team.
In 2012 it was the venue for the Europa League final between Atletico Madrid and Athletic Club.
4. Puskas Arena, Budapest, Hungary
The Puskas Arena in Budapest will be the newest stadium at Euro 2020 with construction concluding in 2019. It will host three games in Group F and one of the last 16 encounters.
Named after Hungarian football legend Ferenc Puskas, it is situated on the site of the former Ferenc Puskas Stadium, which was demolished in 2016.
It will be home to the Hungary national team and hosted a number of games for UEFA - including Champions League games - when public health restrictions saw parts of Europe locked down.
5. Parken Stadium, Copenhagen, Denmark
Capacity: 38,065 | reduced to 25% - 33% capacity, subject to increase
Games: Group stage & last 16 (four games)
Parken Stadium in Copenhagen will host three games in Group B and a last 16 clash.
Home of the Denmark national team and FC Copenhagen, Parken is one of four 20th century stadiums to host games at Euro 2020.
With a seating capacity of just over 38,000, it is the smallest host venue at the tournament. However, it does boast a Michelin star restaurant!
6. Hampden Park, Glasgow, Scotland
Hampden Park in Glasgow will host three matches in Group D and one last 16 game.
The oldest stadium to be used at Euro 2020, Hampden Park is the home of football in Scotland, playing host to the national team as well as being the venue for various national cup finals.
It has been the stage for three European Cup finals (1960, 1976 and 2002), two Cup Winners Cup finals (1962 and 1966) and the 2007 UEFA Cup final. It was also used for football games at the 2012 Olympics.
7. Wembley Stadium, London, England
Wembley will host a total of eight matches at Euro 2020 including a last-16 game, the semi-finals and the final. It will also be the scene of three games in Group D, where it shares hosting duties with Scotland's Hampden Park.
The London venue was initially only supposed to host the semi-finals and final, but was assigned an extra four games following the exclusion of Brussels as a host city and another one when Dublin was removed as a host.
Rebuilt in 2007, it is one of the biggest football stadiums in the world and second only to Barcelona's Camp Nou in terms of Europe's biggest arenas.
8. Allianz Arena, Munich, Germany
Bayern Munich's Allianz Arena is Germany's representative at Euro 2020 and will play host to three games in Group F alongside Budapest's Puskas Arena. It will also host a quarter-final game.
As well as occasionally staging Germany games, the 75,000-seater was one of the country's venues for the World Cup in 2006 (hosting six matches) and in 2012 it was the venue for the Champions League final.
9. Stadio Olimpico, Rome, Italy
Stadio Olimpico in Rome, Italy will be the venue for one quarter-final game at Euro 2020 as well as three matches in Group A (sharing duties with Baku's Olympic Stadium).
Home of Serie A giants Roma and Lazio, Stadio Olimpico has a storied history in football.
It has been the venue for the final of the European Cup/Champions League on four occasions (1977, 1984, 1996 and 2009) as well as hosting the 1980 European Championship final and the 1990 World Cup final.
Along with Parken Stadium, Hampden Park and the Johan Cruyff Arena, Stadio Olimpico represents one of four 20th century stadiums being used.
10. Krestovsky Stadium, Saint Petersburg, Russia
The Krestovsky Stadium in Saint Petersburg, Russia will host one quarter-final match at Euro 2020 and it will also be the venue for three games in Group B, as well as three games in Group E.
One of the newest stadiums of the 12 being used by UEFA, the Krestovsky Stadium was built in anticipation of the 2018 World Cup, where it hosted seven matches, including the third-place play-off.
It is home to Russian giants Zenit and the Russia national team also play there on occasion.
11. La Cartuja, Seville, Spain
Seville's Estadio de La Cartuja was chosen as a replacement host city in April 2021 when it was decided that Bilbao would not be hosting any games at the tournament.
Situated in southern Spain, it is occasionally home to the Spain national team and it will host three games in Group E as well as a last 16 match.
A UEFA category 4 stadium, the venue was built for the 1999 World Championships in Athletics and has since hosted a number of high profile games, including the 2003 UEFA Cup final between Celtic and Porto.
How to live stream and watch Euro 2020 around the world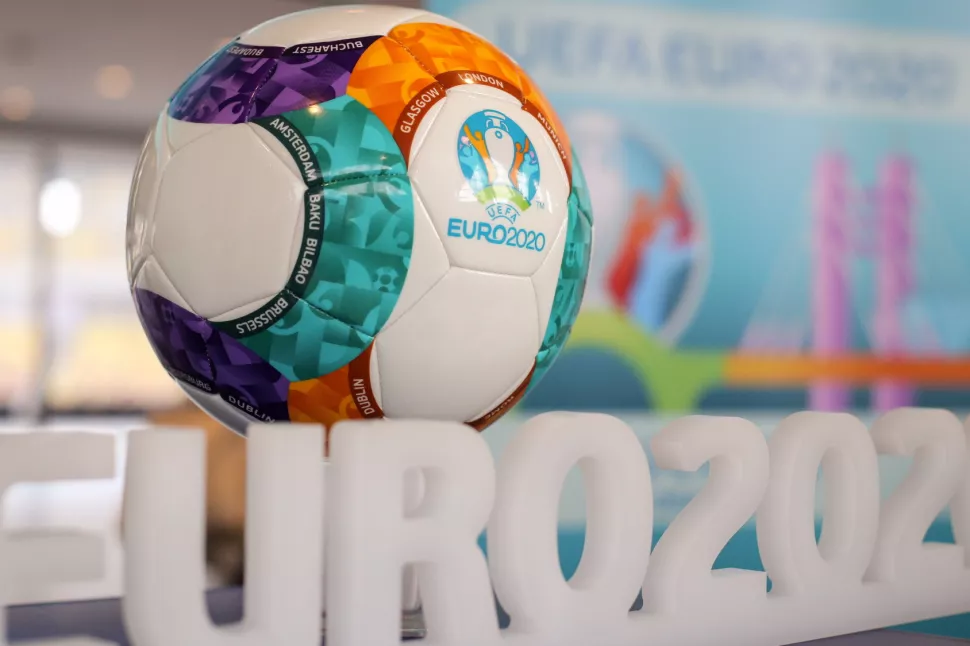 Photo: Shutterstock
How to watch Euro 2020 from outside your country
This is because of geo-blocking, a digital restriction that means certain streaming services are only accessible in the region they're based in. Don't sweat it, though, as you've got the option of using a VPN to tune to your preferred coverage wherever you are.
How to watch a FREE Euro 2020 live stream online in the UK
The great news for football fans based in the UK is that, as ever, you can watch Euro 2020 FREE online for every single game of the tournament!
2021 Euro coverage is being split equally between the BBC and ITV, and both broadcasters will show the final.
How to watch a FREE Euro 2020 live stream in the US
ESPN and ABC are providing comprehensive coverage of Euro 2020 in the US. If you have them as part of a cable package, you'll be able to stream games directly through the ESPN website and the ABC website.
Cord-cutters are in luck, too, as you can get both channels without having an expensive cable package. Of the many and varied options, the best for soccer fans wanting to watch a Euro 2020 live stream is fuboTV.
How to watch Euro 2020: live stream soccer in Canada
Soccer fans with a cable subscription can watch Euro 2020 on TSN and French-language channel TVA Sports.
Better still, these channels will let you watch games online, too - either by registering with details of your pay TV provider, or by signing up for a standalone streaming package.