English Premier League, UEFA football matches suspended
All elite football matches in England, including the Premier League, as well as all UEFA Champions League and Europa League matches were suspended due to the coronavirus pandemic.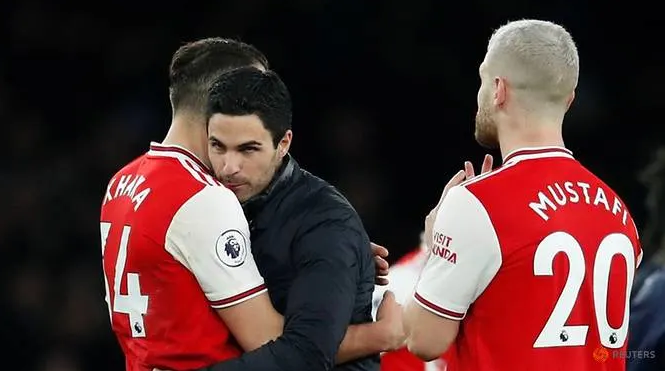 Soccer Football - Premier League - Arsenal v Everton - Emirates Stadium, London, Britain - February 23, 2020 Arsenal manager Mikel Arteta celebrates with Granit Xhaka and Shkodran Mustafi after the match REUTERS/David Klein
English football's governing bodies said in a joint statement that all elite football matches in the country were suspended until Apr 4.
The decision was made in a meeting on Friday, after Arsenal coach Mikel Arteta and Chelsea player Callum Hudson-Odoi were diagnosed with the coronavirus.
Chelsea of the English Premier League, who were scheduled to travel to Bayern Munich for a last-16 Champions League game on Wednesday, have announced that Callum tested positive and that their whole squad is in quarantine.
"In this unprecedented situation, we are working closely with our clubs, government, the FA and EFL and can reassure everyone the health and welfare of players, staff and supporters are our priority," said Premier League chief executive Richard Masters.
"Above all, we wish Mikel Arteta and Callum Hudson-Odoi speedy recoveries, and everyone else affected by COVID-19."
In a statement posted on its website, the Premier League added: "Despite the challenges, it is the Premier League's aim is to reschedule the displaced fixtures, including those played by Academy sides, when it is safe to do so.
"In this fast-moving environment, further updates will be provided when appropriate."
The news of Arteta and Hudson-Odoi's positive tests forced the English football authorities to act.
"I don't think we had any great leadership last night listening to the prime minister. I was totally underwhelmed by the lack of leadership and clear message in terms of what was said in that press conference," said Watford manager Nigel Pearson.
"Hopefully the Premier League will make strong decisions based on what is right for everybody within the game."
UEFA also has postponed all Champions League and Europa League matches due to take place next week because of the coronavirus outbreak, European football's governing body said in a statement on Friday.
"In the light of developments due to the spread of COVID-19 in Europe and related decisions made by different governments, all UEFA club competitions matches scheduled next week are postponed," UEFA said.
The decision comes ahead of a crisis meeting on Tuesday where UEFA will consider all options for the next period, including possibly postponing the Euro 2020 tournament scheduled for June and July.
Tuesday's Champions League matches between Juventus and Lyon and Manchester City and Real Madrid have already been postponed as Juventus's and Real Madrid's players are in quarantine.
The pandemic has led to over 120,000 infections in 118 countries and territories, sparking global stock market sell-offs amid fears of a recession.
IOC chief Thomas Bach told German television Thursday that his organization had been in regular contact with WHO experts regarding the coronavirus since February, and that they would "follow the advice of the WHO" regarding whether to cancel or postpone this year's Tokyo Olympics over the pandemic.
The Tokyo Olympic Games are due to be held from July 24 to Aug. 9, followed by the Paralympic Games from Aug. 25 to Sept. 6./.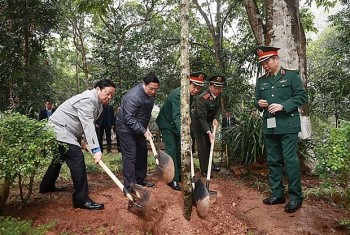 National
The Prime Minister launches a tree planting festival in Ba Vi on New Year of Cat.