Memorable Stories: How Did Vietnamese People Living Abroad Celebrate Euro 2020?
Euro 2020 has been a successful and emotional football event, and people from all over the world expressed their love and joys for the games despite Covid-19 pandemic. Vietnamese fans has left a mark in their own way, sharing the same happiness and beautiful moments.
Vietnam's flag appeared at Euro stadiums, surprising a lot of people
Photo: Twitter
Several flags of Vietnam has appeared in sight during the match between Spain and Sweden at Euro 2020 semi-finals, which surprised the football players and European people.
Gazprom Arena Stadium had the capacity of 68134 people, in order to ensure the safety of people attending the game and follow Covid-19 distancing rules, the stadium only allowed 50% of the capacity (about 3000 people). Among the fans that cheered for the two football teams, there were Vietnamese audience with the flying Vietnam's flag that attracted other's attention and made an interesting scene.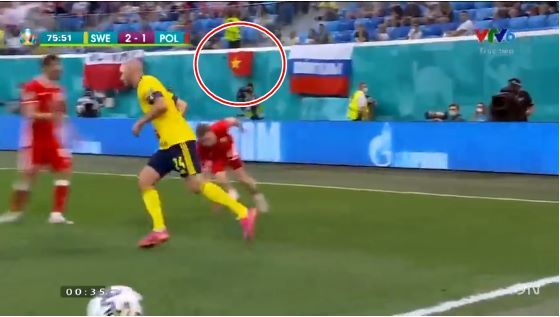 Photo: Screenshot
Many European footbal fans were amazed why so many Vietnam's national flags spreading around the stadium, and this special images had gone viral on Twitter and other social media sites.
An account named Micheal Church commented: "I have no idea why there are so many Vietnam's flags in the crowd of Euro 2020. This shows that Vietnamese are big football fans. I'm not talking about a few fans who got their tickets and went to show off themselves to the world."
Tai Nguyen (1990, Nghe An) attended Puskás Aréna stadium to watch the Euro's match of Czech Republic vs Netherlands.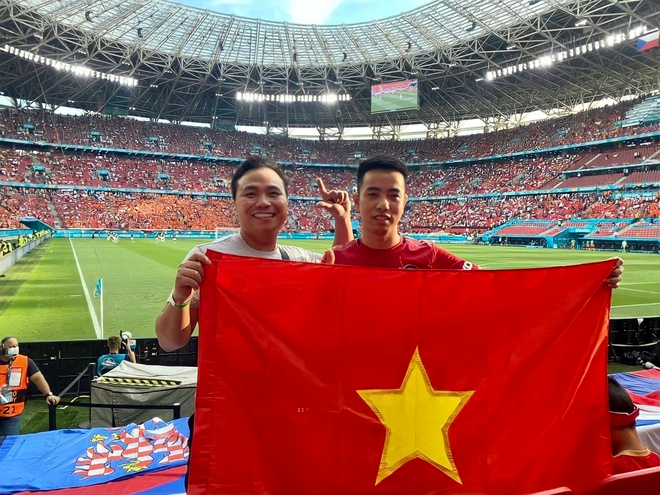 Tai Nguyen (right) and his friend at Puskás Aréna stadium. Photo: Zing news
He and other 5 friends took their train from Czech Republic to Budapest (Hungary) in the early morning. Tai had brought the tickets for all of them a few days before the match.
According to Zing News, Tai, who is currently working and living at Budapest, said he did not intend to bring the Vietnam's flag to the stadium, but borrowed one from a Vietnamese fan.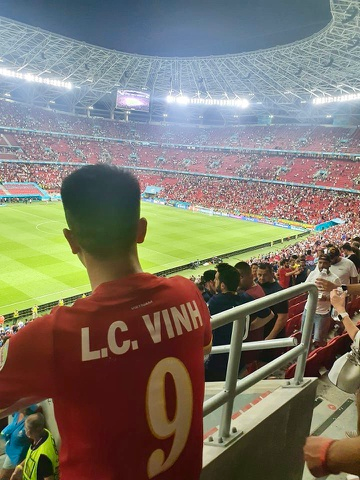 Photo: Zing News
"During the match between Portugal and Hungary, I wore a number 9 shirt of former player Le Cong Vinh. What matters is that us Vietnamese football fans just wanted to share our joy and love for sports to the world," Tai said.
Tai affirmed there were many Vietnamese football fans crowded the stadium at that day, but "only got a little screen time". Therefore, he was also surprised to see his image holding the national flag of his hometown at the Puskás Aréna stadium had received a lot of attention from football fans back home.
"I always loved football when I was young. Now my house is less than 1km from the stadium, and the tickets are also cheap. So, why not going and joining with other's joy?", he said with a laugh.
Vietnamese fans living in Russia "hunted" for Euro tickets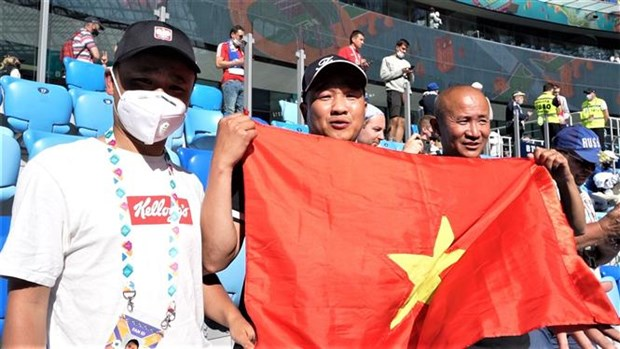 Hoang Van Phu (middle) and Nguyen Duc Vuong (right) holding Vietnam's flag at Vladivostok. Photo: VNA
Despite Covid-19 vaccines, the European Football Championship – EURO 2020 still brought a sense of excitement and wonderful joy to be able to witness the games at large stadium, wearing the brightest colours and cheering for the winners. However, tickets were very important if they wanted to participate in these activities.
Dang Thanh Nhan (1990), a PhD student at The The Herzen State Pedagogical University of Russia and Dam Quynh Anh, who graduated at Saint Petersburg Electrotechnical University, with two other friends formed a group and bought tickets for Vietnamese football fans living in Russia to help them go see Euro 2020.
Not only helping other football fans, Nhan also got a chance to meet more people and gain more real-life experiences communicating with other people.
To be able to buy tickets at a reasonable price in case Euro's official website ran out of tickets, the young group of friends had to search other social media sites such as Vkontakte, Telegram, or even Avito sales website to find tickets.
The Russians were impressed by the love of Vietnamese for Euro and football, with the fans waving the national flags at the St. Petersburg stadium, cheering for Russian team.
Vietnamese people celebrated Euro 2020 in Netherlands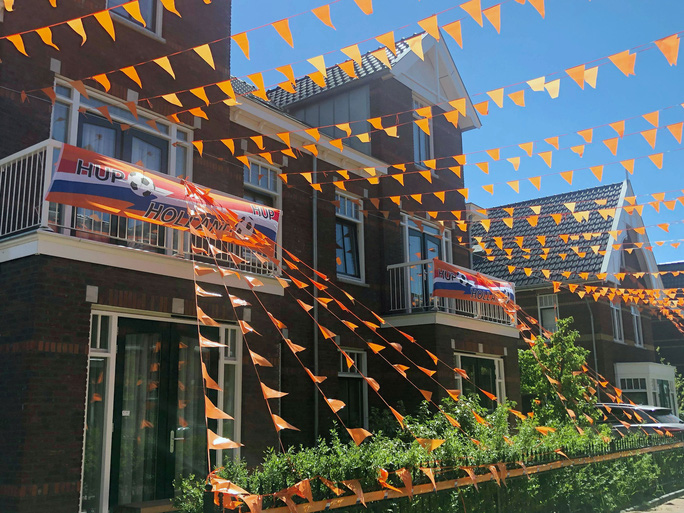 Photo: NVCC
In the early morning of 14 June, Netherlands met Ukraine at Amsterdam stadium, a few days before the match, Vietnamese families living in Netherlands had prepared for celebrating Euro 2020, creating a "Storm of orange colours" in every corner of the streets and hanging up "Hup Holland Hup" slogan at the front doors. Pennants and banners were hung everywhere, on the roof down to make enormous orange nets.
"Football has been a passion of our family', Mai Ngoc Tram, living in The Hague City, about 70km from Amsterdam) said every house were decorated in a bright orange shade of banners and flags, waiting for the game and cheering for Netherlands to win.