Everything you need to know about 'Tet Nguyen Tieu' – first Full Moon of the Year
After the Lunar New Year period, Vietnamese people celebrate Tet Nguyen Tieu, or first full moon of the month, which is held on 15th day of the first lunar month. It traditionally marks the end of the Lunar New Year period and is celebrated throughout Asian countries such as Vietnam, Thailand and China. In 2021, Tet Nguyen Tieu falls on February 26.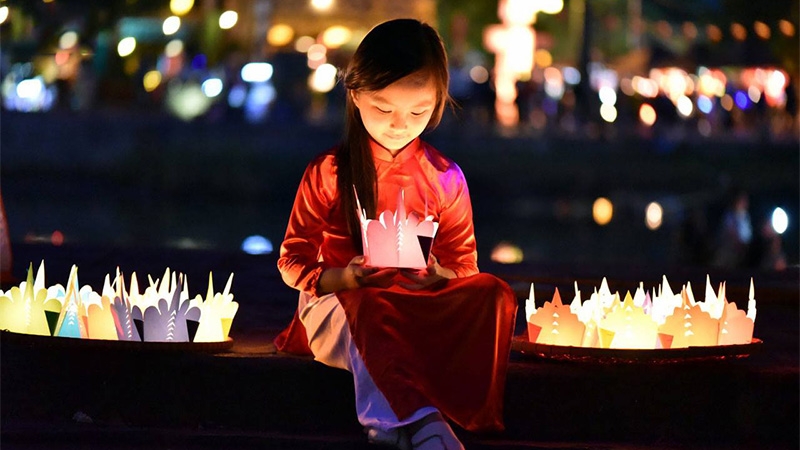 Tet Nguyen Tieu marks the first full moon of new lunar new year.
What is Tet Nguyen Tieu?
Despite having its origin in China, Tet Nguyen Tieu in Vietnam brings its own distinctive culture.
In Vietnam, Tet Nguyen Tieu closely sticks to the agricultural practices of Vietnamese farmers for thousands of years. It is before the Full Moon of the first Lunar month that farmers have to work hard to prepare for farming activities of the whole year. On the night of the first full moon, the farmers will burn dried leaf to get rid of harmful pests. After such strenuous tasks, the farmers will sit down and enjoy the beauty of the full moon.
Vietnamese people believe that the first full moon night in the Lunar New Year is the most important full moon of the year. For many people, it marks the return of spring and symbolizes the reunion of family for those who do not manage to celebrate the Lunar New Year Eve with their family.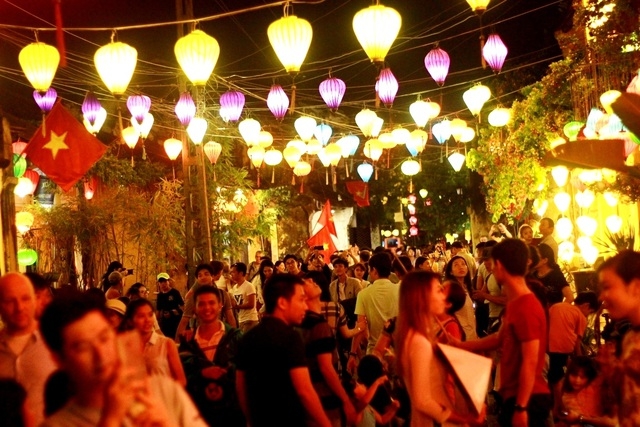 Tet Nguyen Tieu is celebrated in Hoi An ancient town, Quang Nam province. Photo: Dantri
What Vietnamese people do on the day of the First Full Moon?
During the very first days of Lunar New Year Eve, Caterian - our intern did experience the once-in-a-lifetime atmosphere of celebrating Tet with her local buddy's family.
On January 15th of the Lunar Calendar, families usually visit pagodas and wish for the best things for their family members and friends.
Don't be surprised if your host family eat vegan on this special day since vegan food helps to bring peace in mind for the coming year. Vietnamese love to practice vegetarianism on this day.
Eating Banh troi nuoc is an important custom in both Vietnam and China. Banh Troi Nuoc can look like ball-shaped dumplings made of glutinous rice flour and stuffed with white or brown sugar, sesame seeds, and bean paste. In Chinese, it is known as yuanxiao or tangyuan, meaning a happy get-together. The round shape of the cake and the bowls symbolize wholeness and reunion.
What is typical about Tet Nguyen Tieu in the North and the South of Vietnam?
In the Northern part like Thanh Hoa or Hanoi, Tet Nguyen Tieu is more to pray to the ancestors: people will be busy shopping for grocery and paper offerings to present the most beautiful flowers and freshest fruits to put up on the family's altars.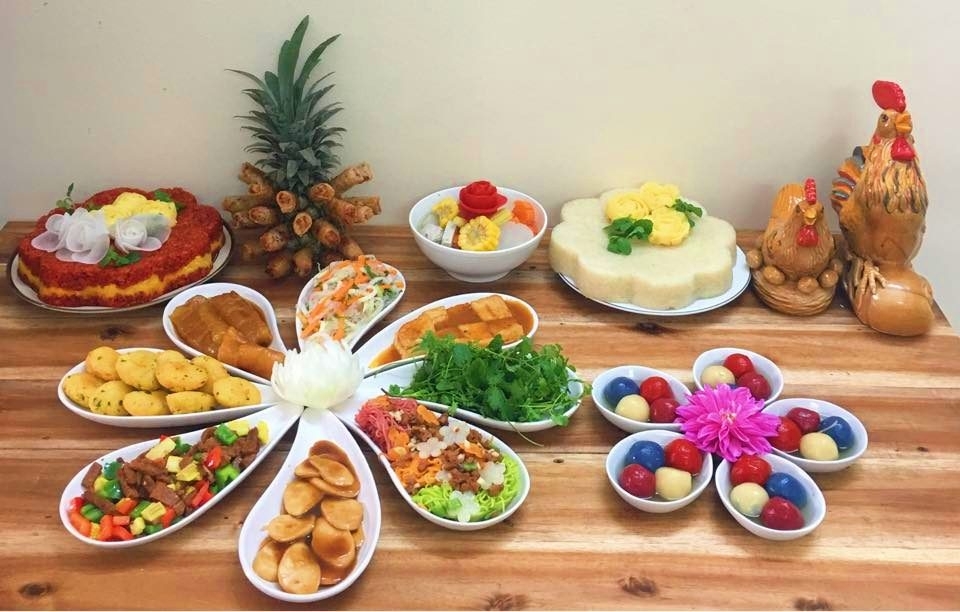 A tray dedicated to ancestors on Tet Nguyen Tieu
In Ho Chi Minh City, the Cho Lon in District 5 is the most exciting place to visit during Tet Nguyen Tieu. The Cultural Center of District 5 is often the place where most activities to celebrate Tet Nguyen Tieu take place. By coming over the center from 12th-15th, visitors may get a chance to experience the exciting atmosphere of the Hoa community here. People gather to see the lion-dragon dance show. It is believed the lion-dragon's appearance brings luck, prosperity and success for the New Year. Besides, visitors can enjoy the parades around the streets in District 5 with many people and decorated vehicles, which is somehow like a small street carnival. Please make sure your camera is fully charged so that you can shoot or record any moment you would like. You are surely interested in those activities which you may not find anywhere else at anytime else.
If you want to have a shot of lanterns without traveling to Hoi An which is too far away from Ho Chi Minh City, you may like Tet Nguyen Tieu at the Cultural Center of District 5. Lanterns are decorated and exhibited in a gorgeous way. Along the streets, lanterns are also hung up in rows. That's why visitors who even have been to District 5 before still get amazed at what they are seeing at the moment and wonder if they are traveling to another country.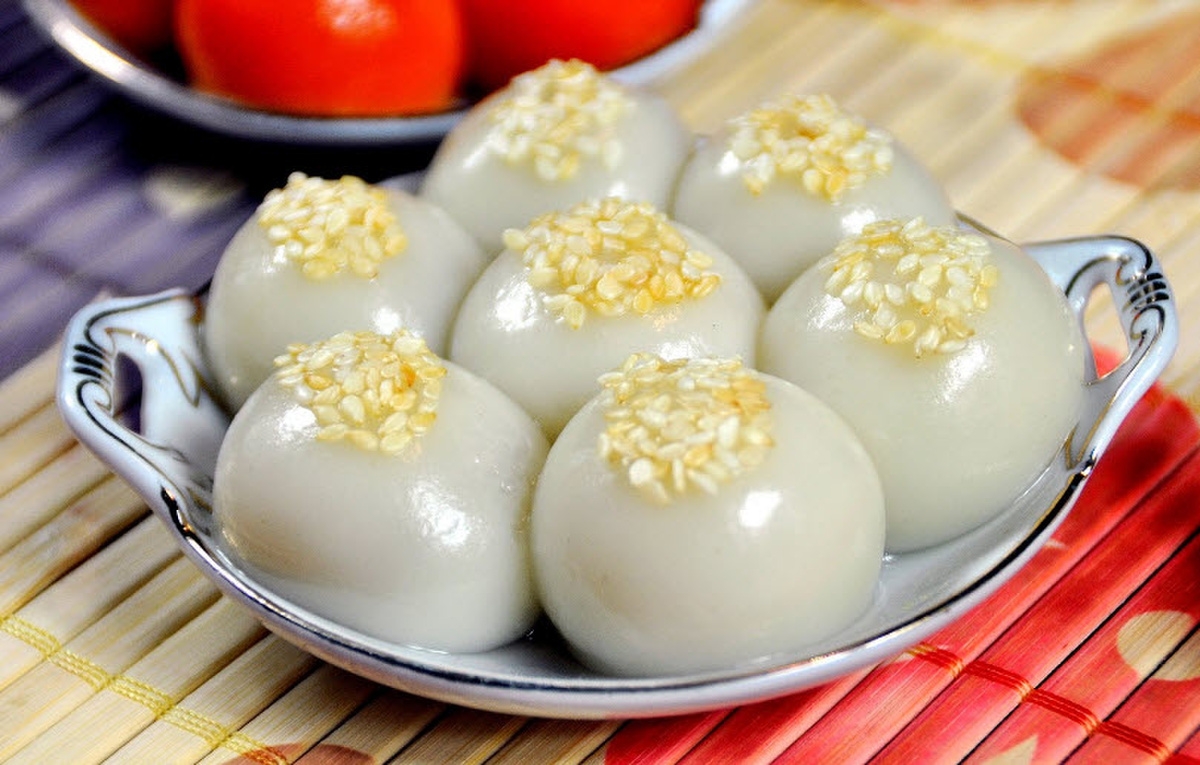 Banh troi nuoc
While District 1 is younger with lots of occidental architecture and sparkling luxurious buildings to welcome Tet, District 5, as time passes by, still remains its oriental beauty of old-styled houses and intrinsic cultural values gathered by the Hoa community living here. Tet Nguyen Tieu, one of the biggest events beside Tet, cannot be missed with any excuse because of the chance to feel and take a breath of a combined Vietnamese-Chinese culture that visitors can hardly find out at any other places.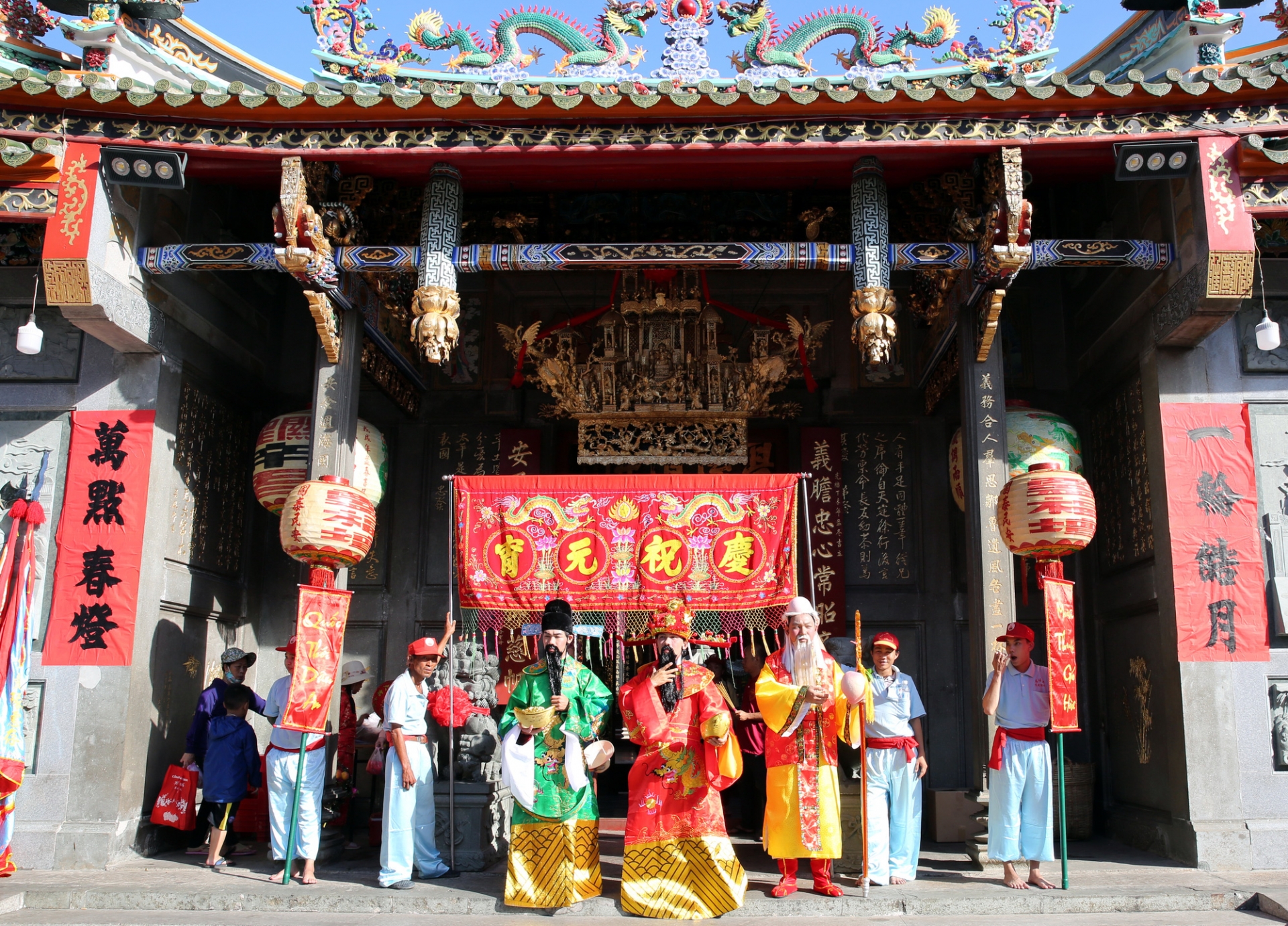 Hoa community in Ho Chi Minh city celebrate Tet Nguyen Tieu
In general, Tet Nguyen Tieu is celebrated among the Buddhist community, especially in the centre and southern part of Vietnam. Similar to Ho Chi Minh City, if you are in Hue and Danang during the occasion, you will see a grand, though a lot calmer, celebration of Tet Nguyen Tieu. Vegetarianism is widely practiced.