A Tet far away from homeland amid Covid-19 pandemic
Outdoor temperature drops to minus degree Celcius, in the twilight, some people are rushing at work while the others are hurrying to return home after the end of a shift. There is no time to prepare worships and Tet banquet.
It is the usual scene when it comes to Lunar New Year Eve for Vietnamese ex-pats in France as the significant occasion seldomly falls on the weekend.
France is the country of festivals and parties, as a result, it seems that the traditional Tet is not considered so significant and special. However, for people who are working and living in the country thousands of miles afar, Tet always the time when nostalgia is stirred up. They believe that Tet is not simply an occasion to welcome the first days of the lunar calendar but in a deeper meaning, it plays as a physical thread to connect Vietnamese people to their original homeland.
It is easier to enjoy an authentic Tet in France thanks to the variety of Asian and Vietnamese markets with thousands of goods for the occasion opened in the country. Especially, the prices of made-in-Vietnam imported goods in France surge during Tet holiday due to Vietnamese ex-pats' huge demands. Maybe in Tet occasion, eating things is not only the story of feeling full and delicious with original taste but also a time for people to remember and to reduce nostalgia.
A stall selling food for the Vietnamese Lunar New Year in France.
Despite the expensive price of imported goods, it still brings a sense of satisfaction because the Vietnamese section of goods in foreign markets make ex-pats thinks of sweet Tet memories when motherhoods and sisterhoods were carefully prepared a Tet banquet with sweet candies, Banh Chung (sticky rice cake), the sound of drums, the flower markets… However, the Tet atmosphere can not be delivered by any transportation from afar homeland to France.
As a result, it makes sense that people tend to flock home from overseas despite the escalated prices of flight tickets to enjoy Tet and gathered with families and friends.
For people who can not board a flight to Vietnam on Tet holiday, associations of overseas Vietnamese always spent time and effort to hold some cultural events to reduce the nostalgia, which is anticipated by many Vietnamese ex-pats.
In addition to promoting the Dharma, many Vietnamese temples are also places to preserve more intact customs and practices than in those in Vietnam. But the number of Vietnamese temples is often locating in places where public transport is difficult to access. Therefore, not all Vietnamese are eligible to come regularly. Every Tet holiday comes, the pagoda is also a place where Vietnamese people looking for not only to pray for a peaceful year but also to return to the traditional and customs traits from our ancestors to the next generations.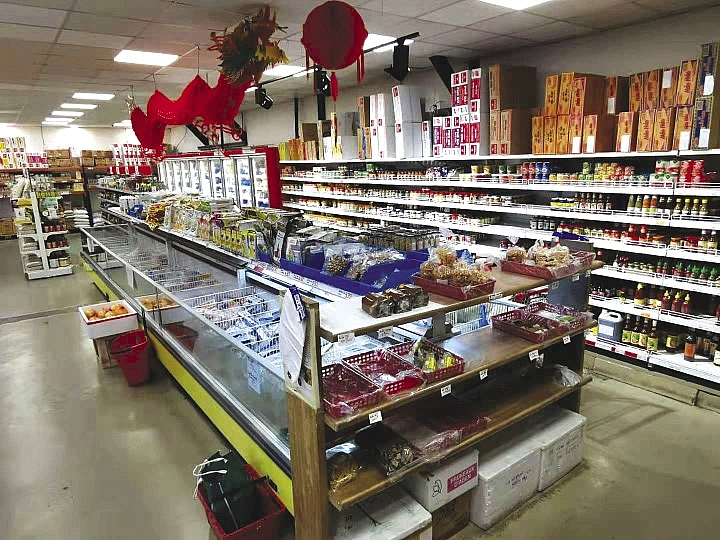 A desolated supermarket in France during the Covid-19 pandemic.
However, this year Tet event is so different due to Covid-19:
People can not repatriate home because series of flights canceled amidst Covid-19.
Traditional art and music activities overseas can not reduce the nostalgia.
Even if you want to find spiritual support to overcome your fears and welcome a peaceful New Year during Covid-19, people can not satisfied.
In all these mess up things, many Vietnamese and French have suffered the same fate of temporary unemployment. The economic hardships are likely to be even scarier than the pandemic. Surely that will make it harder for many people to prepare for a Tet holiday.
But surely Tet will not be hindered by COVID-19! Because looking deeply, this Lunar New Year will not be tinged with gloom. Due to COVID-19, many people still have their jobs shifted to work remotely. This year, Vietnamese people in France will no longer have to be busy at work in the middle of the sacred Tet or rushing home after work but they can gather with their fellow countrymen to welcome the New Year at the same time with their hometown.
On this year's dining table, we believe that Vietnamese dishes will be more complete than in previous years because culinary talents are prefabricated in the blood of Vietnamese people. At the same time, in small groups on social networks, services that provide traditional Tet dishes such as Banh Chung, Banh Tet, sausage, melon ... are enthusiastically supported by overseas Vietnamese. Believe that, affection and caring during the pandemic season will make the cold Tet holiday become warmer. Then Tet will still be a true Tet!
Because not only this year but many years ago, Tet is always an opportunity to help Vietnamese expatriates reinforce their belief that after Tet ends, everything will be better!
Yearning for Tet...

With people who live and work far away from home, Tet brings a yearning feeling and lots of unexplainable emotions...