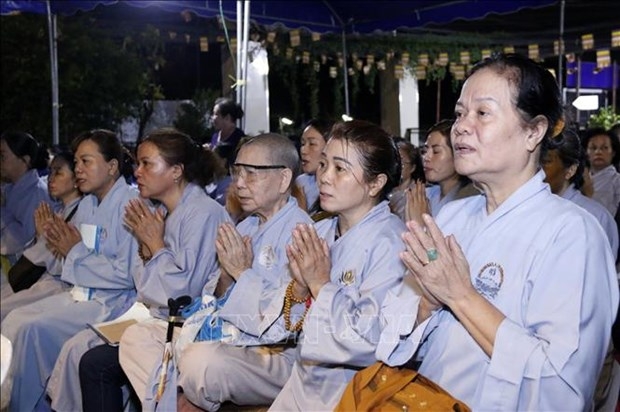 A requiem is solemnly held for soldiers, officers and civilians killed in the recent devastating floods and landslides in central Vietnam by Vietnamese expats in Laos at Vientiane-based Phat Tich Pagoda. Photo: VNA
This year's severe flooding has wreaked havoc on five central provinces in Vietnam while the historic flooding in 42 years has also caused great damage to eight districts of Lao central province of Savannakhet over recent days, Vietnamese Ambassador to Laos Nguyen Ba Hung addressed the event.
He expressed his gratitude towards Phat Tich Pagoda and Vietnamese people living in Laos for sending reliefs to affected residents in the two countries, saying it demonstrates a Vietnamese traditional custom – "the good leaves protect the worn-out ones" (which means people should help those who are not as lucky as them).
The diplomat also thanked Most Venerable Bounma Simmaphom, Acting President of the Lao Buddhist Fellowship Organisation for taking part in the requiem, illuminating the strong brotherhood between Laos and Vietnam.
After a minute's silence to commemorate military officers and soldiers who had died in rescue missions in the central region over the past weeks, participants raised funds for flood-hit people.
Vietnamese people in Vientiane make donations to help flood-hit people in central Vietnam and Laos. Photo: VNA
Since October 17, Vientiane-based Phat Tich Pagoda and the association of Vietnamese people in Vientiane have raised about LAK 200 million (USD 21,630) in fund for flood-hit people in central Vietnam and Laos. Half of the money was handed over to Ambassador Hung to help those in need in Vietnam.
On the October 25, the Embassy of Vietnam in Laos also launched an appeal for donations for flood survivors in the central region.
Vietnamese people living in Vientiane, Vietnamese enterprises operating in Laos and embassy staff donated a total of over VND 750 million (USD 32,200).
The embassy will transfer more than USD 27.000 to the Central Vietnam Fatherland Front to support families affected by the recent heavy flood in the Central region; the remaining USD 5.400 will be transferred to the flood victims in Savannakhet province of Laos.
Vietnamese people in Laos donate in support of flood-hit people in the central region. Source: VNA
While storm Saudel is causing heavy rains in the central provinces from Nghe An to Thua Thien-Hue, another named Molave is on course to move towards Vietnam and is forecast to make landfall in two days.
Typhoon Molave had originally struck the Philippines early on October 26, forcing approximately 25,000 people in the Bicol region to flee their homes amid the prospect of landslides and flash floods occurring.
According to the Central Steering Committee for Natural Disasters Prevention and Control, Typhoon Molave is as strong as Typhoon Damrey that hit Vietnam in 2017, leading to serious human and material losses.
Typhoon Damrey alone left 123 people dead and missing, 134,000 houses and over 73,000 aquaculture farms damaged, and roughly 2,000 boats sunk. Indeed, material losses amounted to more than VND 22 trillion.
This year's severe flooding has wreaked havoc on five central provinces in Vietnam, claimed 130 lives, and left 18 others missing so far./.
Hannah Nguyen