Expats Offer Helping Hands at Covid-19 Frontline
Foreigners have been doing charitable work to help disadvantaged people cope with Covid-19 hardships, with some joining the frontline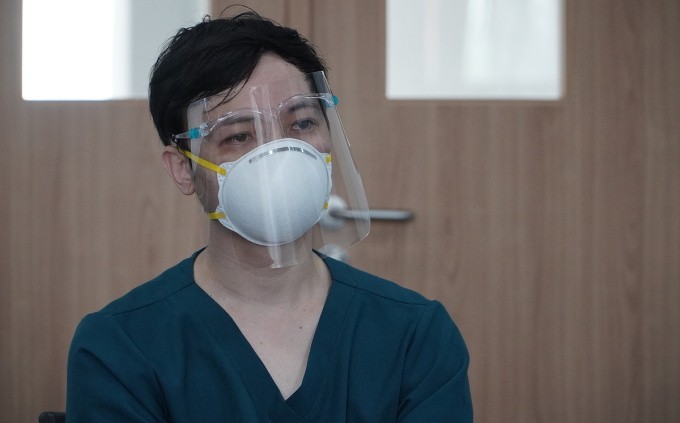 Doctor Khamsouk Luangphommaseng. Photo: VNE
Wearing protective gear, resident doctor Khamsouk Luangphommaseng entered the treatment area for Covid-19 patients at a field hospital in Ho Chi Minh City.
It was the fifth day at the facility for the Laotian, who had earlier done similar work for two months at Cho Ray Hospital.
"I want to support my colleagues and share their burdens, and help patients return to normal life," the 29-year-old says fluently in Vietnamese.
Working on the frontline in the Covid battle also helps him learn, he says.
Khamsouk is among many foreigners who have joined the frontlines forces in Covid epicenter HCMC, as reported by VNE.
He has been living in Vietnam for almost a decade, graduating from the Hue University of Medicine and Pharmacy in Thua Thien-Hue Province before working as a doctor of internal medicine at Cho Ray.
When Covid resurged in the southern metro in April, he immediately signed up to assist in examining, classifying and treating patients.
After working in the emergency area at Cho Ray in August, the peak of the outbreak in HCMC, he says he was shocked by the number of new cases.
During the recent outbreak, Cho Ray has admitted critically ill patients, most of them needing oxygen support.
Khamsouk has had to get used to pressures and emotions he has never experienced before.
"Many patients' health worsened rapidly, requiring doctors and nurses to provide timely treatment," he says.
When things eased up at Cho Ray Hospital, he registered to work as a volunteer at the field hospital, which has a capacity of 800 beds and more than 400 patients.
The city's largest field hospital has treated more than 3,700 patients since mid-July.
Khamsouk plans to go home to visit his family when the pandemic is contained before returning to complete his 18-month residency at Cho Ray.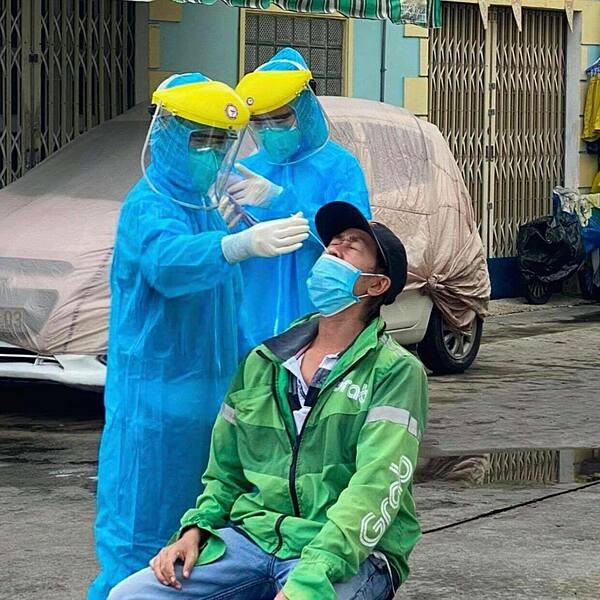 Bophathom Vann takes nose swabs from a motorbike taxi driver in HCMC, Sept 2021. Photo courtesy of Bophathom Vann/ via VNE
Also yearning to see her family is Bophathom Vann, a Cambodian medical student in Can Tho who has also been a frontline worker in HCMC.
The Can Tho University of Medicine and Pharmacy student was helping contact trace people who might have contracted Covid in Can Tho before registering to work in HCMC.
On hearing the 23-year-old would work in the pandemic epicenter, her parents were initially worried. But convinced them, saying a medical student like her must protect the health of the community.
In HCMC, she worked in a team collecting samples from local residents for testing. Every day, starting at around 8 a.m., she would take up to 500 samples and record data.
She also helped charitable groups distribute food to people living in locked-down areas.
"I was a little worried but not afraid," she told VnExpress.
"Helping HCMC screen Covid-19 cases for timely treatment is crucial, so I did not hesitate before joining this battle."
Like Khamsouk, Vann alsosays Vietnam is her second home and so wants to contribute to the Covid battle and help bring back normalcy as soon as possible.
When HCMC lifted its four-month lockdown and started resuming economic activities on Oct. 1, Vann returned to Can Tho.
"My greatest joy when I worked in Saigon was seeing negative test results. Now I hope I will also test negative when I finish my quarantine."
She plans to focus on her lessons now and visit her family in Cambodia after the pandemic is gone.
While many foreigners are dedicating their time, efforts and expertise at the frontline, others find their own ways to join hands with the local pandemic fight.
In Saigon, Indian restaurant owner Robin Deepu, Briton teacher Percy Smith, French businessman Gaveau Patrick, Australian businessman Trevor Long, and others cooked food for thousands of needy people and frontline workers during the lockdown.
"Working as a frontline worker has shown me how kind and brave Vietnamese are," Vann says. "I hope everyone will strictly observe preventive measures to keep the pandemic at bay".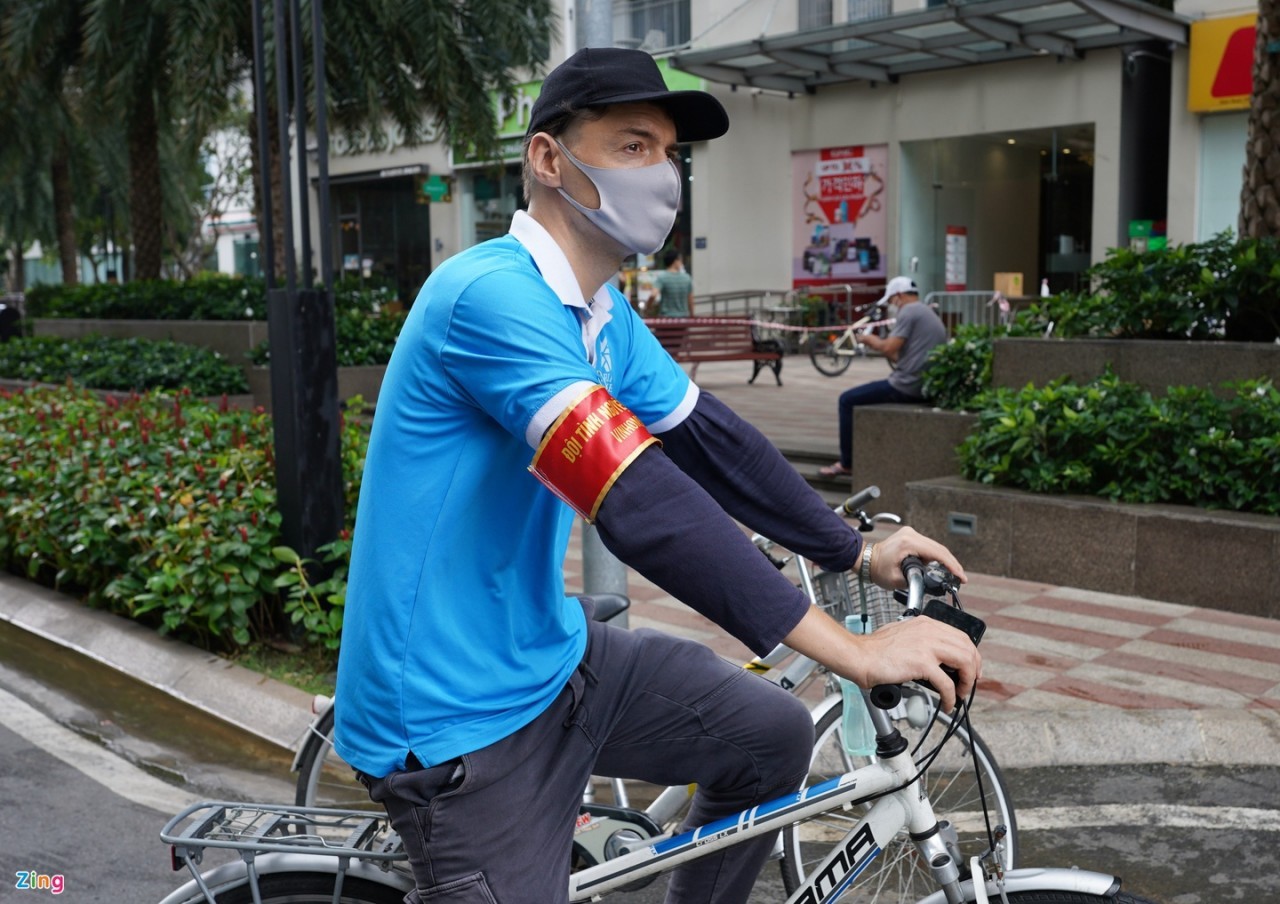 Dr. Victor Vladovich rides his bike to deliver medicine and to households in Vinhomes Central Park on Sept. Photo: Zing
Dr. Victor Vladovich, 38, spends three hours every morning buying and shipping medicine and food to households in Vinhomes Central Park, of HCMC's Binh Thanh district. While only a volunteer, his neighbors thank him for his heroic efforts.
The expat said can speak fluent Vietnamese, therefore can communicate well with drugstore staff and security guards. Residents of Vinhomes Central Park seem to be familiar with the sight of the expat riding his sports bike to deliver food and medicine to each building.
"Staying home alone for a long time is very stressful. Going out to help people lift my mood," he told Zing News. "People often smile and thank me as they receive their order. Even though we all wear face mask, I can still feel the happiness."
During his 3-hour shift every morning, Vladovich usually delivers about 10 prescriptions and three essentials orders. Many foreigners living in Vinhomes Central Park who knows Vladovich also enlist his help during this extended period of social distancing.
"Many foreigners are not fluent in Vietnamese, therefore, it's hard for them to go shopping," the Russian national added. "Sometimes, I have to go to 3-4 stores to get enough stuff for one order."
Michael Wilson and his girlfriend in Saigon's District 2 prepared food and traveled to many places in town to hand them to disadvantaged people who have lost their livelihoods due to the two-week social distancing campaign and the pandemic.
"Everyone is hit by the pandemic, so I just contribute what I can," Wilson, 34, an English teacher from the U.K., told VNE.
He distributed 50 sandwiches and masks to lottery sellers and motorbike taxi drivers. Last year too, during the nationwide social distancing campaign, he had joined his friends in donating masks and sanitizers to people in need.
"We are in this together," he said.
Wilson is among many foreigners who have done their bit to help less fortunate people in their new home survive the Covid-19 pandemic, which has affected their livelihoods.
In Hanoi, Daniel James, 41, also an English teacher, bought instant noodles, water and masks and distributed them to some poor people after the fourth wave of Covid began.
He solicited donations from expat friends, bought things from a supermarket and drove around to himself distribute them.
"The city is my second home, so I want to express my gratitude and join in this Covid battle," he says.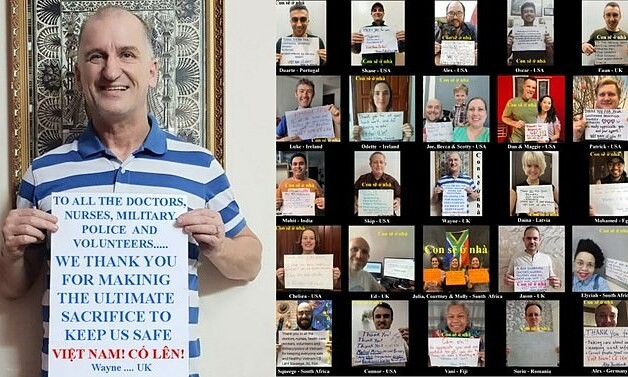 Wayne Worrell (L) and his friends send positive messages to Covid-19 frontline workers in Vietnam. Photo courtesy of Wayne Worrell/ via VNE
Wayne Worrell, 55, a British teacher living in Hanoi for more than a decade, donated face masks to people to raise public awareness of wearing masks during the previous outbreak.
When blood banks were running out of supply since people were scared to donate amid the pandemic, he urged expats to pitch in.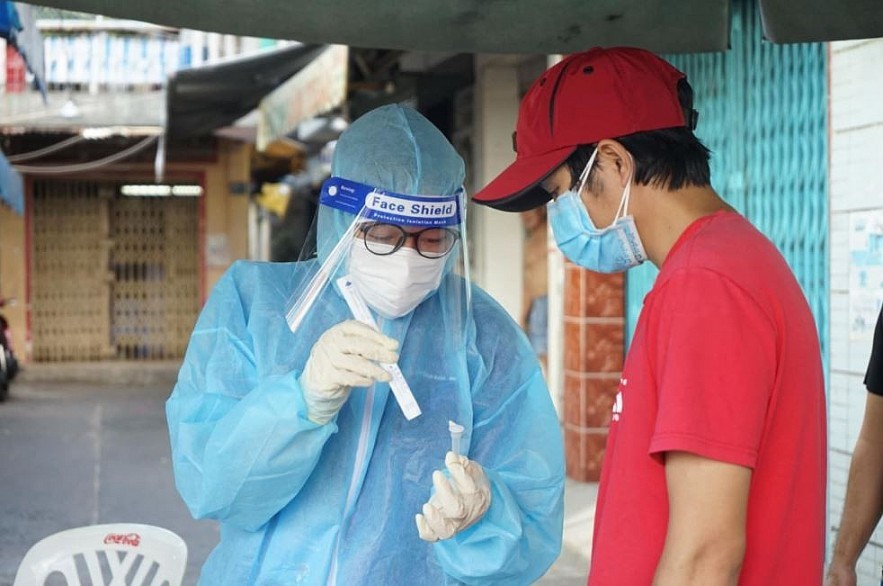 Photo: Bao Hoa Binh
Vietnam on Oct. 16 reported 3,221 new infections of Covid-19, including 10 imported cases, according to the Ministry of Health. The figure is 578 cases lower than the previous day. Ho Chi Minh City detected the highest number of infections with 790, followed by Dong Nai province with 397 and Binh Duong province with 385.
The Ministry of Health also reported that 3,528 patients nationwide are in serious conditions, with 471 requiring invasive ventilation and 19 on life support. On the same day, the country saw 88 deaths from the disease.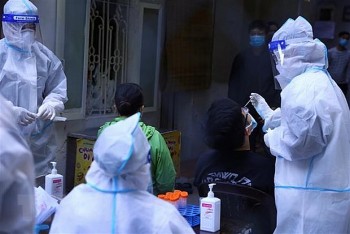 Focus
Vietnam's Covid-19 death toll is now 26,483, or 2 percent of total cases. More than 7,000 coronavirus patients nationwide are in serious condition, with 741 requiring invasive ventilation and 20 on life support.