Expat's TikTok videos mocking Vietnamese culture provoke outrages among netizens
Cristian Rodriguez, the Colombia TikToker now residing in Vietnam has recently uploaded a series of videos mocking Vietnam's culture, including the use of chopsticks, shrimp paste which has been long-lived in the country's cuisine.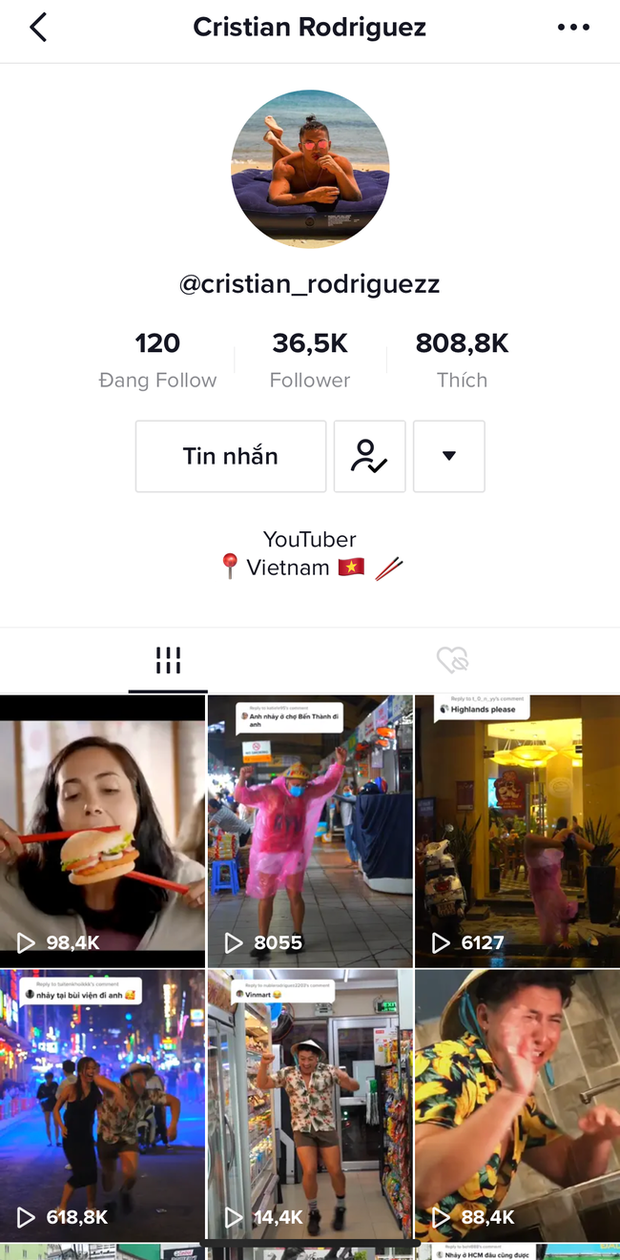 Cristian Rodriguez's TikTok account has thousands of followers (Photo: Captured)
Using chopsticks to eat a hamburger
In one of his latest updates on his TikTok account, Rodriguez is pictured trying to eat a hamburger with chopsticks. The man also wears a conical hat – the iconic hat of Vietnamese people while eating the food, according to Tienphong news.
His video immediately causes outrages among Vietnamese people, especially as Rodriguez is seen obviously attempting to imitate the video posted by Burger King New Zealand last year, where one foreigner also uses chopsticks to eat hamburgers with a disdainful attitude. Back then, the disrespectful video sparks controversial discussions for offending the self-esteem of many Asian people. Rodriguez, however, is believed to be doing the same thing as Burger King New Zealand.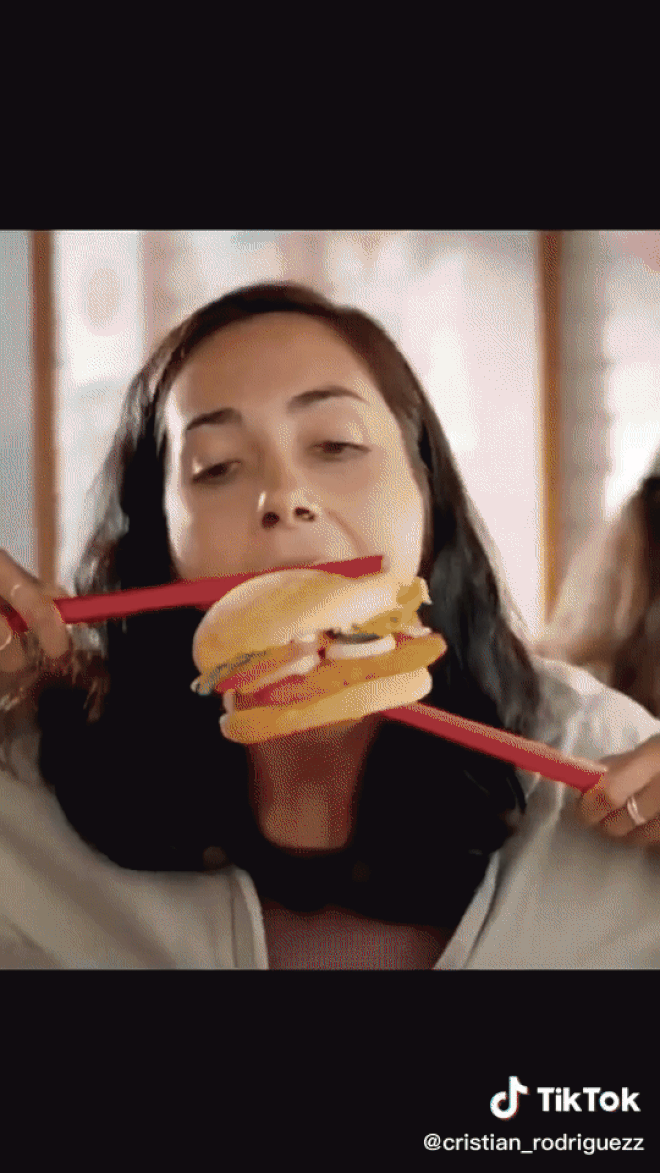 He's trying to eat a hamburger with chopsticks (Video courtesy of Rodriguez's TikTok)
Rodriguez even adds beer into shrimp paste while eating "bún đậu mắm tôm" (Noodle with fried tofu and shrimp paste), a traditional, favorite dish of generations of Vietnamese and foreigners. His act is considered offensive given the cultural importance of "bún đậu mắm tôm" in the Vietnamese culinary world.
Doing ridiculous dance in public
Rodriguez also posted a number of videos of him dancing randomly in front of famous places in Ho Chi Minh city, including Ben Thanh market, or Highlands Coffee. The thing is, he keeps wearing the conical hat while dancing ridiculously in public. The hat even falls off his head while dancing. Rodriguez even dances in a convenience store and accidentally damages the store's equipment.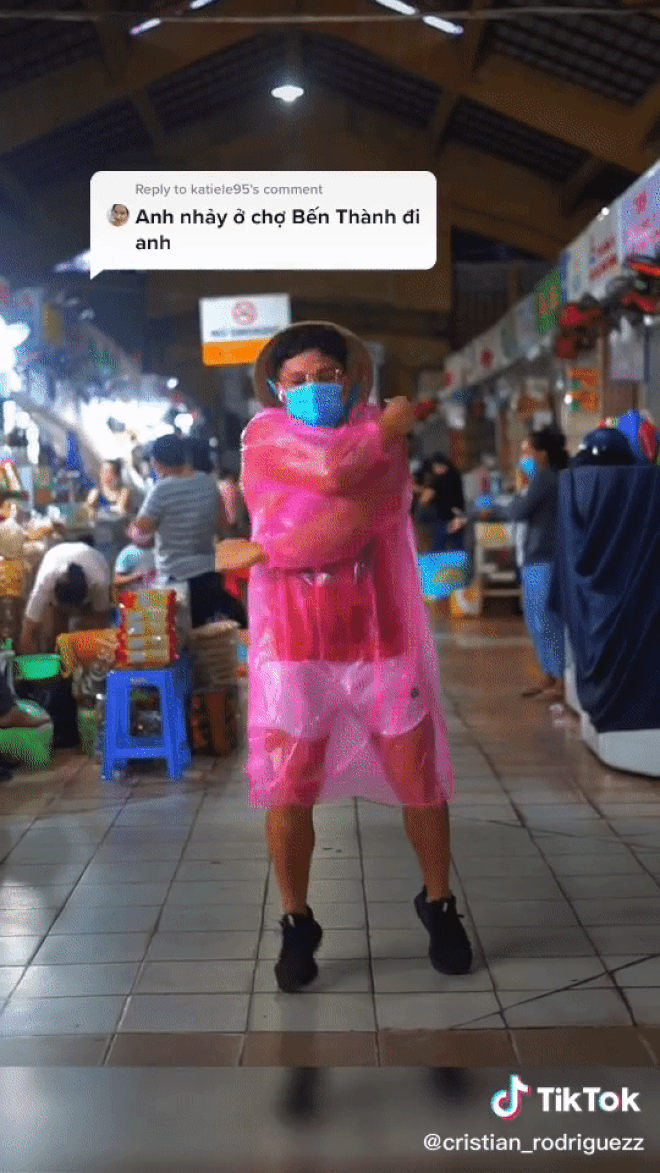 Rodriguez's ridiculous dance in Ben Thanh market (Video courtesy of Rodriguez's TikTok)
Vandalizing landscape and causing traffic jams
Rodriguez's crazy dance isn't the worst. Rodriguez jumped into the middle of a roundabout in Saigon to dance crazily, blatantly steps on the grass. In another video, Rodriguez gets off the bus while smiling on the street and starts dancing at the zebra crossing, leaving dozens of commuters waiting for the red lights behind in great shock. To be even more offensive, the Colombian man chooses to wear a conical hat instead of a helmet – the mandatory item for all motorbikes in Vietnam while riding on his motorbike.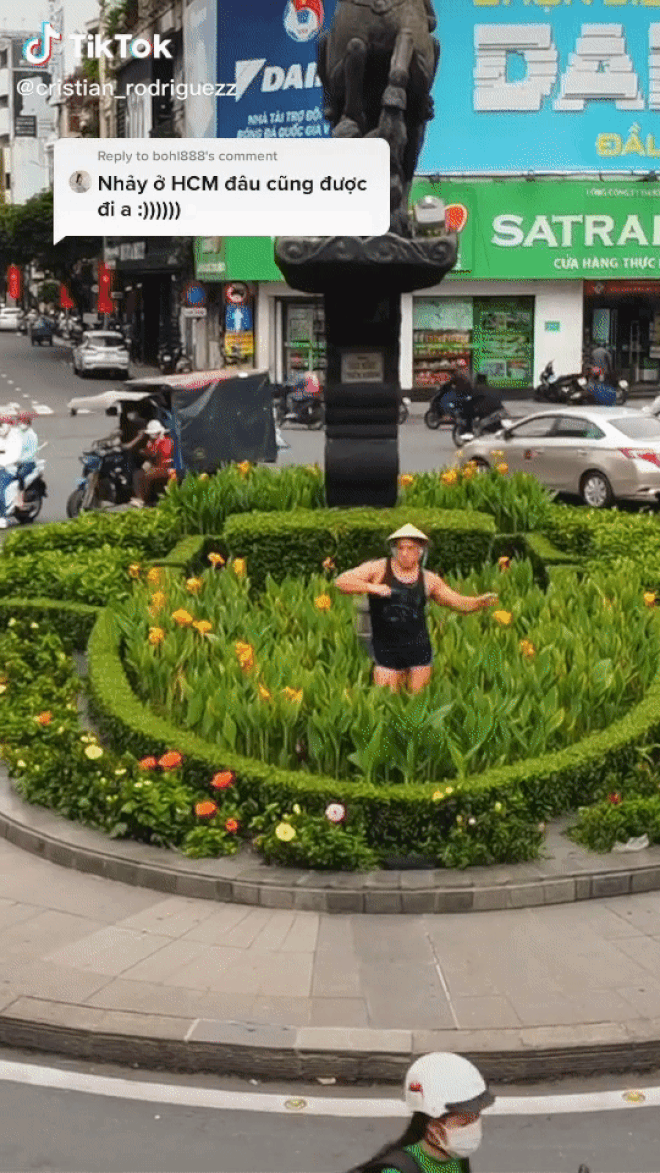 (Video courtesy of Rodriguez's TikTok)
After receiving a strong wave of criticism from Vietnamese netizens, Rodriguez commented on one of his posts that he loved Vietnam and he didn't mean to disrespect the culture.
"This country and the people are amazing. I love you all".
However, the TikToker which garners over 35,500 followers and 808,800 likes didn't delete his offensive videos.