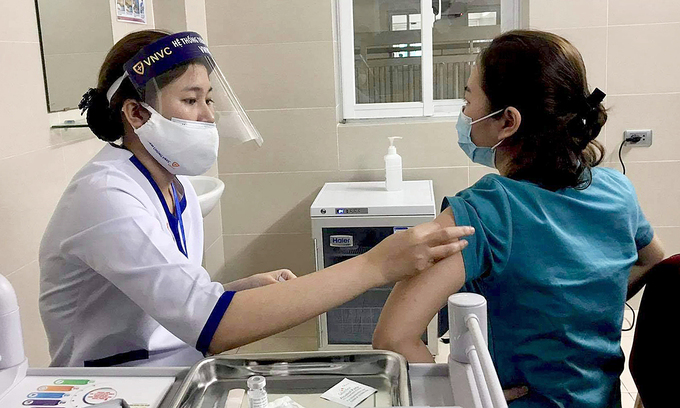 A medical worker in Hanoi's Thanh Nhan Hospital is vaccinated against Covid-19, March 9, 2021. Photo by VnExpress/Bao Loan.
At a meeting of the Hanoi People's Committee on April 12, the Hanoi Health Department said that as many as 8.407 people in the city have been administered the Covid-19 vaccine. All recipients are now in stable health conditions, VGP reported.
The Department has mapped out plans to implement the phase 2 inoculation campaign using 53.350 vaccine doses which were allocated to the city by the Health Ministry. The Department, in coordination with districts and towns, has reviewed the prioritized groups receiving vaccine under the Government's Resolution 21. Phase 2 is expected to be completed within this month.
The city has planned to conduct Covid-19 testing for more than 26,000 medical staff. To date, 12,000 people of which have had their samples taken for testing and all results have returned negative. These 26.000 medical workers along with 70,000 members of the Covid-19 community groups will also be prioritized people being injected with the vaccine in phase 2.
According to Tran Thi Nhi Ha, Director of the Hanoi Department of Health, the city reached the country's highest vaccination coverage in the first phase. The city plans to vaccinate 350,000 citizens this year.
The Covid-19 epidemic has been rampant in Southeast Asia countries especially in Laos and Cambodia. These countries share the border with Vietnam, hence, the risk of illegal entrants and injection is high.
Chu Xuan Dung, Vice Chairman of the Hanoi People's Committee required departments, agencies and localities to ramp up Covid-19 prevention measures.
He also assigned the Health Department to continue keeping track of the epidemic situation at border gates, medical facilities; sternly comply with the regulations at centralized quarantine facilities; districts and towns prepare scenarios to timely respond to the epidemic, etc.
Especially, the city will implement phase 2 Covid-19 vaccination campaign on a larger scale and more subjects. Thus, the relevant units need to have thorough preparation from the propaganda, training to inoculation process, he added.
Vietnam has inoculated around 60,000 citizens against Covid-19 with a vaccine produced by British-Swedish firm AstraZeneca, provided either through contracts or global vaccine access mechanism Covax. Most of the vaccinated are frontline workers in the Covid-19 fight.
Malie Nguyen