Exploring Lunar New Year feast menus in different parts of Vietnam
Hanoi impresses visitors with meat jelly, Hue has the simple yet dedicate boiled meat dipping in sour shrimp while the Lunar New Year meals of Southern provinces are indispensable for stew duck eggs with meat.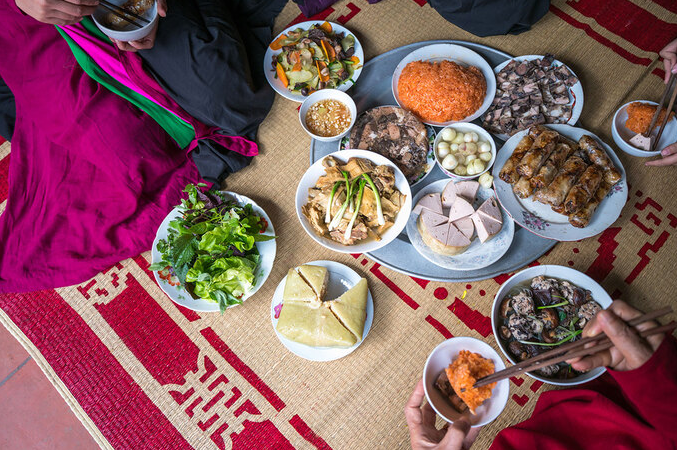 Hanoi impresses visitors with meat jelly. (Photo: VN Express)
Tet feast menus in each province of Vietnam has its own feature, depending on the culture, geography or cuisine of each region. When traveling around Vietnam at the beginning of the lunar year, you will have a chance to enjoy and learn further about the culinary culture of each locality.
Northern Provinces
According to culinary artist Anh Tuyet, the traditional Tet menu of Hanoian in particular or people in the Northern provinces in general usually has gac sticky rice, banh chung, pickled onion, spring rolls, head cheese, and Vietnamese meat jelly. These dishes are chosen because the Northern people welcome spring in cold weather. Notably, meat jelly is a typical dish of the winter-spring season that other regions seldom have.
Each family often reduces the number of dishes such as sauteed pigskin, boiled chicken, bamboo shoot soup, sauteed vermicelli with chicken gizzard ...Well-off families usually prepare 6 or even 8 potions of each dish for a Tet feast table.
Hue has the simple yet dedicates boiled meat dipping in sour shrimp. (Photo: VN Express)
Central Provinces
In Hue, a "Tet tray" usually has a minimum of 7 dishes. In Tet, Hue people still cook dishes that they use in everyday life.
According to Hue culinary artist Mai Thi Tra, excluding whole boiled chicken, sticky rice, sweet dessert soup..., the tray usually consists of banh chung or banh tet, stew, boiled meat, sour shrimp, shrimp and pork, fried fish, a sauteed dish, pickles. Besides, spring rolls, Hue ram cake, salad ... are also sometimes chosen on Tet, depending on the income conditions of each family.
These mentioned dishes are used by ordinary citizens. Meanwhile, the royals of the Nguyen Dynasty usually have many other delicacies that are meticulously processed.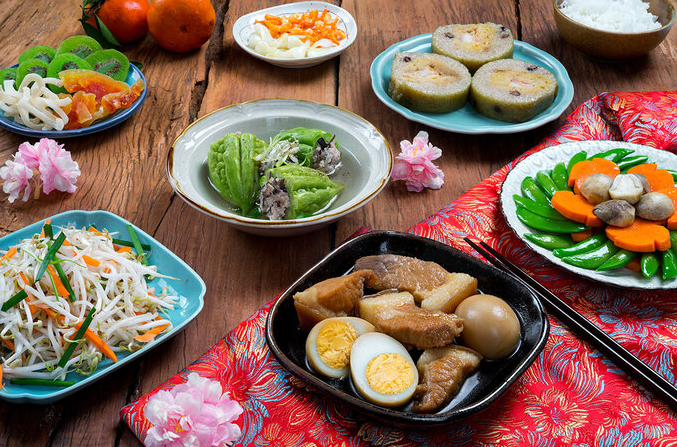 Lunar New Year meals of Southern provinces are indispensable for stew duck eggs with meat. (Photo: VN Express)
Southern Provinces
The indispensable items in the Southern Tet holiday are banh tet, bitter melon soup stuffed with meat, and stew duck eggs with meat. Chef Tran Ngoc Sang (Ho Chi Minh City) explains, there is a folk saying that eating bitter melon soup meaning "passing through", leaving all bad things in the old year behind. The stew duck eggs with meat include square-cut meat, and round duck eggs symbolize the ancient belief of Vietnamese about a round sky and square land. In addition, each southern house prepares its own special dishes such as chicken, dried shrimp. The southern people also love sweet desserts, such as candied fruits or traditional sweets.
If you wish to add meaningful experiences to your new year travel, then try to experience the typical cuisine on Tet holiday of each region that you head to. The Tet feast menu of each region is sure to bring visitors special feelings in their very first trips of the new year.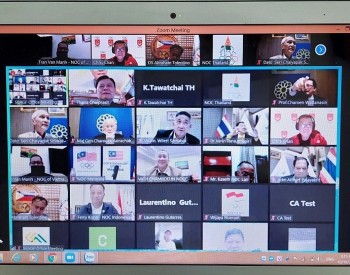 National
Vietnam News Today (October 19): Vietnam records 3,159 new local Covid cases; Vietnam ratifies ASEAN Trade in Services Agreement; SEA Games 31 likely to be held in Vietnam in May 2022; Goethe-Institut's science film festival goes virtual from October 18.
Friendship
PeaceTrees continued UXO-clearing efforts in the central province of Quang Tri in spite of severe storm warnings.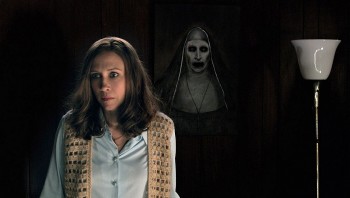 Handbook
Halloween is coming, and nothing is better than some good and spooky horror films. Here is a list of carefully selected 20 horror movies on Netflix that you can stream right now.