Exploring the beauty of Da Bia Mountain in Phu Yen
Da Bia Mountain in Phu Yen, Vietnam is an ideal destination for tourists who would like to enjoy fascinating scenery, fresh atmosphere and diverse eco-system together with the cultural and historical values.
The mountain closely links to many legends
According to Vietnam Tourism, Da Bia Mountain or Thach Bi Son is a well-known mountain in Phu Yen, which has been recognized as a national beauty spot in 2008 by the Ministry of Culture, Sport and Tourism. The mountain is attached with many legends and old stories about important persons and events in Vietnam's history in general and Phu Yen's history in particular.
Da Bia Mountain also plays an important role in the spiritual life of local people (former Cham people and Phu Yen's current ethnic groups). The image of Da Bia Mountain has come into many well-known poems, literature works as well as in ancient stories and songs, etc. which have been existed through generations, reflecting many aspects of their daily lives. It proves that, Da Bia Mountain has long been the meaningful symbol, which is highly appreciated by local people during the process of protecting and developing the homeland.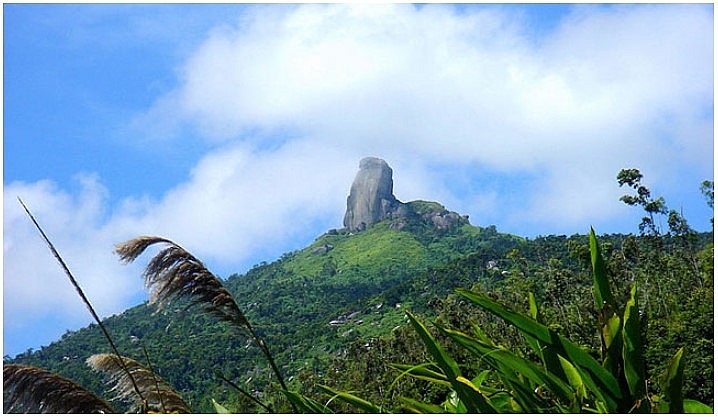 Photo: Vietnam Tourism
The mountain is closely linked to many legends. In 1471, when King Le Thanh Tong was on his way to reclaim some land to the south, the king carved letters (the meaning of which are disputed) in a big stone block at the top of the mountain. From that time, the mountain was called Đá Bia (Stone Stele).
In 1836, King Minh Mang had artisans engrave an image of Đá Bia Mountain on one of nine censers placed at The To Mieu (Temple of the Generations) in Hue Citadel.
That to its history, terrain and special ecosystem, Da Bia Mountain was recognised as a national scenic heritage in 2008.
Da Bia Mountain is also called Lingaparvata (it means Linga – the mountain god who was the embodiment of Siva God in the belief of ethnic Cham people) or Cui Bap and Ong Bia.
The mountain has also the name of Ngon Tay Chua (Finger of God), which is what the French called the mountain at the end of the 19th century because looking at Ca Pass from the sea, Da Bia Mountain is like a finger pointing to the sky, Tien Phong News reported.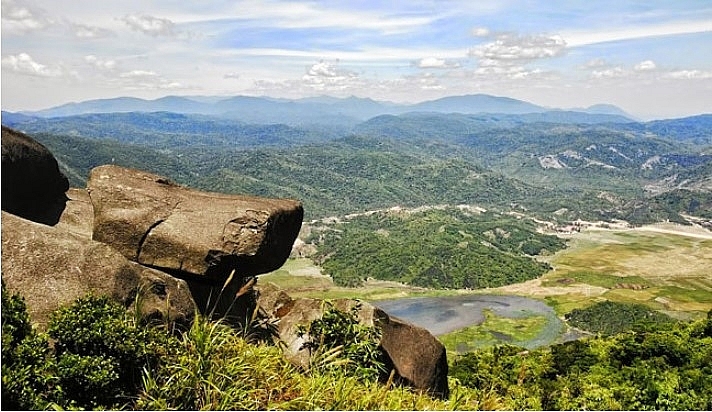 Da Bia Mountain- A symbol of nature in Phu Yen. Photo: Vietnam Tourism
Exploring the beauty of Da Bia
From Tuy Hoa City, tourists can driver along Highway 1A about 27km to reach Ca Pass. It is said that the way to the top was just more than 2.5km. This was the only route with stairs but it was steep.
During climbing, tourists should stop for a while and catch breath while admiring the beautiful view. The higher tourists climb, the cooler the climate is, but everyone is sweaty because of the climb. The trees on either side of the path are mostly bamboo.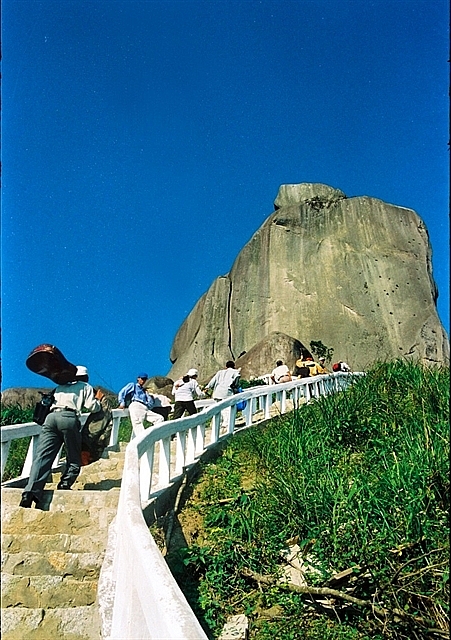 Đá Bia mountain attracts a lot of domestic tourists. — Photo nld.com.vn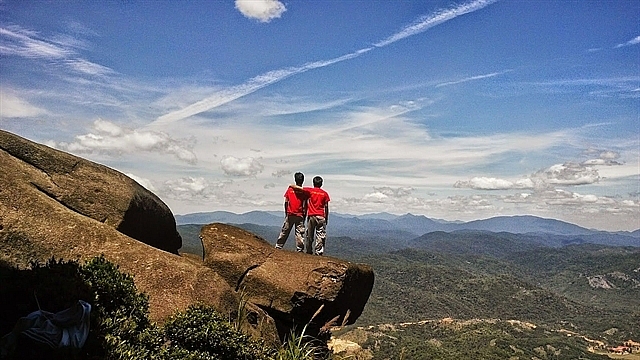 A view at Đá Bia mountain. — Photo salatour.com
After the hardest part of the climb end, the peak of Da Bia wil be filled with the colours of picnics and full of victorious smiles.
"It felt like we could see all of Phú Yên in front of us, with an unending, relaxing blue colour", a tourist shared.
The blue of the sky, the lush green of the trees, the mellow and tender blue of the ocean, all combine to form a wonderful view.
A special feature of the top of Da Bia Mountain is that from different angles we could see that it has different shapes. For example, looking from the top of the mountain, it looks like a majestic lion; viewed from Bai Xep Beach, it looks like a figure sitting; from the side of Hoa Tâm school, it has the figure of the Buddha sitting. The mountain peak is covered by layers of white clouds all year round.
Standing on the top of Da Bia, we can also see famous beauty spots such as Vung Ro Bay, Ca Pass, Bai Bang Beach, Hiem Mountain and Van Phong Bay, OVietnam reported.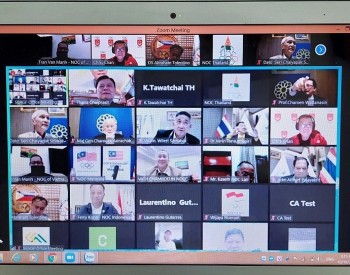 National
Vietnam News Today (October 19): Vietnam records 3,159 new local Covid cases; Vietnam ratifies ASEAN Trade in Services Agreement; SEA Games 31 likely to be held in Vietnam in May 2022; Goethe-Institut's science film festival goes virtual from October 18.
Friendship
PeaceTrees continued UXO-clearing efforts in the central province of Quang Tri in spite of severe storm warnings.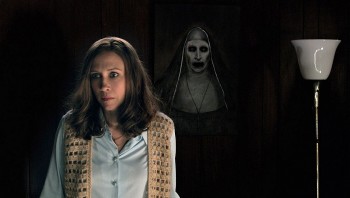 Handbook
Halloween is coming, and nothing is better than some good and spooky horror films. Here is a list of carefully selected 20 horror movies on Netflix that you can stream right now.