Hon Nua Island - Paradise at the foot of Deo Ca Pass
Possessing a long stretching beach, deep blue water, Hon Nua is often called the Central's "little Maldives".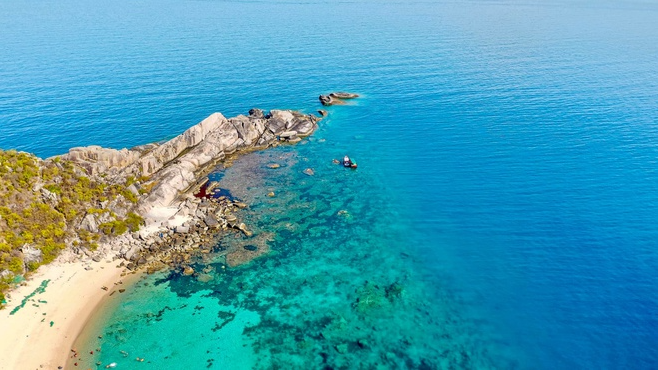 Photo: VN Express
When compared to Nha Trang or Phu Quoc, Phu Yen's tourism seems less hustle. Phu Yen - the land of "yellow flowers in the green grass" is famous for Vung Ro bay, Xep beach, Ganh Da Dia (the rocky beach),... Hon Nua Island, though only discovered in recent years, has opened up a new "beach paradise" in Phu Yen.
Hon Nua's special location
Hon Nua Island is located at the food of Deo Ca Pass, in Phu Yen and Khanh Hoa province. If seen from the pass, Hon Nua island looks like a dinosaur resting on the ocean.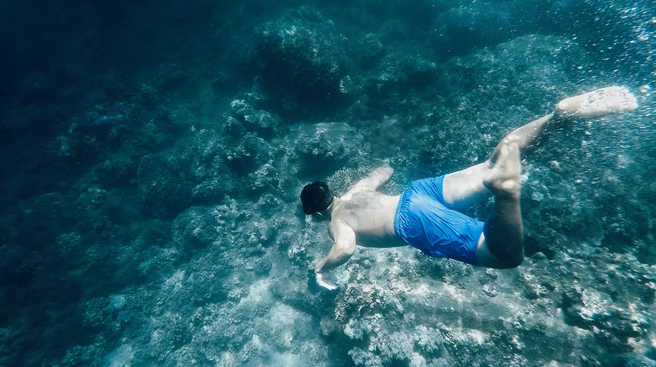 Photo: VN Express
How to get to Hon Nua?
Tourists can reach Hon Nua by one of these following methods:
(1) Travel by canoe or ship from Vung Ro port (Phu Yen) to Hon Nua island: Vung Ro port lies about 25 kilometers from Tuy Hoa city.
(2) Travel by canoe or ship from Dai Lanh port (Khanh Hoa) to Hon Nua island: Khanh Hoa's Dai Lanh port is about 90 kilometers from Nha Trang.
Canoe ticket ranges from VND 500.000 to 800.000 per way, equivalent to USD 21,7 - 34,7.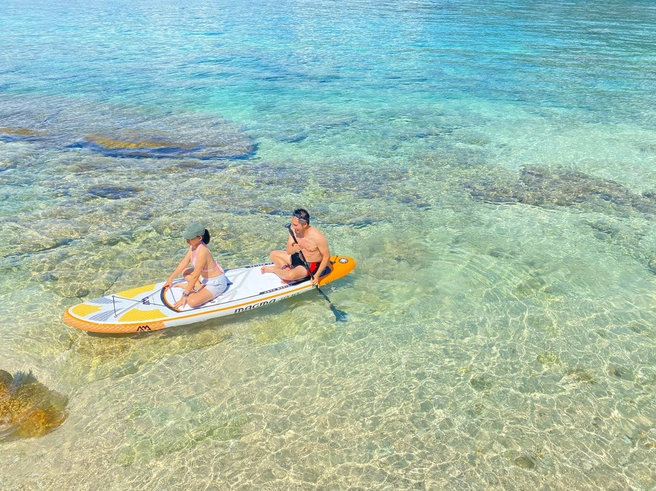 Photo: VN Express
Tourism activities in Hon Nua
Hon Nua has no resident. Currently, the island is home to only a military information post, a bird nest company headquarter, and the Hon Nua lighthouse. Tourism service has not been developed, therefore, visitors often bring their tents and spend the night to enjoy the fresh and peaceful ocean vibe.
Hon Nua is blessed by the nature to possess long stretching beaches with crystal clear water. On this island, visitors can go diving to enjoy the coral reef's beauty without the need to use any professional diving equipment. Hon Nua's coral reed is not as colorful as that of Phu Quoc or Nha Trang, yet still has its own unique beauty.
Hon Nua is also famous for its majestic rocky rapid, which looks like a big ship heading to the ocean. The rocky rapid has become check-in background for a lot of tourists. If you spend a night on Hon Nua, make sure you check out the lighthouse, where you can enjoy the tranquil beach and the cool atmosphere at night.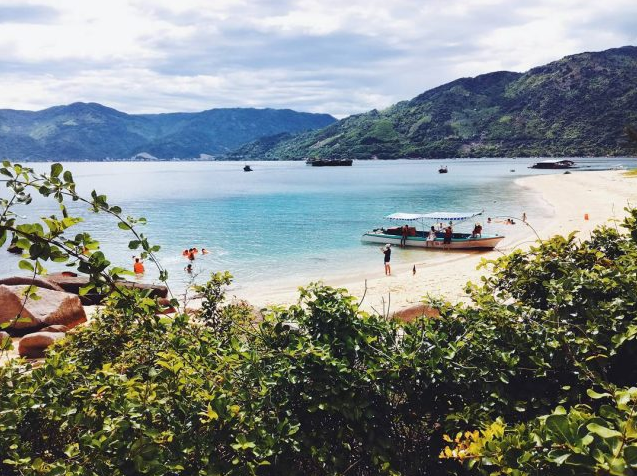 Photo: TravelMag
Drawbacks
As a newly-discovered island, Hon Nua can not offer much modern tourism service. The island has no homestay nor hotel, so tourists can only live in tents or travel back to the mainland for better accommodations.
The island also provides no restaurant but only a few dine-in services in local raft houses. Therefore, tourists should consider preparing their own food and beverage when they decide to explore the island.
The sandy beach on the island is white but not smooth, the sand is still mixed with many coral crumbs, affecting tourists' experience.
Photo: TravelMag
The best period to visit Hon Nua
The best period to visit this island falls in the dry season, from December to April. At this time, the sky here is clear and blue, while the sea is peaceful, suitable for traveling by canoe or ship. The dry season also suits outdoor activities.
Hon Nua with its pristine beauty, special location, easy accessibility will be an ideal destination for those who love to explore nature this coming summer.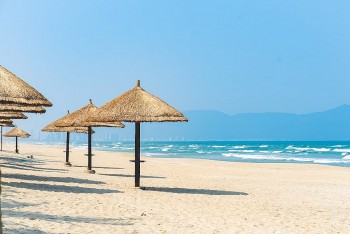 Travel
According to NZ Herald News, Da Nang beach is an ideal place to sunbathe during summer vacation.