Extraodrinary must-try dishes in Son La that impress tourists
When tourists come to Son La Province, they will have a chance to taste the most extraodrinary local dishes, which their appearances look appalled and "scary", but are actually delicious and addictive.
Fermented buffalo skin
Photo: Khamphadisan
Buffalo skin is thick and tough. It must be well prepared through many procedures to become a delicious treat. The spices used to make delicious fermented buffalo skin must include mắckhén, a kind of pepper used by ethnic people in the northwest region. Other flavors include garlic, hot chilli, sugar, salt, canarium album, sour water of fermented bamboo shoots, peanuts, and sesame.
Fermented buffalo skin is served with fresh vegetables and banana flower. Its taste helps reduce the greasy taste of meat and square glutinous rice cakes. It's a must have dish at festivals and celebrations of the Thai in the northwest region.
Tourists to Son La in winter cannot resist trying corn wine and fermented buffalo skin salad, which has the aromatic mac khen flavour, the light sourness of fermented bamboo shoots, the acrid and bittersweet flavour of forest vegetables and the rich taste of fried groundnut.
The dish has appeared on the menus of restaurants in Son La province. Tourists buy it for about 4 USD per kg to eat at home or gift to friends.
Stink-Bugs
Photo: Nhà Nông Xanh
Stink-bugs have a very special and foul, stinky ordor (Hence the name), and a lot of people believe that these insects are toxic to eat. However, for the Son La people, the bugs are delicious dishes, maybe because of the climate or soil here. Stink bugs roast lemon leaves to eat very crunchy, chewing and listening to it with a very attractive taste.
Processing stink bugs are relatively sophisticated to eliminate their odor. After being caught or bought, stink bugs are released into the dilute saline water one after another for them to spray off the bad glands and then be soaked and washed again in sour bamboo shoots. Sour bamboo shoots are a very effective deodorant, bad smell, very much used in Son La and ethnic minorities.
After that, the stink bugs were roasted in yellow, laid out with a finely chopped lemon leaf. The smell was completely gone, instead, it was the aroma of roasted stink bugs and the slightly fragrant aroma of lemon leaves. Visitors to Son La, when invited to this dish, are very grateful, not only because this is a delicious drink, but also shows the hostess's hospitality.
Roasted cicada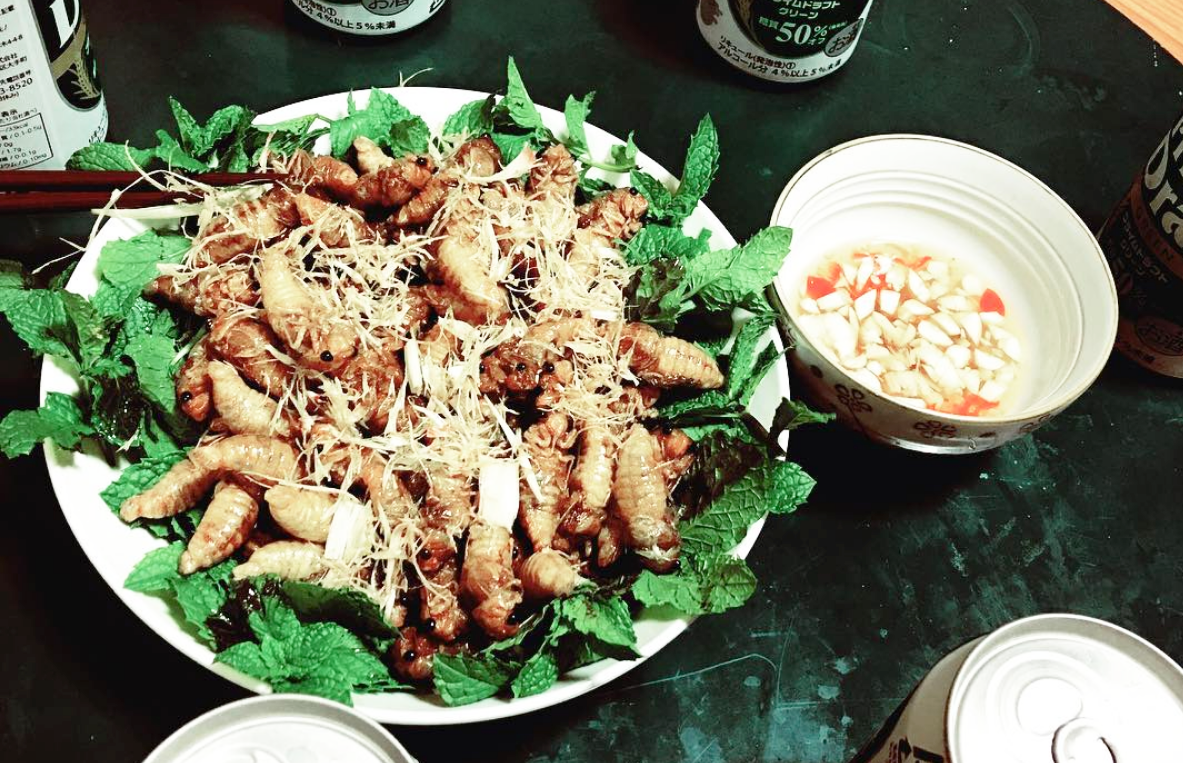 Photo: Vietnamtravellog
Summer is the time when young cicada crawls out of the ground and crawl on trees, molting to grow into an adult cicada. And this is the time for us to enjoy the delicious roasted cicada dishes of Son La land.
The fleshy taste of the cicada's intestine behind the crust is crunchy and fragrant, bolder when it comes to the bowl of the core, and the end is the spicy taste of Son La wine which always stimulates the taste of fastidious drinkers.
With the natural conditions of many hills and mountains, in the summer, ethnic people invite each other to catch young cicadas when the sky is dark so that the next morning, there will be many small pots of grapes to bring to market.
After being caught, young cicadas must be immediately released into a new pot of water to eat, because cicadas grow very quickly, only after a few hours have become adults.
Processing is quite simple. After buying cicadas from the market, the wings are removed, washed over several times, and put in a pan of roasted oil for even gold. When it is about nine, you can season it with the seasoning to taste or leave it to the fish sauce.
Pia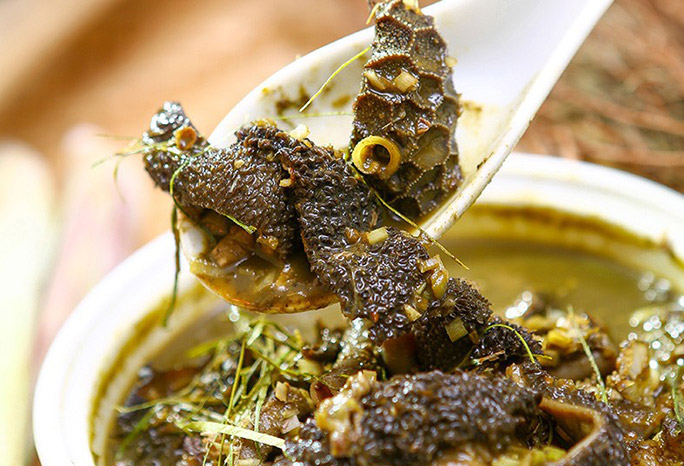 Photo: Yong
Pia is a typical dish of this region; it can be served as a sauce or as a main dish in a meal. When cooking Pia, people can choose ingredients fromfamiliar animals such as buffalo, cow, or goat, but the most popular Pia dishes are Cow Pia and Goat Pia.
Interestingly, along the National Road No. 6 from ChauMoc to ChauThuan, visitors can easily spot the restaurants selling Pia, which are advertised carefully and humorously in various ways. You can also order Pia in any restaurant in Son La, simply because this is an indispensable cuisine of the region.
The Pia dish in Son La somehow resembles Thanh Co, a speciality of Lao Cai province. However, it is cooked in a totally different way. In order to cook Cow Pia, we need to prepare everything freshly, especially the different parts of the cow, which includes the organs. When butchering the cow, the local people carefully take the last part of the cow's RUOT (intestines) and preserve it. The next steps to cook the dish are also hard. After boiling the cow's bones for hours until the sauce become sweet, all the rest of the ingredients are poured into the pot and continue to boil for hours more. When the sauce reaches a brownish color, the last part of the cow's RUOT is then added. After about one more hour, we can take the pot out of the fire!
The next step, and also an essential one, is to add a local spice called Mac Khen as well as citronella, ginger, and garlic. When eating, we will notice that Pia tastes bitter at first, but it then becomes sweet and buttery. If we want to eat it right away, we can pour Pia into small bowls, use spoons and have it with veggies. However, it is strongly recommended that you eat the dish as a sauce.