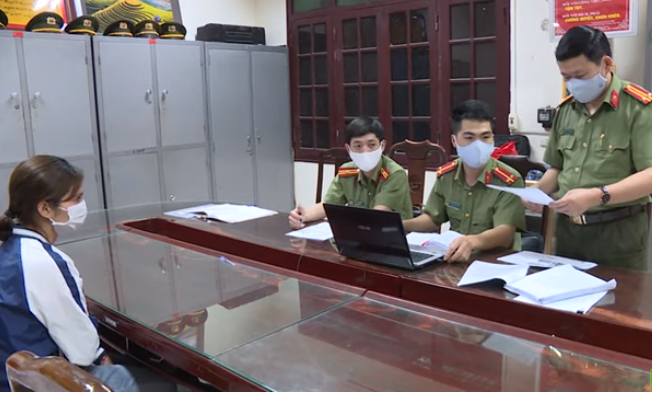 Nguyen Thi Hue, the fake news -made woman in the police station. (Photo: Bac Ninh police)
Specifically, violating behaviors relate to the non-compliance with preventive and control measures, reactions against officers in charge of epidemic prevention and control, spread of untruthful information causing public concern and social instability, recycling of used medical masks, production of fake goods, goods hoarding to hike prices, and trade frauds, among others.
The Ministry of Public Security was assigned to direct units concerned to promptly conduct investigations and consider criminal liability for violation cases.
The Bac Ninh police announced that they imposed a vnd 5-million ($250) fine on Nguyen Thi Hue, 30 years old, addressing at Giang village, Thua town, Luong Tai district in Bac Ninh province for her fake news provision and sharing causing community's worrying stipulated in 15/2020/NĐ- CP decree dated 03 Feb 2020 named: "Regulations on administrative violation sanction in the fields of post, telecommunications, radio frequency, information technology and electronic transactions"
The woman posted on her facebook "Nguyen Hue" on April 15 that: Hue Nguyen must be careful to go across there, someone has confirmed infectious..." attached with an image of :" Emergent announcement of Case 262's itinerary related to a direct contact case (F1) in Quynh Phu commune". The "someone" she mentioned on her post was supposed a Samsung's worker as the direct contact person (F1) who would be requested for 14 day quanrantine. That news caused community's anxiety and confusion and was confirmed a fake and untrue information by Hue in order to get "like" and people's attention.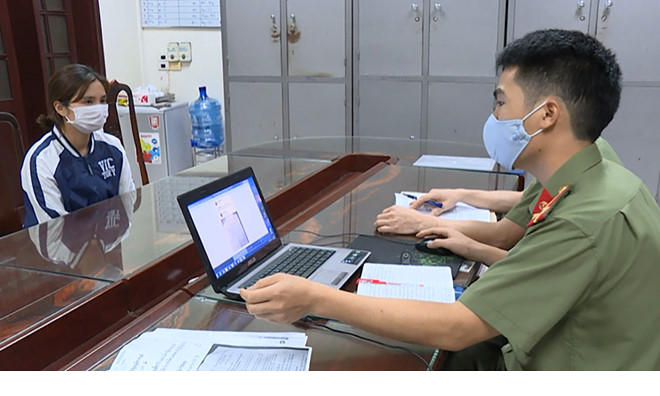 (Photo: Bac Ninh police)
After being reminded with her penalty, Hue said her awareness of wrong behaviour and deleted the writing.
The Case 262 was confirmed near 1300 F1, F2 relations.
As per Bac Ninh Covid-19 preventation steering committee's announcement, cases relating to No 262 patient has been confirmed 1,297 considered F1 and F2 , raised to more 100 cases compared to April 16.
Among them, 188 cases considered F1 included 8 kept in the province general hospital's quarantine, 101 isolated in the province's central area with other 79 kept in other provinces' quarantine.
Other 1.109 confirmed to be F2 (indirect contact to the patient) with 636 of them are local citizens and remained 473 in other places. Almost of them are requested for central, at home and medical quarantine.
At the end of April 16, 167 cases tested negative for coronavirus and those remain Vietnam 4 days no seeing any new cases till now.
Vietnam has reported no new cases for consecutive 5 days with only near 40 active, remained 268 infections with 80% of them recovered and mostly discharged, no any deaths reported.
Tarah Nguyen