Facts about 32 Chinese-invested factories vandalised in attacks in Myanmar
A total of 32 Chinese-invested factories were vandalised in "vicious" attacks on Chinese companies in Myanmar's Yangon as of noon on Monday, China's state-controlled tabloid Global Times said. Whilst anti-Chinese sentiment has risen since the Feb 1 coup, with opponents of the army takeover noting Beijing's muted criticism compared with Western condemnation.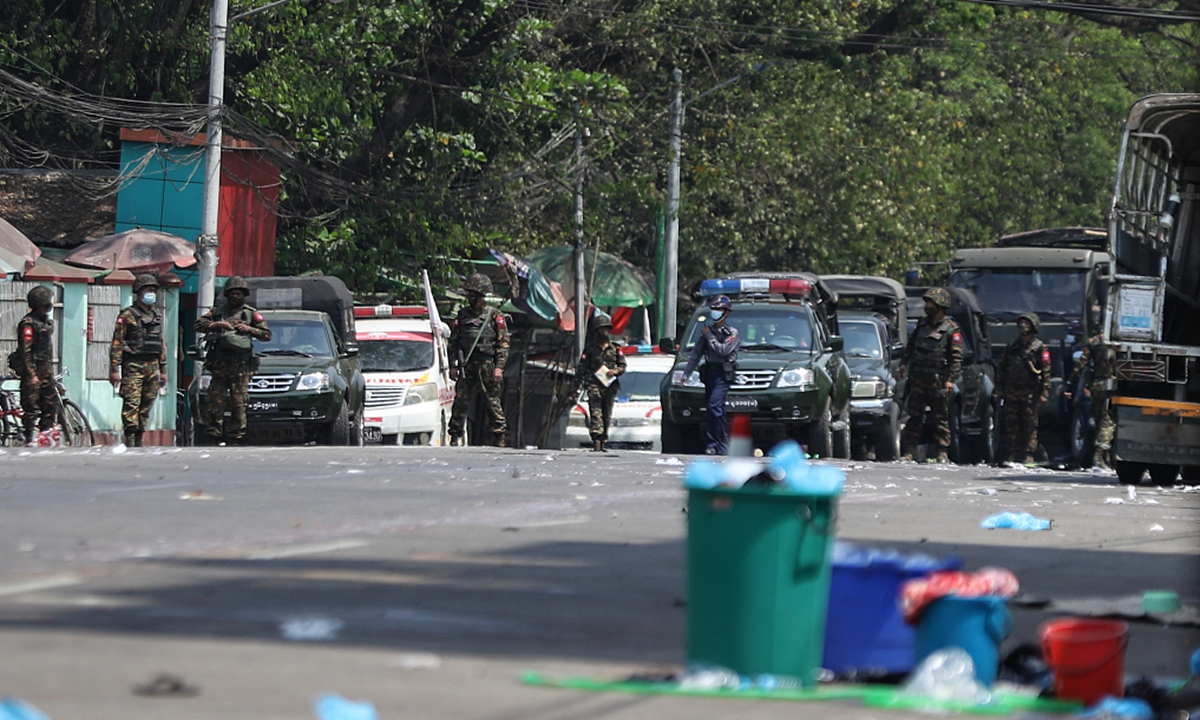 Myanmar Photo:VCG
According to China's state-owned global times, a total of 32 Chinese-invested factories have been vandalized in attacks in Yangon, Myanmar, with property losses reaching 240 million yuan ($36.89 million), the Chinese Embassy in Myanmar told the Global Times on Monday, after perpetrators in Yangon smashed, looted and burnt Chinese factories on Sunday.
Two Chinese employees have been injured and no fatalities have been reported, with property losses reaching 240 million yuan ($36.9 million), Global Times wrote in a post on its Twitter account, citing the local Chinese embassy.
The Global times says that Chinese businessmen in Yangon are planning to suspend their business and jointly protect themselves following the vicious attacks on Sunday. No new attacks have occurred after "martial law" was declared in the two townships where the factories were vandalized, according to Chinese people there.
Myanmar has sent additional police and firefighters to the affected area in Yangon to strengthen security, said Chinese Foreign Ministry spokesperson Zhao Lijian at a press conference Monday.
When asked about whether China will evacuate nationals in Myanmar, Zhao said China is closely following the situation and is very concerned about the safety of Chinese institutions and personnel. China hopes Myanmar will take measures to protect their safety, he said.
Roads from downtown Yangon to Hlaing Thar Yar, one of the two townships that have seen factories attacked and burnt on Sunday, were partially paralyzed, with ashes, small fires and roadblocks frequently seen on Monday.
A fire burns at a Chinese-owned factory in Hlaingthaya township, on the outskirts of Yangon, Myanmar. Photo: EPA
A Chinese businessman in Yangon told the Global Times on condition of anonymity that he had to make several detours to get to the industrial zone from downtown.
Lu Tong, a Chinese citizen in Yangon, told the Global Times on Monday that he stayed in the Hlaing Thar Yar industrial zone on Monday morning and did not dare go outside fearing Sunday's clashes, but so far no heavy smoke or gunshots occurred after martial law was imposed in the region.
He said that the Myanmar military has taken control of the industrial zone, but did not send troops to protect specific Chinese factories.
Myanmar's junta declared "full martial law" late on Sunday in parts of Yangon after Chinese factories were damaged, Bloomberg reported.
The martial law order applies to the Hlaing Thar Yar and Shwe Pyi Thar townships. Military operations were exercised "to ensure safety, the rule of law and peace more effectively," according to Bloomberg.
A Yangon-based Chinese state-owned enterprise employee, who requested anonymity, told the Global Times on Monday that many labor-intensive companies in the city are now planning to join together to protect themselves and are in active communication with the embassy.
"Many Chinese companies were overly optimistic about the situation here before, but this time they will make up their minds to impose a temporary shutdown. Wait and see," he said, adding that the company where he works has not been affected yet.
The Chinese Embassy in Myanmar on Sunday urged authorities in Myanmar to take effective measures to stop the violence and punish the perpetrators, and issued a safety warning to Chinese companies and nationals in the country.
However, it is said by a Mynamar person named Htut Nanda Min on conomictimes.indiatimes that: "Actually the two Chinese employees have been injured, were getting attacked by the soldiers when the two Chinese employees were going to apologize for not to burn their factories".
The arson attacks by unidentified assailants on garment factories in the Yangon suburb of Hlaingthaya on Sunday provoked China's strongest comments yet on the turmoil gripping its South-east Asian neighbour, where many people see China as supportive of the coup, said the straitstimes.
Also, it is cited from SCMP that many protesters believe China supports the military and that security forces and other agitators carried out the destruction to incite more trouble.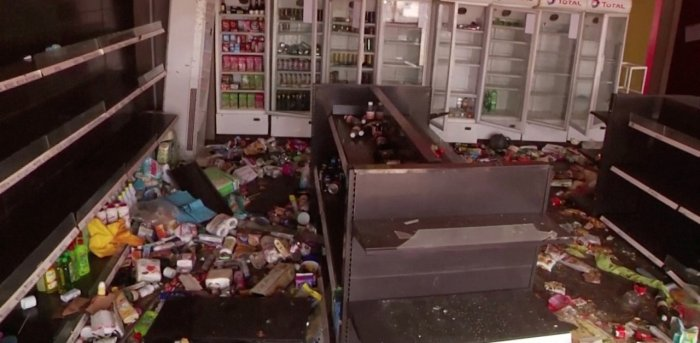 Representative image. Credit: Reuters
The United Nations said Monday that at least 138 peaceful protesters have been killed in Myanmar since the military seized power in a February 1 coup.
UN spokesman Stephane Dujarric said the tally includes 56 people killed during the weekend, the majority in the Hlaing Thayer area of Yangon, Myanmar's largest city.
Secretary-General Antonio Guterres "strongly condemns this ongoing violence against peaceful protesters and the continuing violation of the fundamental human rights of the people of Myanmar," Dujarric said, reported by DW.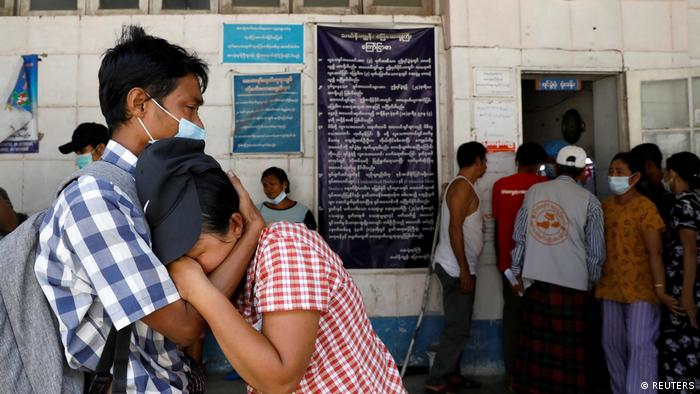 As many as 12 people were killed on Monday. Photo: Reuters
Anti-China sentiment
Anti-Chinese sentiment has risen since the Feb 1 coup, with opponents of the army takeover noting Beijing's muted criticism compared with Western condemnation. China is viewed as being supportive of the military junta that overthrew the elected government of Ms Aung San Suu Kyi.
The perpetrators who attacked Chinese factories were possibly anti-China locals who have been provoked by some Western anti-China forces, NGOs and Hong Kong secessionists, sources in Myanmar told the Global Times.
"The Chinese companies in Myanmar helped develop the local economy, solve employment issues and improve local government revenue, and also participated in lots of charity work. If the local government fails to timely deal with such an incident and protect the development of foreign enterprises, who would want to invest in Myanmar?" Yang said.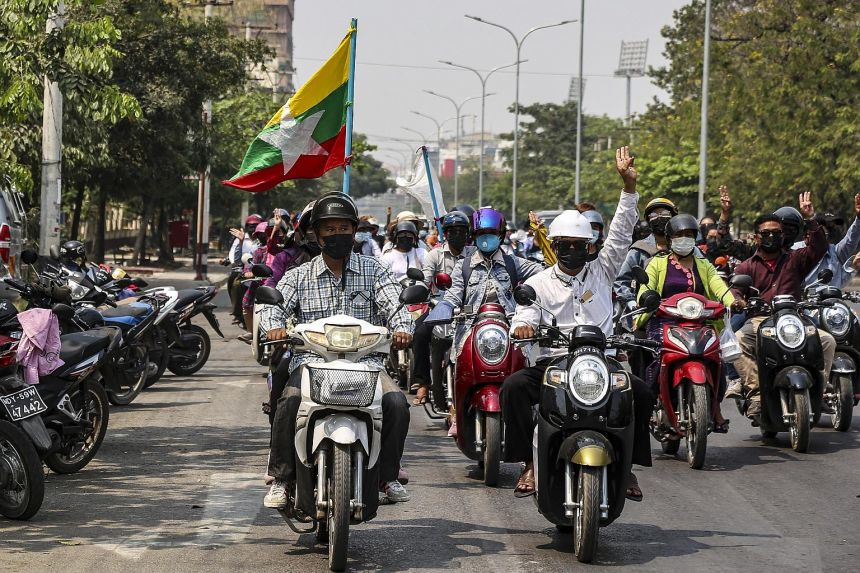 People on motorcycles flashing a three-finger salute, a symbol of the protest movement, during a demonstration yesterday against the military coup in Mandalay. Many people in Myanmar see China as supportive of the coup.PHOTO: EPA-EFE
Bi Shihong, a professor at the Center for China's Neighbor Diplomacy Studies and School of International Studies at Yunnan University, told the Global Times on Monday that Sunday's vandalism which was a precise attack against multiple Chinese factories, was clearly organized and premeditated.
"Those Myanmar people who participated in the attacks were actually cannon fodder, and they were being incited and used," Bi said.
He said that behind the growing anti-China sentiment in Myanmar was the anti-China forces in the West, which have been creating obstacles for exchanges between China and other countries for a long time.
The Global Times discovered that on Friday, two days before the attacks targeting Chinese enterprises, Kyaw Win, the founder of a London-headquartered NGO in Myanmar named "Burma Human Rights Network (BHRN)," released a tweet on Friday warning that "If one civilian dies, one Chinese factory becomes ash."
Some hostile forces in Myanmar, forcibly exploiting the local people's protests, attempted to connect the Myanmar military's actions and Myanmar's domestic affairs with China to compound their interests, with local Myanmar people also being incited by them, Bi said.
The anti-China sentiment in Myanmar has hurt normal Chinese residents and economic activities, which will force some Chinese enterprises to rethink the investment environment in Myanmar, Bi said.
Chinese foreign ministry spokesman Zhao Lijian did not comment on Monday on whether Beijing had any plans to evacuate its citizens, cited the bangkokpost.
But Zhao did say that Myanmar should "take further effective measures to stop all acts of violence, punish the perpetrators in accordance with the law and ensure the safety ... of Chinese companies and personnel in Myanmar".
The attacks on Sunday occurred on the same day as government troops opened fire on protesters, reportedly killing more than 39 people. It was one of the deadliest days since the February 1 military coup that overthrew the democratically elected government led by Aung San Suu Kyi.
Despite the bloodshed, hundreds of thousands of protesters continued to demonstrate on the streets daily, demanding a return to democracy. Demonstrators have also massed outside the Chinese embassy in Yangon in recent weeks, calling on Beijing to condemn the coup. Beijing has said that it was not aware of the coup before it happened, and that it is not backing the military junta.