Chinese factories set on fire in Myanmar's deadliest day since coup
A total of 32 Chinese-invested factories have been vandalized in the attacks in Yangon, Myanmar as of noon on Monday, with property losses reaching 240 million yuan ($36.89 million), China's state-controlled media Global Times said.
The heaviest casualties were in an industrial suburb of the largest city Yangon, where military and police opened fire on unarmed protesters, killing at least 22, according to the advocacy group the Assistance Association for Political Prisoners (AAPP), which said Hlaingthaya district "became like a battlefield."
The Chinese Embassy in Myanmar said several Chinese-funded factories were smashed and set ablaze in Yangon's industrial zone during protests Sunday. Chinese citizens were also injured, according to the embassy.
It is unclear who the perpetrators were and no group has claimed responsibility for the fires.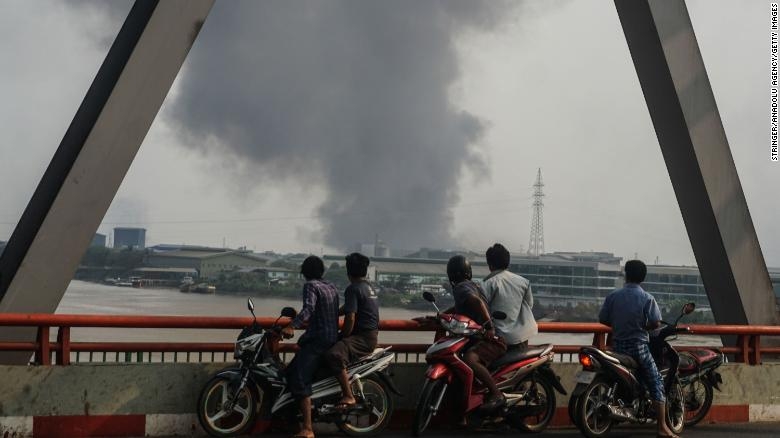 Smoke rises as protests against military coup and detention of elected government members continue in Hlaingtharya Township, Yangon, on March 14.
China is very "concerned"
China is a key investor in Myanmar and has bet big on its strategic importance to its Belt and Road Initiative, a sweeping infrastructure project.
Describing the incident as "nasty", foreign ministry spokesman Zhao Lijian urged Myanmar to take actions to "resolutely avoid a recurrence of such incidents".
China "is very concerned about the impact on the safety of Chinese institutions and personnel ... the actions of these outlaws are not in the interests of Myanmar and its people", he said.
Zhao said Myanmar security forces had reinforced the area around the factories.
"China will continue to urge Myanmar to take concrete steps to stop all acts of violence and bring the perpetrators to justice and ensure the safety of Chinese people's life and property," he told reporters in Beijing.
After years of testy relations between a wary Myanmar public and Chinese investors, Beijing was confident it had secured the Southeast Asian nation as a partner in its strategic ambitions for Asia.
A natural gas pipeline to a mega-port off Rakhine state is set to give China access to the Indian Ocean.
But a social media campaign by Myanmar's protest movement has urged citizens to rally against the Chinese pipeline, which crosses the country.
A widespread popular campaign against Chinese interests in the country is likely to rattle Beijing.
The Myanmar public has pushed back at Chinese investments before, with lingering suspicions over its aims and the conditions under which it employs local workers in Chinese factories.
China has called for a "de-escalation" of the situation in Myanmar, which has left more than 100 protesters dead in several weeks of unrest.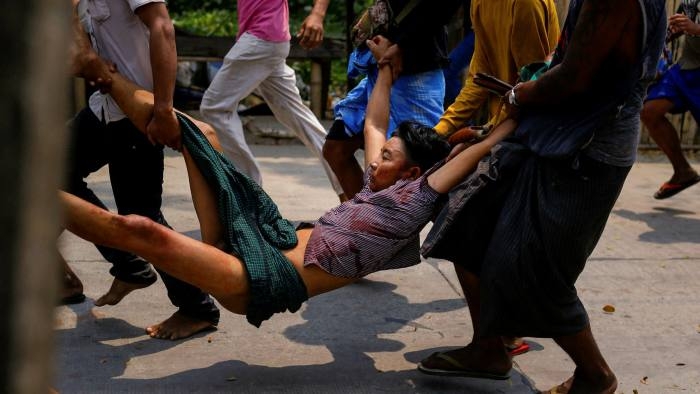 Protesters carry a demonstrator shot by security forces in Yangon's industrial zone © AFP via Getty Images
Why is Myanmar protesting?
Protests have been ongoing for more than a month across Myanmar after the military seized power in a coup on February 1, detaining democratically elected leaders, ousting the ruling government, and establishing a junta called the State Administration Council.
The military, headed by coup-leader Gen. Min Aung Hlaing, justified its takeover by alleging widespread voter fraud during the November 2020 general election, which gave Suu Kyi's party another overwhelming victory and dashed hopes for some military figures that an opposition party they had backed might take power democratically.
The now-reformed election commission denied there was any evidence mass voter fraud.
It was only the second democratic vote since the previous military junta began a series of reforms in 2011, following half a century of brutal military rule that plunged Myanmar, then known as Burma, into poverty and isolationism.
Protesters are demanding the military hand back power to civilian control and are calling for the release of Suu Kyi and other government figures. Myanmar's many ethnic groups, which have long fought for greater autonomy for their lands, are also demanding the military-written 2008 constitution be abolished and a federal democracy be established.
As well as protests, a civil disobedience movement has seen thousands of white- and blue-collar workers, from medics, bankers and lawyers to teachers, engineers and factory workers, leave their jobs as a form of resistance against the coup.
In recent weeks, the military has stepped up its response to the protests, launching a country-wide systematic crackdown in which security forces have opened fire on protesters. Amnesty International said the military was using increasingly lethal tactics and weapons normally seen on the battlefield against peaceful protesters and bystanders, and that troops -- documented to have committed human rights abuses in conflict areas -- have been deployed to the streets. The UN special rapporteur for human rights in Myanmar, said the military's "brutal response" to peaceful protests is "likely meeting the legal threshold for crimes against humanity."
Despite the danger, thousands of young protesters have continued to defy the military. The demonstrations are dominated by young people who have grown up with a level of democracy and political and economic freedoms their parents or grandparents didn't have, and say they are fighting for their future.
CNN, AFP