Families put weddings on hold at Covid-19 hotspots
The Covid-19 outbreak in Quang Ninh Province has forced many families to postpone weddings at the last minute.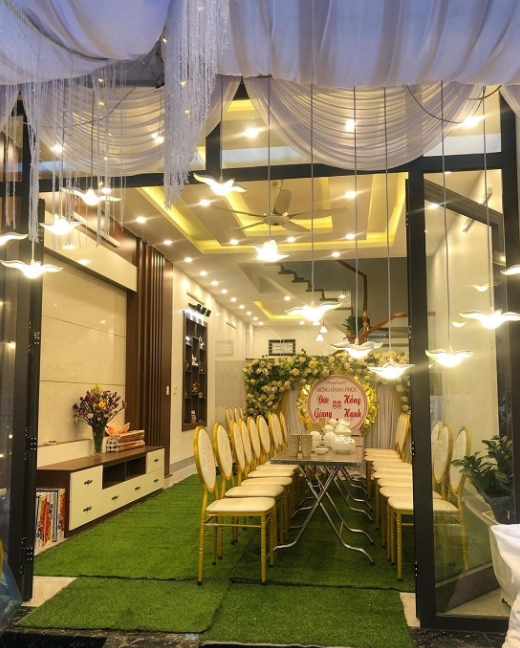 Giang had prepared for the wedding at his house, but he had to put it on hold. Photo courtesy of Duc Giang.
On the afternoon of January 28, the families of Duc Giang, 27, and his bride Hong Hanh, 25, were busy calling hundreds of guests to tell them the wedding, scheduled at 5 p.m. that day, had been delayed.
That morning authorities had identified a 31-year-old man working at Van Don International Airport in Quang Ninh and living in Hong Ha Ward in Ha Long Town as the latest Covid-19 patient and decreed that activities involving large crowds should be avoided and unnecessary meetings should be postponed.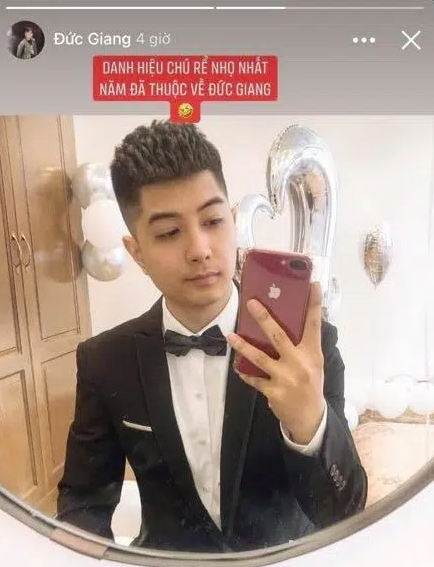 Giang called himself "the most unlucky groom of the year". Photo courtesy of Duc Giang.
According to Giang, his family had been busy preparing for the wedding and so had no idea about the Covid-19 situation, but the restaurant owner called them to say the wedding has to be canceled, according to VN Express.
Wasting no time and worrying there would be more cases, Giang picked up his bride and take her home right after the engagement. In Vietnamese tradition, normally the groom picks up his bride after their wedding.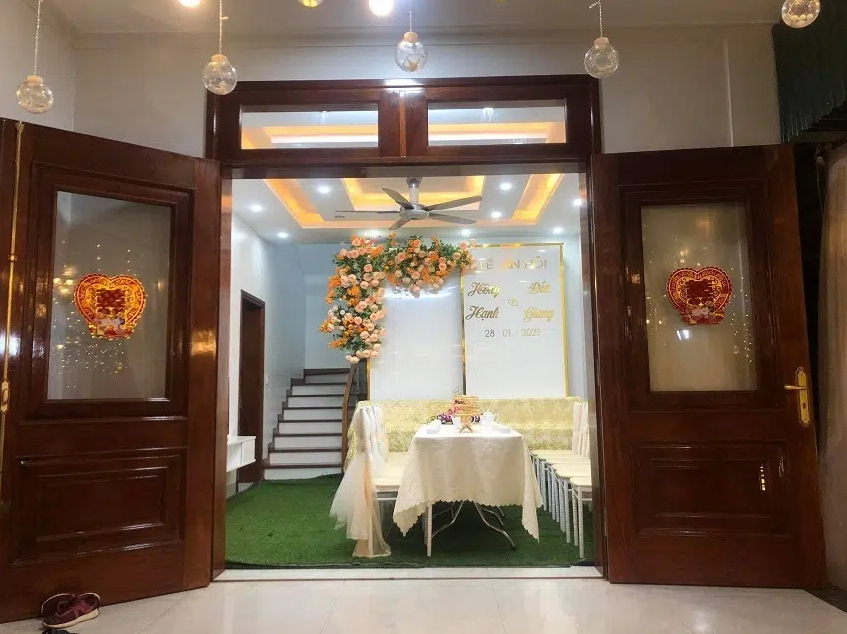 The location where Duc Giang planned to celebrate his wedding. Photo courtesy of Duc Giang.
Giang said: "We rushed to call our relatives and friends to apologize because our wedding was to be at 5 p.m. We were lucky because people understood the situation and wished us happiness. "It is better than seeing Covid-19 spread at my wedding, that would be tragic."
Also on January 28, another couple too had to cancel their wedding even as the groom's family was traveling from northern Hai Phong City to meet the bride's family in Quang Ninh.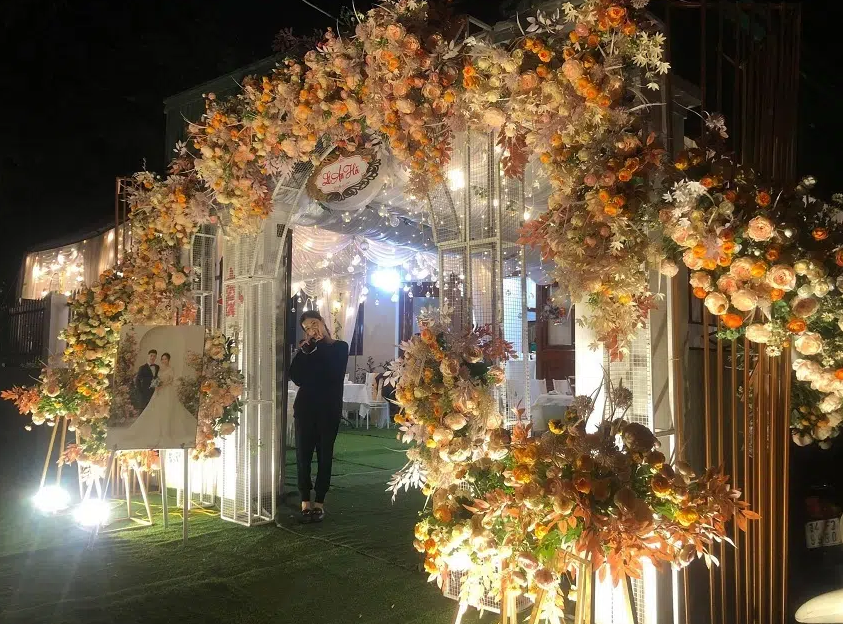 Due to COVID-19, the wedding had to be canceled. Photo courtesy of Duc Giang.
The groom's mother said: "After months without the pandemic, the two families carefully chose the date for the wedding, but when we traveled to Yen Huong District (in Quang Ninh) to pick up the bride, people at the tollbooth said if we entered the district, we would not be allowed to leave."
After some quick thinking, the bride and her family were asked to come to the tollbooth where they held the engagement ceremony. But they could not take the bride back home with them.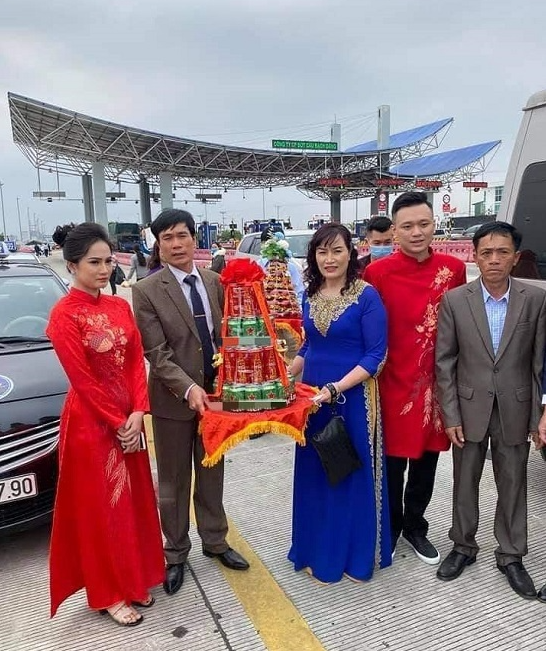 The two families hold a quick ceremony at the tollbooth on January 28, 2021. Photo courtesy of the families.
Since community transmission reemerged on January 28 after a gap of 55 days, Hai Duong has recorded 157 cases, and Quang Ninh, 18. By Saturday morning, Vietnam has registered 1,739 cases, including 181 from the current outbreak which emerged from Thursday, AFamily cited.
With the transmission being rapid this time, health experts are analyzing the virus strains from the first two patients based on the theory that it could be the U.K. variant, which is 70 percent more transmissible compared to other strains.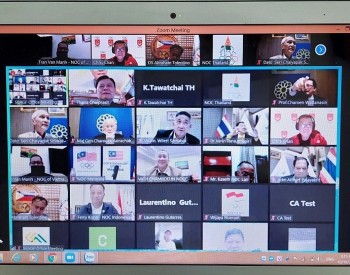 National
Vietnam News Today (October 19): Vietnam records 3,159 new local Covid cases; Vietnam ratifies ASEAN Trade in Services Agreement; SEA Games 31 likely to be held in Vietnam in May 2022; Goethe-Institut's science film festival goes virtual from October 18.
Friendship
PeaceTrees continued UXO-clearing efforts in the central province of Quang Tri in spite of severe storm warnings.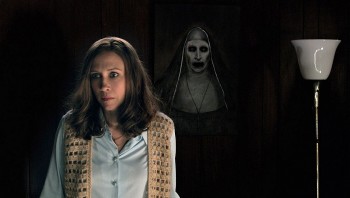 Handbook
Halloween is coming, and nothing is better than some good and spooky horror films. Here is a list of carefully selected 20 horror movies on Netflix that you can stream right now.