Family Caregivers of Persons with Disabilities Receives Training
The training course has been developed to equip caregivers of persons with disabilities with the needed knowledge and skill in order for them to be able to provide the required quality of care for persons with disabilities.
Community-based care is essential for persons with disabilities who are facing difficulty in accessing local health clinics.
The Medical Commitee of Netherlands-Vietnam (MCNV) in collaboration with local Department of Health and district-level health centers recently held five two-day training courses on care skills for caregivers of persons with disabilities (PwDs) in five districts/towns of Quang Tri, Thua Thien - Hue, Quang Nam provinces.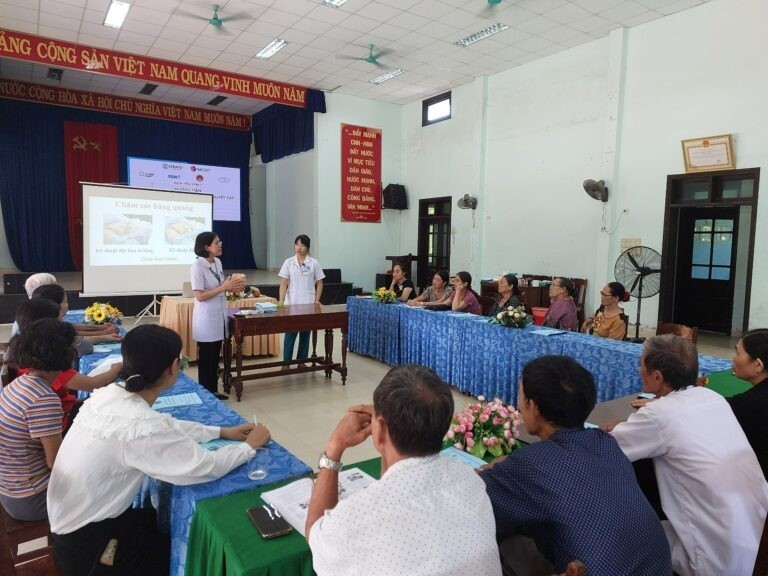 A lecturer from Da Nang University of Medical and Pharmaceutical Technology instructs class at Huong Phu commune, Nam Dong district, Thua Thien Hue province. Source: MCNV
With instruction from Da Nang University of Medical Technology and Pharmacy lecturers and district nurses, community and home-based caregivers are improving their knowledge and skills for facilitating daily living functions for PwDs.
The training focuses on support for PwDs in basic activities of daily living such as feeding, toileting, personal hygiene, ulcer prevention, and fall prevention, among others.
There were 123 participants who were family members of people with disabilities who attended, of which 19 people were in Quang Tri town, 60 in Huong Hoa district, 16 in Nam Dong district, and 28 in Hiep Duc district. In particular, among the participants, some have taken care of their spouses who suffered strokes for several years, and some have taken care of their children suffering from the effects of Agent Orange for decades. Therefore, the instructional method focuses on using images, observing and modeling, and practicing care skills.
Besides absorbing knowledge and skills from lecturers, participants were excited to share their daily experiences of caring for PwDs.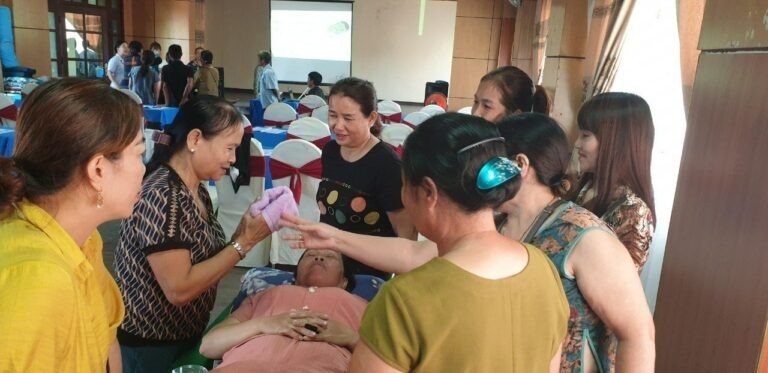 Practicing keeping eye, nose, and ear hygiene for persons with disabilities. Source: MCNV
At the end of the first day, the participants expressed their joy at being invited to join the class, learning a lot of practical knowledge and skills to apply to the things they need to do every day for their family members.
A caregiver trainee in Que Tho commune, Hiep Duc district, Quang Nam province, shared with MCNV that he was very excited when he was introduced to the instructional content in the course. With just one session, he learned a lot of new and useful knowledge. He himself took care of his paralyzed wife, who was bedridden for 3 years, so he hopes that participating in the class will gain more practical knowledge and skills to take better care of his wife.
The training activities were conducted as part of the Inclusion-I Project (Phase 2), sponsored by the US Agency for International Development (USAID) via the Center for Creative Initiatives in Health and Population (CCIHP), owned by the National Action Centre for Toxic Chemicals and Environmental Treatment (NACCET). MCNV is one of the implementing partners.