Fascinating Remnants of Bygone Times Attract Tourists Around The World
Each remnant has its own beauty and historical story of its time, which brings a feeling of astonishment and nostalgia to the tourists from all over the world.
The ghosts of bygone times lie all around us.
And here we present fascinating photos of them - pictures of abandoned buildings, boats, bridges and more that link the present with the past and beckon us to unravel their stories.
There's the enormous palace-like army barracks that lies in ruins in Hungary, a moss-covered railway track in Taiwan and a rusting old French tank sitting incongruously on a remote and rugged stretch of Norwegian coastline.
This rummage through history also takes in a locomotive lying upside down in a river and the world's longest curved wooden trestle bridge. One photo, meanwhile, shows a haunting set of stone stairs in the middle of a forest. Scroll down and embark on an intriguing journey of discovery into a world lost in time.
Palace of Canto del Pico
The Palacio del Canto del Pico is one of the most eclectic buildings built in the twentieth century, even for Spanish architecture at the time. This masterpiece of granite masonry is located north-west of Madrid in the municipality of Torrelodones.
(WallpaperUP) Spain Houses Evening Palace of Canto del Pico
Construction finished in 1920 and its role was that of a small museum – a house-like museum that would preserve and celebrate the art collection of José María del Palacio y Abárzuza, the third count of Last Almenas.
Canto del Pico is a very poetic name, which translates to English as "Peak of Songs." The house was built on top of the ridge, crowning the top of the granite mountain at about 3,300 feet above sea level: the highest point of the Torrelodones municipality.
The third count of Last Almenas and the first Marquis of Llano de San Javier would frequently host parties and other gatherings, which often involved much singing and dancing. Thus, another translation of Canto del Pico would mean that one could call this palace "The Peak that Sings."
An architectural caprice like this one comes only once in a while. José María del Palacio y Abárzuza was responsible for its construction. The palace was his own personal project and no architect's hand intervened with the designing of his masterpiece.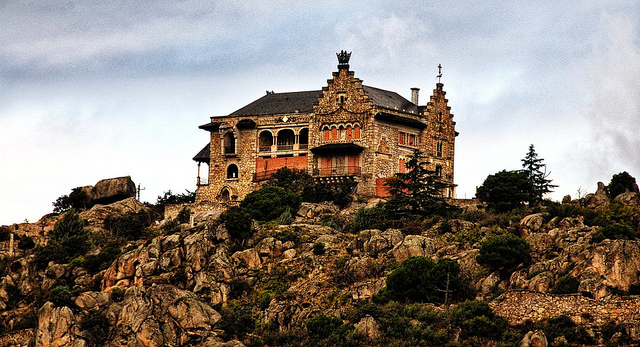 Photo: Abandoned Spaces
His idea was materialized by famous master stonemasons from the area of Mazarredo and various other master builders from all over the north of Spain. Signor Antonio Ramos, a great engineer and personal friend of the count, also lent a hand.
Even though the palace is a mix of many different styles and has various ornaments, Neo-Gothic style is the most predominant. The palace housed and preserved a collection of archaeological artifacts and pieces of Spanish art created between the 12th and the 17th centuries.
Hajmaskér Barracks
IN A COUNTRY FULL OF beautiful old castles, from a distance the pointed towers of Hajmáskér's tallest building make it easy to mistake for a palatial palace in the middle of the Hungarian countryside. But upon closer inspection, the grim and dilapidated building begins to reveal its history as one of the largest barracks in Eastern Europe.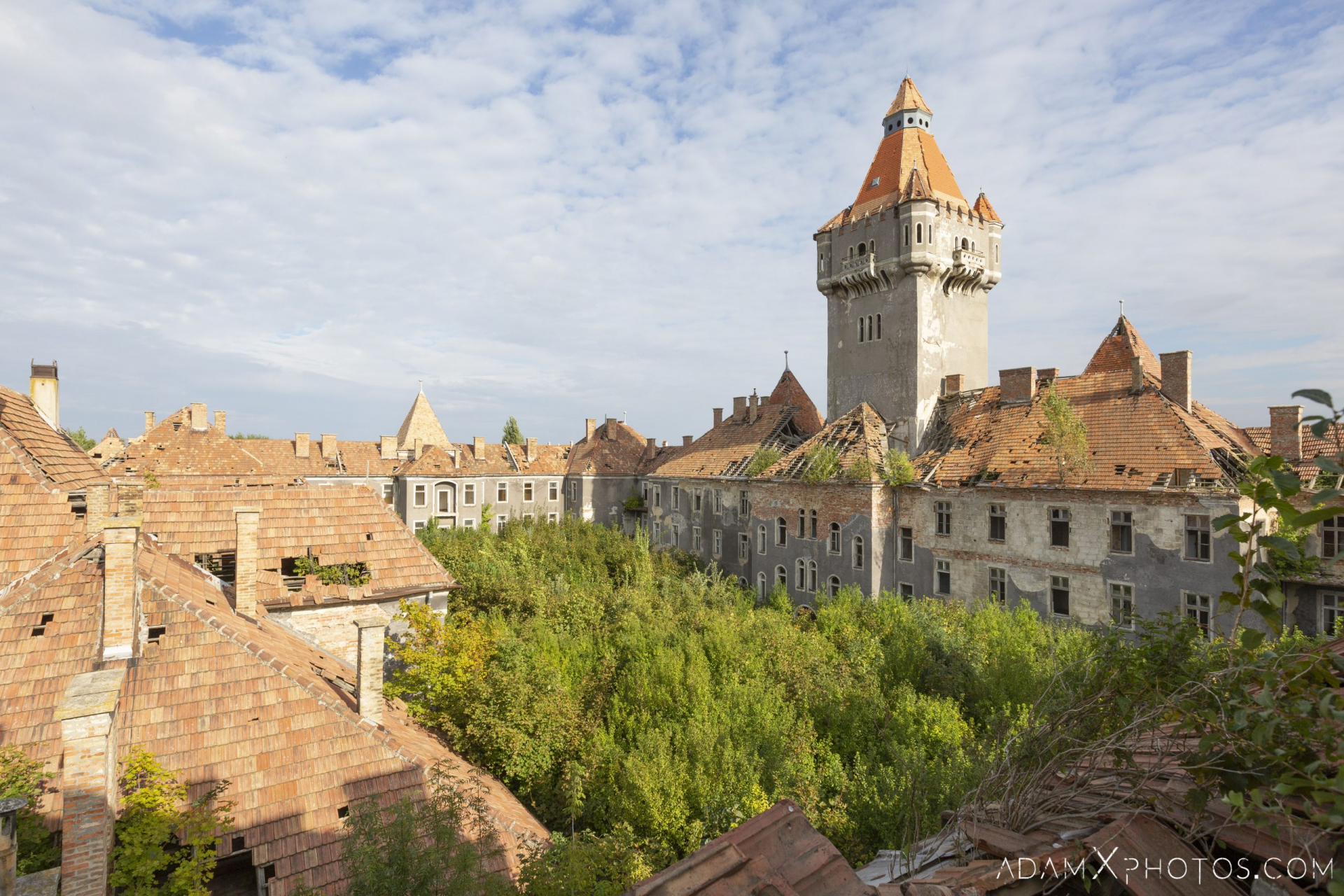 Photo: Adam X
A military settlement was established at Hajmáskér at the end of the 19th century by Franz Joseph I. Under his orders, the stately building was constructed as a barracks for artillery units who had been assigned to what would become Hungary's largest artillery range. During World War I, the self-sustaining camp grew so large that it held a POW prison and even had its own currency.
World War II saw the settlement, and the building, change hands as Nazi troops rolled in and established a base. But after the war the Soviet army moved in, remaining residents of the castle-like barracks until the fall of the Soviet Union in 1990. Hajmáskér was then promptly abandoned by the soldiers, though local residents rumour that the troops stripped the building of any valuables they could find on the way out.
In the 25 years since, the building has aged gracefully in some places and disintegrated in others, and the whole area exudes a silent, eerie vibe in the centre of Hajmáskér village. Visitors to the Hajmáskér barracks can sometimes hear ghosts, well, more likely the ghastly howls and whispers of local children who play amongst the decrepit and dangerous ruins.
Rusting gas pumps at an abandoned Derby service station
Rusting gas pumps at an abandoned Derby service station and garage in the city of St James, Missouri. Route 66 used to run through the city
Abandoned section of track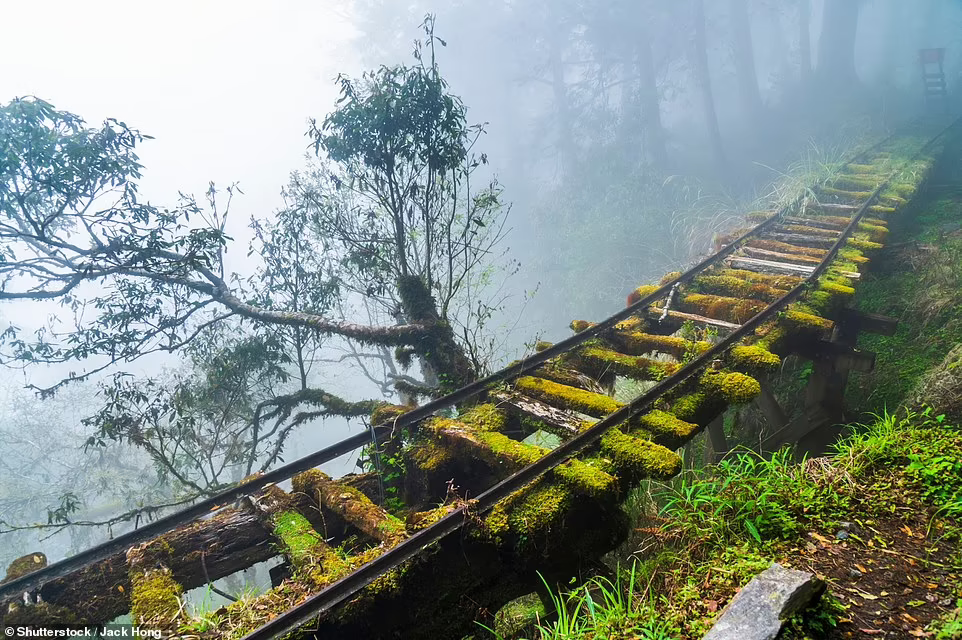 Photo: Shutterstock
An abandoned section of track on the former Jancing Forest Railway in Taipingshan National Forest Recreation Area in Taiwan. The former railway was 3.4-miles long and now part of the track runs alongside a short hiking trail called the Jancing Historic Trail. Describing the experience of walking the trail, Taiwan travel guide Taiwan Scene says: 'You'll see remains of the tracks, cross a suspension bridge, and encounter all kinds of Taiwanese plant life, including cherry blossoms if you visit during the right season. You may even see the odd disused log cart, giving you a glimpse into Taipingshan's logging industry past'
MS World Discoverer cruise ship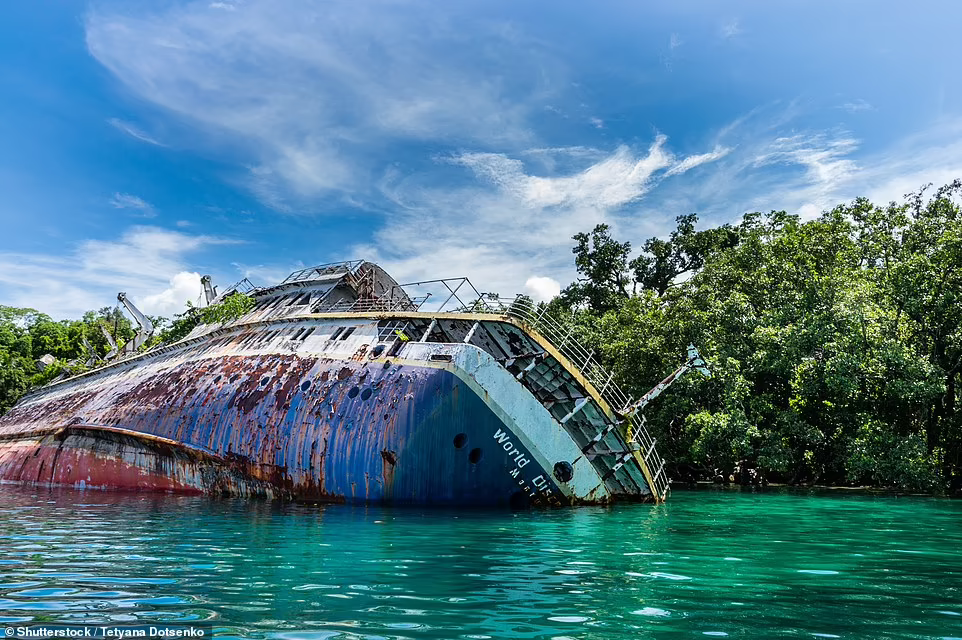 Photo: Shutterstock
BOTH EERIE AND IMPRESSIVE TO behold, this half-sunken oceanliner has been lying, tipped to one side, half-submerged since 2000. Once a globetrotting cruise ship, it was able to easily navigate the 8000 miles of the Northwest Passage, but a fateful date with an uncharted reef ended its seafaring career for good.
While everyone aboard was safely evacuated, the ship began to list as it was brought into Roderick Bay, and the captain had no choice but to ground it, lest it sink entirely. The ship still rests there to this day and has become something of a tourist attraction.
Several salvage companies have made attempts to retrieve the ship, but all found that it had already been ransacked by locals during the civil war the Solomon Islands endured. In addition, tidal activity has caused further damage to the structure and surface rusting. It is likely that this ship will remain in its place for a long time to come, until it slowly crumbles into the ocean.
Lapalice Castle
On the outskirts of the small Polish village of Lapalice lies a property so large it's hard to believe it was built for just one family. Lapalice Castle, a 52-room property, is hidden away in the woods, on the very edge of the village overlooking a man-made pond and the surrounding countryside.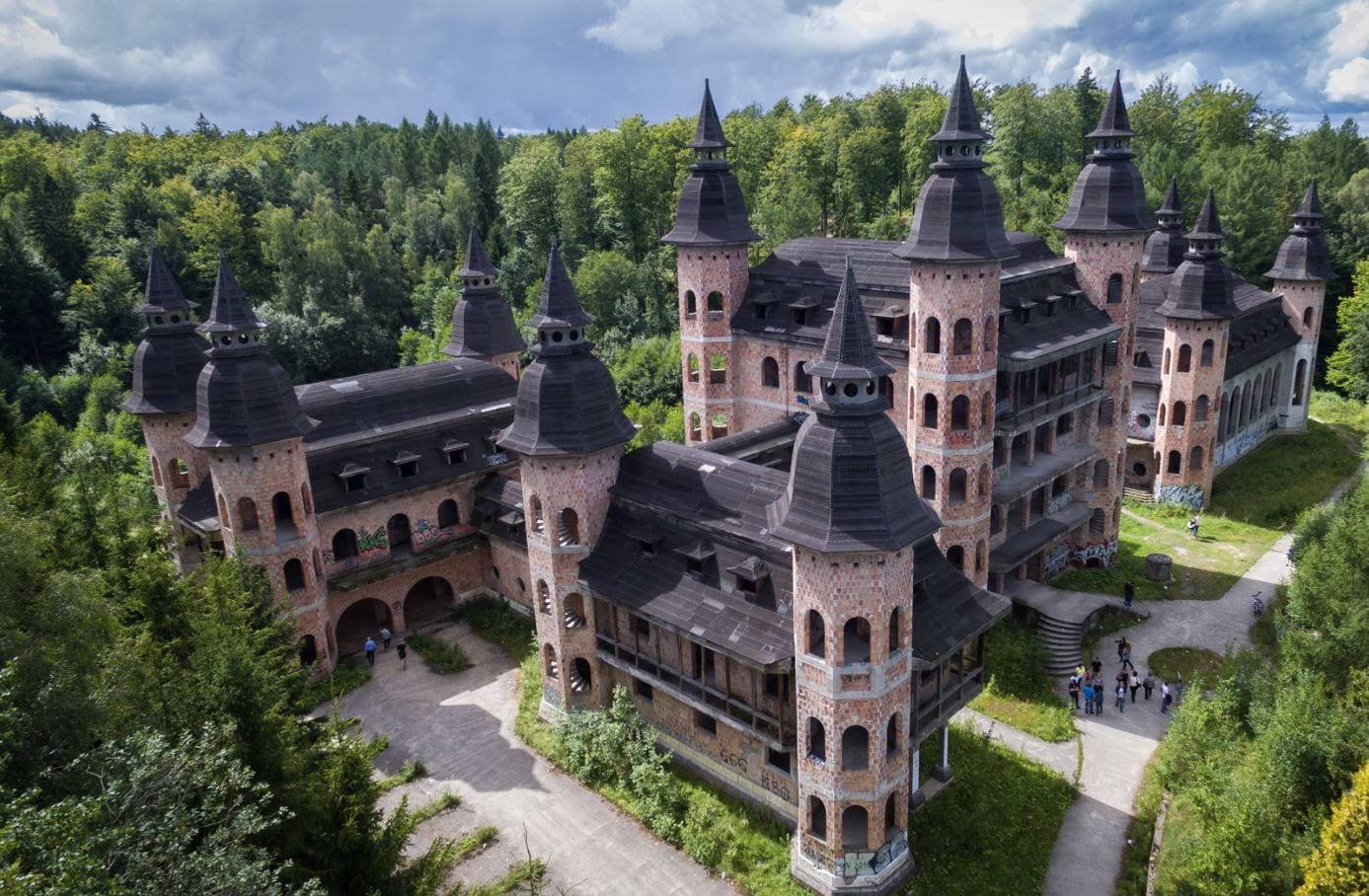 Photo: House and History
You may be forgiven for assuming that the castle is centuries-old like many found all over Europe. Lapalice Castle, however, isn't centuries old, construction on the castle began in 1983 before a number of issues halted progress. Meaning nobody has ever actually lived in the property.
The story behind Lapalice Castle begins in the early 1980s when local sculptor Piotr Kazimierczak received a building permit for a single-family house with a studio.
Piotr obviously had a different vision for his home, as despite only having a permit for a small cottage, the project quickly increased from 170 square meters to 5,000 square meters.
Between 1983 and 1991 one of the largest privately owned homes in the country was built. Spread out over several floors was a 52 room property, featuring 365 windows, a giant ballroom, swimming pool, and 12 turrets that represented the 12 apostles.
However, in 1991 construction abruptly stopped when officials realized that what was being built wasn't what the planning permission was granted for.
In the years after Piotr's company got into financial difficulty and was unable to continue with the project. By 2002 however, Piotr was back on his feet and submitted new documentation.
However, the new documentation was incomplete and so the decision was made to demolish the castle. After numerous objections, more documentation was submitted in 2013 but once again was rejected.
As of now, construction work on the castle is suspended. The castle remains a shell, open to the elements, visited by tourists who explore the property at their own risk. Unfortunately, the property is not safe and much of it is now covered in graffiti.
Piotr hasn't given up on the dream of completing his castle though. As recently as 2017 he stated that he is still fighting for it. He doesn't believe the castle can be demolished as it has been standing for more than 20 years. After 20 years the property has some legal protection.
He is currently considering two possibilities. Complete his original vision for the property, or possibly sell it and watch it be turned into a hotel.
Madame Sherri's Castle Ruins
It was a user-submitted photo that first sparked my interest: a sweeping, arched staircase constructed of stone, fallen leaves strewn along its steps, curving upward to end mid-air in the midst of a forest. It was titled simply "Madame Sherri Castle Ruins, Chesterfield, NH." Castle ruins in New Hampshire? Now that's something worth exploring!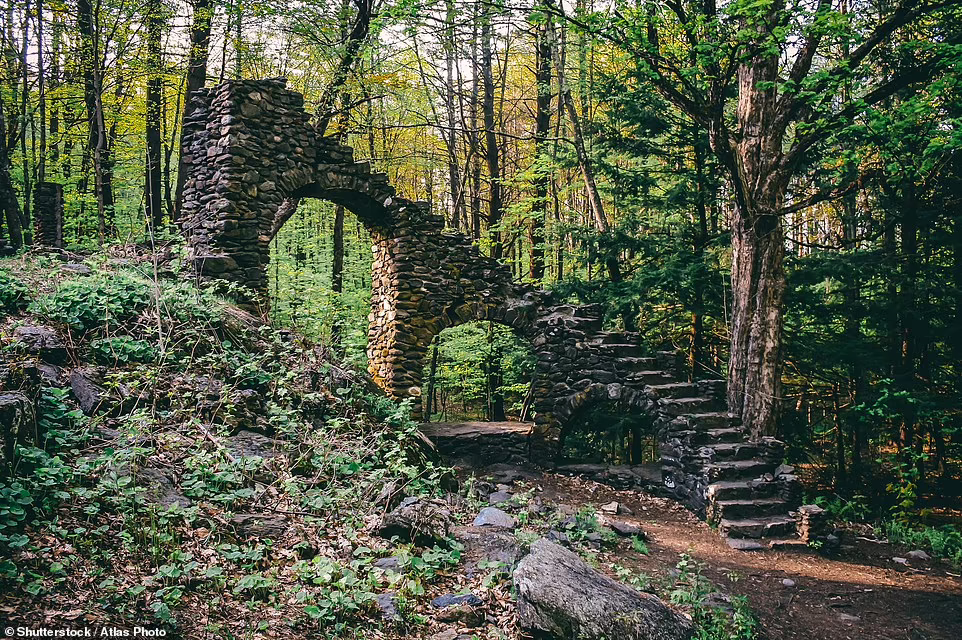 Photo: Shutterstock
You wouldn't expect to find the remains of a "castle" tucked into the southwest corner of the Granite State, yet there it is. Stories swirl around these ruins and its former occupant, but most folks in the area seem to agree on a few points: Madame Antoinette Sherri, a costume designer from New York, began buying land in the small village of Chesterfield, New Hampshire, in the late 1920s; she planned to build an extravagant summer home on the property. Her mantra, purportedly, was "Only the best," and for years she threw wildly lavish parties at her "castle," hosting an eclectic band of friends from the city. Until her money ran out, that is.
Goat Canyon Trestle Bridge
Photo: Getty Images
This is the awe-inspiring Goat Canyon Trestle Bridge in Anza-Borrego Desert State Park in California. With a length of 750ft (229m) and a height of 200ft (61m), it is the longest freestanding curved wooden trestle bridge in the world. It was built using redwood timber in 1933 as a connection in the cross-border San Diego and Arizona Eastern Railway, which linked San Diego with Plaster City via Tijuana in Baja California. The railway was engineered through such treacherous desert terrain that it was dubbed the 'impossible railroad'. The last train to cross the remote trestle was in 2008, when it was closed for repairs that have still not been carried out. Today it's a popular destination for hardy hikers - reaching it requires preparation as the trail there is tough, barely marked, completely lacking in shade and temperatures can be dangerously high. A sign on the bridge warns visitors that it's unsafe and that crossing it is trespassing.
Goat Canyon Trestle Bridge via Mortero Palms is a 9.3 kilometer heavily trafficked loop trail located near Jacumba, California that features beautiful wild flowers and is rated as difficult. The trail is primarily used for hiking and mountain biking and is best used from September until March.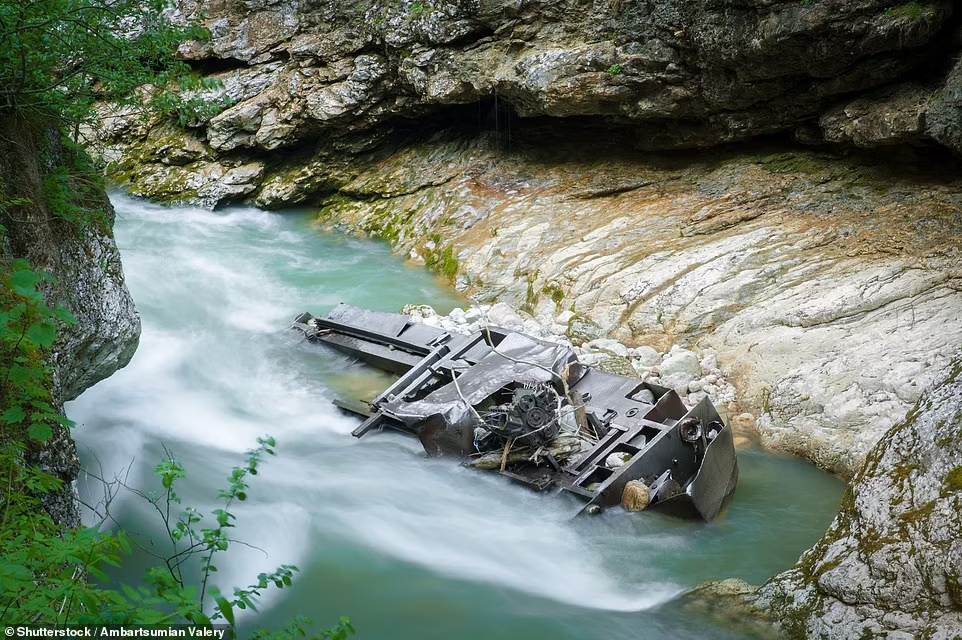 An old locomotive lies at the bottom of a mountain river close to an old narrow-gauge railway in the Guam Gorge in Adygea in the Caucasus region . Photo: Shutterstock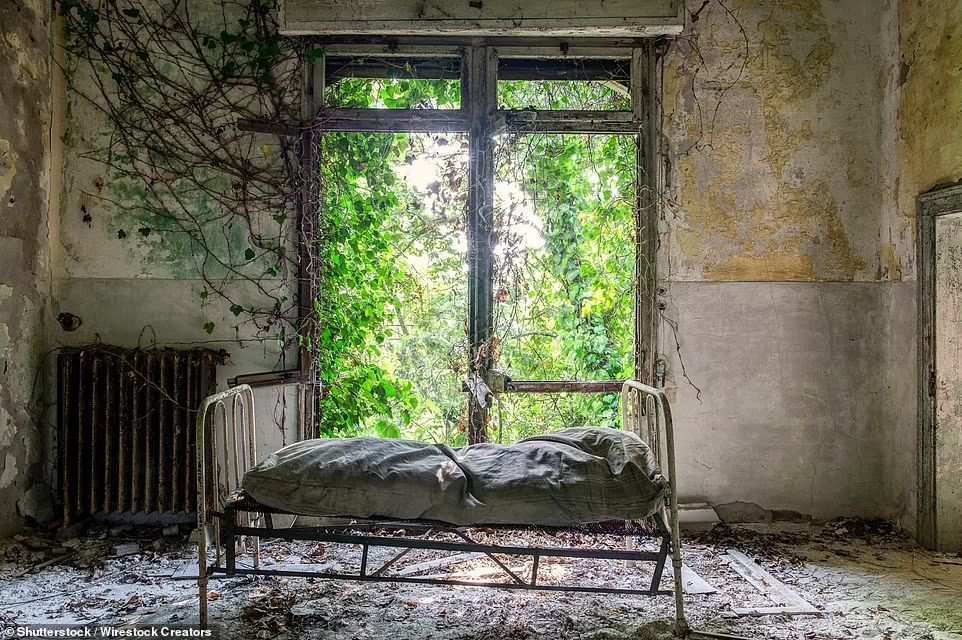 Inside a ruined hospital on the abandoned island of Poveglia in the Venetian lagoon in Italy. It's an island with a fascinating, if grim, history. Photo: Shutterstock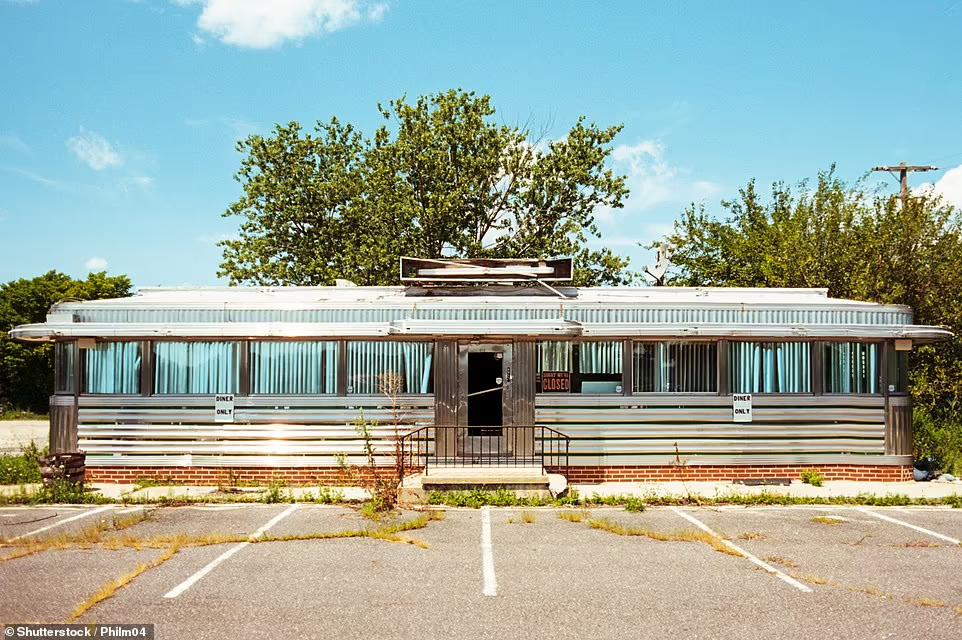 There's no denying the closed sign in the window of this abandoned vintage diner in New Jersey. Photo: Shutterstock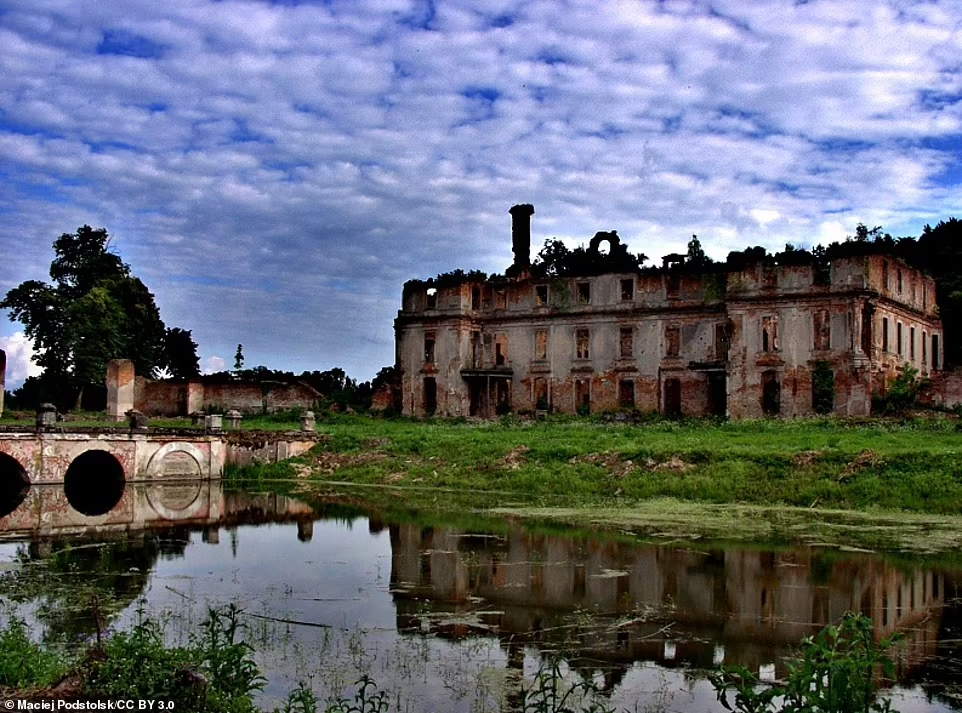 These ruins are all that remain of Schloss Schlobitten - a castle in the village of Slobity in Poland. The castle dates back to 1624 when it was built for the Dohnas, a German noble family. Photo: Maciej Podstolsk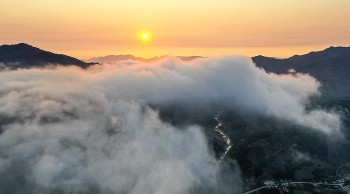 Multimedia
The gorgeous dawn behind a sea of fluffy white clouds creates a wonderful and beautiful picture of Truong Son Dong peak, Quang Ngai.