Fireworks on Lunar New Year's Eve scrapped to prevent COVID-19 spread
Fireworks shows planned for the coming Lunar New Year have been canceled in many localities to limit crowds amid the latest COIVD-19 outbreak.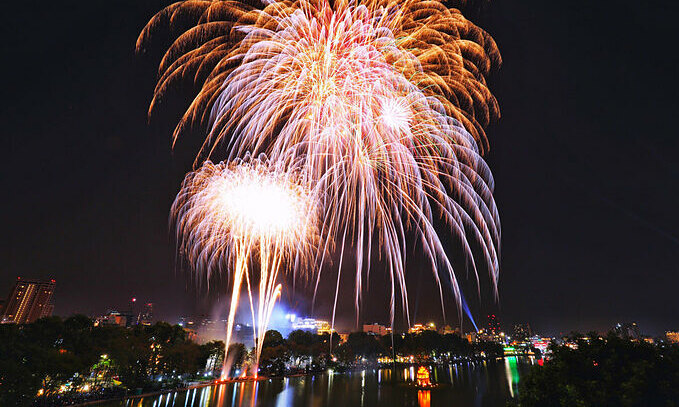 Fireworks seen over the Hoan Kiem Lake in Hanoi January 1, 2021. Photo: VnExpress
Authorities in Ha Long town in the northern province of Quang Ninh, home to world natural heritage site Ha Long Bay, announced the suspension and will instead use the money earmarked for it to buy medical equipment to test all locals, VnExpress reported.
Ha Long has had a number of COVID-19 cases in the new wave that began in Vietnam last week, all linked to an employee at Van Don Airport.
The southern province of Binh Duong, home to a number of industrial parks, will also cancel fireworks shows and focus its resources on the COVID-19 fight. Five cases of infection have been found so far.
Gia Lai province in the Central Highlands, which has diagnosed 18 cases, has canceled the fireworks, all Tet festivals and crowded events and closed non-essential establishments like karaoke parlors, bars and dance clubs. The Ministry of Health has sent two teams of medical experts from HCMC to Gia Lai to support its containment efforts.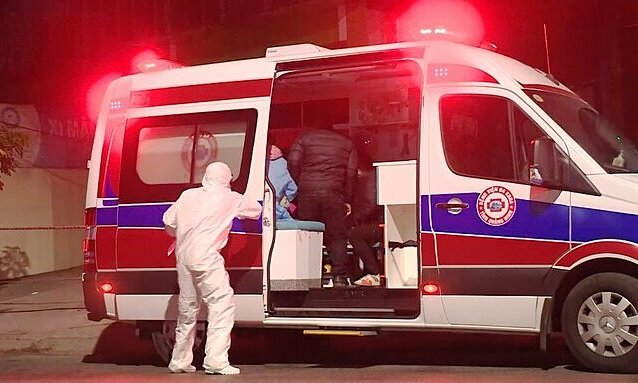 An ambulance car carries people who tested positive for coronavirus to a hospital in Ha Long, Quang Ninh province, February 2, 2021. Photo: VnExpress
Hung Yen, Ha Nam and Vinh Phuc provinces in the north, all close to Hai Duong, the epicenter, have all announced cancelations of fireworks shows.
The northern port city of Hai Phong will only set off fireworks at one venue on Do Son Beach, instead of 12 as planned. All crowded events, arts shows and traditional festivals have been suspended in the city where one case has been found.
The new wave of Covid-19, caused by the fast-spreading U.K. variant, began just a couple of weeks before Tet, Vietnam's biggest and most important festival, an occasion for family reunions, big gatherings and home parties. It peaks on February 12 this year.
Hanoi to set off fireworks at only one location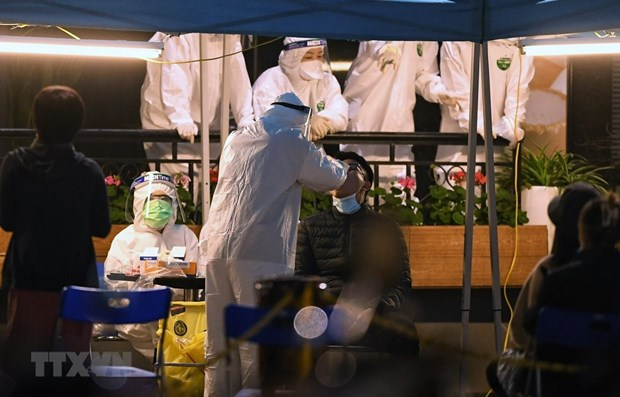 Medical workers take samples from residents at an apartment building in Hanoi for COVID-19 testing. Photo: VNA
Authorities in Hanoi will only allow one fireworks show on Lunar New Year's Eve, instead of the planned 30 amid the latest COVID-19 outbreak.
The municipal Party Committee's Standing Board asked the municipal People's Committee to consider holding high-range fireworks display at a suitable location. The event will be broadcast live to avoid mass gatherings, Vietnamnet said.
Previously, the city planned to hold firework displays in all 30 districts, including high-range at six locations and low-range at 24 other places.
In addition, amid complex developments of the COVID-19 pandemic, the Hoan Kiem district People's Committee has suggested suspending activities at the pedestrian zone around the lake starting from February 5 until further notice. Preventive measures have also been tightened in the district.
The zone, covering more than 10 streets in the Hanoi Old Quarter, was put into operation in September 2016. It has since become a major attraction in the capital city./.
Vietnam detected 19 cases of COVID-19 in the community between 6:00 to 18:00 on February 5, bringing the national count to 1,976, according to the National Steering Committee for COVID-19 Prevention and Control.
Of the tally, 1,087 are locally transmitted.
Among the latest patients, one is in Hanoi, 12 in Hai Duong province, two in Quang Ninh province, three in Dien Bien province and one in Ha Giang province.
As many as 1,465 COVID-19 patients in Vietnam have been given the all-clear. The fatalities stand at 35.
Of the active patients, 10 have tested negative for the coronavirus SARS-CoV-2 once, three twice and two thrice.
More than 80,110 people who had close contact with COVID-19 patients or came from pandemic-hit areas are under health monitoring nationwide.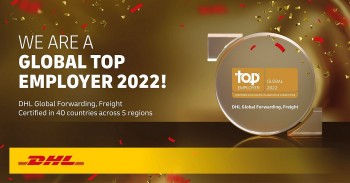 Economy
DHL Global Forwarding, the air, ocean and road freight specialist of Deutsche Post DHL Group, has again been certified as Top Employer 2022 in Asia Pacific.