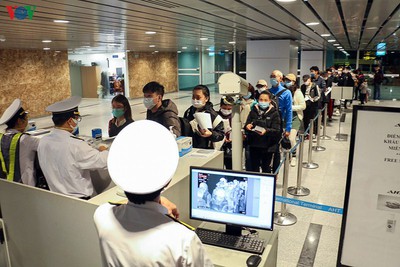 Da Nang Centre for Disease Control checks passengers' body temperature upon their arrival at the airport. Source: VOV
According to the Da Nang Centre for Disease Control, the centre is currently fully equipped with sufficient facilities and human resources that are capable of fully meeting the requirements necessary to conduct tests for the COVID-19.
Most notably, the centre's laboratory declared biosafety in 2019 after splitting the molecular biology laboratory into three separate areas.
Furthermore, the centre also possesses 12 specialised pieces of equipment which is able to conduct testing samples of infectious diseases, whilst many of the personnel working at the centre are both highly qualified and experienced, therefore allowing them to meet the requirements set out by the health sector.
By conducting tests for the SARS-CoV-2 virus in Da Nang, it is hoped that it will serve to help the city and its neighbouring provinces become more proactive in combating and controlling the spread of the epidemic.
According to the current process, samples are to be sent to the Nha Trang Pasteur Institute for testing, with test results being unveiled within 48 to 72 hours. Indeed, this time can be longer due to a significant geographical distance and a large number of samples to test.
The breakthrough comes after Da Nang recorded new suspected cases of the SARS-CoV-2 between 13:30 on February 26 and 8:00am on February 27, with 10 Vietnamese and two Korean nationals being suspected of contracting the virus.
At present, the Da Nang Lung Disease and the Hospital 119 under the Ministry of Public Security are currently monitoring 24 suspected cases, while a further 27 cases have been supervised in the community where their health conditions remain normal.
The Da Nang Centre for Disease Control monitored 36 aircraft containing 2,308 passengers on February 26, of which 780 people had to fill in a medical declaration. In total, there were 127 samples which tested negative for the SARS-CoV-2 virus with no positive cases being recorded.