First day of children in Hanoi and Ho Chi Minh City to return schools [Photo story]
In the morning of May 04, it is recorded that, students start to resume schools after a three-and-a-half month break due to the COVID-19 outbreak. A number of prevention solutions have been carried out by all schools across the country to ensure the safety for students in the schooling environment.   
Millions of school children in Vietnam returned their schools on Monday, May 04 after the country reported its 17th straight day of no domestically transmitted coronavirus infections.
Together with many other provinces across Vietnam, students in the capital city of Hanoi and Ho Chi Minh city are very happy to be back to their schools after a 3-month virus break.
In Hanoi, over 700,000 students of secondary and high schools return their classes with closer observations of local authorities.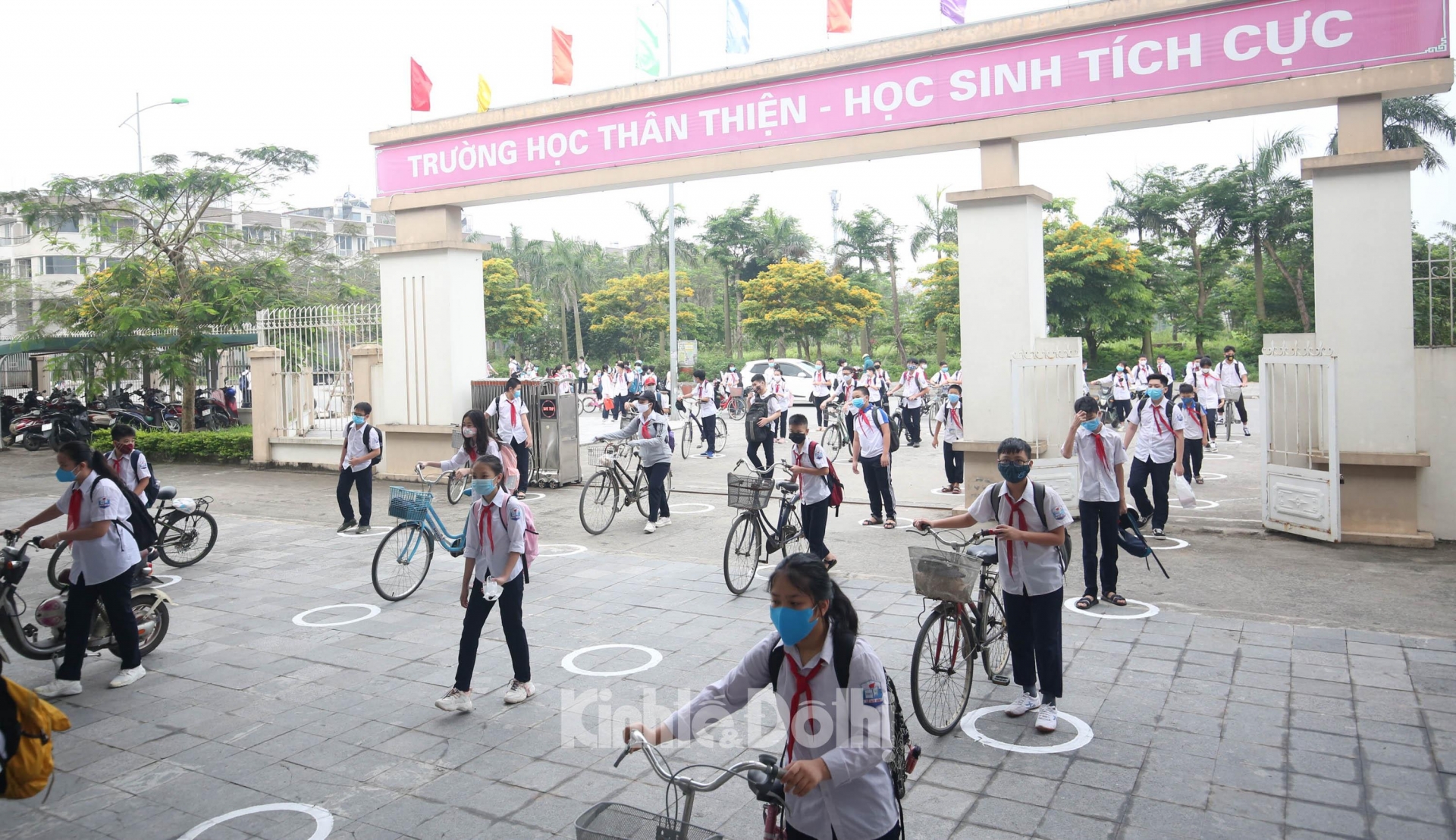 Students of Le Quy Don Secondary school (Ha Dong district, Hanoi) are deploying 02-meters distancing measure as guided by MoET. Photo: kinhtedothi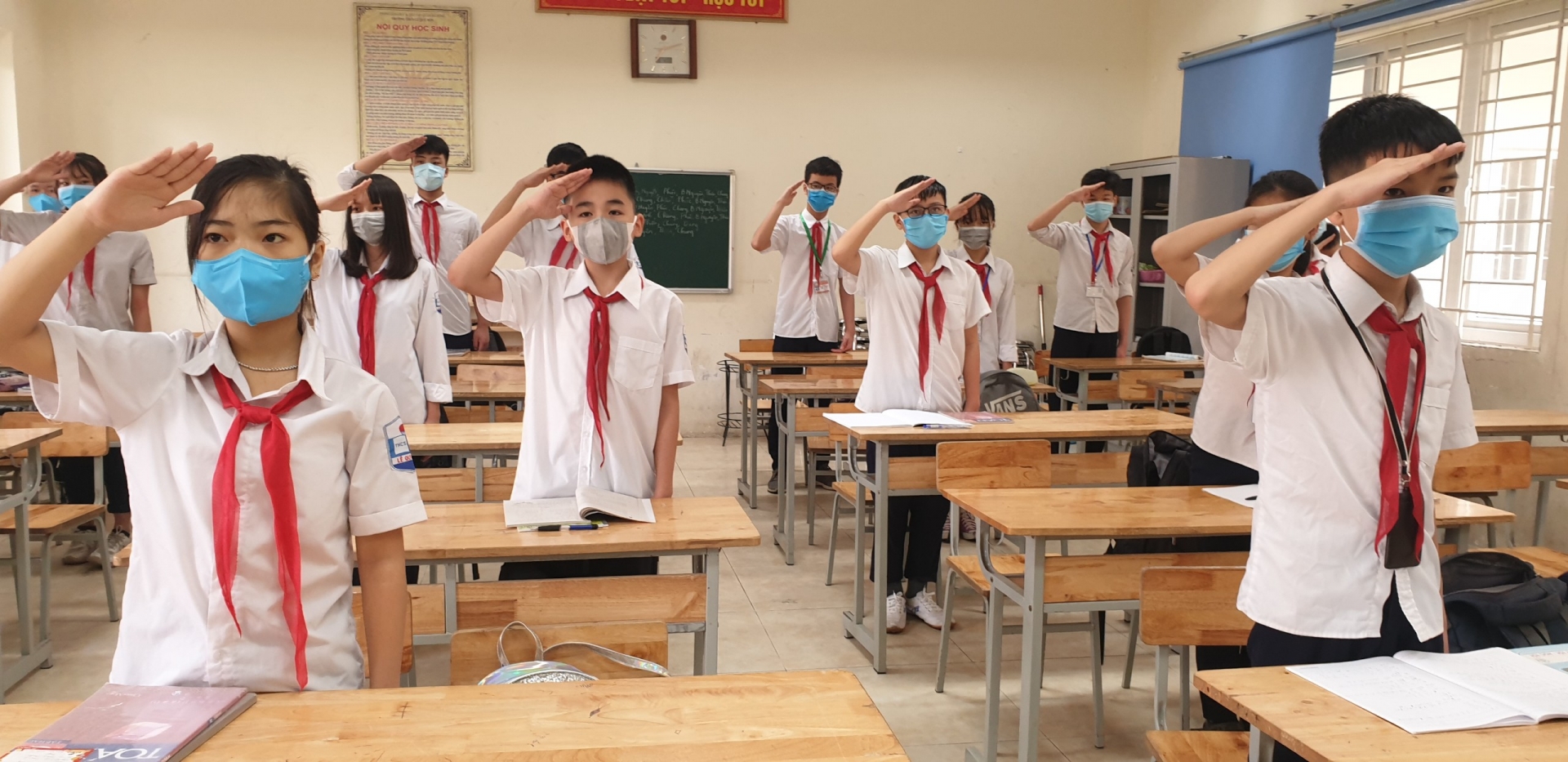 100% of students are in face masks as an appropriate practice to prevent COVID-19. Photo: kinhtedothi
All formal activities like the flag ceremony at Mai Dich Secondary school (Cau Giay district, Hanoi) are organized in small and separate groups in order to minimize the risk of virus infection. Photo: kinhtedothi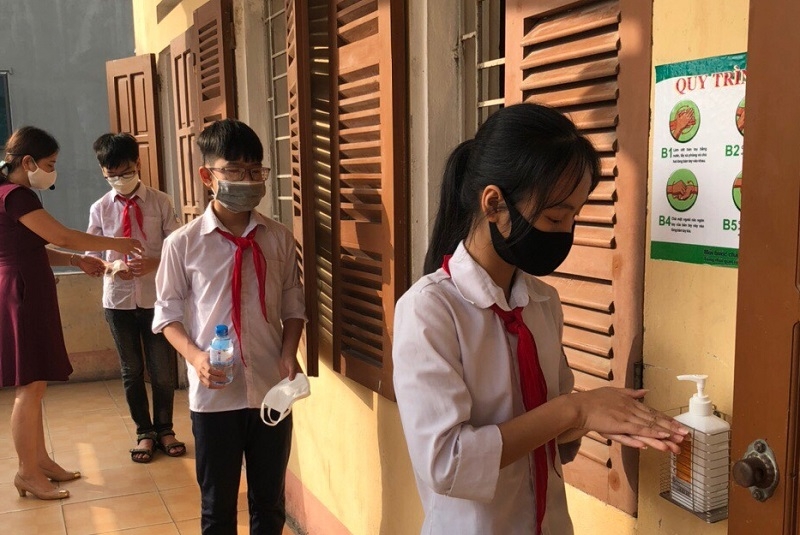 Students at Tay Dang Secondary school are provided free face masks and are required to sanitize their hands frequently. Photo: kinhtedothi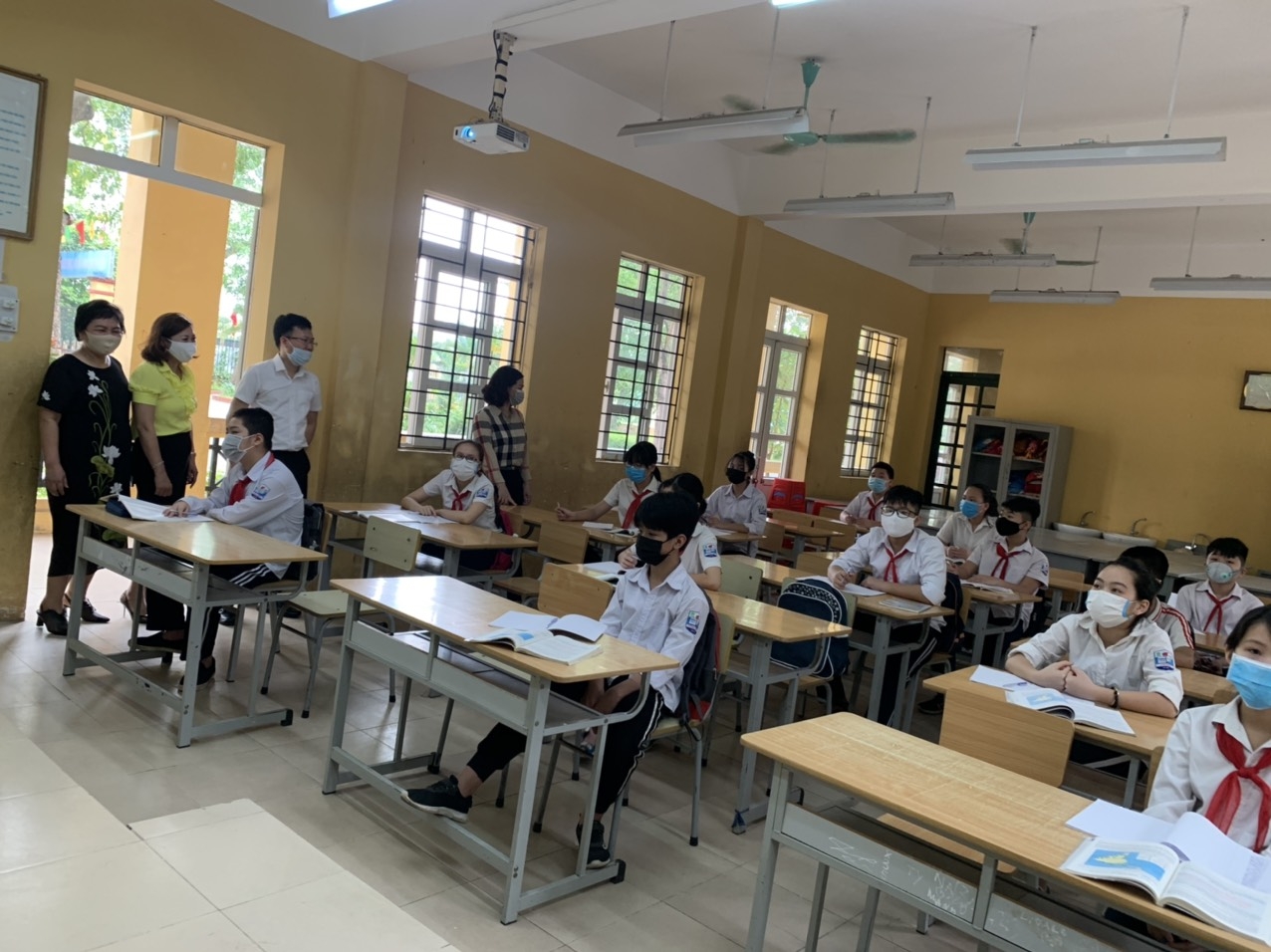 Officials from Long Bien People's Committee and DoET pay a visit to Ngoc Lam Secondary school (Long Bien district, Hanoi). Photo: kinhtedothi
In Ho Chi Minh city, more than 150.000 students from nearly 500 secondary and high schools (grades 9 to 12) start their school day. All educational institutions have deployed strict preventative Covid-19 measures, including hygiene and social distancing norms o the whole students and teachers.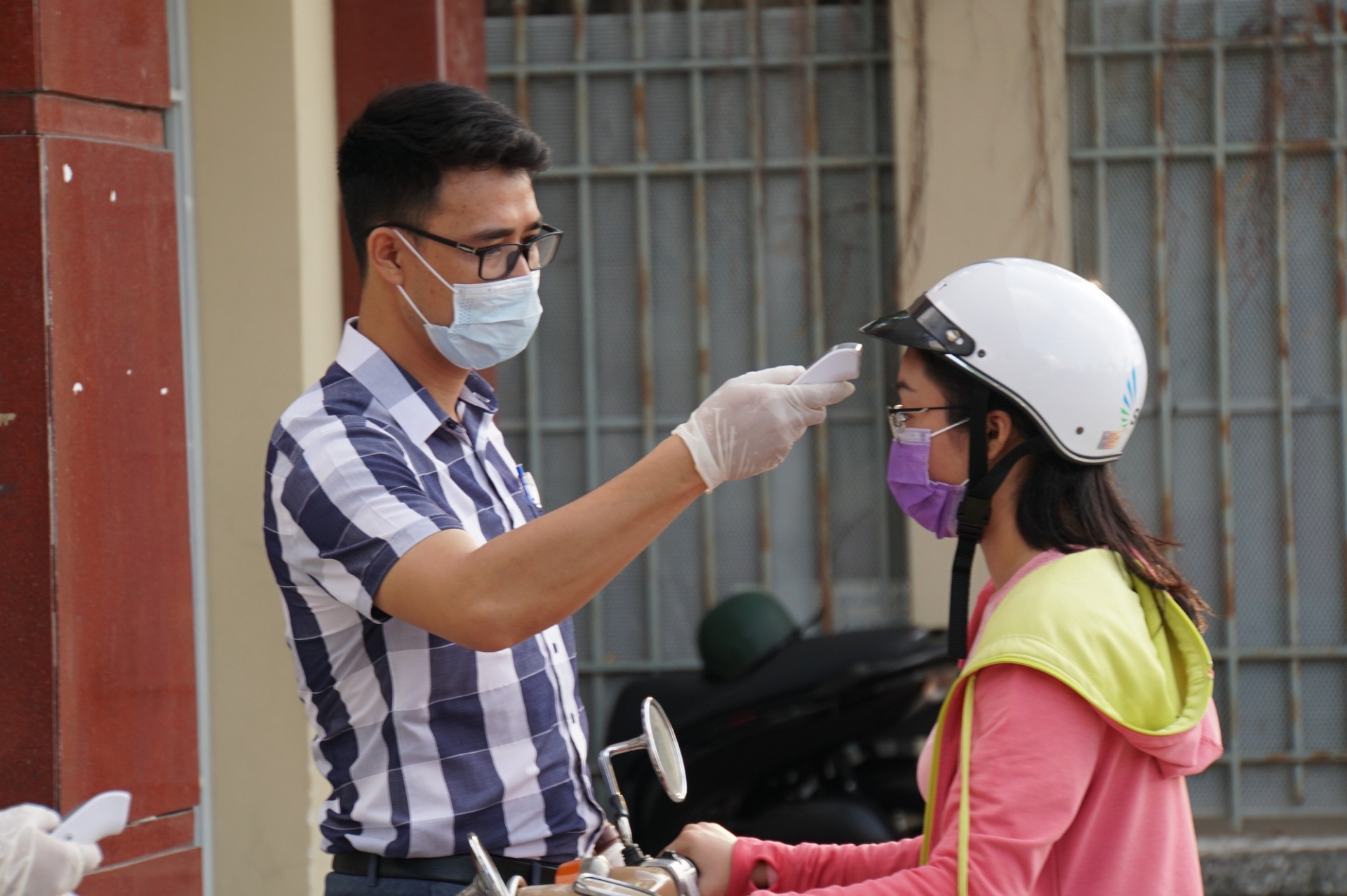 Body temperature check for a female student. Photo: phunuvietnam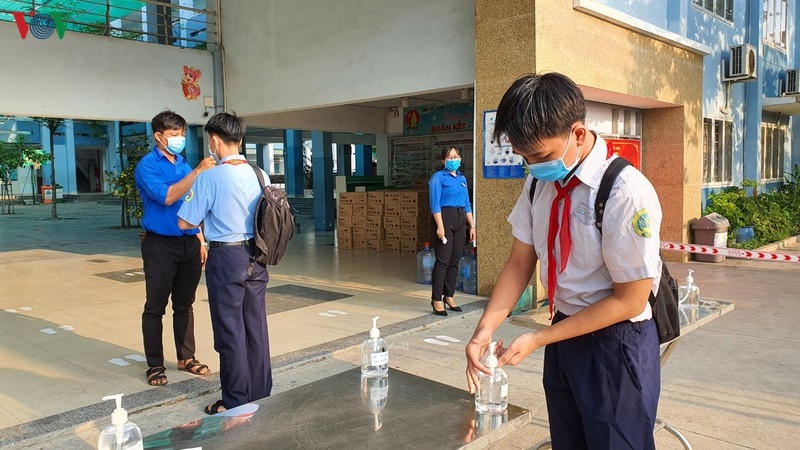 Students have to undergo body temperature checks and sanitize their hands before entering classes. Photo: vov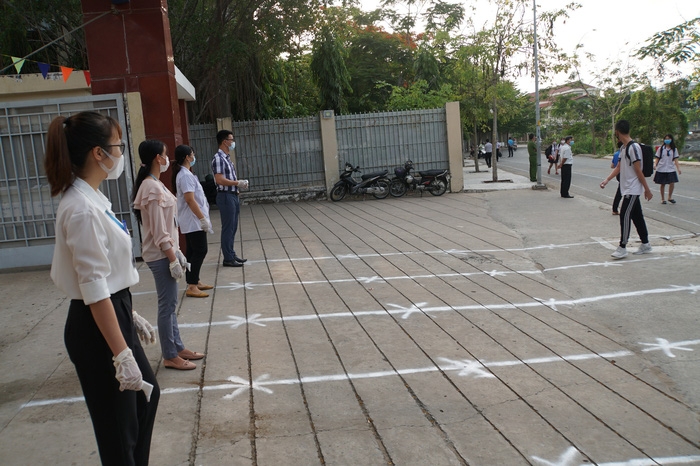 Appropriate distancing regulation is strictly applied at Tran Van Giau High school (Binh Thanh District, HCM city). Photo: phunuvietnam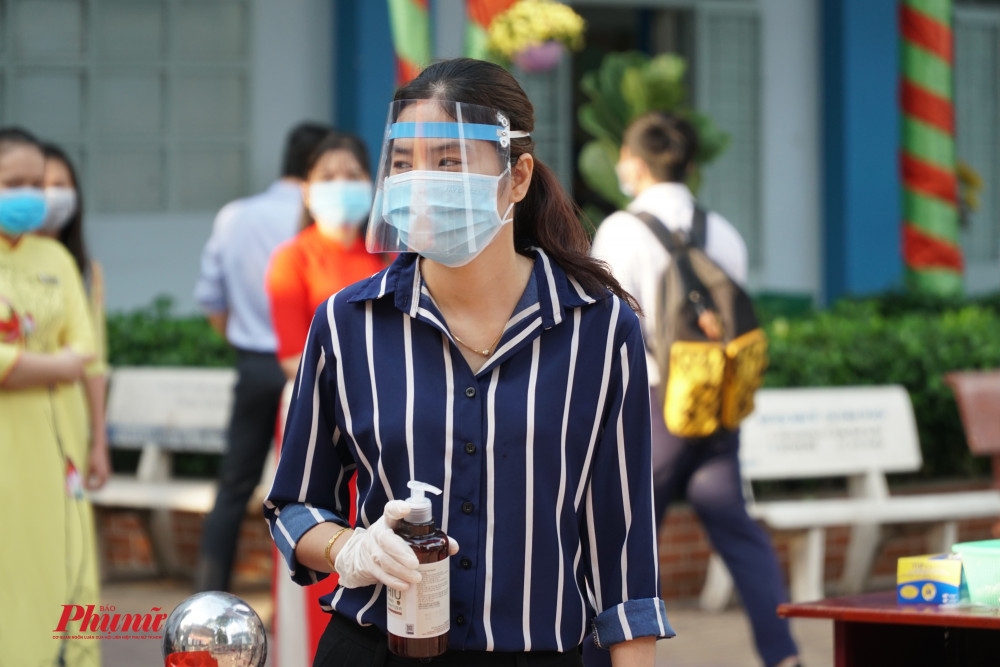 All teachers and staff of Nguyen Du High school have to put on protective equipment while having direct interaction with students. Photo: phunuonline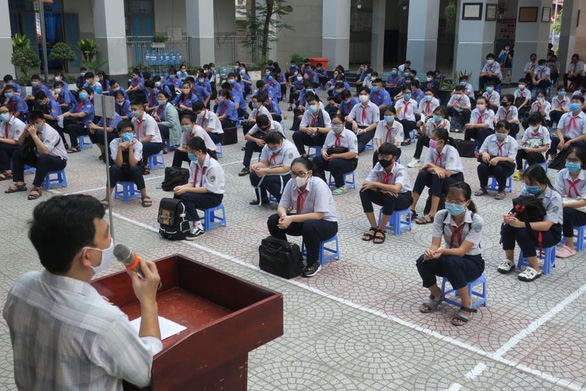 Mr. Le Minh Hong - Vice Principle of Chi Lang Secondary school (District 4, HCM city) is guiding students on how to keep safe during their school time. Photo: tuoitre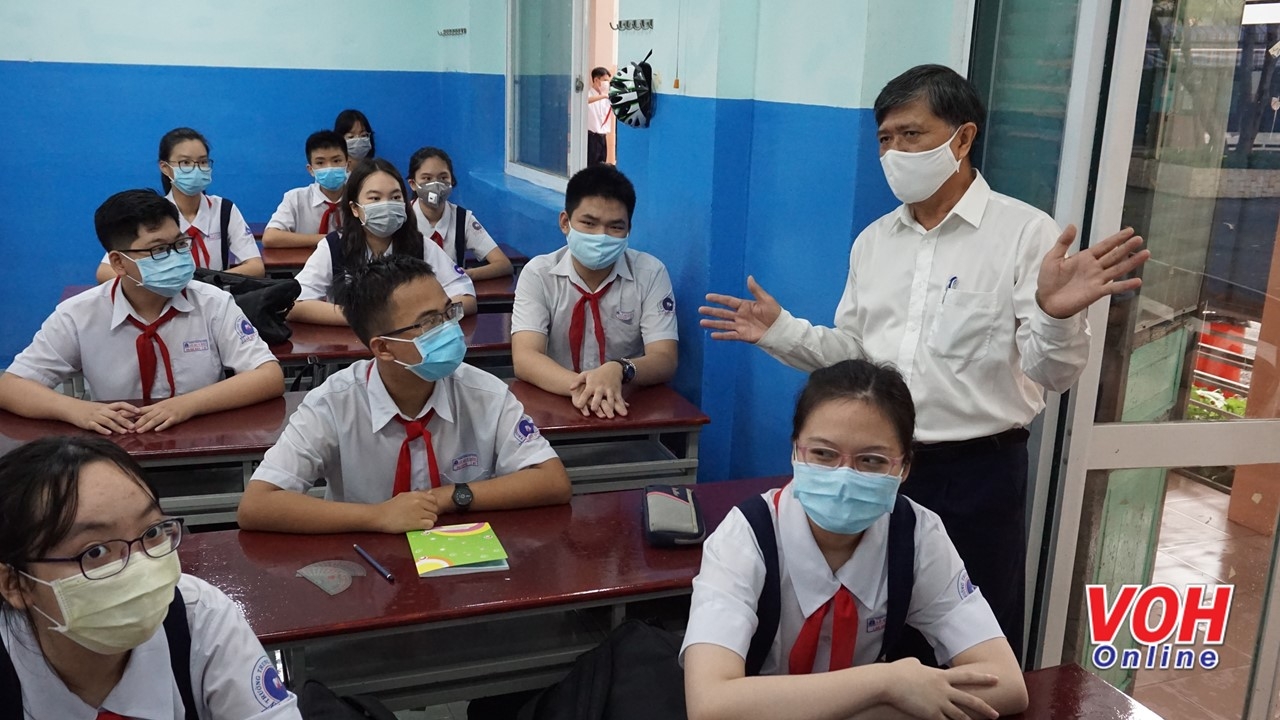 Mr. Nguyen Van Hieu - Deputy Director of DoET of HCM city in a classroom of Le Quy Don Primary school to ensure all necessary measures are being followed by schools. Photo: voh
There are around 22 million school-age children and university students across Vietnam. After being stayed at home and studying online due to school closure in late January due to the COVID-19 outbreak, children across the country have been allowed to return schools from Monday, May 04k but others – including primary school and kindergarten pupils – will have to wait it out a further week.
The Ministry of Education and Training (MoET) recently issued 15 criteria for ensuring COVID-19 prevention and control at educational institutions. It is requested that, all schools have to meet at least seven criteria that will be assessed as in safe condition, and therefore, are allowed to operate.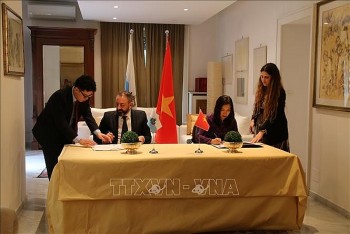 Friendship
The two countries will continue promoting cooperation to enhance growing ties between the two countries based on the good friendship since they established diplomatic relations in 2007.