First shots of 2nd Vietnam homegrown Covid-19 vaccine candidate completed
The phase one human trials of Covivac, the second Vietnam homegrown Covid-19 vaccine has gone more than halfway, with no volunteers with severe reactions reported.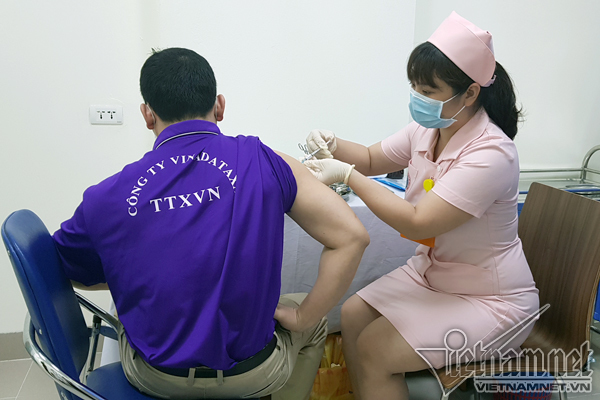 A volunteer is injected with the Covivac vaccine. Photo: Vietnamnet
Assoc.Prof.Dr. Pham Thi Van Anh, Director of Center of Clinical Pharmacology under the Hanoi Medical University said that 120 volunteers, aged 18-59 received the first jabs of Covivac Covid-19 vaccine.
120 volunteers were divided into 5 groups including one group receiving placebo. The first 6 volunteers being injected with the first shots received the second ones on April 12, she added.
A mid-term report of the first phase is expected to be completed in July.
If everything goes well, three phases of Covivac vaccine human trials will be completed by the first quarter of 2022.
"To date, volunteers have displayed mild reactions such as swelling at the injection site, headache, muscle pain, etc. There haven't been cases with severe reactions yet", she said.
Covivac, made by the Institute of Vaccines and Medical Biologicals (IVAC), is in the first stage of clinical testing by the Hanoi Medical University's Centre of Clinical Pharmacology.
Vietnam also completed second shots of Nano Covax in the second-stage human trials.
Nano Covax, developed by the Nanogen Pharmaceutical Biotechnology JSC, is the first COVID-19 vaccine of Vietnam to be tested in clinical trials.
A preliminary report on testing results is scheduled to be issued this May.
The third phase of human trials is expected to cover 10,000 – 15,000 people in both Vietnam and other countries.
Apart from Covivac and Nano Covax, Vietnam has other COVID-19 candidate vaccines under development: VABIOTECH from the Company for Vaccine and Biological Production No 1, and POLYVAC from the Centre for Research and Production of Vaccines and Biologicals.
Vietnam launched its inoculation campaign using the AstraZeneca Covid-19 vaccine on March 8. As of April 20, more than 80.000 Vietnamese in 22 provinces and cities have been administered the vaccine.
The government is also negotiating with manufacturers in the US, Russia, and some other countries to obtain a total of 150 million doses this year to cover 70 percent of the country's population.
According to Deputy Minister of Health Tran Van Thuan, the ministry expects that Vietnam will have its own vaccine for use and even export between late 2021 and early 2022.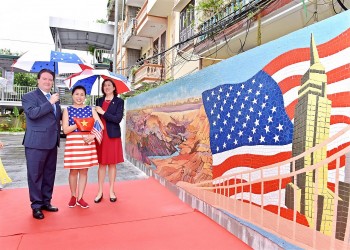 Multimedia
A ceramic mosaic mural named "Vietnam - US friendship" depicting the natural and cultural heritages of the two countries, was just revealed in Hanoi