First Vietnamese Artist to Perform at "Crimson Sails" Festival, Russia
The fact that Vietnamese singers can perform at the world-famous festival affirms the audience's friendship, admiration and respect for the young Vietnamese talent of the audience and artists in Russia.
The annual "Crimson Sails" festival takes place in St. Petersburg from June 18–25 during the white night season. This graduation ceremony is being held for Russian students as a special reward for their outstanding performance. The festival is not only well-known in Russia, but it also annually draws a sizable number of tourists from abroad.
As a result, participating in this festival is an honor for the singers who were chosen based on their exceptional performances among many other nominated entries. The event this year is unique in that the first Vietnamese singer made it through more than 600 entries to perform.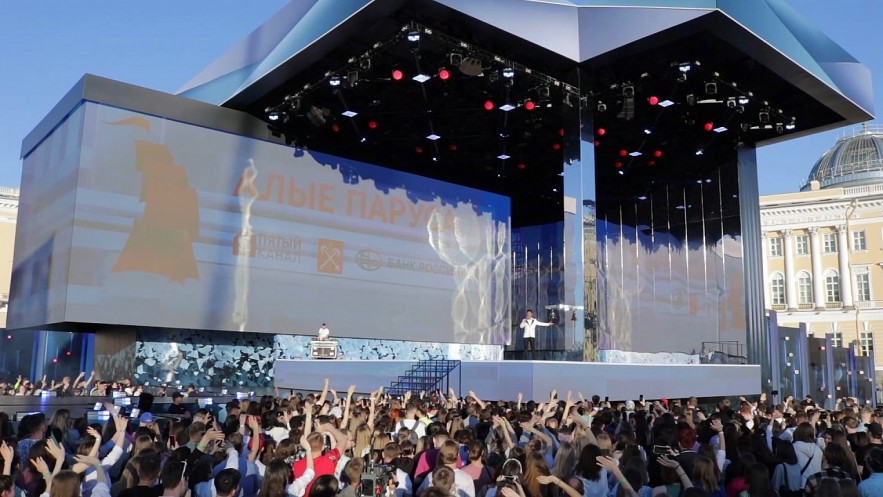 Performance at the festival "Crimson Sails". Photo: Xuan Thanh
There are 27 performances total at the concert, including Khac Hoa's. Khac Hoa performed the well-known piece "Endless Blue Sea" by composer Muslim Mogamaev in front of tens of thousands of onlookers in Palace Square in the heart of St. Petersburg. The aspirations of youth in front of the vast sea are expressed in the song.
Khac Hoa said about what it was like to be the first Vietnamese performer at the festival, "after the "Crimson Sails" have passed, I still feel incredibly pleased and joyful. I'm proud to be the first Vietnamese artist to attend this renowned event because it has once again brought Vietnam's influence to the attention of our international friends."
Having lived in Russia for seven years and frequently attending "Crimson Sails," Dong Xuan Thanh, a graduate of the National Research University of Information Technology, Mechanical and Optical in St. Petersburg, said: "This is the first time I have seen a Vietnamese act in such a major show. I'm extremely proud. After today's performance, I hope that more Vietnamese artists will appear at significant events like this to enhance the perception of Vietnamese people among Russian and foreign friends."
Khac Hoa's performance not only inspired pride in many Vietnamese, but also in friends from Russia. "The strong voice of singer Khac Hoa has mesmerized me," according to Ms. Natalia Ignatenko, general director of the Elena Obraztsova Music Development Fund. "He accurately conveys the feelings of the song to the audience. He exclaimed with pride and joy from the bottom of his heart as he arrived to sign up for the performance and noticed the Vietnamese flag flying above the Royal Classical Theater of Capella."
Vietnamese singers' participation in the renowned event demonstrates the Russian public's and performers' support for and respect for young Vietnamese talent.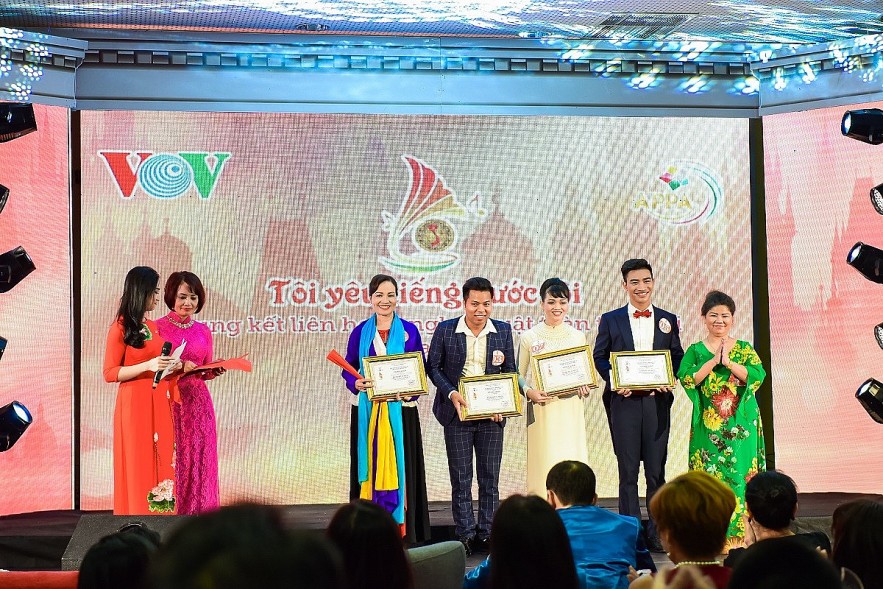 Khac Hoa won the Gold Medal in the contest "I love my country" 2018. Photo provided by the character
The young talent has amassed a proud accomplishment for himself before being given the privilege of performing at "Crimson Sails." Nguyen Khac Hoa is one of the select few young people from Vietnam's Ministry of Education and Training who received a full scholarship to study in Russia for their major in the arts. The 1993-born man, who is originally from Quang Binh, is currently a Ph.D. opera major at the Gnesin Russian Academy of Music's Faculty of Music History.
"Securing a scholarship to study in Russia was a challenging task for me because I attended a university outside of the capital and had minimal access to resources and assistance. I was given support from Hue Conservatory of Music professors and the Ministry of Culture, Sports, and Tourism's Training Department in 2014 when I was awarded a full scholarship to study in Russia. I then received a master's scholarship, and I currently have a Ph.D. scholarship," Khac Hoa shared.
"The fact that Russian professors are so committed to their work, the competitive nature of the educational setting, and the friendliness and willingness of my Russian classmates to assist me are what I like most about learning there. Additionally, opera is Russia's forte, and there are numerous competitions every year to enter and try out. To suggest that studying music in Russia would be excellent and if you're thinking about studying abroad, I think Russia is an amazing alternative, I also adore visiting theaters and concert halls to attend performances," he advises.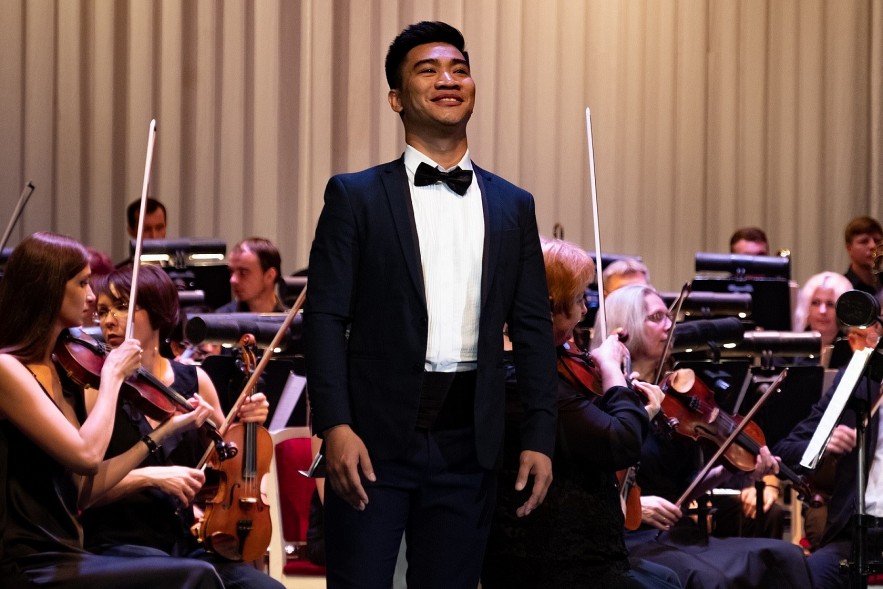 Khac Hoa performed at Saratov Opera House (Russian Federation). Photo provided by the character
Khac Hoa had the chance to test himself and gain knowledge from many world-renowned professionals thanks to yearly Russian and worldwide opera competitions. Every performance at the contests, according to Khac Hoa, leaves "unique impressions," and "each event is a separate milestone in his musical path."
The young musician spoke candidly about his involvement in international music contests, stating: "The international music competition in Chisinau (Moldova) in 2015 was the first time I was exposed to and pushed in the international setting, and luck was on my side, I won the gold."
"I won a scholarship through the competition to pursue a temporary course of study at the Vienna University of Music and Performing Arts (Austria) in 2016.
Although I did not place in the top three at the prestigious Elena Obratsova International Opera Competition in St. Petersburg in 2021, I was awarded a scholarship to study for a brief time in Rome (Italy) and had numerous performances in Switzerland and Italy in May 2022.
I usually strive to sing in Vietnamese at competitions and concerts hosted in Europe so that my foreign friends may know and understand the nation and people of Vietnam better. I believe that we are all cultural ambassadors for our nation, so I am delighted that I can still play my favorite Vietnamese songs even when I am distant from home," he added.
After achieving great success in a number of international music competitions in 2018, Khac Hoa was requested to work on cultural and educational projects with the UNESCO Committee in Moldova. Khac Hoa has gained more knowledge and awareness of international cultural and educational development initiatives as a result.
The young opera singer talked about his future ambitions and revealed that he is presently working hard to be ready for a tour of Japan that will take place in September 2022.
He will also enroll in a separate elective opera course at the Gnessin Russian Conservatory of Music.
In the future, he aspires to return to his native country with new knowledge, helping to popularize Vietnamese music and promoting it to friends around the world.
Thời Đại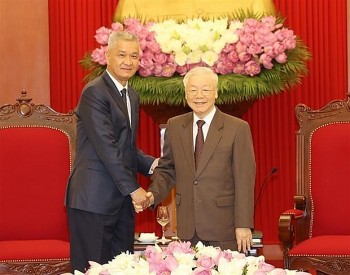 Friendship
Anouphap Tounalom, Secretary of the Lao People's Revolutionary Party (LPRP) Central Committee, and Secretary of the Party Committee and Chairman of the People's Council of Vientiane is conducting a visit to Vietnam.