First youth dies after contracting COVID-19 in US
A juvenile fatality was reported in Lancaster who may be the first child to have died from the coronavirus, but confirming that will require additional testing, authorities said.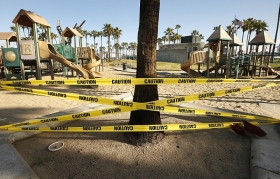 Children's playground equipment is cordoned off at Venice Beach on Monday.(Al Seib / Los Angeles Times).
Los Angeles County health officials announced Tuesday what they believed to be the first COVID-19 death in the U.S. of someone younger than 18.
Experts have long said older people are more susceptible to the virus and that young people in general are less likely to contract the illness. But health officials said Tuesday the death underscores the threat that coronavirus poses to the entire population.
"This is a devastating reminder that COVID-19 affects people of all ages," L.A. County Public Health Department Director Barbara Ferrer said.
But a few hours after that announcement, the county's Public Health Department sent out a clarification:
"The juvenile fatality that the Los Angeles County Department Public Health reported earlier today will require further evaluation by the Centers for Disease Control and Prevention," the statement read. "Though early tests indicated a positive result for COVID-19, the case is complex and there may be an alternate explanation for this fatality. Patient privacy prevents our offering further details at this time."
The minor was a teenager who lived in Lancaster and did not have any preexisting conditions, Los Angeles Mayor Eric Garcetti said in a news briefing Tuesday evening.
The Public Health Department was working to confirm how the teenager might have contracted the virus. The agency also is also working to confirm whether the case marks the first such death of a minor linked to coronavirus in the country, but cases are not always broken down by age, said Tim Gilman, a representative for the department.
According to a Centers for Disease Control and Prevention report released last week, there had been no coronavirus fatalities in the United States of people under 18. The report also said there had been no reported ICU admissions for people under 19.
Age breakdowns
Overall, relatively few young people have tested positive in the US. But the data show people between the ages of 18 and 65 have tested positive most often.
Here are the statewide age breakdowns, as of Monday:
0-17: 25
18-49: 837
50-64: 442
65+: 415
Unknown age: 14
Child risks
Overall, officials have said young children are at lesser risk than older people for contracting the coronavirus.
One possible reason babies, toddlers and young children have not been critically threatened is because of their immature immune systems. An undeveloped immune system might prevent the body from triggering inflammation severe enough to result in pneumonia, septic shock or organ failure.
A sweeping review of 44,672 lab-confirmed COVID-19 patients in China published in early March by Chinese authorities found that no deaths occurred among anyone younger than 10.
Another study by experts in Wuhan, China — the initial epicenter of the outbreak — published in the Journal of the American Medical Assn. sought to review all hospitalized infants diagnosed with COVID-19 infection between Dec. 8 and Feb. 6 in China.
The Covid-19 pandemic has killed more than 19,700 people globally as it spread to 198 countries and territories.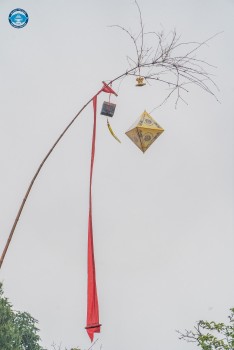 Viet's Home
In the past, the Neu pole (a tall bamboo pole with red garment strips used to ward off evil spirits during the lunar New Year) lowering ceremony at the royal palace of the Nguyen Dynasty was performed to mark the end of the New Year holiday and prepare to enter a new working year.