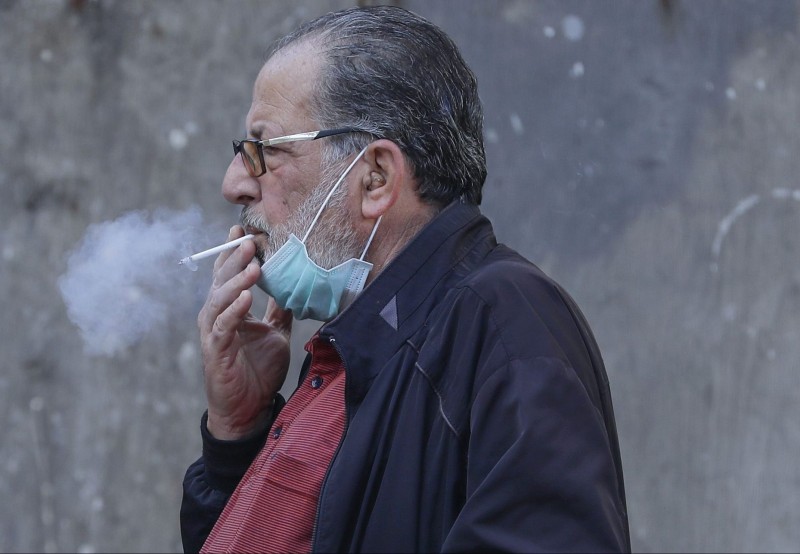 Smoking increases your risk of deadly coronavirus. Source: The Sun
The Mainichi Shimbun spoke to Dr. Tetsuro Ishizawa, a Japan Society for Tobacco Control-approved doctor and the head of Workers Clinic Ginza in the capital's Chuo Ward, which offers online treatment to quit smoking.
As the novel coronavirus outbreak continues to surge across the globe, the Tokyo Medical Association and the Japan Society for Tobacco Control and the World Health Organization (WHO) has urged people not to smoke because it increases the risk of developing heavy symptoms in the event of infection.
According to Dr. Ishizawa, a number of papers have been released on the connection between smoking and the new coronavirus. Among them is a paper published in the US science journal "The New England Journal of Medicine."
It carried out a large-scale study on 1,099 COVID-19 patients in China, and their data showed that when compared to non-smokers, smokers were around three times more likely to end up in intensive care unit wards, or requiring assisted breathing apparatus, or even dying.
Additionally, another piece that analyzed the causes of heavy symptoms in 78 patients in China found that a history of smoking was the most common trigger for more severe viral symptoms. It concluded that smokers and those with history of smoking had a risk of developing heavy symptoms that was 14 times higher than that of non-smokers.
On March 25, the European Centre for Disease Prevention and Control released data from its research showing that those who smoke or have smoked in the past were at greater risk of developing severe symptoms.
"Strictly speaking, at present, there is not enough medical evidence on the link between strong symptoms and smoking, but we are gradually seeing more research that suggests a link might exist," said Dr. Ishizawa.
We know that when the novel coronavirus infects a person's cells, it uses receptors in the cell membrane that are activated by smoking. For that reason, it's thought that the paths for transmission within smokers become wider, making them more vulnerable to the virus, and that symptoms are more likely to get worse due to this process.
It's also the case that people with a long history of smoking have gradually reduced lung function.
Also, smokers can cause infections clusters. The Japanese government's panel of experts has outlined three conditions that increase the risks of cluster infections: where the air is closed off and poorly ventilated; where people are speaking to each other in close proximity, and where there are many people within arm's length of each other. A smoking room or space in a building can be said to fulfill all three conditions, Dr. Ishizawa said.
The actions associated with smoking itself also harbors potential infection risks. A smoker will bring their hands up to their mouth countless times, making it easier for any viral pathogens on their hands to enter the mouth or nose. People also remove masks they may be wearing countless times to smoke, and activities including being offered a cigarette by others can further the spread of the virus.
Moreover, it's been pointed out that aerosols from people's breath that float in the air could spread the new coronavirus. Through these aerosols, the virus is said to retain its infective state for around three hours. As heated tobacco products produce a large number of aerosols, people should take the same level of care, if not more, as they would around regular cigarettes.
Secondhand smokers also experience reduced function to their immune system against respiratory tract infections, putting them at higher risk of developing heavy symptoms./.
VNT