Flooding in central Vietnam updates: 102 deaths, 90,000 people evacuated
Flooding and landslides in central Vietnam have left 102 deaths and 26 missing to date.
According to the Central Steering Committee for Natural Disaster Prevention and Control, the three provinces with the highest loss of lives are Quang Tri (48 people), Thua Thien-Hue (27 people) and Quang Nam (11 people), VNExpress reported.
As of 4 p.m October 19, 166,780 households in Ha Tinh, Quang Binh and Quang Tri have been inundated and 28,900 households with 90,900 residents have been evacuated.
In Ha Tinh, water levels in rivers are rising fast. At 3 p. m October 19, the water level of Ngan Sau River near Chu Le Station exceeded the highest danger level 3 by 0.5m. Water levels at Ngan Pho and La rivers reached the danger level 1.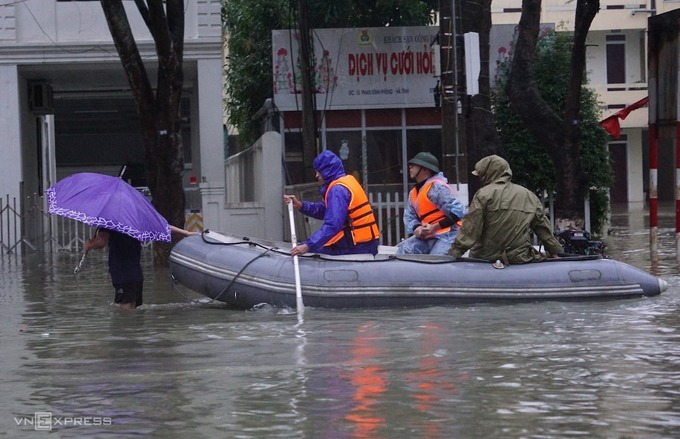 Parts of Ha Tinh Province have been inundated Photo: Le Hoang/ VNExpress
Ke Go Reservoir started to discharge water at 1 p.m October 18 and currently is discharging at 940 m3/ s. The reservoirs of Ho Ho and Huong Son hydropower plants are discharging water at 85 m3/s and 15 m3/s respectively. Other lakes in the area are also spilling over.
Ha Tinh Province has 28,418 households submerged, mainly in Ha Tinh City and districts of Cam Xuyen, Thach Ha, Huong Khe and Loc Ha.
In Quang Binh, Mai Van Minh, Director of the provincial Department of Agriculture and Rural Development said that the floodwaters are receding quite slowly on the afternoon of October 19.
"Tuyen Hoa district, the area near the Gianh River, is still heavily flooded. We are focusing on relief for the local here and evacuating them according to the plans", Minh said.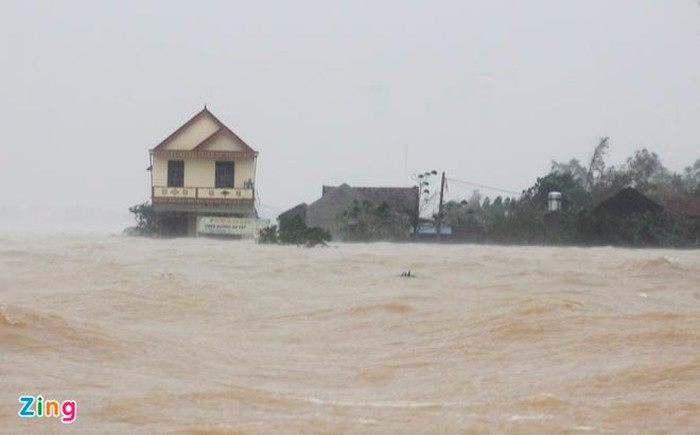 Tan Ninh Commune, Quang Ninh District, Quang Binh province has been heavily flooded. Photo: Zing News
Floods have killed 3 people, injured 4 people and caused great damages to properties in Quang Binh.
At 4 p.m October 19, water levels in Kien Giang River in Le Thuy District exceeded the danger level 3 by 2.18 m, 0.97m higher than the historic flooding peak in 1979 (3.91 m). A similar situation took place at Gianh River (Tuyen Hoa District).
The National Highway 1A section in Quang Binh Province and one part connecting to Ho Chi Minh Highway are severely flooded.
In Quang Tri, 53,750 houses in the nine districts of Huong Hoa, Dak Rong, Cam Lo, Dong Ha, Vinh Linh, Gio Linh, Quang Tri, Trieu Phong and Hai Lang are deluged in water. As many as 11,083 households with more than 34,000 people have been evacuated.
According to the National Center for Meteorological and Hydrological Forecasting, the three aforementioned provinces are likely to suffer from the heavy to very heavy rains until October 21.
Prime Minister Nguyen Xuan Phuc asked ministries, branches and localities to focus on protecting the locals' lives and properties as well as deploying timely rescue work.
PM also issued a decision to assign the Ministry of Finance to provide five provinces of Quang Binh, Quang Tri, Thua Thien Hue, Quang Nam and Ha Tinh with 1,000 tons of rice and 100 billion VND each in response to the floods.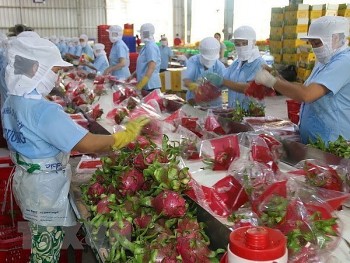 Make in Vietnam
Denmark and Vietnam strengthen cooperation in production, certification and management of organic products