Flooding in Central Vietnam: Deputy PM asks for prompt evacuation from dangerous areas
Vietnamese Deputy Prime Minister Trinh Dinh Dung on Sunday asked for the relocation of people from dangerous areas as central Vietnam provinces are ravaged by historic flooding.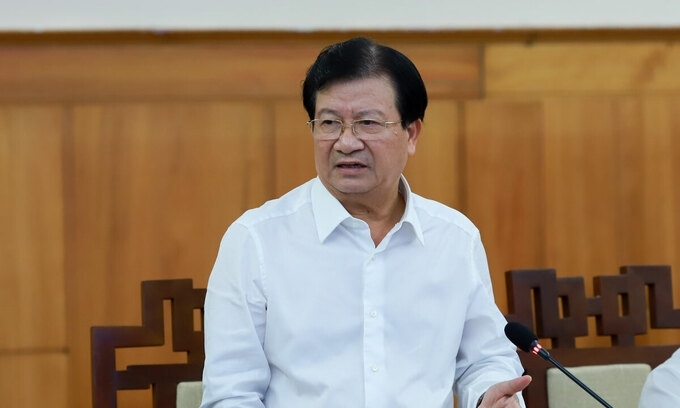 Deputy PM Trinh Dinh Dung during a meeting on search and rescue operations in flood-striken central Vietnam, October 18, 2020 (Photo: VNE)
The Deputy PM on October 18 met with leaders of the Ministry of National Defense, Military Region 4 and Thua Thien-Hue Province to discuss search and rescue work amidst the rains, floods and landslides that have hit central Vietnam, Thua Thien-Hue and Quang Tri Province in particular.
According to VNE, Lieutenant-General Nguyen Doan Anh, Commander of Military Region 4, said heavy rains have been buffeting Thua Thien-Hue for the last ten days.
"Water levels in the Bo River peaked at 5.24 m at 12:05 a.m. on October 10, about 0.06 m higher than the historic flooding peak in 1999. Landslides triggered by the floods have isolated five districts with over 20 communes", he was quoted as saying.
Nguyen Xuan Cuong, Minister of Agriculture and Rural Development, said that downpours of historic proportions have hit five provinces from October 6-11. Quang Tri and Thua Thien-Hue have experienced heavy rains for six consecutive days, causing heavy flooding, especially in the area of the Thach Han and Bo rivers in Quang Tri and Thua Thien-Hue, respectively.
Citing forecasts of heavy rains for another week, Cuong said this historic flooding would inflict further serious damage on the central region.
Two rescue hotspots
Lieutenant-General Nguyen Doan Anh said that at the Rao Trang 3 hydropower plant, where a landslide had buried several dozen people, the maximum number of people and vehicles were being mobilized to clear provincial Road 71 and find 15 people still reported missing.
"In addition to the rescue operations, we are also transporting food to isolated areas. Two workers of the Rao Trang 3 plant were found in its reservoir," Anh added.
Phan Ngoc Tho, Thua Thien-Hue Chairman, said that searching for workers of the Rao Trang 3 hydropower plant was the province's main task now, but this has been hampered over the last two days because of heavy rain.
The Ministry of National Defence and Military Region 4 have sent people with technical experience to clear Road 71 because it is blocked with rocks the size of cars, he said.
Deputy PM Dung asked the army and police to coordinate with local authorities to find "the fastest and shortest way" to rescue the victims, noting that the main tasks are those in Rao Trang 3 and in Huong Hoa District, Quang Tri.
A mountain landslide early Sunday morning buried 22 personnel of Army Economic Group 337 in Huong Phung Commune, Huong Hoa District, Quang Tri. By 5 p.m, 14 bodies had been found.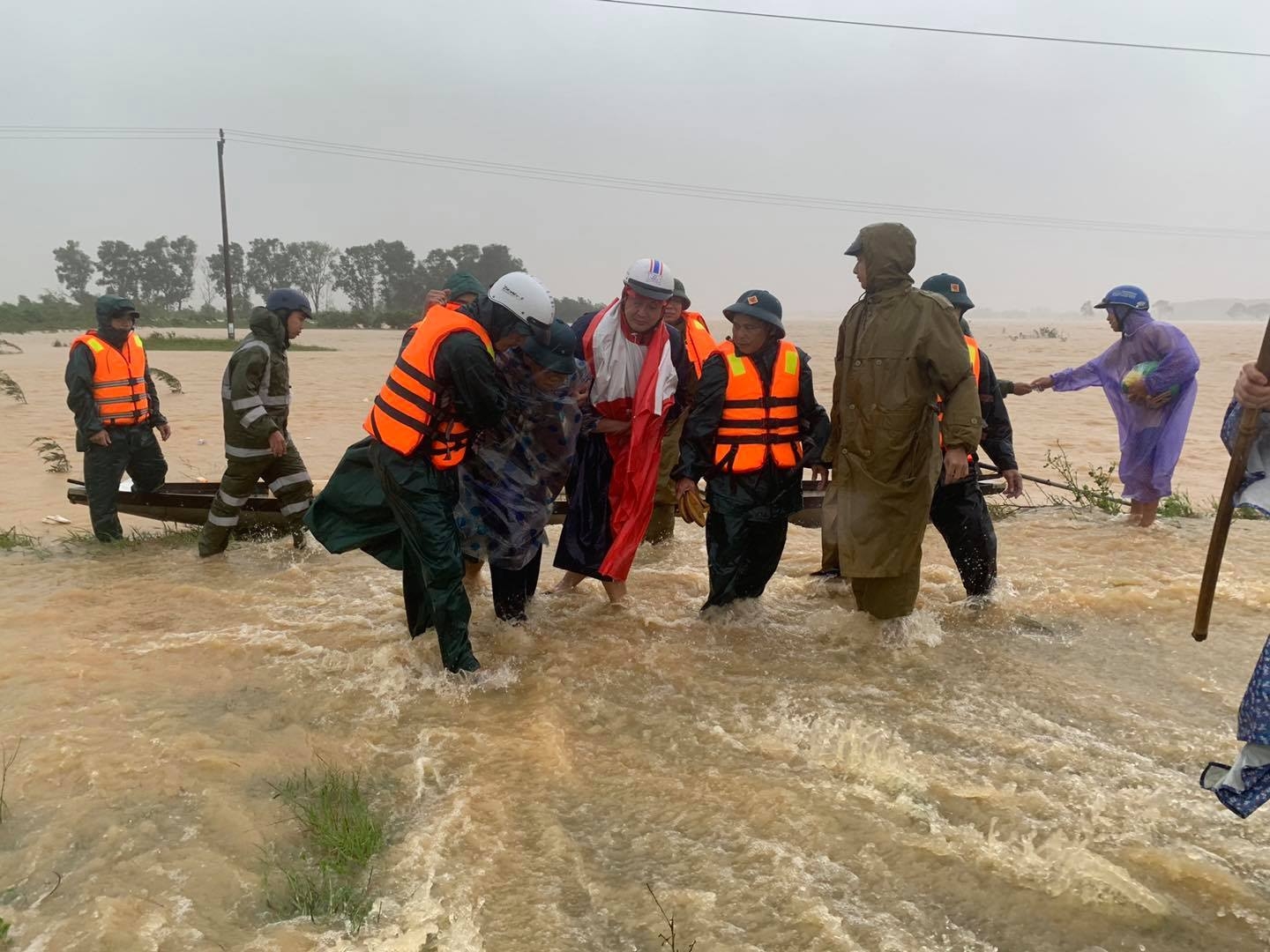 Evacuating residents in Dong Ha (Photo: Vietnamnet)
Dung also requested local leaders, especially in Thua Thien-Hue and Quang Tri, to inspect dangerous places that are highly vulnerable to flooding and landslides so as to evacuate people in time. He noted that both residential and work areas, including those of under-construction hydropower plants, were dangerous areas.
"The Rao Trang 3 hydropower plant is a construction in progress. If the construction had been completed, it would not have been so dangerous. Therefore, the task is to evacuate all the people from the dangerous areas," said Dung.
The Deputy PM added it is important that the reservoir and the dam are managed well to ensure downstream safety while preserving water to avoid shortages.
Persistent floods that struck the central provinces of Vietnam have claimed the lives of at least 84 people, left 38 others out of touch. Nearly 53,000 houses are inundated, of which 41,878 houses are in Quang Tri, 11,055 in Quang Binh.
11,575 out of 35,787 households in provinces from Quang Binh to Thua Thien – Hue had to evacuate to avoid flooding.
A memorial service was held Sunday morning in Thua Thien-Hue for the 13 officers and soldiers who lost their lives in a rescue mission due to a landslide near the Rao Trang 3 hydropower plant in the central province.
According to the National Center for Hydrology and Meteorology, Ha Tinh and Quang Binh provinces are expected to experience heavy to very heavy rain, with some areas might suffer precipitation from 350-500mm, some places over 500mm. In Nghe An, the precipitation might reach 100-200 mm.
Quang Tri and Thua Thien Hue provinces will suffer torrential rain on October 19 evening and night. The rain is expected to last until October 21, with precipitation in Quang Tri, Thua Thien – Hue might reach 150-250 mm, Quang Nam, Quang Ngai 50-100 mm.
From now to October 20, the flood risk will be especially high on rivers in Ha Tinh, Quang Binh.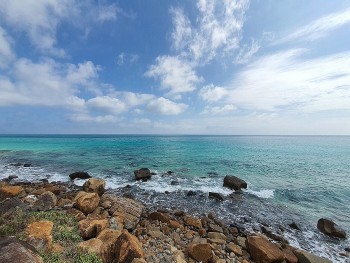 Viet's Home
Con Dao, a historical and famous island situating in the southern province of Ba Ria - Vung Tau, has been named among the top 16 best island vacations in the world, as compiled by tourism magazine Condé Nast Traveler (CNTraveler) of the United States.