Flooding in central Vietnam: 122 people dead and missing
According to the Central Steering Committee for natural disaster prevention, heavy floods leave 122 people dead and missing to date.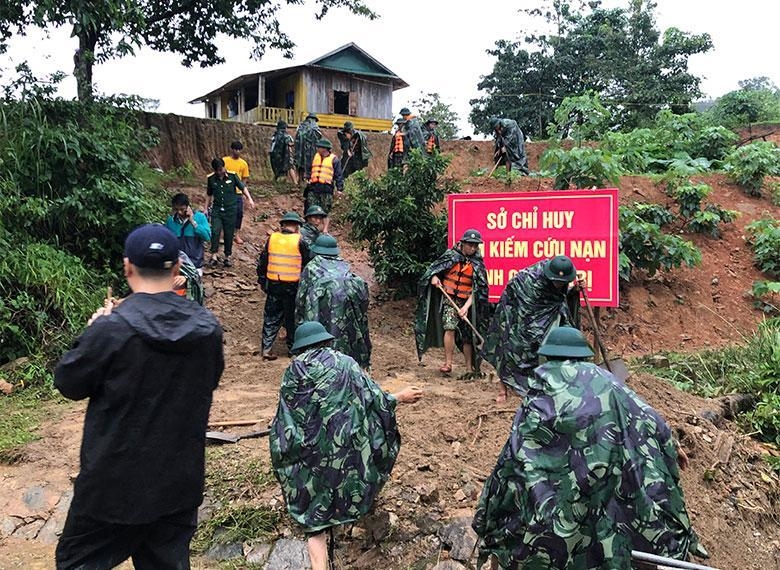 Soldiers searching for the 22 missing bodies in Huong Hoa, Quang Tri (Photo: Vietnamnet)
Accordingly, persistent floods that struck the central provinces of Vietnam have claimed the lives of at least 84 people, left 38 others out of touch. Nearly 53,000 houses are inundated, of which 41,878 houses are in Quang Tri, 11,055 in Quang Binh.
11,575 out of 35,787 households in provinces from Quang Binh to Thua Thien – Hue had to evacuate to avoid flooding.
On top of that, a sudden mountain landslide buried at least 22 members of an army economic group in the central province of Quang Tri early Sunday. The bodies of 14 people have been found.
The landslide hit an area of more than a hectare at around 1 a.m. Mountain rocks pummeled lodgings of the Army Economic Group 337 in Huong Phung Commune. The buildings accommodated many military officers and soldiers, said Ha Ngoc Duong, vice chairman of the commune, as reported by VNE.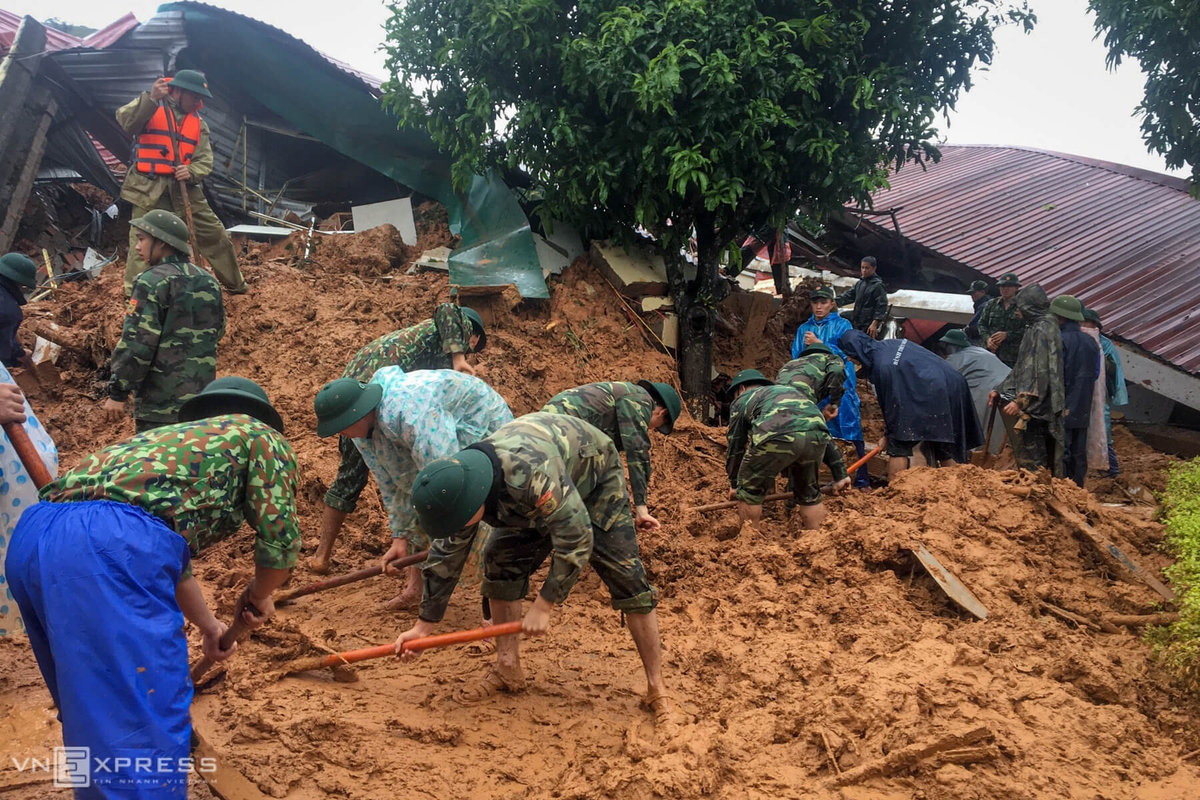 (Photo: VNE)
The west branch of Ho Chi Minh road from Khe Sanh to Huong Phung suffers landslides at two points (km 15 and km 19). No vehicles, therefore, could reach the scene. Quang Tri province is mobilizing on-the-spot forces and means to unjam the traffic.
The Ministry of Defense have instructed the High Command of Military Region 4 to coordinate with the People's Committee of Quang Tri province to mobilize cranes, excavators, individuals, organizations to quickly "clear" the landslides in the km 15, km 19 of Ho Chi Minh Road, enabling rescuing forces and vehicles to reach the scene where 22 victims from the Army Economic Group 337 were buried.
A total of 18 vehicles, including 1 multi-purpose rescue car, 5 cranes, 11 cars, 1 information car and 8 sets of weapons and 440 people were dispatched to join the search for the missing soldiers.
Besides, 102 officers and soldiers, 39 vehicles of all kinds were sent to troubleshoot the problems at Rao Trang 3 hydropower plant.
Evacuating residents in Dong Ha (Photo: Vietnamnet)
Heavy rain is expected to last until October 21
According to the National Center for Hydrology and Meteorology, Ha Tinh and Quang Binh provinces are expected to experience heavy to very heavy rain, with some areas might suffer precipitation from 350-500mm, some places over 500mm. In Nghe An, the precipitation might reach 100-200 mm.
Quang Tri and Thua Thien Hue provinces will suffer torrential rain on October 19 evening and night. The rain is expected to last until October 21, with precipitation in Quang Tri, Thua Thien – Hue might reach 150-250 mm, Quang Nam, Quang Ngai 50-100 mm.
At the moment, floods on Ngan Sau river (Ha Tinh), rivers in Quang Binh are rising, rivers from Quang Tri to Quang Nam are falling.
In the next 6-12 hours, floods on Ngan Sau river, rivers in Quang Binh continue to rise, rivers from Quang Tri to Quang Nam gradually decrease.
From now to October 20, the flood risk will be especially high on rivers in Ha Tinh, Quang Binh.