FM spokesperson: Vietnam hopes situation in Hong Kong stabilized soon
Vietnam has followed with keen interest the situation in Hong Kong recently, Foreign Ministry spokesperson Le Thi Thu Hang told reporters at a regular press briefing in Hanoi, reported VOV.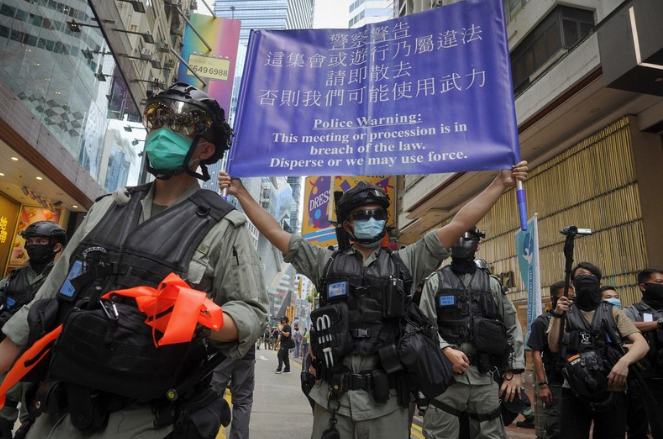 Police display a public announcement banner showing a warning to protesters in Causeway Bay before the annual handover march in Hong Kong, on July 1, 2020. (AP Photo/Vincent Yu)
The Foreign Ministry spokesperson on July 2 voiced Vietnam's concerns over the tense situation in Hong Kong following China's endorsement of its security bill and hoped the situation would be stabilized soon.
"Vietnam respects and supports China's'One country, Two Systems' policy, Hong Kong's basic laws and its related regulations," said Hang.
"Hong Kong-related issues are China's internal affairs. Vietnam expects that Hong Kong would soon stabilize the situation and continue to prosper as an important economic and financial center of the region and the world."
As many as 370 protesters were arrested in the busy shopping district of Causeway Bay on July 1, reported by CNN.
According to The Associated Press, the law makes secessionist, subversive, or terrorist activities illegal, as well as foreign intervention in the city's internal affairs. Any person taking part in secessionist activities, such as shouting slogans or holding up banners and flags calling for the city's independence, is violating the law regardless of whether violence is used.
The arrests come less than 24 hours after the law was imposed by China following last year's anti-government protests in the semi-autonomous territory. The law took effect on June 30 at 11 pm (local time).
The most serious offenders, such as those deemed to be masterminds behind the crimes, could receive a maximum punishment of life imprisonment. Lesser offenders could receive jail terms of up to three years, short-term detention or restriction.
Hong Kong's leader strongly endorsed the new law in a speech marking the 23rd anniversary of the handover of Hong Kong from British rule to China.
"The enactment of the national law is regarded as the most significant development in the relationship between the central authorities and the HKSAR since Hong Kong's return to the motherland," chief executive Carrie Lam said in a speech, following a flag-raising ceremony and the playing of China's national anthem.
"It is also an essential and timely decision for restoring stability in Hong Kong," she said.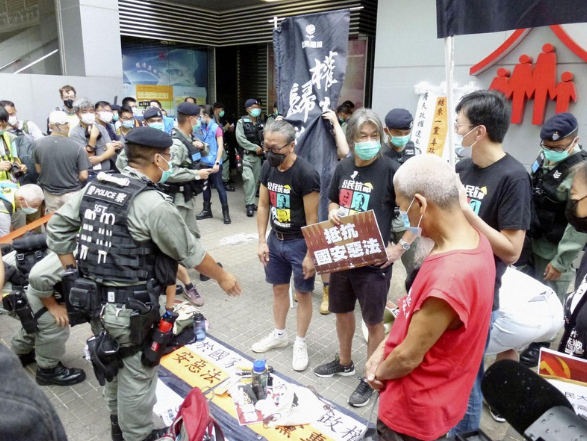 Pro-democracy activists are inspected by police officers on July 1, 2020, before they march in protest against Beijing's enactment of a national security law for Hong Kong. (Kyodo)
In Beijing, the executive deputy director of the Cabinet's Hong Kong affairs office, Zhang Xiaoming, said Hong Kong people are allowed to criticize the ruling Communist Party but cannot turn those complaints "into actions."
"What happened recently in Hong Kong has shown a deviation from the right track of the 'one country, two systems' (framework)," Zhang told reporters on July 1.
"To some extent, we made this law in order to correct the deviation ... to pull it closer to 'one-country.'"
Schools, social groups, media outlets, websites and others will be monitored and their national security awareness will be raised, according to the law, while the central government will have authority over the activities of foreign non-governmental organizations and media outlets in Hong Kong.
The law says central government bodies in Hong Kong will take over in "complicated cases" and when there is a serious threat to national security. Local authorities are barred from interfering with central government bodies operating in Hong Kong while they are carrying out their duties.
Chinese President Xi Jinping signed a presidential order putting the law into effect, and it has been added to the Basic Law, Hong Kong's constitution.
The law's passage comes after Hong Kong's legislature in early June approved a contentious bill making it illegal to insult the Chinese national anthem./.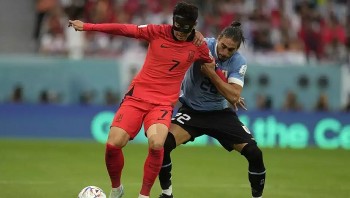 World
Both South Korea and Ghana are searching for their first wins at this year's World Cup. Ghana are facing the prospect of an early elimination from World Cup 2022 Group H when they travel to the Education City Stadium to face South Korea on Monday.