Protesters chant slogans during a rally on July 1 (Photo: AFP)
As many as 370 protesters were arrested in the busy shopping district of Causeway Bay on Wednesday, July 1, after China's central government imposed a national security law over the semi-autonomous city, reported by CNN.
As thousands of protesters gathered for an annual rally marking the anniversary of Hong Kong's handover to China in 1997, riot police used pepper spray and fired pellets after crowds spilled into the streets shouting "resist till the end" and "Hong Kong independence".
Ramon Yuen, a district councelor said "The law deprives the rights of Hong Kong people—media freedom, the freedom to protest."The number of protesters grew through the afternoon, paralyzing traffic in some areas as they filled roads. Some set up roadblocks. Crowds of people swarmed through the city to escape police.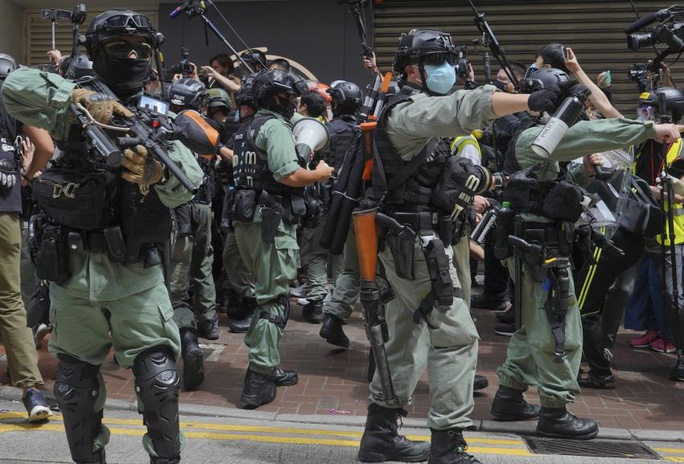 Police used pepper spray against protesters at Causeway Bay on July 1 (Photo: AP)
"I'm very angry, the law removes human rights, I can't have freedom of speech", said Ricky Po, a protester.
Ten of those arrested were detained under the new law, including a man with a Hong Kong independence flag and a woman holding a sign displaying the British flag, informed The Guardian.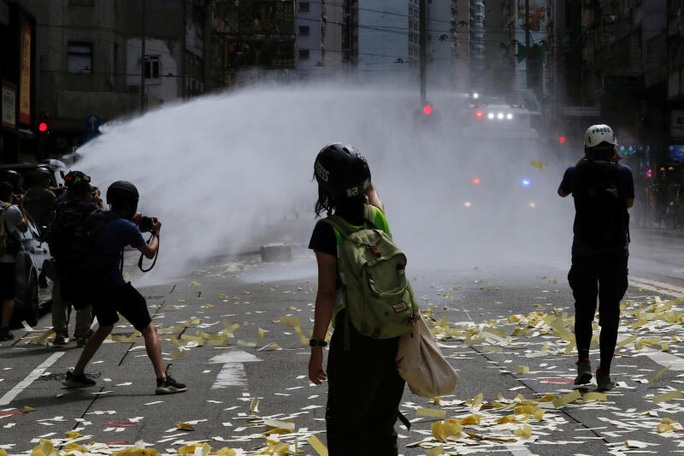 Police used water cannons during the protest (Photo: Reuters)
Critics say the new law stripped Hong Kong of its autonomy and precious civil and social freedoms. The Chinese and local governments argue it is necessary to curb unrest and uphold mainland sovereignty. They said the legislation aims at a few "troublemakers" and will not affect rights and freedoms. Hong Kong's chief executive Carrie Lam even called the law "the most important development in relations" between Hong Kong and China since the 1997 handover.
Meanwhile, British Prime Minister Boris Johnson called the law a "clear and serious breach" of an agreement with China to keep Hong Kong largely autonomous until 2047. He said the UK would retaliate with new rules easing around three million eligible people from Hong Kong to emigrate to the UK.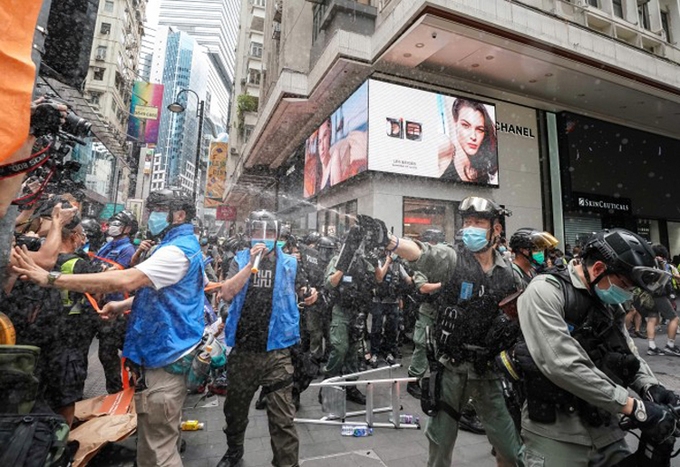 Police used pepper spray in Causeway Bay (Photo: SCMP)
US Secretary of State Mike Pompeo said the new law was an affront to all nations and Washington would continue to implement President Donald Trump's directive to end the territory's special status according to Reuters.
Amnesty International called the security law a "far-reaching threat to Hong Kong's freedom." Hong Kong media tycoon Jimmy Lai said the enactment of the new security law meant that "Hong Kong is dead."
By nightfall, police had swept through several districts, sealing off a shopping mall that had filled with protesters, and making numerous arrests inside. The protests ended around 10 pm, reported by The Wall Street Journal.
Candy Lee