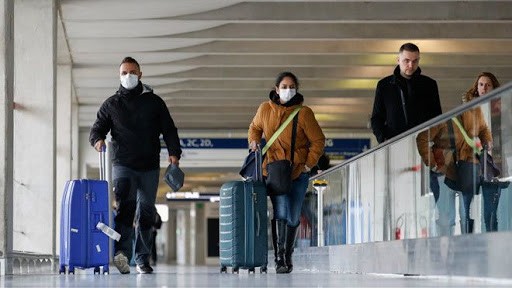 Foreign travelers and expats in Vietnam are advised to stay in the country (Photo: The Communist Party of Vietnam)
The latest COVID-19 news is also updated on either their websites or Facebook pages.
The British embassy in Vietnam has advised all British citizens in Vietnam to follow and update information about Foreign and Commonwealth Office travel advice. "We are providing consular assistance to the British people affected. We advise all British nationals in Vietnam to follow our travel advice, which is kept under constant review," they wrote.
The embassy has recently expressed their appreciation towards Vietnamese government's response to COVID-19: "The system has been quick to identify and isolate cases. The WHO has commended the response".
The Embassy of Norway in Vietnam on March 14 also issued travel advisory to Norwegian expats, asking to avoid non-essential abroad travel. "Travelers should follow news and travel information from the Norwegian Ministry of Foreign Affairs, as the advice may be updated rapidly," the embassy wrote on its website.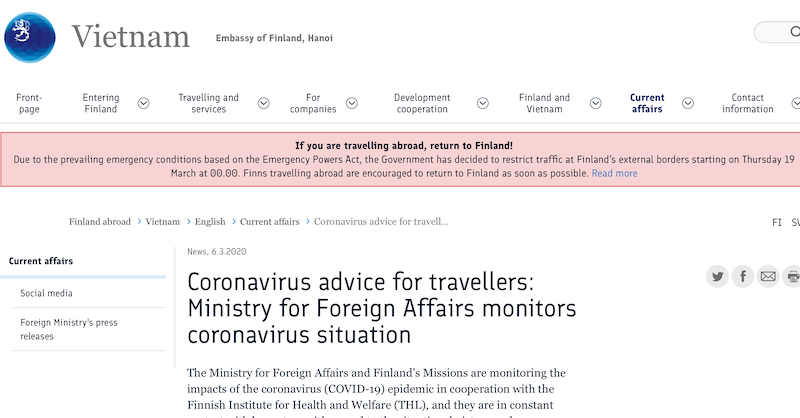 The Finnish embassy in Vietnam re-posted information of its Ministry for Foreign Affairs' Facebook and Twitter. (Photo: Hanoi Times)
"Many countries are placing travelers arriving from Finland under quarantine for 14 days," the Ministry posted. "The coronavirus pandemic is having unprecedented effects on travel and tourism. Several countries are closing their borders and imposing restrictions also on internal movement."
Accordingly, travelers are required to stay resilient and ready to deal with uncertainty, additionally, stay at current travel destinations until airlines resume their regular operations. Travel businesses and airlines are requested to help all Finns return home.
Many governments of the Schengen Area have decided to stop issuing visas in all of their embassies and consulates abroad since March 17, when the EU Commission decided to lockdown the Union. With such a high number of COVID-19 infections, which is second only to China, some EU member countries, including the US, have stopped flights from all EU countries altogether until at least mid-April. Meanwhile, restricting travel from affected countries is among the main preventive measures governments are taking to.
The US embassy in Hanoi has also announced that walk-in visa services are temporarily suspended at the US Consulate General in Ho Chi Minh City and at the US embassy in Hanoi.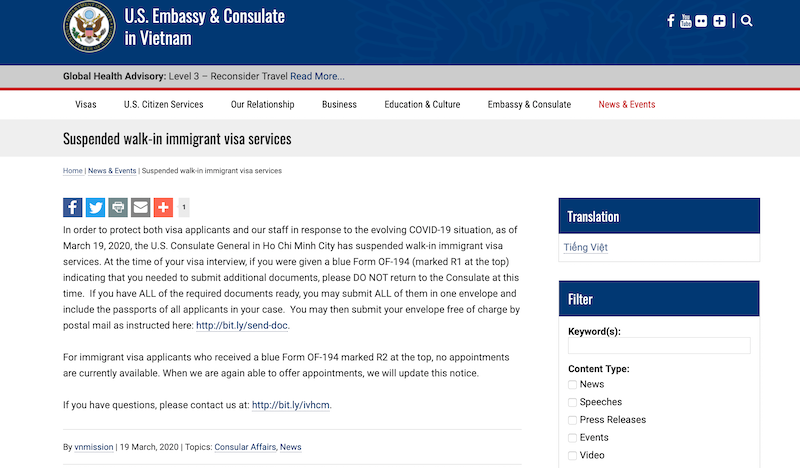 The US embassy and consulates also posted on its website (Photo: Hanoi Times)
As cross-contamination is now a potential threat in the capital of Hanoi, Chairman of Ha Noi People's Committee Nguyen Duc Chung warns locals and expats to stay home, limit unnecessary travel until March 31.
On Tuesday, Vietnam's government has decided to temporarily halt visa issuance to foreigners from all countries for 30 days, applicable since March 18, as there is an increasing number of passengers infected with COVID-19 on flights that enter Vietnam recently.
Vietnam Airlines' Flights between Vietnam and China, France, Hong Kong, Malaysia, Macao, Russia, South Korea and Taiwan had already been suspended.
The carrier will stop Southeast Asian flights to and from Cambodia, Indonesia, Laos, Myanmar, Singapore and Thailand from March 21 while flights to and from the U.K. and Japan would stop from March 23, it said Thursday.
Flights from Vietnam to Germany and Australia would be stopped from March 24, and flights from Germany and Australia to Vietnam would stop from March 25.
In a statement published late on Tuesday, Vietnam's government said it would introduce mandatory quarantine for visitors from the United States, Europe, and Association of Southeast Asian Nations (ASEAN) countries.
All Vietnamese nationals and foreign people, including expats and travelers are required to wear face masks outside, especially at mass-gathering, starting from March 16.
So far, Vietnam's number of infections has risen to 76 COVID-19 sufferers, an increase of 60 new cases within nearly two weeks, including 22 foreigners, (21 European and one American). 2 Vietnamese Americans were reported dead.
The World Health Organization recently called Europe as an epicenter of the Covid-19 pandemic. The pandemic has spread to 176 countries and territories, claiming almost 9,000 lives.
Jasmine Le